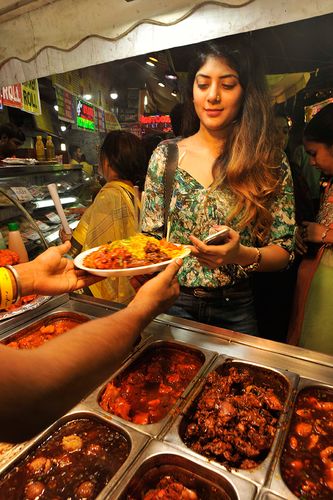 On a warm, pleasant day in Delhi, Ridhi Khurana was seen foraging for food at the Lodhi Gardens. Accompanying the 25-year-old from Punjab were nine other foodies. They walked through the sprawling garden and picked leaves of cardamom, wood sorrel, noni, basil, fennel, horse purslane and Bihar saag—a weed considered to be pig's feed (not to be confused with spinach).
They also plucked vegetables such as brinjal and ridge gourd (with its flower and stem). The items were then handed over to a chef, who made a delectable platter with other ingredients. Bihar saag, which is rich in fiber and protein, was used as parantha stuffing. Wood sorrels were added to salads to create a tangy flavour. Ridge gourd flower was combined with purslane, beetroot and hung curd to make a chilled drink, which the group enjoyed together. Thus ended their foraging food walk.
Foraging food walk tours allow participants to pluck their own food and learn firsthand about the importance of various plants and the nutrients they contain. "Most of the items foraged are grown aplenty but people tend to ignore them because of lack of awareness," said Kush Sethi, an urban gardener and core member of Delhi Walk Festival. "This experience allows them to learn, engage and experience the taste, touch and smell of the ingredients, which is usually missing in other food walks. We pick weeds to make people aware about their edible use."
The idea of foraging is to celebrate the plants and look at them differently. "People discard common greens such as horse purslane, thinking it is bad for health, but it is very healthy," he said. Chef Shamshul Wahid said: "We use some basic ingredients like beetroot, chapatti, mushrooms and hung curd since they are not available in the garden. I combined beetroot and purslane because it is detoxifying and compatible to other flavours."
While foraging food walks are a different experience altogether, food walks in general are becoming a rage among the local people as well as travellers who want to experience the street food. A food walk is conducted by an expert who introduces renowned shops to avid foodies and tells them stories associated with specific dishes.
"People want to know the history and preparation of a particular dish," said Prabjot Singh, who has been conducting food walks in and around Delhi for years. "It is no longer about just eating because a lot of people want to blog about it." He does not look at it as a business, but as an opportunity to offer fellow food enthusiasts a memorable experience.
"When I do food walks, I try to take them to places that have been in the system for decades," he said. "There is a massive difference between the food served by the old shops and the others. It can be spotted in taste, preparation, the use of spices and even the seasoning."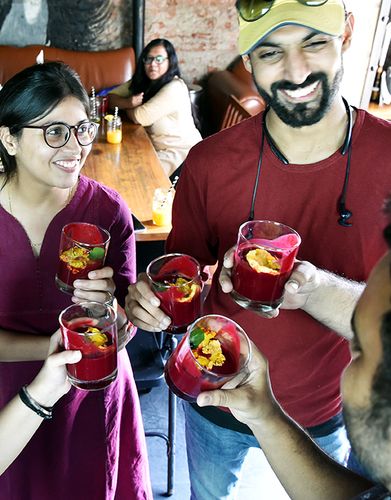 Singh led a food walk in Chawri Bazaar, where he took a group of 35 Delhiites to joints which have been operating for years and is run by the third or fourth generations. Starting from Lotan Chole Kulche Wala, he covered joints such as Ram Swarup Halwai, Kudaal Food Corner, Shyam Sweets, Bhagirath Milk Shop, Kuremal Mahir Prasad Kulfiwale and Raj Kumar Chole Wale.
"Lotan Chole Kulche Wala is 100 years old, Ram Swarup Halwai is 42, Shyam Sweets is 110 and Kuremal Mahir Prasad Kulfiwale is 95," he said. "None of these sell stuff after 12:30pm because the food runs out. Since they prepare fresh, the chance of catching infections is minimum."
Anubhav Sapra, a foodie and an avid food blogger, started a registered company, Delhi Food Walks, in 2014. He conducts food walks to offer engaging experiences to people. "My idea is to take travellers to places which are popular among the local people," said Sapra. "Since 'Delhi belly' has been done to death, people are wary about trying out street food. However, when we do food walks we ensure we take people to places where workers maintain hygiene and food is cooked in mineral water. If mineral water is not used, we do not recommend tasting the food."
Sapra recently took a group of four Canadians to the streets of Chandni Chowk. Said Russel, a horticulturist who was part of the group: "This is the first time I am in India and I have heard a lot about the desi food from my friends who have visited the country before. However, since I am not a local, finding authentic shops selling desi food is difficult, hence a food walk."
Russel and his group started their food walk from Chandni Chowk. They tried aaloo tikki at Natraj Dahi Bhalle Wala, stuffed paranthas at Pt. Gaya Prasad Shiv Charan, the meringue-style chaat at Daulat Ki Chaat, sweet and crispy chikki from Subedar and Sons, and jalebis and samosa from Old Famous Jalebi Wala.
"We were told that all these places have been there for several years and have been selling the same taste. It's great to enjoy the authentic flavours of Delhi that are so rich and yet different," said Russel.
Sapra said the reasons for choosing these places were their cleanliness and their legacy. At such places, he said, there is no fusion of street food with other cuisines unlike in modern shops.