"I am doing great business in the domestic and international market. This would not have been possible if I hadn't participated in fashion weeks" - Vaishali S., a Mumbai-based designer

"These [shows] are great branding events. It is financially less draining to do a ramp show at a fashion week, as most of the expenditure is borne by the event's title sponsor and FDCI" - Ashish N. Soni, fashion designer
Recently, actor Sonam Kapoor was seen wearing a red paithani anarkali kurta and blue kanjivaram dupatta. It was from designer Gaurang Shah's latest winter-festive collection, which he had showcased at the Lakme Fashion Week in Mumbai in August. Within a few hours, Shah's order book had five new sales entries for the outfit.
This was not an exception. The Hyderabad-based designer says that every time he showcases his clothing lines at fashion events, his cash register rings louder. "Participating in [such events] makes perfect business sense," he says. Agrees Mumbai-based designer Vaishali S., who participates in the Amazon India Fashion Week (Delhi) and Lakme Fashion Week (Mumbai). "Today, I am doing great business in both the domestic and international market," she says. "None of this would have been possible if I hadn't participated in fashion weeks." Compared with the Mumbai event, which has more glamour courtesy Bollywood, the one in Delhi attracts more international buyers and offers at least 10 per cent more sales, she says.
Till about a decade ago, the biannual India Fashion Week, organised by the Fashion Design Council of India (FDCI) in Delhi and Mumbai, was the only major fashion event in the country. Now, India's annual fashion calendar has a variety of events, including niche expositions for couture, bridal, resort and beach wear segments. There are also fashion tours, wedding fairs and regional editions of fashion weeks held in Kochi, Jaipur, Kolkata and Bengaluru, among others.
A study conducted by India Brand Equity Foundation, a body under the commerce ministry, says the Indian textiles industry, currently estimated at around $108 billion, is expected to reach $223 billion by 2021. It contributes about 5 per cent to India's GDP and 14 per cent to overall index of industrial production.
While most designers look at fashion events as avenues of direct sales, veteran designer Ashish N. Soni says there is more to it. "These are great branding and marketing events," he says. "It is not that we do not do ramp shows otherwise, but it is difficult getting so many sponsors, domestic and international buyers, media and bloggers under one roof at the same time."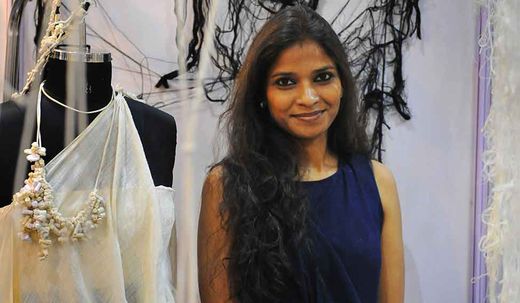 After all, the more media attention a designer gets, the more it adds to his brand equity and customer base, says Vaishali. "If I hadn't showcased at fashion weeks, do you think a young designer like me would have enjoyed the same amount of popularity and client base, especially among NRIs and international buyers," she asks. "After every fashion event, pictures, reports and videos of my collection are everywhere, that too at no cost. Personally, I can't afford a marketing drive of a similar scale on my own."
Apart from boosting client base, these events give designers an opportunity to reach out to new markets and to collaborate with fellow designers, seeking inspiration from their work and, at times, learning from them, says Delhi-based designer Anupamaa Dayal.
"But, one has to be patient to reap benefits," says Shah, who grabbed headlines and made sales only after a few seasons of such fashion weeks. Launched three years ago, the label Gaurang now has six standalone stores in India. "As a buyer, visiting fashion events helps me save time, energy and resources in finding out right products for my stores," he says.
Contrary to common perception, domestic and international retailers do not place orders immediately. They see designers' lines at ramp shows or exhibition booths, discuss with them the price and the alterations they want in their products, and go back with a request to send free samples. After designers prepare and send the samples to buyers, final orders are placed a few months later. If the retailer doesn't like the design, the samples are returned.
A section of the design fraternity laments that the designer is the weakest link in this process. They say the sector is monopolised by retailers, which is hampering its growth. "Almost every Indian retailer works on consignment basis," says a well-known designer duo on the condition of anonymity.
Says another designer: "While that sounds fancy, it means that designers give their outfits for free and get paid by the retailer only when it sells. If it does not sell, they return the consignment. Often, sales don't happen as our products are not placed properly or maintained well in the outlet."
The designer takes a double hit because the collection is old and garments are often spoilt when they come back. And, even if these are put on sale, people do not want to buy old-fashioned clothes. "What's worse is the chance of fraud. Recently, a well-known retailer shut shop and I couldn't file a police complaint as there were no monetary transactions to back the claim," says a Mumbai-based designer.
This is where independent fashion exhibitions like Vivaha and design expeditions like Chivas Fashion Tour come into the picture. People can attend a fashion week only through invites. Independent exhibitions, however, welcome all comers and fashion tours pay the designers. This reduces dependency on retailers. "Expositions allow you to reach out to a vivid customer base and sell directly," says Rajasthan-based designer Aruna Singh, who has focused only on fashion tours and exhibitions in the past three years.
However, Soni, one of the founding members of FDCI, says that displaying collections at fashion weeks is an indication of a designer's financial prudence. "It is financially less draining to do a ramp show at a fashion week, as most of the expenditure is borne by the event's title sponsor and FDCI." While a participant spends about Rs.6 lakh doing a ramp show at a fashion week, it costs Rs.15 lakh to Rs.20 lakh to organise an independent ramp show of a similar level, he says. "And, it takes a complete season to recover that kind of cost," says Vaishali.
The ramp show costs also vary according to the show timing, day of the event and number of participants sharing the ramp. Shows that are sponsored by a brand require almost no capital investment from the designer. And, for those who are not doing ramp shows as part of a fashion week, setting up a booth in the exhibition area costs about Rs.2 to Rs.5 lakh per booth.
At the international level, organising a show costs about Rs.60 lakh to Rs.1 crore. "But the returns are 10 times higher, too. Plus, it boosts your brand equity immensely, which attracts buyers in the long-run," says Soni, who is a well-known name in the global fashion arena. "Events such as fashion tours are for-profit entertainment events organised by events production companies. Fashion designers are paid to be a part of them. In other words, they are what advertisements are for stars—an easy medium to make some quick bucks."