She has spent a lifetime storming into male bastions and finding a seat for herself there. Yet, for 38-year-old Laleh Seddigh, her feminity is her defining aspect. "Let us celebrate our feminity. Paint your nails, do up your hair, don't go chasing extreme feminism because that has its own limitations," says Seddigh, Iran's first-ever female motor racing champion.
Seddigh certainly practises what she preaches. Her nails are painted a deep maroon, tipped with black. Her lipstick is perfect. The leopard print headscarf is carefully adjusted to reveal the blonde streak in her otherwise jet black hair. Had we not known better, she could have passed off as a fashion model in those skinny white pants and teetering heels. In India recently for Tina Brown's Women in the World meet, Seddigh told THE WEEK: "There is a cosmic balance in this world. While it is all very well for us women to strive to remove societal limitations before us, let us remember that men have their own place in the scheme of things, too. We need to move ahead as a cohesive unit, and not at loggerheads with each other all the time."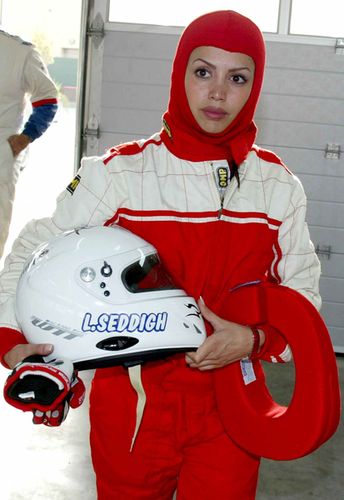 The wisdom, Seddigh said, came to her, like everything else in her life, through her sport. "In team racing, I always had an all-female team. Recently, we included men in our team, and then it dawned upon me that working together was so much better."
Nicknamed "Little Schumacher", Seddigh was only a child when she decided to step behind the wheel of her industrialist father's car. He was her first teacher, but she had to pay a demanding fee: she was allowed to drive and later race if she kept up with her studies. Today, apart from her motor racing laurels, Seddigh also has a postdoctoral degree in industrial production. "Our father was clear. If his children wanted to join his business they needed to get the qualification first,'' said Seddigh, who is the eldest of four siblings. "I had to make many pacts before I took up racing as a career. Apart from the promise to my father, I had to promise my mother that I would look after myself, and my friends that I would end up a champion.'' From Formula One to 4x4s, give her a set of hot wheels, and she is the happiest.
According to Seddigh, there are two approaches in life. One is the confrontational one; the other, more effective one, is to cleverly get around barriers. When the Iran racing federation objected to her competing, her father got a fatwa from a local ayatollah, saying it was fine for her to compete, as it was not a contact sport. That she stood first in the race did disgruntle the men, but it also established her credentials.
Seddigh has had to fight gender bias in her country. She has often been told that she cannot take part in a race for no obvious reason. Yet, when the US offered her a visa to train there, she refused. "I believe I can be more effective in my country," she said.
Iran is her love, and she feels that the regressive image the western world has about her country is not all correct.
"There are gender issues in the US, too. Let us not forget it is not a perfect country," she said. "We have limitations that are culturally different from theirs, so they have no understanding of our freedom. Thirty years ago, Iran was embroiled in an eight-year war, her men out in battle. So, the women were running homes, businesses and the economy. It gave that generation a great degree of emancipation and we have benefited from it. Female literacy is high in Iran, over 60 per cent of university enrollment is female, and they have a high participation in the science stream. There is opportunity for women here, and while much more needs to be done, I believe some limitations are self-imposed."
While her racing career is still going on full steam—she recently clinched the second position in the Armenia off-road, where she was the only woman contestant—Seddigh also runs an academy to train motor racers, and has so far trained 80 women. None, however, have entered the racing arena yet for a variety of reasons.
Success, Seddigh said, comes only from trying, and trying again. And, the biggest frustration a person could face is not failure, but the absence of a goal. "Now, that is a crisis," she said. "If you don't have a dream, nothing to strive for, you are going to end up as one frustrated person. So, dream on."