More than a decade ago, when Bollywood actress Rani Mukherji Chopra wore bright-coloured collared kurtas and baggy pyjamas accented with cloth jholas in the Hindi film Bunty Aur Babli, 'the street-look', as it was called then, became a talking point. But, only a few experimented with it in real life. In 2017, the film may have slipped out of people's memory, but the 'grunge look' has re-emerged as one of the hottest trends countrywide.
More importantly, it has created a celebratory moment for women's bottom wear. So, parallel pyjamas, pencil trousers, culottes, harem pants, skirts, sarongs and saris are thumbing the nose at conventional churidars, salwars and leggings. "Pairing interesting lowers with western or ethnic top wear, or the grunge look, is capturing the imagination of Indian women across age-groups and strata," says fashion designer Gautam Gupta.
For long, when one talked about flirting with women's wear, it meant experimenting with the top wear. But, of late, designers have realised the magic that can be unfurled by being a bit innovative with the accompanying bottom wear in both prêt-á-porter and couture lines. So, skirts are matched with long kurtas, harem pants with cropped tops, palazzos with layered kurtas, dhoti pants with short kurtas, culottes with fitted tops, saris with jackets and jeans with saris, among others.
"Finally, the Indian woman's wardrobe has got the balance of ethnic and western wear, which is why one sees so much fusion wear around," says designer Raghavendra Rathore. He adds that, in a country with relatively hot weather and a growing preference for western tops, it makes perfect sense to opt for bottom wear that is breathable.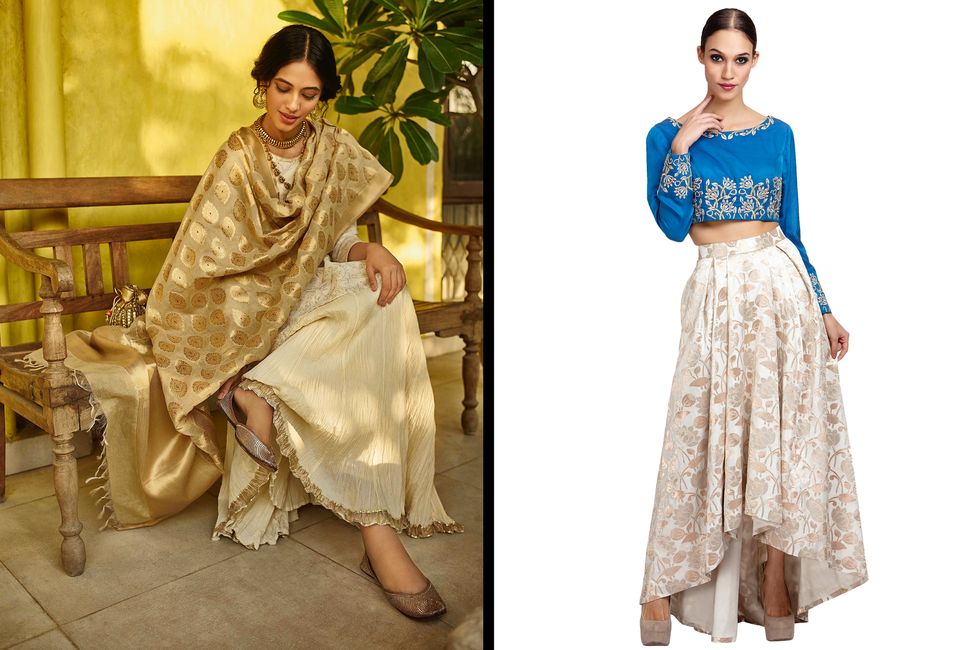 Besides, with hundreds of fresh fashion aspirants entering the cut-throat industry, "designers are feeling the pressure", which is pushing them to look beyond the obvious. Says Rathore, "That is why this recent experimentation with bottom wear instead of top wear."
Little wonder, from well-known fashion designers like Rathore, Ritu Kumar, Nida Mahmood, Gautam Gupta, Monisha Jaisingh, Anand Bhushan, Kanika Saluja, Nikhil Thampi and Kallol Thampi, to brands like Reliance Trends, Fabindia, Anokhi, Lifestyle and Shoppers Stop, almost every fashion retailer and label is experimenting with and churning out grunge style.
Popular throughout the early 1990s, the grunge style is characterised by nonconformist way of dressing up and accessorising.
Designer Gupta, however, says that because of the information boom these days, women are more aware. "We are a bottom heavy country, so it is simply clever to play around with silhouettes that can camouflage the flab and make you look stylish at the same time. As women these days are more aware about their body types and global fashion trends, they are making fashion choices that flatter their shape. And, grunge fits the bill."
But, there is more to it. Gupta points out that, beyond just the look, the rise of this trend also reflects how we are evolving as a society. "Nowadays people are less judgmental, which encourages women to make unconventional wardrobe choices. Besides, the relationship between parents and children are changing. They are friends first. So, it is a common sight to see [a] mother and daughter dressed in similar styles, which is boosting this trend."
At the same time, internet and social media have enabled housewives and women from conservative families to access information about the latest fashion trends. Not to forget, the e-commerce platforms that are providing them with the option to buy outfits of their choice, from the comfort and privacy of their homes.
Moreover, women these days are much more empowered, and this fuels fashion trends. "Women are much more travelled, exposed and aware now," says Sadhana Mehta, curator of designer wear and handloom garment exhibition, The Wishlist. "They embrace fresh fashion trends effortlessly, and don't hesitate to experiment by mixing and matching western and ethnic wear."
An apt example of the new-age confident Indian woman is the altered usage of the dupatta, she says. "Earlier, the dupatta was used as a tool to hide the curves, as women were extremely conscious of their bodies. And, showing one's curves was considered evil." But, in the modern woman's wardrobe, its place has been taken by more functional garments like stoles and scarves. "It is not that women don't use dupatta now, but the intent is different which is what makes all the difference," Mehta says.
Similarly, majority of ethnic women's wear now has pockets, which was a rarity in the yesteryears, when men were largely the bread earners and took all the financial decisions. "The increasing presence of the humble pocket in women's wear points at a big change—the financial freedom of women and availability of more disposable income to them," says Mehta. "And, more disposable income means more sales."
What is the future of this trend? "Keeping in mind the growing tribe of empowered women, who like to assert their identity through their clothes, this is just the beginning," says Gupta. "Grunge is here to stay!"