With the world's growing confidence in India, more and more international brands are incorporating Indian elements in their lines.
Underneath a canopy of flowers, jasmine garlands wrapped in leaves are placed on a square-shaped maze of benches covered with black fabric. A wooden stage has been erected in its centre. A bunch of youngsters climb on the platform and start beat-boxing, tap dancing and humming. Models—dressed in loose geometric-cut kurtas with pockets, jackets, lehengas, delicately embroidered dupattas and saris—glide through the gap between the rows of benches.
This is Sanjay Garg's 'Mashru' (a fabric made by blending silk and cotton) collection, and apart from pencil trousers accompanying kurtas, Garg has not included any western silhouettes in the spring-summer line that he showcased at the Amazon India Fashion Week held last month in Delhi.
"Ethnic is the new cool," says Garg, whose colour palette contained basic hues like charcoal black, grey, dark blue, bright red, pink and green. "People have realised that if fashion is the second skin, they can't go wrong with it."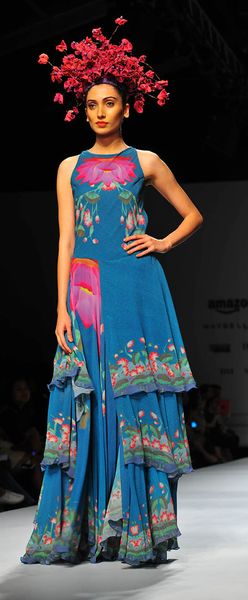 Be it the environment, culture, body type or lifestyle, there is hardly any similarity between Indians and western people, says fashion designer Anupamaa Dayal. So, instead of blindly opting for western wear, Indians need to embrace traditional wear that serves them best. "As consumers are lapping up traditional wear, designers, too, are celebrating it," says Dayal.
In the previous seasons, western wear dominated designer collections showcased at fashion events, and traditional outfits remained on the fringes, but the tables have turned this season. From bigwigs like Garg, Dayal, Nida Mahmood, Ashish N. Soni and Vaishali S. to upcoming names like Poonam Dubey, Anavila Misra, Shalini James and Chhaya Mehrotra, designers are either experimenting with Indian silhouettes or romancing desi weaves to create magic on the runway.
Thanks to the design fraternity's clever business strategy to focus on the burgeoning domestic market and the desire to do something for the weaving community, everything ethnic is in vogue.
Treating fabric as thread and thread as fabric, Vaishali S. blended khadi and Maheshwari silk to create traditional garments with unconventional cuts and deconstructed detailing. So, there were multilayered asymmetrical kurtas teamed with shorts and trousers, tasseled saris and blouses with uneven ends giving the unfinished looks, loose blouses that looked threadbare, see-through silk jackets and drapes worn (read tied) as gowns with the help of strings. Royal blue, deep black, pale white, milky white and smoke grey were the colours for the line.
Dubbing it as an attempt to get back to one's roots, Vaishali says the trend indicates maturing of Indian designers. "More exposure brings more self-awareness," she says.
After aping the west for years, designers have realised the value and worth of Indian cuts, weaves and techniques. "What we have is the best," says Vaishali. "Every 25km, Indian outfits and weaves change. Which other country offers such variety and for how long can you escape its charm?" This realisation has also made designers more conscious about the country's dying weaving community and work towards its revival.
Because of the economic success, political stability and India's meteoric rise internationally, the world has its eyes set on the country, says Anavila Misra, who displayed a line of saris of hand-blended linen and silk adorned with zari and Jamdani borders. The changing scenario is infusing pride and confidence in both indigenous designers and buyers about their Indian identity and they are celebrating it. "We no longer look for the approval of the west," says Misra.
With the world's growing confidence in India, more and more international brands are incorporating Indian elements in their lines or seeking inspiration from here. As the new-age customer is tech-savvy, well-travelled and updated about global fashion trends and wants to follow them, it is rekindling people's interest in traditional cuts and weaves back home, says Misra. "Popular culture is a big influencer, too," she says. "With stars like Aishwarya Rai Bachchan and Sonam Kapoor wearing ethnic outfits at important events like Cannes Film Festival, people's perception about traditional wear has changed."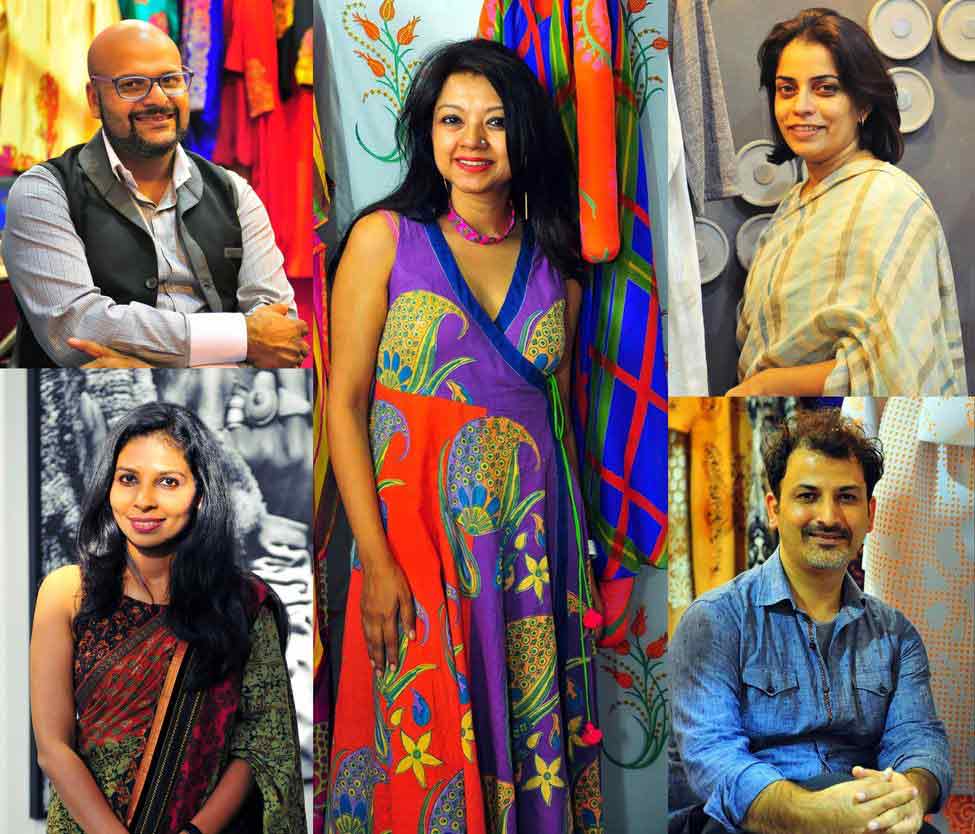 What is also boosting this trend is people's changing mindset. "Ethnic is much more mainstream now as concepts of modernism have changed," says Dayal. Globalisation and knowledge democratisation have made people more conscious and liberal. Unlike the past, when western outfits were considered a symbol of modernity, the level of a person's, especially a woman's, modernity is no longer measured by the wardrobe choices. "In fact, women now like to reassert their cultural identity through their clothes like never before," says Dayal. True to her signature style, Dayal presented a floral collection of multihued and layered kurtas, kurtis, saris, harem pants and palazzos.
It is also about being confident about oneself. "New-age Indian women do not have confidence or body image issues and prefer comfortable luxury," says Ashish of the designer trio, Ashish, Viral and Vikrant, who rolled out a range of anarkali kurtas, lehenga saris and kurtas teamed with narrow fit trousers and lehengas.
As an increasing number of women are joining the workforce, the focus has shifted from being stylish to chic practical clothing, says designer Shalini James, who earned rave reviews for teaming up saris with skirts and anarkali kurtas with voluminous lehengas.
According to designers Zubair Kirmani and Gautam Gupta, the growing interest in ethnic wear is driven by a sharp business sense. "Earlier, a lot of designers showcased unrealistic collections to satiate their creative desire," says Kirmani. "They sold something else [practical clothing] though. But you mature with time and realise that it is prudent to showcase what will sell instead of wasting time, energy and resources unnecessarily."
At the beginning of the festive season, it makes perfect business sense to display traditional collections that will cater to this market, says Gupta. "Ours is a consumption-driven economy," he says. "While the west is grappling with the slowdown, it would be foolish to ignore the domestic market that offers recession-proof business throughout the year."
Besides, Indian designers have realised that a successful entrepreneur is one who has a USP. "In our case, it is our weaving and embroidery techniques that appeal to both Indian and international clients alike," says Gupta. "So, designers are focusing on that."
It is this realisation that has prodded designers to make the most of their textile designing knowledge and improve the quality of stiff fabrics like khadi to make them softer and more appealing for modern buyers, says Gupta.