Every October, Chetan Bhagat comes to Delhi. It is almost like a ritual. Just as the sun gets mellower and the Diwali festivities start, he comes out with a new book. He always stays at the India International Centre and almost always in the same room. (It started off as a point he wanted to score against the intellectuals who considered him an outsider.) His book is panned. Yet, it becomes a bestseller. Then, finally, a film. His latest book One Indian Girl—a love story espousing the cause of Indian feminism—is no different.
"I always wanted to write as a girl,'' he says, as he settles down and unbuttons his jacket. "It would have been easy to write a detective crime. But if it had to be a woman's book touching on feminist issues, I thought I needed to wait for ten years as a writer."
Bhagat spent the last year calling up his ex-girlfriends. "Yes, more than one,'' he says with a smile. Ask him to be specific, and he says: "Anything more than one and less than a hundred." (He says the reason for his breakups was never infidelity but the inability to understand each other's goals.) He talked to his wife. He called up his female batch mates. And, to add just the right mix of the ordinary, he even chatted up air-hostesses to find out what they thought about marriage and what their boyfriends thought about their jobs.
His mission? To understand women better. "I got a lot of feedback,'' he says. Radhika—the nerd from Shri Ram College of Commerce with a high-flying job who is the voice in One Indian Girl—is the cumulative wisdom of these 100 women.
A large portion of the book was written in Hong Kong where many of his ex-batch mates now live. "The Skype calls that I write about where the boy turns down Radhika because she earns too much money are based on reality. It happens in the arranged marriage set-up. These boys are educated. They are investment bankers. They want a simple girl,'' he laughs. "That means pliant and submissive."
Bhagat believes the book is for "the cause" of feminism—much bigger and more important than nationalism and equally misunderstood. The problem for him has been that many women haven't really bought his argument. "Feminism has become a derogatory word,'' he says. "The women who I spoke to said they would agree to help me but told me that they are not feminists. Is it a term that means that 'I don't need a man'? Just because you have a uterus doesn't make you a better feminist."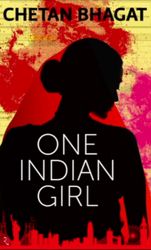 The problem with him and his critics—even the criticism—is that it is a bit like his insistence on staying at the IIC. The point is a little old. The battles are well drawn and no one really cares anymore. Ultimately, it boils down to numbers. "They can't reduce my sales by even ten copies. It doesn't change anything,'' he says, whipping out his phone to show a picture of his books being sold at a magazine stall in Kanpur. In the heartland of India, where Bhagat's real Bhagats live and read, this story about a girl whose bonuses are much more than what her father earned is aspirational. It is also about romance. And he does that with the flourish of a Karan Johar film—plush locales and the fuzzy feeling that is packaged as love. Radhika is no different from many of the women who people Bhagat's books. The only difference is, this time, she's the hero.
One Indian Girl
By Chetan Bhagat
Published by Rupa Publications
Price Rs108; pages 280