Ray himself had acted as the cashier while opening new policies in his name.
When the daughter of Bani Prasad Nandimajumdar, an engineer-turned businessman from Kolkata, got married and moved to the US with her husband a decade ago, she gifted her savings worth Rs 10 lakh to her father, who ran a small factory in the city. In 2010, Nandimajumdar, 70, invested the money in an LIC (Life Insurance Corporation of India) policy; he paid the premium through an insurance agent and received the receipt and the policy bond. Soon, he started receiving a quarterly pension of Rs 24,000. But, it stopped in September 2013.
"When I visited the LIC's eastern regional headquarters in Kolkata, they refused to give me any clarification," said Nandimajumdar. He then wrote to LIC chairman S.K. Roy, who asked the divisional manager in Kolkata to handle the complaint. The DM informed Nandimajumdar that there were some mistakes in the accounts at the LIC's main office in Kolkata and promised to give him further details soon. When no further intimation came, Nandimajumdar approached the consumer court in September 2015.
"That offended them, so they decided to hit back," he said. In court, the LIC's lawyer demanded an inquiry about Nandimajumdar's source of income. "They perhaps thought I was a corrupt businessman who would withdraw the case out of fear," he said. The case is pending.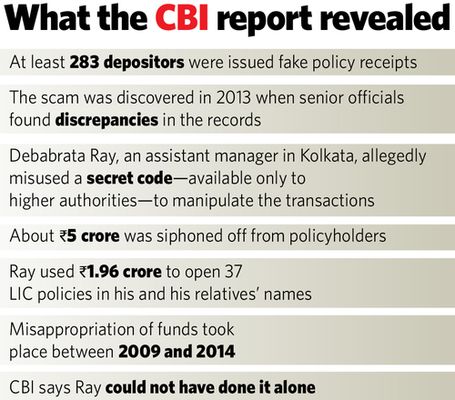 A few days after going to court, Nandimajumdar realised that there were 282 others like him in Kolkata. They had deposited more than Rs 50 crore in premiums, with their insurance amount running into more than Rs 200 crore. Their premiums have been rejected and annuities and maturity sums withheld without notice. A preliminary CBI investigation found that almost Rs 5 crore had been siphoned off by certain LIC employees, the alleged mastermind being Debabrata Ray, who was an assistant branch manager at the regional office in Kolkata.
G.N. Upadhyaya, a doctor at the government ayurvedic hospital, Kolkata, bought a money-back policy worth Rs 2 lakh in 2010, paying an annual premium of Rs 21,044. He was supposed to get his first reimbursement in 2013. But the LIC stopped accepting his premium in 2012, citing technical reasons. "I had to take a personal loan from a private bank for my daughter's wedding," said Upadhyaya. "There is no difference between the LIC and [the infamous] Saradha. We thought that such cheating takes place only in private companies," he said.
The CBI report hinted that the LIC was shielding its officials. Former eastern zonal manager Hemant Bhargava had initiated departmental action against Ray, but little was done after Bhargava was transferred to Delhi.
After the CBI named Ray in its report, he was suspended by the LIC's central office in Mumbai, but the company later promoted him to branch manager in Midnapore. "This is unbelievable. Although we had found that the man was behind the scam, the LIC office did not take action. He should have been arrested and slapped with criminal sections," said a CBI officer.
According to the investigation report, Ray, with the help of certain other LIC employees, defrauded at least 283 people and issued them fake policy receipts during 2009-2014. He subsequently issued them real policy bonds, although only the branch manager or the divisional manager was authorised to do so. "We were surprised to know that he managed to issue real policy bonds without the knowledge of the divisional manager or the branch manager. It should never have happened," said a development officer of the LIC.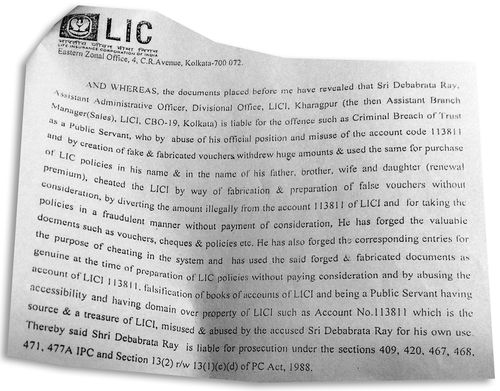 The CBI report said that the fraudulent receipts were prepared using an LIC secret code, which was accessible only to senior officers, and that one person acting alone could not have issued fake premium receipts to so many policyholders. It would have gone through different levels and different officials.
The CBI has been able to trace only 01.96 crore, with which Ray had bought 37 life insurance policies in his own name and in the names of his family members. The CBI said the family members were unaware of the fraud. But it was strange that the LIC did not notice that one of its employees had bought policies worth nearly Rs 2 crore. The report said Ray himself had acted as the cashier while opening new policies in his name. He opened 14 policies in his name, 12 in his wife's name, nine in the name of his brother and one each in the name of his father and daughter. All policies were opened through different agents, who are yet to be identified by the CBI. The investigation, conducted by inspector Ranjeet Kumar, suggested non-bailable sections to be invoked against Ray. "We need to conduct further investigations. But we cannot do that unless the government or the LIC asks us," said a senior CBI officer.
Bhargava had earlier written to the CBI to speed up the prosecution and widen the investigation against Ray on a range of charges including forgery, cheating, falsification of accounts and crimes under different sections of the Prevention of Corruption Act. But no further action was taken.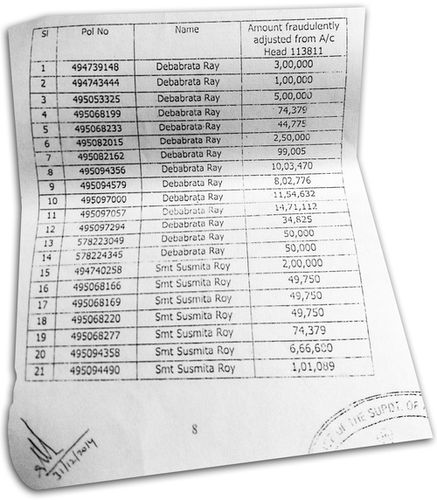 Ray told THE WEEK that he was innocent. "How can I tell you why policyholders are not getting their dues or why money is siphoned off? I was assistant branch manager and above me were the branch manager and the divisional manager. Why are they not being questioned?" asked Ray. He denied that he had masterminded the scam. "I did not supervise anything. Nor was I behind anything. I was not the senior-most in my office. I am being unnecessarily targeted,"he said.
When THE WEEK tried to contact LIC chairman V.K. Sharma, we were redirected to executive director, corporate communications, S.N. Bhattacharjee. His office asked us to contact secretary, corporate communications, Tapan Arandhara, who then directed us to eastern zonal manager K.S. Nagnyal. Nagnyal was guarded in his responses when we contacted him on his residential number. "I will have to see it case by case. In fact, it is not advisable to have any interaction about official matters while at home," he said.
As the CBI said a few LIC agents had colluded with corrupt employees, about 80 agents in Kolkata wrote to the divisional manager and the eastern zonal manager that they were under tremendous pressure because of the scam. "Because of the inaction on the part of the LIC, we are facing a negative impact, making it difficult for us to secure new business," said the letter. They have also written to Finance Minister Arun Jaitley. The minister's office declined to comment.
"People feel that we are also involved. We are the people who give business to the LIC. If our reputation is blackened, the LIC would not get any business," said Sukumar Mitra, an agent, who is member of the chairman's club.
Many policyholders like Keshab Kundu believe that the government will bail them out. Kundu had deposited Rs 20 lakh, which he had received as compensation for his land that was acquired for the expansion of Kolkata Metro. His pension, however, has been stalled for the last four years. "I think, at the end of the day, money will not be lost as the LIC is owned by the government. I hope the government will pay us back with interest and compensation," said Kundu.
But not everyone is calm. "Yes, they will pay me, when I am dead," said Nandimajumdar. "Believe me, none of my family members or relatives would ever invest in the LIC."