Mishra's USPs are his ability to take everyone along, and his concentrated vitriol against Mamata.
This doctor has given the CPI(M) a new lease of life in West Bengal. The chest specialist has given the Congress, too, a booster shot.
CPI(M) state secretary and Polit Bureau member Surjya Kanta Mishra has given what the opposition lacked: hope. And he has added to what Chief Minister Mamata Banerjee has in abundance: headaches.
Mishra's USPs are his ability to take everyone along, and his concentrated vitriol against Mamata and her scam-ridden Trinamool Congress.
Mishra has been criss-crossing the state, and delivering aggressive speeches even at rallies of Congress candidates. When the left and Congress formed an alliance about a month ago, fellow Polit Bureau member Biman Bose had ruled out joint campaigning. But Mishra took a different stand.
"Do not hesitate. Do not believe in [political] untouchability. Do not behave like an odd couple," he declared, as he launched his campaign. "Hold each other's hands and fight the Trinamool Congress. Let us tell every resident of Bengal to bring us back and save the state."
Many Congress leaders—who initially wondered how they could forget the "atrocities" inflicted upon them under the left rule—have embraced Mishra. The change of heart came about because of the way the CPI(M) state secretary reached out to them.
A case in point is Manas Bhuian's U-turn. The former state president of the Congress had written several letters to the party high command arguing against allying with the left.
Mishra, however, campaigned for Bhuian in Sabong, West Midnapore. He recently hit the streets and held rallies for the Congress leader. An elated Bhuian hugged Mishra in public and declared, "He will be our chief minister."
Says Abu Hasem Khan Choudhury, Congress MP from Malda: "In our closed-door meeting, it was decided that if we came to power, Mishra would be the chief minister. I do not want to hide this from the public. We have shed inhibitions, then why hide this secret?"
Even critics of the CPI(M) praise Mishra. "I am not a communist supporter, but I must say Mishra is the right choice to lead the opposition front," says educationist Sunando Sanyal. "He can take everyone along with him."
Mishra, however, downplays the buzz around him. "Our party has never projected a chief minister before elections—not even during Jyoti Basu's time," he says. "The norm is that elected members would select the chief minister."
The idea of joining forces with the Congress was first mooted by senior central committee member Gautam Deb. The CPI(M)'s state committee discussed it, but failed to reach a consensus. However, with the increasing aggression of the Trinamool Congress and the BJP's steady surge, the party's Young Turks rallied behind Deb.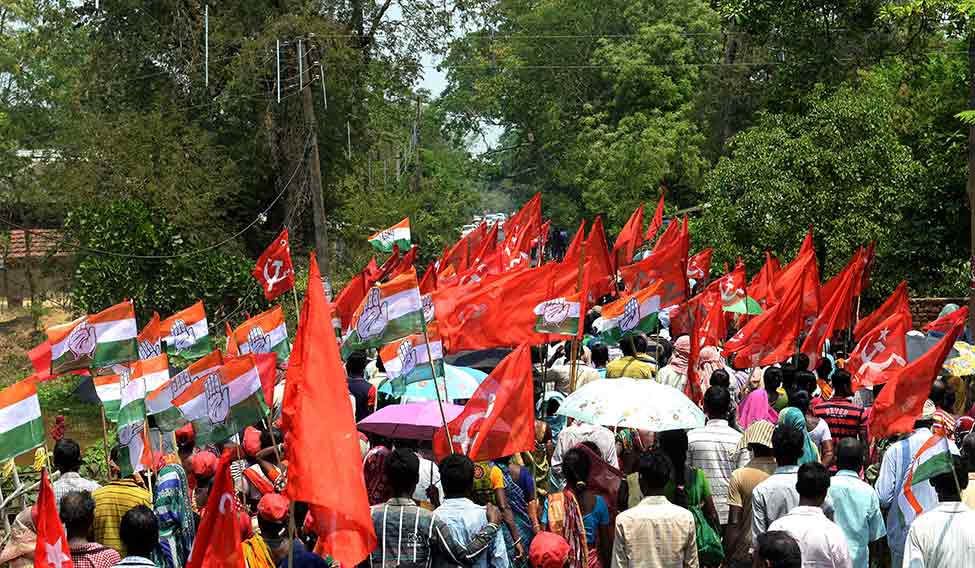 As the state units of the CPI(M) and the Congress sealed a deal, the onus was on Mishra to convince the central committee and Polit Bureau.
Mishra argued in the Polit Bureau that the CPI(M) would be finished in West Bengal if it did not form an alliance. Despite resistance from Kerala leaders, Mishra maintained that to save Bengal's secular fabric and the lives of grass-root workers, the party should let go of political untouchability.
"The way he portrayed the situation in Bengal melted every comrade's heart," says a Polit Bureau member.
"I am grateful to Mishra for getting the alliance ratified," says Deb.
"It would not have been possible without him."
The victory within the party made Mishra confident. He thundered that Mamata's days as chief minister were numbered. But beating the Trinamool Congress in about 120 seats in south Bengal is a mammoth task.
"Wait for a while," says Mishra. "You should get an idea about what is going to happen. Just look at our election rallies. Also, look at the chief minister—she has become jittery and apologetic."
Mamata had appealed at a rally: "Please do not take away your blessings from me. Then I won't be able to move ahead."
Similarly, while campaigning at Narayangarh, a seat Mishra has held since 1982, Mamata said: "I will do everything for Narayangarh, but defeat Surjya babu."
Mishra's aggro drive coincided with Mamata's associates getting embroiled in scams. The sting operation footage involving them has been on air almost every hour for a month. Shady tales of syndicate raj and the Kolkata flyover tragedy have also sullied her image. And, with some Muslim leaders also criticising her, Mamata is on the back foot.
The Trinamool Congress never imagined a star would emerge in Mishra. An introvert, he was minister (health and rural development) from 1996 to 2011. Though known to be "a little arrogant", he was a 'clean' and able administrator.
"He always went by the rule book. He had the capacity to say no even to the chief minister," says a former cabinet colleague. "Meticulous in work, Surjya da was the brain behind many social and health projects, which even this government has continued. But I must say the way he spread his wings in this election is unbelievable. He has many qualities, like Jyoti Basu."
Mishra brushes aside the praise. "Please stop. What kind of a comparison is this?" he asks. "Who am I? It is the people who make history."