September 1995: Jayalalithaa organised a gala wedding ceremony for her adopted son, V.N. Sudhakaran, who is the nephew of her companion Sasikala Natarajan. On that day, Sasikala and Jayalalithaa were dressed like twins, in similar saris and jewellery. The grand event showcased the depth of their friendship.
April 2009: It had been a long day for Jayalalithaa, as she was busy campaigning in the Lok Sabha elections. She was out of power, desperate to bounce back, and was touring the state in her campaign van and on this day she was in Thiruvannamalai district. As usual, a fair, thin woman in her 50s, dressed in a dark and maroon sari like Jayalalithaa's, sat behind in the campaign van holding placards that had Jayalalithaa's slogans printed on it. After the public meeting, while Jayalalithaa was getting back into the van, she hurt her right foot and screamed, "Sasi! It is very painful." Sasikala went to her, consoled her, and offered her water with sisterly affection.
On December 5, 2016, shortly before the death of Jayalalithaa was announced, her convoy was in place inside the Apollo Hospital in Chennai. As the ambulance carrying the body slowly moved out of the hospital, one saw Sasikala sitting next to the body, inconsolably sobbing. 
On December 6, at the Rajaji Hall where the public paid their last respects to Jayalalithaa, the focus of attention was intermittently on Sasikala. Prime Minister Narendra Modi consoled Sasikala, putting his hand on her head, as she broke down on seeing him.
Chinnamma, as Sasikala is known in the party circles, was till a few days ago the second most powerful woman in the AIADMK. She was Jayalalithaa's closest friend and confidant. A friendship thicker than blood. 
Sasikala was banished from Jayalalithaa's Poes Garden residence twice—in 1998 and in 2011. But, on both the occasions, she was forgiven and taken back within months.     In the early 1980s, Sasikala used to run a video parlour and shoot videos at private functions. This was the time she met Jayalalithaa. After MGR's death in 1987, Jayalalithaa was sidelined in the party. She was even thrown out from the hearse carrying his body. A disappointed Jayalalithaa saw support and calm in the words of Sasikala.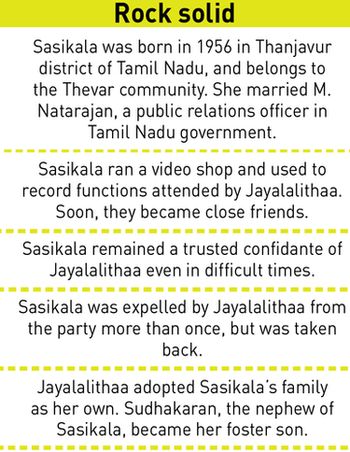 Back then, Sasikala's husband, M. Natarajan, was a government employee. He met Jayalalithaa in 1984 and got close to her. Incidentally, Natarajan's marriage to Sasikala was presided over by the DMK president M. Karunanidhi in the 1980s. It is even claimed that Sasikala was sent by MGR to spy on Jayalalithaa. When Jayalalithaa toured the state in the mid-1980s, Sasikala got the contract for video coverage of the events. Jayalalithaa so much liked the coverage that she started borrowing cassettes from Sasikala's video parlour in Mylapore.
Sasikala's entry into the Poes Garden was in the late 1980s. Jayalalithaa wanted someone to manage her household and Sasikala, she felt, was the apt person. 
In July 1989, there were reports in the media that Natarajan was manipulating Jayalalithaa, who by then had taken over as the general secretary of the unified AIADMK, throwing out MGR's wife, Janaki. Jayalalithaa was quick to support Natarajan. "Sasikala is my best friend and almost like a sister and Natarajan happens to be her husband," said Jayalalithaa. 
But, in 1990, as Natarajan began intervening in the party affairs, a furious Jayalalithaa threw him out of the party. Said she, "He is dominating me instead of obeying my orders." While Natarajan was driven out from the Poes Garden residence, Sasikala chose to stay back, sacrificing her husband for her friend.
During an interview, Jayalalithaa defended Sasikala. Said she, "I have no father, no mother, no brothers or sisters of my own. There are some other relatives, aunts, uncles and cousins but they are all fully involved with their own lives and careers. They are simply not prepared to give up everything and come here and live with me and take care of me and my household. That is what she [Sasikala] was doing. She did not interfere in party affairs or the government."
On February 22, 2008, Jayalalithaa exchanged garlands with Sasikala on Jayalalithaa's 60th birthday. Hindus in Tamil Nadu traditionally celebrate the 60th birthday by remarrying their wives at the famous Thirukadaiyur Temple near Nagapattinam.
In March 2011, just months before the assembly elections, the candidate list was released without Jayalalithaa's signature. It was withdrawn within a day and Jayalalithaa subsequently released a new list with her signature. The first list was reportedly the handwork of Sasikala and her family, who wanted their favourites to be elected to the assembly. 
A school dropout from Mannargudi, near Thanjavur, Sasikala hails from the Thevar community, which contributes AIADMK's major chunk of vote bank. She is a partner of some of the companies owned by Jayalalithaa, and some of these companies are listed in the disproportionate assets case pending in the Supreme Court. However, Jayalalithaa once said that these companies were managed by her and did not belong to Sasikala.
Said Raveendran Duraisamy, a political analyst "Jayalalithaa never gave Sasikala the political space. Even while admitting her into the party, twice after she banished her, she said that Sasikala's brother Divakaran, her husband Natarajan and relatives were traitors. Sasikala, too, realised this and in her letters she pleaded ignorance of the political coup against Jayalalithaa and went on to say that she would not ask Jayalalithaa for even a councillor's post."
Now, after Jayalalithaa's death, the party seems to be slowly slipping into the hands of Sasikala and her family. Said a district functionary, on condition of anonymity, "Sasikala was behind every activity in the party. All IAS and IPS transfers were influenced by her. Amma knew this.'' Apparently, it was Sasikala's younger brother Divakaran who met the MLAs after Jayalalithaa's death and sought their support to hold the party together and run the government.
Not everyone would accept Sasikala's control. Said Sasikala Pushpa, a rebellious Rajya Sabha member of the AIADMK, "Sasikala was just like a housemaid in Poes Garden. If Amma had thought that Sasikala was the best loyalist, she would have made her contest the polls and empowered her politically. Amma gave portfolios and positions to people like me from nowhere. In that case, she could have done it to her own friend. But she did not deliberately do it because she did not like Sasikala's rising clout in the party." 
Insiders in the AIADMK said that most seniors in the party, who were groomed by MGR and encouraged by Jayalalithaa, would not allow a smooth transition of power to Sasikala.
Another problem would bother Sasikala is the pending judgment in the Rs 66 crore disproportionate assets case. Orders were reserved for three months by the Supreme Court after hearing the final arguments. According to party insiders, with Jayalalithaa gone, the judgment might go against the three accused—Sasikala, Illavarasi and Sudhakaran.