It was as if the heart of Tamil Nadu had stopped. Loud cries could be heard from every corner of the state. Frustration, anger and grief were visible on the faces of party men waiting anxiously outside the gates of the Apollo Hospitals in Chennai. The hospital was cordoned off by thousands of policemen, after it issued a statement on the evening of December 4 that Chief Minister J. Jayalalithaa had suffered a cardiac arrest. Women rolled on the roads, weeping loudly. Some were praying continuously. "Oh God! Save her. We children cannot live without Amma," said Rajarathinam, a cadre from Kanchipuram.
Next day, it was clear that the situation was getting worse. Cadres were restive. Emotions flared. As news about Jayalalithaa's death was leaked by a television channel by 5:30pm, agitated supporters started throwing stones and water bottles. Within minutes, the hospital issued a press release terming the news "fake." The crowd settled and an eerie silence prevailed. Around 10pm, a meeting of AIADMK legislators, which was postponed earlier, started at the party headquarters. A while later, senior ministers including O. Panneerselvam rushed from Apollo to the meeting. The meeting was over within minutes after which the MLAs set out to the Raj Bhavan, where Panneerselvam was sworn in as chief minister along with his 31 cabinet colleagues. The police, meanwhile, secured the three-kilometre route from the hospital to Jayalalithaa's official residence at Poes Garden.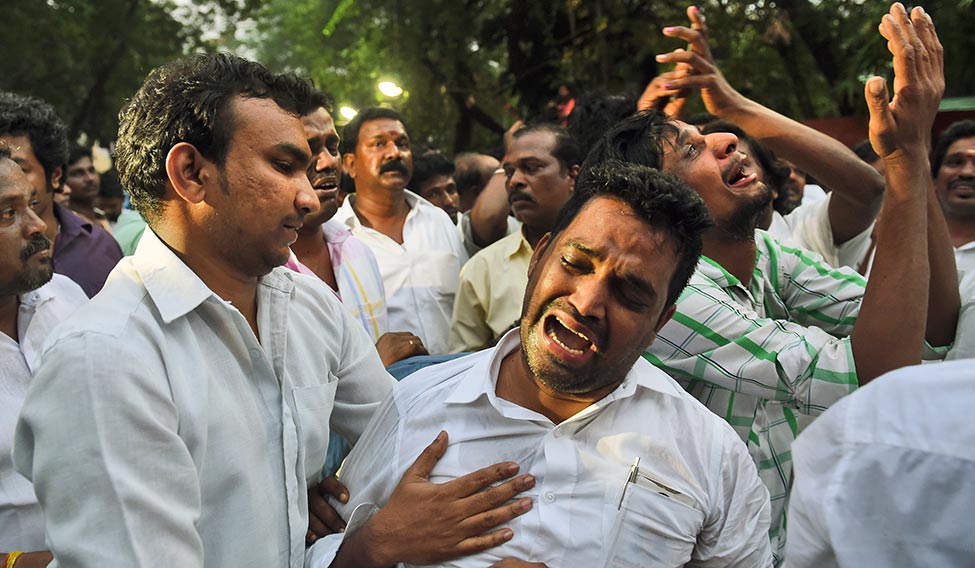 At 12:15am, the hospital announced through a press statement that she had breathed her last at 11:30pm. The ministers arrived at the hospital, paid their respects and by 2.50am Jayalalithaa's mortal remains were taken to Poes Garden. The pilot car did not sound the siren. Her security commandos were seen holding back their tears. Jayalalithaa's confidante Sasikala was inconsolable. Ministers came out walking from inside the Apollo gates. These men, who used to prostrate before their leader, were seen crying loudly, while at Poes Garden, rituals as per the Iyengar tradition were performed.
At 5am, her body was brought to the Rajaji Hall in the city for the public to pay respects. It was the same place where her mentor and former chief minister M.G. Ramachandran had lain in state almost three decades ago. The cries of anguished cadres rent the air even as desolate leaders sat on nearby steps. None of them believed that Amma would die. They were confident that she would come back to life, even 75 days after her hospitalisation. But, at 4pm, the body of the iron lady of Tamil Nadu, lying supine on the flower-decked gun carriage clad in her favourite green Kanchipuram silk sari with a red border, was taken out in a procession for burial at the Marina Beach. "Amma, you left us orphans. Who will care for these children," cried a man in his early 40s.
At 6.30pm, the body was lowered into a sandalwood bier and was interred in a 6' x 4' grave, right next to the final resting place of MGR. Sasikala, along with Jayalalithaa's nephew Deepak Jayakumar, performed the last rites. It was probably the sent-off that Jayalalithaa had wished for, a burial identical to the one that was accorded to MGR, right from the design of the coffin to the sandalwood billets inside.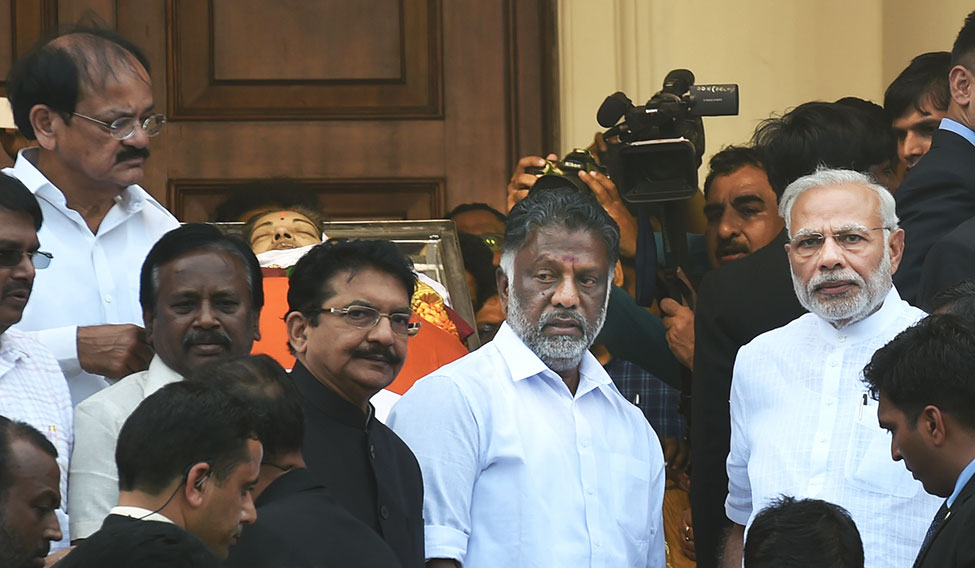 Amma, as she was known, was an emotion that electrified millions, especially women. "Who will now save us? Who will inspire us to fight back?" asked Anjulakshmi, a staunch Jayalalithaa supporter. She might have been a reluctant politician and a reluctant actor, but she excelled in whatever she did. She was the highest paid Tamil actress in the 1970s. She could act, sing and dance and she dared to look glamorous, when sari was the norm. As a politician, she won over the masses with her pro-poor schemes like the Amma canteens, Amma drinking water and several other populist schemes.
From the moment she was pushed out of the vehicle carrying MGR's coffin in 1987, Jayalalithaa was determined to grow bigger than him. "No one can get anything out of me or subdue me by threats and harsh treatment; it only makes me more stubborn, inflexible, unbending and determined. The only way anyone can get me to cooperate is to be nice to me, pamper me, cajole me, talk to me kindly, softly," said Jayalalithaa in an interview in March 1985, even before MGR's death. Her style of governance was autocratic and she never shied away from being vindictive. Yet, she was adored by millions. "At a time when ordinary women like us are fighting to defeat male chauvinism, she was the only woman who had the guts to get so many men to prostrate before her. I always enjoyed seeing this," said Ramya Narayanan, a 32-year-old bank employee, who came to Rajaji Hall to have a glimpse of her favourite leader.
But it was not an easy journey. Starting out as a child artist, she made Tamil cinema her domain before entering politics, under the influence of MGR. In an interview she said, "I hated cinema. But my mother forced me into it. I hated politics. And MGR forced me into it." She turned out to be successful in both. Hailing from an orthodox Iyengar family, she lived in Mysore till she was two, when she lost her father. Her mother then took her to Bangalore and later to Madras.
She was an outstanding student and excelled in arts and sports, too. While in school, she wanted to be a lawyer like Ram Jethmalani or Fali S. Nariman. But movies were in her destiny. Yet, whatever she did, she did not expect favours from anyone. After her first Tamil film Vennira Aadai, everyone asked her to call herself Vennira Aadai Jayalalithaa. But she refused, saying she wanted to be herself. Later, she became the only actress to have performed lead roles opposite all major actors of the day, all of them at least 30 years elder to her. She was the natural choice to be the heroine of MGR and Sivaji Ganesan those days.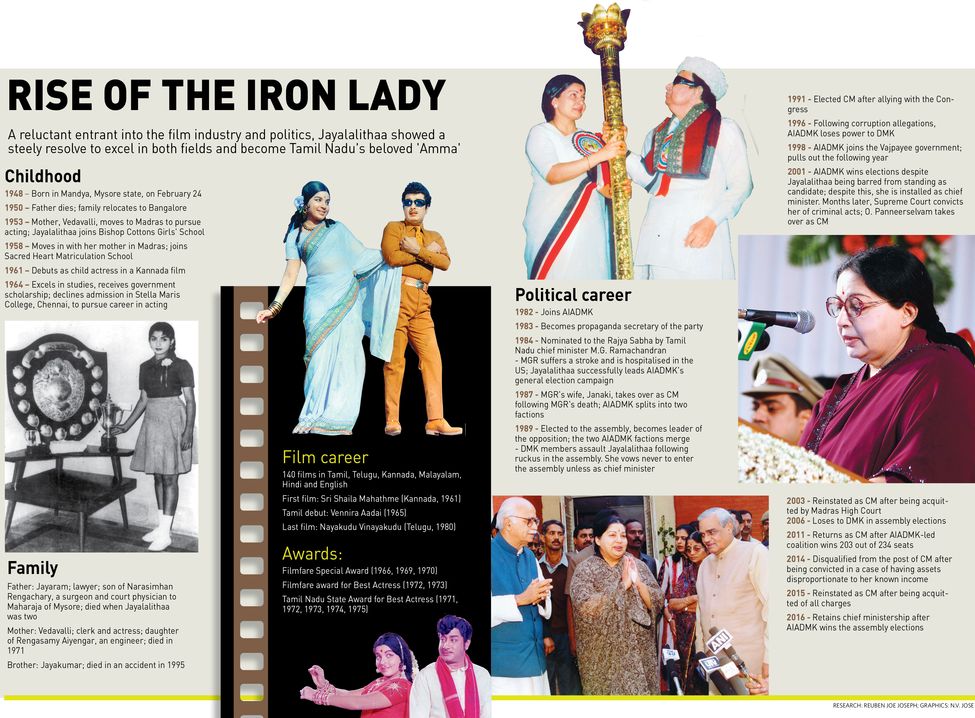 Like films, politics, too, came naturally to her. Within months of her debut as a Rajya Sabha member in 1984, she attracted national attention. She took the house by storm with her fluent English and won praise from prime minister Indira Gandhi. Her political skills and the ease, composure and fluency with which she spoke persuaded MGR to anoint her as his political heir despite opposition from party seniors. At the World MGR Fans Association meeting held in Madurai in 1986, MGR presented the sengol (sceptre) to her, which confirmed Jayalalithaa's primacy in the party. But after he fell ill and later returned to power in 1987, MGR was indifferent to her. She was sidelined by MGR's wife, V.N. Janaki. But Jayalalithaa undertook a tour across Tamil Nadu, addressing the young party members and proved her mettle yet again.
Blessed with a fine intellect and sterling leadership qualities, Jayalalithaa always kept her equanimity in the face of political adversities. After she was thrown out of MGR's funeral cortege, she managed to carve a faction of her own supporters in the party and subsequently even won over MGR's widow, and became the undisputed leader of the unified party. Another instance was in 1987 when she was harassed by the ruling DMK MLAs on the floor of the assembly. She then vowed that she would return to the house only as chief minister, which she did in 1991.
After she was voted out of power in 1996 following a series of corruption allegations, critics wrote her off once again. But she returned to power in the next assembly elections in 2001. At a press conference held after taking charge as chief minister, Jayalalithaa said, "You all wrote me off. You said I would not come back. But I have proved everyone wrong."

She was the only leader from Tamil Nadu who enjoyed the stature of a national leader. In the 1998 Lok Sabha elections, she put together an alliance with MDMK leader Vaiko and PMK leader S. Ramadoss. She also brought on board a Congress faction led by Vazhapadi K. Ramamurthi to support the NDA government under prime minister Atal Bihari Vajpayee. But she withdrew support to the government in 1999, causing a major political crisis. She was also notorious for keeping senior leaders who went to meet her waiting at her Poes Garden residence.
But such unpredictable behaviour and arrogance closed the doors for the AIADMK at the Centre, an opportunity utilised by her rival DMK. But she fought back and from zero MPs in 2004, she managed to get 37 of her candidates elected in the 2014 Lok Sabha elections even as the Narendra Modi wave swept across the country.
But there were two public incidents that had a lasting negative impact on her image. One was the Kumbakonam festival mishap in 1992. She went there for a holy dip, which triggered a stampede in which more than 50 people lost their lives. The second was the extravagant wedding ceremony of her foster son V.N. Sudhakaran, which might even had an unlikely impact on her health. The gala wedding was one of the reasons behind the disproportionate assets case, which is pending in the Supreme Court on appeal. She was sent to jail for 27 days in 2014 after she was found guilty in the case, and the jail stay apparently complicated her fragile health condition. Although she recovered to an extent and led her party to victory in the assembly elections early this year, her health was never the same after the stay in jail.
Perhaps except for this one time, she had always understood risks and tackled those well. She had always learned from her mistakes. "I lost my father at the age of 2 and my mother at the age of 22. When she died, I was alone. I did not know anything. I did not know how to operate a bank account. I did not know what income tax was. I did not know how to run the house," she said in an interview. But later, she became an inspiration to generations of women.
With her death at a relatively young age, Tamil Nadu appears to be heading for a political vacuum. It is an uphill task for Panneerselvam to keep the party together as he prefers to keep a low profile and has never shown political acumen like her. In 2001 and in 2014, when Panneerselvam was chief minister, he was guided and controlled by Jayalalithaa. Now, he will also have to watch out for interference from Sasikala and her family members and other factions in the party and outside elements, including rival political parties. With the DMK patriarch M. Karunanidhi also ailing, a winter of discontent seems to be setting in in Tamil Nadu politics.