"ISKCON is a calling. The person coming to ISKCON actually comes to serve Krishna. He wants to dedicate his life to Krishna." - Mukunda Madhava Das, vice president, ISKCON, Juhu
If the name ISKCON conjures montages of Dev Anand's 1971 blockbuster film Hare Rama Hare Krishna to mind, you are not alone. Many have associated the decadence of the hippie culture depicted in the film with the Vaishnava religious movement, but that is only one side of the coin. Although many of the initial followers happened to be hippies, ISKCON has evolved into something more. But it begs the question. How did the hippies cotton on to ISKCON?
"ISKCON, which turned 50 last year, was incorporated in the US by Bhaktivedanta Swami Prabhupada, the founder acharya from Bengal, who was instructed by his spiritual master to travel to the west and preach the message of the Bhagavad Gita to the western audience. The message wasn't just for India, but for all of mankind. So, in 1965, Prabhupada went to the US on a cargo ship. By 1966, with a handful of followers, he incorporated International Society for Krishna Consciousness in New York city," says Mukunda Madhava Das, vice president, ISKCON, Juhu.
As the iconic poet Allen Ginsberg wrote, "Usually, all the gurus lived in the rich part [of New York] and were sponsored by the rich, but [Prabhupada] moved to the lower east side… where the hippies, acid heads, freaks, amphetamine-heads and the meth monsters were. It was a stroke of brilliant social judgment on his part."
"Initially, the hippies wanted to take drugs and stay high. But Prabhupada taught them that the high of the drug comes down the next morning; Krishna consciousness could sustain them forever," says Das. Prabhupada helped them with kirtans, invited them to lectures and fed them prasad (Indian food). They gave up all their vices, donned the dhoti-kurta and became followers of the Vedic culture.
Prabhupada famously said, "I've converted them from hippies to happies." Many became full-time volunteers for the institution. "From there, several devotees were sent to different places like Los Angeles, Vancouver and London to establish other centres. Prabhupada delivered lectures there, initiating many more as full-time volunteers. In a similar manner, Prabhupada established 108 centres across continents between 1966 and 1977, travelling around the globe 12 times. In fact, you will have an ISKCON centre in almost every city," says Das.
"For commercial reasons, Dev Anand took Hare Rama Hare Krishna and interpreted it his own way. It is speculation to some extent, but it is not even close to what we practise here. Inside our premises, we don't allow even cigarettes, tea or coffee," says Das.
Prabhupada translated the Bhagavad Gita, Srimad Bhagavatam and other Vedic literary works to almost every language imaginable. "Bhaktivedanta Book Trust, which operates under ISKCON, is actually the largest publisher of Vedic scripture around the world, in various languages," says Das. "Apart from these books which are distributed to all newcomers, we also have a bi-monthly magazine called Back to Godhead," he says.
Just as ISKCON found ardent devotees like George Harrison back in The Beatles' heyday, it continues to attract followers across the world even today. "American politicians like Tulsi Gabbard, representative of the Democratic Party from Hawaii, also has an ISKCON connect," says Das.
"ISKCON, which has several temples and centres abroad, is known as the kitchen religion across the globe because food is a very integral part of it and also because of the prasad (which literally means the mercy of God) which is distributed. The food (only vegetarian) which is served there is prepared sans onion and garlic," says Parijata Devi Dasi, ISKCON communications coordinator for western India.
"There is food for the body (grains that you eat) and there is food for the soul (reciprocation of love, sanctified food)," she says. "In fact, in Dallas, Texas, we have an award-winning vegetarian restaurant called Kalachandjis, which has sparked a lot of excitement among the public."
While payment is accepted at their restaurants, they also have a little counter called 'food for life', where prasad is served free of cost in the morning and evening to whoever visits the temple for darshan.
Prasad is also distributed in schools and hospitals. On special occasions like Makar Sankranti, free meals are served to visiting guests. ISKCON Food Relief Foundation also takes part in the mid-day meal scheme.
Apart from the 400 to 500 temples and centres abroad, ISKCON also has farm communities. "We are located mostly in the US and Europe, apart from all the main cities in Australia. Australia also has farm communities and restaurants," she says. They have 50-75 centres and numerous temples in Moscow, informs Das. "Hungary has beautiful farm communities, where they are self-sufficient and eco-friendly," says Parijata.
So, what are the prerequisites to join them? "ISKCON is a calling. The person coming to ISKCON actually comes to serve Krishna. He wants to dedicate his life to Krishna,"says Das. As a student of structural engineering in IIT-Madras, he came across a book on Prabhupada at a library in IIT-Bombay. He says, "When I read that, I felt it was something that nobody had taught me. I was very inspired, especially after I finished reading the Bhagavad Gita. I felt this was what I should dedicate my life to. I then switched over to philosophy, did my master's and got my doctorate on the topic," says Das.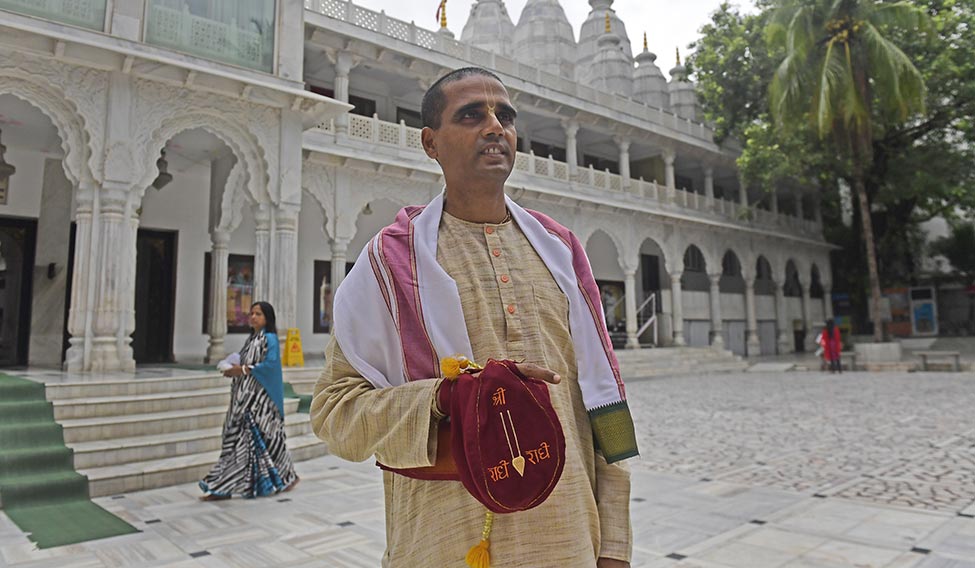 "Krishna, in the Bhagavad Gita, asks us to keep him in the centre of whatever activity we do. So, it is all about keeping Krishna in the centre of your life and following what he said," says Parijata, who found the philosophy to be very practical, easy to follow and something she could relate to when she was looking for answers.
"As long as a person is sincere, ready to accept the philosophy of ISKCON and follow the rules and regulations, we give them a chance. After a training period of one year, they are free to continue if they like. Else they can return," says Das.
"There are four regulatory principles that every member of ISKCON is supposed to follow: no meat, (not even eggs and fish), no sex outside the marriage, no intoxicants such as liquor, cigarettes, coffee or tea and no gambling," says Das.
The schedule at ISKCON can be rigorous and involves waking up before 4am, bathing, putting on fresh clothes and attending the morning programmes, which is the mangal aarti at 4:30. Then there are the incantations. The Hare Krishna Maha Mantra consists of 16 malas (one mala consists of 108 beads). Chanting Hare Krishna Hare Krishna, Krishna Krishna Hare Hare; Hare Ram, Hare Ram, Ram Ram, Hare Hare with every single bead takes about two hours.
This is followed by morning darshan and one more aarti. After that, there is guru puja, worship of our spiritual master. Close on the heels is a lecture on Srimad Bhagavatam until 9am. Then there is the breakfast prasad. At 10am, the devotees go to their respective departments to render services till 5pm. Prasad is served and there is an evening aarti from 6:30pm to 7, followed by a lecture on Bhagawad Gita. At 7:30, cow's milk and light snacks are served. They can go back and take rest at 9pm.
Inhabitants of the temple are called 'resident devotees'. The ones who live outside are the 'congregation.'"Those who are residents here serve full-time and those who work outside can practise the teachings. They come here on weekends and for festivals," says Das.
Take the case of Anuttama Dasa, minister of communications at ISKCON, Washington, DC. Dasa, who became a member of ISKCON when he was 20, also serves as a governing body commissioner, board member of religions for peace and convener of the Vaishnava-Christian interfaith dialogues both in the US and India. "Unless we change people's hearts, minimise the greed, envy and anger that so moves the world, we can never improve it. Change has to begin from within, and ISKCON offers a time-tested tradition to effect those changes both inside and outside," he says.
"Many are attracted to ISKCON because it is an authentic path, rather than a cult. There are proper explanations, there is a proper understanding. You can question and you will get answers," says Parijata. "There is a lot of depth, richness and substance to the philosophy and the culture of the movement," she says.
Prabhupada also established the Bhaktivedanta Institute, the academic wing which offers master's and doctorate degrees in consciousness studies. "He wanted to present the Vedic ideas in scientific language rather than in theological terminology," says Das.
Little surprise then that devotees are from well-educated backgrounds and some of the books of Prabhupada, where he presents the Vedic philosophy in a simple manner, continues to attract and inspire many.