Amartya Sen has accused the Modi government of interfering in institutions like TIFR, IIT-Delhi and IIT-Bombay. Sen had to step down as chancellor of Nalanda University.

The Modi government seems to be in a rush to rejig political icons by appropriating those who are not traditionally linked to it and by bringing some of its own into the mainstream.
Historian Mahesh Rangarajan is known to be conscientious and sensitive. Naturally, he was hurt when Union Culture Minister Mahesh Sharma said that his appointment as director of the Nehru Memorial Museum and Library was "illegal and immoral". The very next day, he tendered his resignation.
NMML's executive committee refused to accept it. So, he submitted a second letter, forcing the committee to accept it. Rangarajan was appointed by the Manmohan Singh government just before the 2014 Lok Sabha poll results came out. The hurry, Sharma hinted, was to prevent the BJP from making an appointment.
When THE WEEK approached him, Rangarajan refused to be drawn further into the controversy, and, said, "I am not a public figure anymore. You should talk to some scholars to understand the issue."
Experts say Rangarajan infused energy and dynamism into NMML, helping it recover from the controversial tenure of his predecessor, Mridula Mukherjee. And, indeed, the BJP government seemed to have no problems with him. As Prime Minister, Narendra Modi is ex officio chairman of NMML, and several pro-BJP people were appointed to NMML panels. Then came Sharma's attack.
The timing of the attack was interesting, coming as it did after BJP ministers met Sangh leaders at a conclave in Delhi. At the conclave, Sharma and Union Human Resources Minister Smriti Irani are learnt to have assured the Sangh that they would work to remove all western influence over Indian culture.
Some corners see Rangarajan as a victim of the sniping between the BJP and the Congress, over Nehru's legacy. Rangarajan's exit coincided with the government declaration of plans to turn NMML into a museum of modern governance, putting focus on initiatives such as smart cities and India's Mission to Mars. Government functionaries say the move is to highlight the contributions of other leaders.
There are indications that the RSS wanted Rangarajan out. An article in Organiser, the RSS magazine, referred to the "hurry" in appointing Rangarajan. It also said that his appointment was not hassle-free and his tenure was not healthy. The article alleged that there was a scam waiting to be unearthed at the library, because it was granted Rs.168.30 crore in the 2013 Union Budget, a massive increase from the previous year's Rs.17.07 crore.
There is also talk of transferring the Nehru papers to the National Archives. And all these developments have raised fears that the government is trying to denigrate the Nehruvian legacy. "The main objective of the memorial was that it would be a place where Nehru's collected works would be kept, that there would be material preserved on the national movement," said renowned historian Irfan Habib. "It was a celebrated project. Now, I do not know what the illiterates who are taking decisions will do."
Critics of the Modi government say that the NMML issue is only one of the instances of the BJP's attempts to transform cultural institutions and bring them in line with its pro-right ideology. It is also being said that all this is part of a larger plan to impose RSS ideals on institutions of culture, education and historical research.
According to sources, at the BJP-RSS conclave, Sharma briefed Sangh leaders on his ministry's plans to revamp the 39 cultural organisations under it. Among them are NMML, Lalit Kala Akademi, Gandhi Smriti and the Indira Gandhi National Centre for the Arts. Culture ministers from BJP-ruled states participated in the conclave. Sharma has been quoted as saying that a cultural cleansing has to be undertaken to remove western influence on cultural institutions.
Post-conclave, Sharma has been on an overdrive. He has said that former president A.P.J. Abdul Kalam was a nationalist despite being a Muslim and he also pontificated that the idea of a girl's night out was against Indian culture. Earlier, such comments were being made from the fringes by Sangh leaders like Sadhvi Prachi and Sakshi Maharaj. Now, Union ministers are vocally espousing the Hindutva cause of the RSS.
The Sangh is learnt to have tasked the culture and HRD ministers to prepare a roadmap on how to remove western influence and inculcate Indian values in education, art, and historical and scientific research. Scholars and social commentators say the process of re-setting institutions to suit the RSS's worldview had begun soon after the Modi government took charge, and that it is happening in a more blatant manner compared with the A.B. Vajpayee regime.
The culture ministry did not give Dipali Khanna, member secretary of the IGNCA, a second term. The centre is now headless. And, there is also talk of dropping Indira Gandhi from its name and renaming it as National Centre for the Arts. Kalyan Kumar Chakravarty, a 1970-batch IAS officer, was removed from the Lalit Kala Akademi. He was appointed chairman in 2012, for a five-year term. Venu Vasudevan was removed as director of the National Museum and packed off to the sports ministry, after he reportedly refused to part with an artefact that some religious groups wanted for a function.
There have been appointments, too, of pro-BJP personalities. Yellapragada Sudershan Rao was made chairperson of the Indian Council of Historical Research. Eyebrows were raised when he spoke of the Ramayana and the Mahabharata as history, and not mythology. Rao has initiated projects to rewrite ancient history and disbanded the advisory committee of the council's journal, The Indian Historical Review. Sabyasachi Bhattacharya, the journal's editor, resigned in protest. "Rao was best known for his research on 17th century land revenue systems," said Habib. "But, now, he is talking only about pauranic [ancient] history."
Historian Lokesh Chandra, who was appointed head of Indian Council for Cultural Relations, called Modi greater than Gandhi and an "incarnation of God". The ICCR has asked universities to create chairs in cultural studies named after Swami Vivekananda and Deendayal Upadhyaya, both of whom Modi admires.
Students of the Film and Television Institute of India are still protesting against the appointment of small-time actor Gajendra Chauhan as its chairman. Chauhan, whose only claim to fame is his portrayal of Yudhishtir in the TV series Mahabharata, has said he was the BJP's national convener for culture. The Censor Board of Film Certification witnessed a spate of resignations, including that of its chairperson, Leela Samson. The resignations came after the government green-lighted the movie Messenger of God, starring controversial godman Gurmeet Ram Rahim Singh. Film-maker Pahlaj Nihalani, an avowed Modi fan, replaced Samson. One of the early decisions he took was banning a long list of swear words in films.
Immediately after the 2014 Lok Sabha elections, Gopalkrishna Gandhi resigned as chairman of the Indian Institute of Advanced Study, Shimla. He was succeeded by Chandrakala Padia. While critics say that she does not have the scholarly standards required for the post, her appointment is said to have been proposed by Irani herself.
Girish Chandra Tripathi, an RSS functionary from Uttar Pradesh, was appointed vice chancellor of Banaras Hindu University. Baldev Sharma, former editor of Panchjanya, was appointed chairperson of the National Book Trust. A weekly newspaper, Panchjanya is published by the RSS; Vajpayee was its first editor.
And, with regard to academic institutions, Nobel laureate Amartya Sen has accused the Modi government of interfering in the management of institutions such as the Tata Institute of Fundamental Research, IIT-Delhi and IIT-Bombay. Sen himself was made to step down as chancellor of Nalanda University.
There are allegations of school curriculum being manipulated. After being accused of financial irregularities, Parvin Sinclair, director of National Council of Educational Research and Training, resigned in October 2014. She still had two years to go at the NCERT, and had undertaken a project to update the National Curriculum Framework 2005. After her departure, the project was abandoned.
"Academics are not being treated well," Sinclair said. "Even during the UPA tenure, there was controversy over some cartoons in textbooks. However, the government was correctly advised by the bureaucracy and the matter did not snowball. But, the bureaucracy knows which way the wind is blowing and will accordingly advise the government."
Irani and organisations owing allegiance to the RSS have had several meetings on school curricula. The organisations wanted the history taught in schools to be corrected and emphasis given to ancient history. Sharma has said that ancient Hindu texts such as the Ramayana, the Mahabharata and the Bhagwad Gita will be included in school curricula.
"The students today are fed with a syllabus which is loaded with myths, superstitions, half-truths, discriminatory attitudes and everything else which hardly befit a nation which desperately seeks to find a niche as a global player," said Fr Cedric Prakash of the Centre for Human Rights, Justice and Peace, an Ahmedabad-based organisation that has campaigned against saffronisation of school textbooks.
Much in keeping with the RSS's ideas on ancient Indian history, Sharma recently opened an exhibition on 'Cultural continuity from Rig Veda to Robotics' in Delhi. The exhibition displayed research by the Institute of Scientific Research on Vedas (I-SERVE). These research results echo the beliefs of the RSS, such as that the Ramayana and the Mahabharata are not mythology, but a historical account of ancient times; that there was no Aryan influx and that Aryans from India actually went to Central Asia and Europe; that the Saraswati river is not mythical, but a real river that vanished, and that the Ram Setu is a man-made bridge connecting India and Sri Lanka.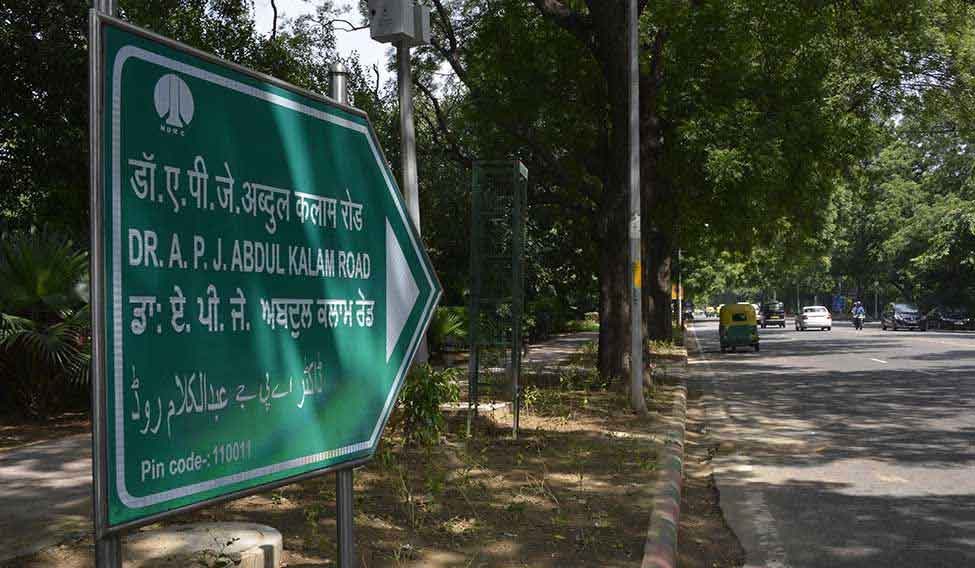 "It is tragic that we do not update our education. These reports have been there for many years, but they were not given their due importance," said Saroj Bala, director, I-SERVE. She said the institute's findings were based on work done by organisations such as the Archaeological Survey of India, the Geological Survey of India, the Indian Space Research Organisation and the Department of Earth Sciences. "The findings are an authentic analysis of the original reports," she said.
Bala said she did not want the findings to be politicised, as I-SERVE had nothing to do with any political party. But, the culture ministry has taken a keen interest in the institute's work.
There is a feeling that the growing Hindutva thread in public discourse is translating into denigration of minorities, which include attacks on churches and Christians and the renaming of roads. Eg, renaming Aurangzeb Road after A.P.J. Abdul Kalam. The rationale given was that the Mughal emperor was intolerant of other religions, and, hence, did not deserve respect. The road was named so by the British, who had named a series of roads in the capital after prominent Indian rulers to reflect the historical continuity, and Prithviraj Road, which was so named, is not far from the erstwhile Aurangzeb Road.
The Modi government seems to be in a rush to rejig political icons by appropriating those who are not traditionally linked to it, by bringing some of its own into the mainstream and by sending others, like the Nehru-Gandhis, into oblivion.
The government is aggressively highlighting its own icons such as V.D. Savarkar, Deendayal Upadhyaya and Syama Prasad Mookerji. After snatching Sardar Vallabhbhai Patel from the Congress, it has gone on to appropriate the legacy of Subhas Chandra Bose, Bhagat Singh, and, to a certain extent, even Lal Bahadur Shastri. Interestingly, Bhagat Singh was a Communist and an atheist, something which the BJP has conveniently forgotten.
Congress leader Anil Shastri said the BJP was hunting for political icons as it did not have any of its own, except perhaps Vajpayee and Mookerji, and the latter is not known to the present generation.
Shastri said the BJP suffered from a credibility crisis because of its association with events such as the Gujarat riots and the demolition of the Babri Masjid. He said it was now trying to paper this over by associating itself with highly regarded names. "Also, their history starts with the Jan Sangh in 1951. So they have no history of fighting for the freedom of India," he said.
Last year, Modi addressed children on November 14—Children's Day and Nehru's birthday. It was seen as an attempt to overshadow the first prime minister. Recently, the government decided to discontinue stamps carrying the likeness of Indira Gandhi and Rajiv Gandhi, leading to strong protests from the Congress.
"In the definitive stamp series, the focus was on one family… though other names were there," said Union IT & Telecom Minister Ravi Shankar Prasad. He said the new series was more inclusive and gave recognition to people of different ideologies and approaches.
Earlier, the Modi government had dropped Indira's and Rajiv's names from the titles of two awards—the Indira Gandhi Raj Bhasha Puraskar and Rajiv Gandhi Rashtriya Gyan Vigyan Pustak Lekhan Puraskar. The Rajiv Gandhi Grameen Vidyutikaran Yojana was renamed after Deendayal Upadhyay and the Jawaharlal Nehru Urban Renewal Mission was renamed after Mookerji.
Ban on sale of meat in states ruled by BJP governments, during a Jain festival, has raised quite a furore. Critics are questioning the government's right to decide what citizens must eat. BJP leaders, including a minister, have advised women on what they should wear, how long they should stay out and how many children they should have.
"The government has entered the private domain of what people should eat and wear, what films they should see and whether or not an Indian girl can even be out late at night," said Fr Prakash.
There is an aggressive campaign to promote Gaunyl, made of cow urine, as a replacement for phenyl. It is being used in government offices in Delhi. A similar product, Go Clean, is being used to clean hospital wards and operation theatres in Jaipur. Yoga guru Baba Ramdev, who claims to have solutions to all problems, has now entered into a tie-up with Defence Research Development Organisation to make and sell its food products. Recently, he claimed to have a cure for dengue, too.
Theatre personality Aamir Raza Hussain said it was clear that the RSS was calling the shots, but rued that it was being given a free run by the Congress. "The Congress made a hue and cry about the Land Bill, which it said was 'anti-farmer'," he said. "However, they have not taken up the issue of communalisation, which is affecting the whole country." Raza said the Congress should take up the leadership in the "anti-communal, anti-saffron battle."
It is natural for comparisons to be made between the governments of Modi and Vajpayee with regard to promotion of the Hindutva agenda. And, it is felt that it is being done in a more blatant manner this time round.
Senior Congress leader Dr Karan Singh said, "The BJP is in a way an offshoot of the RSS, and naturally it would be guided by the ideology of the RSS. But, the point is whether it will go to some extreme right. Vajpayee tried to do a balancing act. Modi is a very articulate and a very impressive leader. He has so far not said or done anything particularly objectionable. But his ministers sometimes make strange statements."
Habib said that the difference between the Vajpayee and Modi governments was that earlier, conservative people who came from the ranks of academics were appointed. The people who are being appointed now are not even academics, he said.
RSS leader Manmohan Vaidya, however, rejected the charge that the Sangh was directing the government to further its Hindutva agenda. "The allegations are baseless," he said. "The government takes its own decisions in consultation with the party. These decisions are of the party, of the government. The Sangh has no role in it." He said the government was doing what the BJP had promised in its election manifesto.
However, rewriting history and erasing memories is not easy to achieve. The government renamed Aurangzeb Road. But, Aurangzeb Lane still exists.