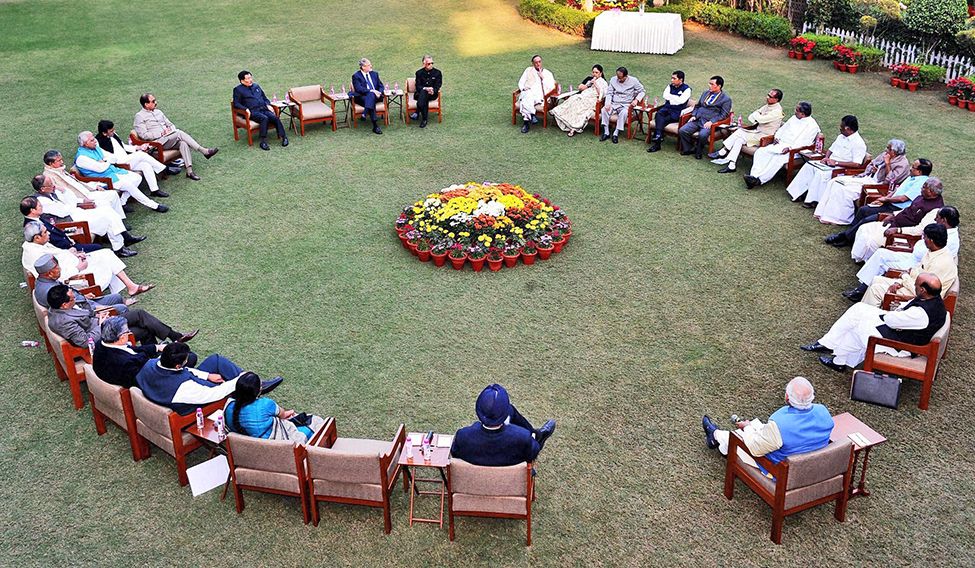 A phone call from Prime Minister Vajpayee in September 2001 was a turning point in Narendra Modi's political career. Get ready to succeed Keshubhai Patel as chief minister of Gujarat, Modi was told.
After occupying the chief minister's chair, the doughty pracharak-turned-politician kept it for 13 years till he became prime minister. Even as the blot of the 2002 Gujarat riots haunted him, Modi earned the reputation as a chief minister who marshalled an efficient administration, used his resources well and came up with out-of-the-box ideas.
This reputation turbocharged his march to Delhi. Modi marketed the 'Gujarat model' as he wooed India. He promised the country a strong leadership. As prime minister, he appeared to be the antidote to the Congress-led UPA's policy paralysis.
Modi watchers expected him to transplant the Gujarat model of governance in Delhi. They were right; he has ensured that it is a Modi-centric government.
'Minimum government, maximum governance' has been his mantra. One of his first orders was: ministers should start work at 9am. He has set strict deadlines for ministries. A biometric system was installed last September to ensure that government employees arrived in office on time.
The BJP paid a price, as the angry employees voted against it in the Delhi assembly elections. But, Modi succeeded in sending out the message that he meant business.
And, the results are showing. Now, on an average, employees spend 20 minutes more in office every day, including Saturdays. Bureaucrats talk about promptly clearing files; they cannot be kept pending for more than a week.
Modi has met top bureaucrats over tea thrice so far, and set up a direct line of communication with them. He has assured them that they need not be afraid of taking bold decisions.
The prime minister ensured that he got his chosen men. He promulgated an ordinance to get Nripendra Mishra as his principal secretary. He got bad press for the way in which he replaced foreign secretary Sujatha Singh with S. Jaishankar, just months before she was to retire. He sacked DRDO chief Avinash Chander, too, 15 months before his contract was to end.
Has all this improved the government's efficiency? Yes and no.
Files have moved faster and employees have spent more time at work. On the flip side, ministers have been hesitant to take decisions. The prime minister's office, sources say, is getting overburdened.
That it would be a PMO-centric government was clear from day one, as Modi did not involve even top BJP leaders while choosing his cabinet.
Senior ministers such as Rajnath Singh (home) and Sushma Swaraj (external affairs), too, apparently do not have much of a say in decision-making. Modi has driven most of the foreign policy moves, and, for the first time, the home secretary reports to the prime minister on a daily basis.
Modi meets the three services chiefs every month, unlike Prime Minister Manmohan Singh who was reluctant to meet them. Modi has gained the reputation of a 'big brother' watching over everyone. In every office, there is suspicion that there is a mole reporting to the PMO.
Even ministers are wary of the big brother. Once, Modi asked a minister to meet him to discuss an issue. The minister went without a presentation on the topic. An angry Modi asked the minister to meet him the next day―with "presentation or resignation". That was a message to all ministers: thorough homework is a must.
Union Transport Minister Nitin Gadkari once announced to the media his plans on an inland waterways project. After a cabinet meeting, as ministers were having a casual chat, Gadkari mentioned the project to Modi. The prime minister laughed and told Gadkari, "Pehle Yamuna ko saaf to karo (First, clean the Yamuna)." The indication was clear: priorities first.
Modi keeps a watch on his team's lifestyle, too. He once told an alliance leader to ensure that his son, set to be projected as a leader in an election-bound state, should act more mature and behave like a serious politician.
Some ministers, however, are said to be upset over not being consulted on important decisions. When Modi cancelled talks between foreign secretaries of India and Pakistan, he consulted only National Security Adviser Ajit Doval. In designing the biometric attendance system and e-governance initiatives, the PMO directly coordinated with IT Secretary Ram Sevak Sharma. For the first time ever, the contingent for the Asian Games was decided at the PMO level. This had not happened even when India hosted the Games in 1982.
The extension given to the Kelkar Committee, which was appointed to give suggestions on the new model for the government's share in oil and gas blocks, was also decided by the PMO. Same goes for decisions on the spectrum auction and the proposal to merge MNTL and BSNL.
Modi, however, is credited with easing decision-making in defence procurements―as in the case of the Rafale deal―which have been stuck for years. He also handpicked schemes that could be highlighted as major initiatives of his government such as Swachch Bharat, Jan Dhan Yojana, Skill India, Make in India and Atal Pension Scheme.
While the BJP called Manmohan Singh a puppet prime minister, the Congress-led opposition calls Modi a megalomaniac. "They deserve credit for creating the most centralised government in India's recent history. Ministers hardly matter," Congress president Sonia Gandhi said at a recent party meeting. "Even the bureaucrats, who are supposedly empowered, feel paralysed because all key files are pending in the PMO."
Parliamentary Affairs Minister M. Venkaiah Naidu rubbishes the charge: "The prime minister is the head of the cabinet and has the mandate of ensuring swift actions, particularly, to revive the economy and put it on a high-growth trajectory. How can any sane person question the PM doing his job?"
Modi's opponents also criticise him for imposing his "authoritarian" will in Parliament―of 51 bills, 43 have not gone to a standing committee. "You find his authoritarian trait adversely impacting parliamentary democracy," says CPI national secretary D. Raja. "A standing committee's report is only recommendatory in nature. Yet, they do not want to go through that route."
Modi's iron grip, however, seems to have choked corruption. And, that is what gives him the confidence to declare on foreign soil that he is transforming "Scam India" to "Skill India".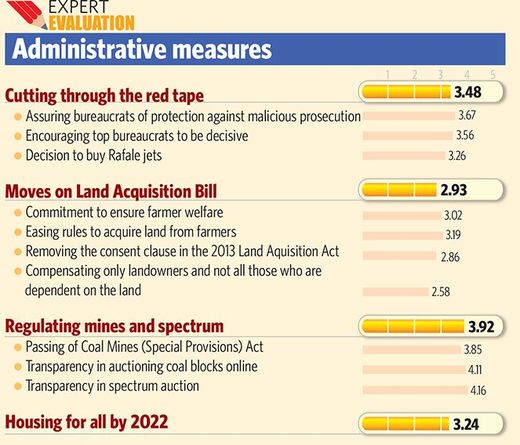 The coal and spectrum auctions proved that the government exercised transparency in the very same procedures that were scam-ridden during the UPA rule. Similarly, officials say leakage of subsidies is reducing, thanks to direct bank transfers.
Modi has made it clear to his ministers that corruption will not be tolerated. Lobbying is not yielding the same kind of results as before, and middlemen are fading away.
Earlier, corporate executives used to spend a lot of time in ministries, meeting officers and junior staff, and trying to extract information or get things done. Not anymore, say sources.
"He does not accept any undue favours and does not allow anyone in the government to do so," says a Union minister. "This has also led to some frustration in certain quarters."
A government secretary was recently transferred because his bosses noticed his penchant for luxury watches and pens. Incidentally, luxury watch sellers in Delhi are an aggrieved lot. Sale of high-end watches, which can cost crores of rupees, has dropped drastically under Modi rule!
Sources say luxe watches and pens are common 'gifts' given by interested parties to those in the government. A former Union minister's son had picked up two Breguet watches at one go from a store in 2013. Since Modi came to power, the "regular customer" has been missing.
Though the government has remained 'clean' so far, it has faced flak for not fulfilling its election promise of bringing back black money stashed abroad within 100 days of assuming power. One of the first decisions that Modi took was to set up a special investigation team on black money, but it has failed to yield desired results.
Similarly, even as Modi keeps stressing on transparency and accountability, the Congress has attacked him for not appointing the heads of Central Information Commission and Central Vigilance Commission. Sonia, in her speech in the Lok Sabha, attacked the government over the number of pending RTI applications.
Aware of the opposition getting an opening to attack him on the issue of black money, Modi ensured that two bills dealing with the issue were passed in the recent budget session. The benami bill was rushed through at an unprecedented pace. Within minutes of the cabinet passing the bill, the Press Information Bureau was ready with a brief on it. Within four hours, it was tabled in the Lok Sabha. All instructions came from the PMO.
One remarkable feature of the Modi raj has been his concept of "Team India"―PM + CMs. A Union minister says Modi was so keen on the states getting a larger share of Central taxes, as per the 14th Finance Commission's recommendations, that he prevailed over his cabinet colleagues who expressed concerns over it. "The PM said, having been a chief minister, he knew how important it was for the states to get a greater share of revenue," says the minister. "And, in the long run, his point of view was appreciated."
Modi has also spoken of NITI Aayog, the revamped version of the Planning Commission, as a platform to empower states. But, critics poke holes in his federalism claims.
"Chief ministers tell me that they were given just 10 minutes each when he (Modi) called them to 'discuss' the abolition of the Planning Commission and his NITI Aayog, a terribly important question in a federation," says economist Yoginder K. Alagh. "Stating a vision and then carrying the states with you need a kind of governance and political operative style which we do not see at all."
Sources say political necessity drives Modi's slogans on taking the states along. The political side of the Centre-state relations is playing out in the Rajya Sabha, as Modi has been trying to cajole regional players to get legislative work done.
The lack of majority in the Rajya Sabha has forced the government to step back on crucial legislation such as the Goods and Services Tax Bill and Amendments to the Land Acquisition Act. Unable to get the land bill through Parliament, the government promulgated an ordinance―the sixth one.
It is not just the number crunch in the Rajya Sabha that has put the government on the back foot. Perception is vital in politics. Modi's monogrammed pinstripe suit was the first blow to his humble image. A combination of other factors, such as his perceived disinterest in the problems of the poor, closeness to corporates and back-to-back foreign trips, has dented his image.
Cashing in on this, Congress vice president Rahul Gandhi is attempting a political comeback. In Parliament, he called the Modi government a "suit-boot ki sarkaar" to great effect.
The BJP's adversaries in poll-bound Bihar also are painting Modi as anti-farmer. "He won the election by making promises to farmers," says JD(U) leader K.C. Tyagi. "The truth is that there is now total neglect of rural India. Farmers are in distress, but the Modi government is more interested in creating smart cities."
Raja raises the issue of communalism, too. He says the efficiency of the government has to be judged not only in terms of how fast files move but also in terms of how well social harmony is maintained. "Sadly, they cannot say that they maintained social harmony. There were attacks on minorities, and Modi maintained complete silence for a long time," he says.
Modi, it seems, has some course corrections to make.
Chat with us @TheWeekLive Wednesday, May 27, 4pm – 5 pm