What was India's best kept secret in modern times? Without doubt, the 1998 nuclear tests. It took the world by surprise.
The A.B. Vajpayee government could keep its decision to hold the tests a secret because of several factors. One, the tests were carried out without much delay after the decision was taken. Two, less than 20 people knew of it. Three, the world was complacent, thinking India, with its unstable governments and poor finances, did not have the will or wealth to weaponise and face the consequent sanctions. Four, the world did not know that the missiles, the delivery vehicles for the bombs, were ready.
Indeed, P.V. Narasimha Rao had attempted a test in the mid-1990s and given up after the Americans had found him out. Even then, most of the world thought India's delivery vehicles, the missiles, were not ready. India had tested the Agni-I three times and when there were no further tests after that, the world thought India had frozen its missile programme, either for lack of funds or for lack of technology.
Indeed, technologies had been denied under missile technology control regime by the west. And scientists—cry babies—had been wailing that they did not have a gyroscope to guide the missile at the terminal stage towards the target.
But some of us knew the missile was ready a year before the nuclear tests. Kalam had told us that over a few drinks (of course he was not drinking), but requested us not to write.
It happened in 1997. I.K. Gujral, perceived to be a peacenik and a weakling, was the prime minister. The west was putting pressure on him to sign the Comprehensive Test Ban Treaty (CTBT). Every day, Indian envoy Arundhati Ghose was being savaged by the western diplomats at the CTBT talks. Many of us thought that it was a matter of days before India succumbed.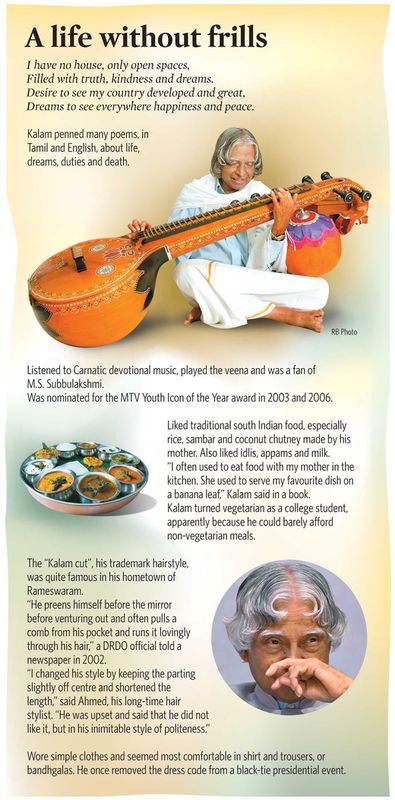 And there was this 'deafening' silence on the Agni front. Usually every country tests its missile 10 to 15 times before productionising it and inducting it. And here, after three tests, there was no news of Agni.
Added to these were reports in the US media that the Clinton administration was putting pressure on Gujral to give up the missile programme.
We asked the defence ministry. With no satisfactory explanation coming from them about why there were no further missile tests, some of us put two and two together. Yes, India was capping the Agni programme under US pressure. And we started writing speculative reports and articles.
One afternoon, some of us got a call from Swagata Ghosh, the amiable defence information director, for drinks and chat at the Battle Honours Mess. "Just a few selected friends; don't spread the word."
The evening was beginning to 'warm up' when there walked in A.P.J. Abdul Kalam, then the DRDO chief, with a puckish smile and a glass of fruit juice in his hand.
"Look," he said earnestly after a few minutes of leg-pulling over our off-the-mark reports, "I always knew I couldn't afford several tests of my missile. Every time I test, I am burning up costly hardware which I can't afford. So I had packed more than 600 parameters in three tests. My missile is ready."
Then why don't you productionise it? We asked.
"Look, what should be the warhead of a weapon like this? Why should I send a few tonnes of TNT over 1,500km? This weapon's payload has to be nuclear," he explained. "But I don't have it. It's for the cabinet to decide when to have the nuclear warhead. Till they decide, I have nothing more to do with the missile."
Then he gave us an hour-long lecture on nuclear and missile technologies, and even revealed that a command and control room had been built for the top 'political leadership'. (Later we learnt that he had built it on Gujral's instructions in the PM house itself with doors made of special lead.) He told us that he and his team had briefed three prime ministers—Rao, H.D. Deve Gowda and Gujral—that the defence scientists were ready with the missile and that the nuclear scientists were ready with the warhead technology. The ball thus was in the government's court.
After sharing all the 'secrets', he left us saying, "Please don't write a word of what was discussed in this room. I haven't met you. Please also don't write that we have given up Agni. Because that will demoralise a lot of my people."
He left us high, but not dry. Yet, to the credit of the media men, none of us reported it. It remained a secret till Vajpayee picked up the ball in 1998.
That was Kalam's way of dealing with the media. He did not hold back when he did not have to. He did not mind criticism, unless it hurt his team. He once said he learnt this from his mentor Dr Satish Dhawan during his ISRO days in the 1980s.
During the 1970s, when SLV after SLV was failing, Dhawan, as head of ISRO, used to address the press and own up the failures. But finally when an SLV succeeded, Dhawan asked young Kalam, who was heading the project, to address the press. When things went wrong, the boss took the blame; when things succeeded, the team was given the credit.
My first individual meeting with Kalam, which took place much before the missile non-briefing, also had been the fallout of a hurt that I had inflicted on him. Once in the early 1990s, when Rao's finance minister Manmohan Singh was slashing the defence budget in real terms every year, I wrote a hard-hitting cover story in THE WEEK headlined "No fighters, tanks and guns". In the opening paragraph, I added a nasty comment that with no funds coming, Dr Kalam might have to sell his missiles abroad to gather funds for further research.
A few days later Kalam expressed his displeasure to my bureau chief, Sachidananda Murthy, when they met at a banquet in Rashtrapati Bhavan. On Murthy's advice, I called Kalam but was not granted an appointment. I finally pulled him aside at a DRDO award function and explained that I was only trying to highlight the DRDO's plight. "But your words were too harsh," he replied. I pointed out to him that the cover story had been extensively quoted by George Fernandes, then a very vocal member of the opposition, in the Lok Sabha to pillory the government for slashing the funds for defence research. He smiled. "That doesn't justify your harsh words." I agreed, and we became 'friends'.
We met on several official functions after that, and he was always accommodative of my queries. In 1996, I found him in high spirits after witnessing the flight of a home-built early-warning aircraft platform, named ASP-Avro (Aerial Surveillance Platform), at the inaugural of the Bangalore air show. I cornered him at the DRDO chalet where he gave me a one-hour briefing. He opened up there and told me about his projects―about the light combat aircraft which had rolled out but was yet to fly; about the HAL's intermediate jet trainer which was at the design stage; about a medium combat aircraft which was yet to even reach the drawing board; about the problems that were being encountered in Nag anti-tank missile development; about Astra air-to-air missile; about technology denials.
"Aren't you dreaming?" I finally asked. "If I don't dream, how would I be a scientist?" he shot back. The next week, THE WEEK ran a cover story putting the Sukhoi fighter on the cover, which India was buying from Russia, but with a headline, "The next fighter will be Indian".
In the cover story, I described the sight of the ASP-Avro, with a huge rotating dome on its back, as incongruous as "a Great War cannon being carried on a flying camel's back". Later, one of his staff told me that he had taken note of that comment. Sadly, the ASP-Avro crashed a year later, apparently because of a fabrication incongruity. Nag, Astra and MCA are yet to fructify.
But the LCA is now flying, and will be inducted into the Air Force next year. And most of the missiles in the integrated guided missile development programme—Agni, Prithvi, Akash—have been inducted.
When his first book, India 2020, co-authored with Y.S. Rajan, was published, he gave the first media interview to THE WEEK. Murthy and I landed at his Asiad Village guest house where we were served tea in a cup which sported cracks. The man lived simple, we concluded.
His Bharat Ratna was a celebration for us, the defence correspondents. We wanted to have an interaction, but he would not even hear of a press conference. Finally, he agreed to meet us informally for a chat. Again, Swagata Ghosh played the host at the IAF's Akash Mess, where we had drinks, and Kalam had soft drinks. By then, the Indo-Russian BrahMos cruise missile project was on. There he told us about his dreams of cruise missiles, reusable missiles, anti-missile missiles, and direct energy weapons, and how "current" Indian scientists were with their peers in the west. All this "not for reporting; only for your understanding".
As president, he continued his relations with THE WEEK. When the tsunami of December 2004 happened, we requested him for a special article. In less than 24 hours, he dictated an article and mailed it to us. We ran it as cover story.
The special relationship continued even after he demitted office. He was always happy to share his ideas in the form of guest articles for THE WEEK whenever we requested him.
It is said, people with secrets trust no one, especially the media. Kalam was an exception. He had great secrets, but he trusted the media. He knew what to tell them, and what not.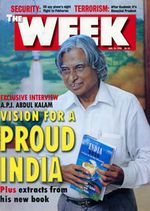 August 16, 1998
India has to get transformed from a developing nation to a developed nation. This vision needs three things. One, you should be an economically strong nation. Secondly, you should be self-reliant in national security and its technologies. Third, you should have a high standing or a high status in the world forums.
December 22, 1996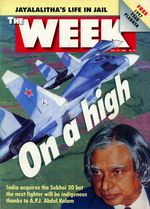 Kalam is certain that India can build mega projects on its own. "Indigenous technology is national strength; we have to protect it. Every year DRDO technology worth about Rs 1,200 crore is going to defence," he said. And the man who had taken on the world's missile masters with his Prithvis and Agnis does not care two dummy rounds for technology controls like the missile technology control regime imposed by the west.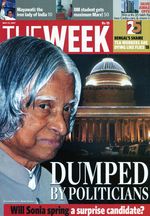 May 27, 2007
Kalam was at his unconventional best when he addressed a gathering of parliamentarians to mark the 150th anniversary of the First War of Independence in Delhi on May 10, 2007. "Many challenges need to be responded to: the emergence of multi-party coalitions as a regular form of government, that need to rapidly evolve as a stable two-party system," he said, in what was the clearest yet hint that he was not even remotely interested in a second term.
January 8, 2012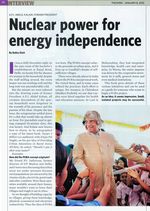 I have never said we should be entirely nuclear powered. We need to look for a mix of nuclear, solar, wind and bio fuels. By 2020, the requirement for power will be 3 lakh megawatts.