Israeli Prime Minister Benjamin Netanyahu rarely let his Indian counterpart Narendra Modi out of sight for the two days the latter spent in Israel. Not only did he give Modi a private vegetarian dinner at home, which is a rare honour extended to any state guest, but he also broke protocol to take him to the Indian community reception at the Tel Aviv exhibition ground.
Despite such care, the diplomats goofed up the most important part of the visit. After the delegation-level talks and lunch on July 5, the two prime ministers made their press statements, but the official joint statement that had been hammered out a week earlier came out in two versions! And the variance was over the most vital phrase—strategic partnership—that too in the first paragraph.
The Israeli version read: "This historic first-ever visit by an Indian Prime Minister to Israel raised the bilateral relationship to a new level in order to solidify the enduring friendship between their peoples." On the other hand, the Indian version read that the visit "solidified the enduring friendship between their peoples and raised the bilateral relationship to that of a strategic partnership".
A mad scramble ensued after the media pointed out the varying versions at Foreign Secretary S. Jaishankar's briefing. Finally, red-faced diplomats attributed the confusion to "a clerical error". And both sides agreed that the phrase "strategic partnership" stands.
Diplomatic goof-up or clerical error, the incident clearly gave out the tension that had been prevailing between the two sides over how each one had been viewing the relationship. While Israel would not call a relationship "strategic" unless it contained certain security perceptions, the Indian side was willing to have a "strategic partnership" over even purely development-related matters. Finally, both had agreed to a strategic partnership on civil matters, which sounded like an oxymoron: "Strategic partnership in water and agriculture!"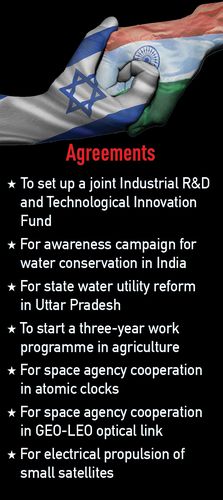 Though the two "mere dosts"—Modi and Netanyahu used the Hindustani phrase for "my friend" several times—discussed defence deals and geo-strategic issues, they agreed not to go to town with them. They simply reaffirmed "the importance of bilateral defence cooperation" and "agreed that future developments in this sphere should focus on joint development of defence products, including transfer of technology from Israel". In other words, the security cooperation thus will continue to be over security technology rather than security politics.
Israel has been notorious for its reluctance to part with technology, but India insisted that its Make in India programmes, especially in defence, would insist on transfer of technologies, too. The two sides finally agreed that a better phrase would be "Make with India". Defence deals will continue to be hush-hush, not necessarily because of political sensitivities, but because the deals are more about sensitive technologies than about well-advertised weapon systems.
The visit had been calibrated to be a success, with both sides taking care not to raise issues over which there are differences. India will keep its friendship with the good old Palestinians and the rest of the Sunni Arabs, and will even help Israel make friends with them. Both sides acknowledge there are differences in their perception of India's good friend Iran, which Israel thinks is becoming public enemy number one. "We support India on terrorism emanating out of Pakistan, hook, line and sinker. But, we are not asking for a quid pro quo," said Mark Sofer, deputy director-general in the foreign office who deals with Asia-Pacific and an old India hand.
There will be cooperation in space technologies (see infographic) in which India is lightyears ahead. Three space-related MoUs were signed—one to cooperate in developing atomic clocks, which are required for space launches, another for GEO-LEO (Geostationary orbit-Low Earth orbit) optical link, and a third for developing electrical propulsion for small satellites.
The rest was all about culture and agriculture. When he went to Netanyahu's home for dinner, Modi took as gifts replicas of two artefacts of Cochin Jewry, who claim a 2,000-year-old ancestry. Netanyahu honoured Modi by getting a new chrysanthemum, grown in Israel's Agricultural Research Organization's farms, named after Modi.
Flowers, plants, farms and water filled the visit. "The visit is taking place in a context of 25 years [after India and Israel linked diplomatically] and we are building a partnership for the next 25 years," said Yuval Rotem, director-general in Israel's foreign office, a post equivalent to foreign secretary in India. "Agriculture and water will be the two focus areas in these years," added Daniel Carmon, Israel's ambassador to India.
Modi is learnt to have been impressed by his visit to Danziger farm, where Agriculture Minister Uri Ariel joined the two prime ministers. Later, Modi checked with the ten-odd Indian farm scientists—most of them pursing post-doctoral studies in frontier areas of farm technology at Volcani Centre of the ARO. For instance, Sreedharan Jagadeesan from Madurai is researching on how wilting of pollen can be prevented in the warming world, and Arpan Modi from Gujarat is doing his post-doctoral studies on genetic editing of fruits.
Ariel's ministry has already been big in India, running 15 farm expertise centres, and planning ten more. Now he has a lot more to offer. If a team under Zéev Schmilovitch has developed machines that check the ripeness of apples, papayas and dates through infrared technology, the centre's director Victor Alchanatis is ready to share knowhow for using drones and nano-satellites to detect weak growth, soil wetness and water wastage. Asked if such gadgetry would kill native wisdom that Indian farmers have been relying on for centuries, Alchanatis told THE WEEK: "Technology is not replacing traditional wisdom; it is only complementing traditional wisdom."
Cooperation in culture, however, was disappointing. Apart from agreeing to set up an Indian cultural centre in Israel, there wasn't much. As Israel's celebrated Gandhi scholar Shimon Lev pointed out to THE WEEK, "Israel does not have enough studies on contemporary India. Most studies are Sanskrit studies. I would say the scholars are trapped in it."
And, that is one area where the Chinese are giving competition. Scores of Chinese universities have Hebrew or Israel studies, and vice versa, whereas there are not even a handful in India.