"This is a good time for long-term investors to add stocks selectively to their portfolio" -Nithin Kamath, founder, Zerodha

"We believe 2015 is the year for investing in equities with a horizon of three years and more"- Nimesh Shah, head, ICICI Prudential Asset Management

"This volatility could continue for one or two more weeks. Now the valuations have become a lot more reasonable. That itself is a good base to start with" - Harsha Upadhyaya, CIO (equity), Kotak Mutual Fund
A few days ago, Reserve Bank governor Raghuram Rajan said RBI was not a cheerleader to the economy. It seems the Central bank is not a mourner either, as Rajan reaffirmed his faith in the health of the economy when stock markets plunged to wipe out thousands of crores of inventors' money. At a time the clamour for rate cut is getting louder, he seems firm on his fight against inflation.
Rajan's strategy against inflation is two-pronged―one, steer the economy safely around inflation, debts and spike in global prices, and, two, double his ammunition against inflation and strengthen the rupee. "For the public to look through future price spikes without raising wage demands, the RBI has to have credibility that it will act firmly against any future inflationary threats," he said. "While low inflation for a while will lower the public's inflationary expectations and increase their real disposable income, in order to achieve a sustainable victory against inflation the public has to believe that inflation will stay low even after commodity prices start picking up in the future."
The crash on August 24 was not completely unexpected. And, most market analysts had predicted heavy exit of foreign institutional buyers two days earlier. "People who hedge currencies did see this coming two weeks ago, but I don't think anybody had expected Monday to be such a bloodbath," said Anil Pillai, director of the advisory firm Terragni Consulting.
It was, in fact, chaos. The Sensex plunged 5.95 per cent and the Nifty 5.92 per cent. "Retail investors and mutual funds also mimicked the markets and sold off heavily," said Nitin Choksi, BSE member and chairman of a stock brokerage firm.
The government, just hours after Rajan harped on the inherent strengths of the rupee holding it out as a competitive currency among others, went into a crisis mode. Chief economic adviser Arvind Subramanian reemphasised the inherent strength of India's economic fundamentals. "Our inflation is way below the 6 per cent target set by the RBI. Our macroeconomic fundamentals are strong," he said.
Fighting the negative sentiments in the market, Finance Minister Arun Jaitley said the factors responsible for crash were entirely external and transient. "There has been for the last few days a great amount of turbulence in the global markets," he told the media. "Obviously, that turbulence has had an impact on Indian market. There is not a single domestic factor in India which has either contributed or added to it." The finance ministry made it clear that the government was not working on any special packages to bring back investors.
Should investors be worried, considering that the markets regained some ground the very next day? "Yes and no," said Ananth Narayan, regional head (financial markets for South Asia), Standard Chartered. "What we are facing now are fundamental questions about what is happening in China and the impact that it can have globally, to which India will not be immune. Having said that, we must remember that what we are seeing right now in the local markets is more a reflection of the uncertainty around global markets. This is not a sign of any fundamental domestic weakness as such."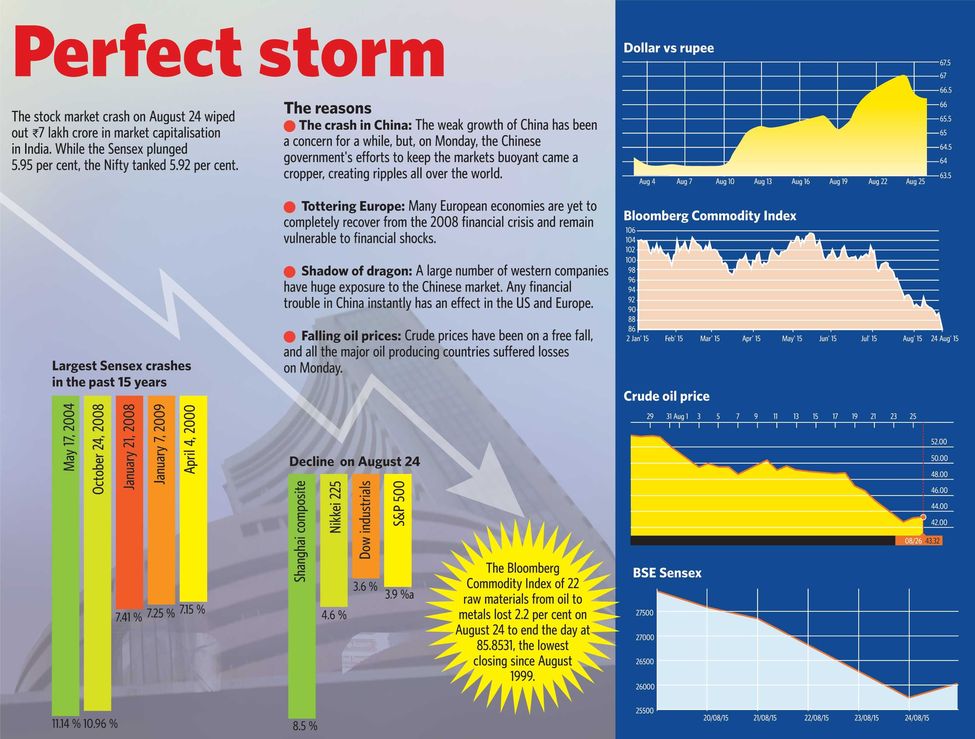 Rajan, however, is not keeping calm. He sees no solace in the low inflation for July (3.78 per cent, significantly lower than the 7 per cent a month earlier). In fact, he has debunked the recent sharp fall in consumer price index inflation that followed similar trends in the wholesale price index inflation, terming the widening difference between the two measures as "overblown". The two measures had been declining, but were differing substantially. For July, while the CPI stood at about 4 per cent, the WPI was tanking to ten-year lows at -4 per cent. The gap had been increasing steadily since July last year when the CPI was at 7.6 per cent and WPI stood at just 2 per cent lower.
"The downward trend in July inflation is a surprise, despite this being the monsoon season when prices of agriculture goods usually go up due to short supply," said Ritesh Kumar Singh, corporate economist with Raymond Ltd. "The RBI governor has rightly projected that the real measure of inflation should be company profitability, which should go up as cost of raw materials decline. That simply does not seem to be happening now."
Rajan has devised a new strategy to battle inflation and keep the economy in shape when markets and demand pick up. To keep a hawk eye on inflation and ensure prices stay under control, the RBI has introduced several inflation forecasting models that look at inflation one to two years from now. The RBI, said Rajan, was using inflation forecasting models to consider even inflation in years ahead rather than take note of sudden dips in inflation. "We take this approach instead of a seat-of-the-pants approach," he said.
Though Jaitley had assured Prime Minister Narendra Modi that there was nothing that the government could do 'in a day or two', experts have suggested that the government should do some housekeeping of its own. Former RBI deputy governor Subir Gokarn said India's foreign currency reserve of $380 billion and current account deficit settling well below 2 per cent of the GDP owing to lower commodities prices provide government the opportunity to address labour reforms and infrastructure and tidy up on fiscal measures. Sajjid Z. Chinoy, chief India economist at JP Morgan, said India should fix the remaining food and supply bottlenecks and lift non-inflationary rate of growth.
The government seems to have sensed it. "It is an opportunity," said Modi at a meeting with Jaitley and some top guns in the finance ministry. "The Prime Minister wants some steps to prepare the country to take advantage of the opportunity that the situation presented and hold detailed consultations with stakeholders, including state governments on what should be done," Jaitley told the media after the meeting.
Rajan, too, feels the same way. Addressing a banking summit in Mumbai, he said the country would need to focus on improving domestic production to effectively protect itself against a global economic slowdown. The global slowdown in commodities has improved India's balance sheet as it is a net importer. Though softening of crude oil prices had an impact on consumer prices, the slump in coal prices has still not unsettled the prices in India. In fact, Coal India, the state-run coal miner and distributor, has increased the price to $80 from $50 a tonne at its coal e-auctions, even though global prices have gone below $35.
A day after the black Monday, Jaitley said the government was keenly watching the situation and would take action as and when necessary. He said the government was willing to fast track some development goals and was keen to constitute a special Parliament session to clear constitutional amendments needed for implementation of goods and services tax. However, at Mint Street, Rajan does not seem to be relaxing and is keeping a keen eye on the daily developments in the global economic scenario and the rupee.
WITH VIJAYA PUSHKARNA AND SHRITAMA BOSE