Life is too short to do anything small." Masayoshi Son, the billionaire founder of the Japanese technology giant SoftBank, lives by this credo. His latest investment, $2.5 billion in Flipkart, provides roaring proof of this. It is the highest ever funding received by an Indian startup and the third highest globally. For Son, size does matter. Vision Fund, a technology fund he launched last year to help unleash a new age of innovation, has $100 billion in commitments.
It is this chase of the enormous that drove Son to Flipkart, India's largest e-commerce company. Experts say he might want to replicate the success he had with Chinese e-commerce giant Alibaba. SoftBank was one of the early backers of Alibaba, when it was a struggling startup founded by Jack Ma. Its $20 million investment in 2000 turned into a $41 billion cheque when Alibaba went for an IPO on the New York Stock Exchange in 2014.
In India, Son's bet on the online marketplace Snapdeal did not turn out the desired way. And, Flipkart seems to be his ladder to a big room in the e-commerce jungle. "India is a land of vast opportunity," he said. "We want to support innovative companies that are clear winners in India because they are best positioned to leverage technology and help people lead better lives. As the pioneer in Indian e-commerce, Flipkart is doing that every day."
However, it is unlikely to be a windfall like Alibaba. "For the simple reason that India is not China," said Neha Khanna, director at Valpro Consulting. "It is not only about Amazon. India is a highly competitive market. Funds alone do not decide the winner or loser. For now, SoftBank seems to have backed the right horse, but this is going to be a closely contested battle between Son and [Amazon's] Jeff Bezos."
Alibaba trumped Amazon in China, and Bezos seems to have learnt his lessons there. Amazon is leaving no stone unturned in India in its quest for market leadership. And, it is fast closing in on Flipkart. According to Praxis Global Associates, Flipkart has 35 per cent market share, and Amazon 29 per cent, in the last financial year. While Flipkart's gross merchandise value (total value of merchandise sold over a period) grew 29 per cent between FY15 and FY17, Amazon's GMV grew 104 per cent.
Amazon is trying every trick in the book to get the customer hooked—from a subscription service (Prime) and video content to a wallet and private labels. Some of them are working well. One in every three customers subscribes to Prime. Amazon has been pushing customers to use its wallet, Amazon Pay, with tempting offers. The company has also been trying innovative methods for faster delivery, such as Service Partner Network, where individuals or small businesses act as courier partners, and 'I Have Space', where neighbourhood stores act as pickup points.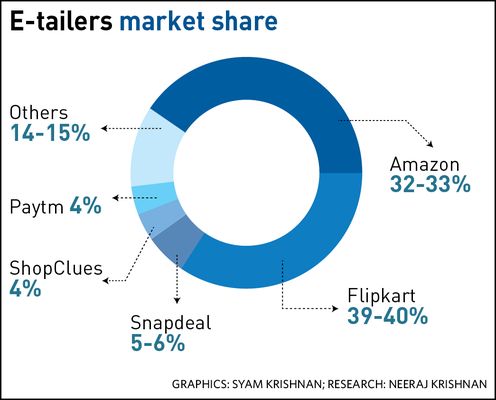 Amazon's moneybag is loaded. Bezos has committed $5 billion to the Indian business. "Amazon looks better positioned to lead the e-commerce wave, for they have money—the most critical factor—and global expertise in running online retail. Amazon has also gone slightly heavier on discounts, attracting more customers. Their service excellence and India-centric innovations have worked in their favour," said Aryaman Tandon, director of Praxis Global Alliance, a management consulting firm.
Flipkart has also been filling its war chest. It raised $1.4 billion earlier this year from Microsoft, eBay and Tencent Holdings. With the SoftBank investment, its funding woes seem to have been sorted. "This is a monumental deal for Flipkart and India. Very few economies globally attract such overwhelming interest from top-tier investors. It is recognition of India's unparalleled potential to become a leader in technology and e-commerce on a massive scale. SoftBank's proven track record of partnering with transformative technology leaders has earned it the reputation of being a visionary investor," said Binny Bansal and Sachin Bansal, founders of Flipkart.
While Flipkart is yet to reveal its plans on using the money, experts say it would invest it in strengthening technology, expanding categories, getting into new areas and even acquiring some companies. It acquired eBay's Indian business earlier this year, and has the fashion portals Myntra and Jabong under its fold. It has also been doing pilot projects for grocery business (Amazon has established itself as a strong player in this sector). To improve customer experience and to expand customer base, Flipkart might experiment with the offline model. It opened a store in Bengaluru in March for Roadster, a private label from Myntra.
"Of late, Flipkart has been struggling to retain talent. Some of the funds might be utilised for that. They need to innovate big time and create a differentiated product, going beyond the plain vanilla marketplace model. They need to work on faster deliveries and customer stickiness. Applying new technologies such as artificial intelligence and machine learning in customer acquisition could be a big plus for them," said Harish H.V., partner at professional services firm Grant Thornton. "Flipkart's brand equity is stronger than Amazon in tier 1 and tier 2 towns, and they should build on that." Flipkart is the market leader in the mobile business, and commands a 23 per cent market share in apparels sales.
In Flipkart, SoftBank is looking for a flagship winner. A lot of its investments in India have gone wrong. It incurred a loss of $1.4 billion on its investments in the e-commerce sector. In February, it lost $350 million on investments in Snapdeal and cab aggregator Ola. Its other investments in India include Housing, Inmobi, Grofers and Paytm.
Some experts, however, doubt if the money is good enough to take on Amazon. "While it seems like a lot of money, half of it will probably go to Tiger Global, one of the earliest shareholders, to give them a partial exit," said Arun Natarajan, founder of Venture Intelligence, a data provider on private equity deals. "Also, the valuation at which this fund raise has happened is lower than their 2015 round. Raising money at marked down valuation is no fun."
And, it might not be a two-horse race as it is said to be. Snapdeal is still a force to reckon with, and Shopclues, another marketplace, has been steadily adding customers. "Our niche is different. We target the middle income population residing in tier 3 and tier 4 towns, those who did not have access to such a wide variety earlier. If the competition is like a mall, we are more the Sarojini Nagar or Fashion Street version of it," said Harneet Singh, senior vice president (marketing), Shopclues. He said the company would come up with an initial public offering next year.
While Shopclues is comfortable in its niche segment, it is Paytm which might be the dark horse in the Indian e-commerce sector. Having raised $1.4 billion from SoftBank in May, it is spending aggressively on Paytm Mall, its online marketplace. The company recently announced that it would spend $5 million to add offline vendors to its platform. "Moreover, with a payments bank licence in hand, it could work out a lot of financing deals for large purchases through its site," said Khanna.
Add to that the financial might of its two marquee investors, SoftBank and Alibaba, which would take care of its future funding needs. Son might even consider merging Paytm with Flipkart at some point to create a behemoth to take on Amazon.
Sreedhar Prasad, consultant at KPMG, said whichever way the market dynamics would play out, the Indian consumer would be the winner. The number of online buyers is currently pegged at around 70 million. "This is just the tip of the iceberg," said Prasad. "The actual opportunity is huge and that is why we have seen people like Son betting on e-commerce's potential through Flipkart. India is large enough to accommodate many unicorns. This will make the industry larger and will subsequently benefit allied services such as logistics and warehousing."