Instead of wondering where your next vacation is, maybe you should set up a life you don't need to escape from.
- Seth Godin, entrepreneur and author
For Dr Rupali Basu, life is not a vacation. It is work, and work is a religion that needs fulltime devotion. No wonder then the 51-year-old president of Apollo Hospitals, eastern region, has rarely taken a break from work. Exotic holidays don't excite her—she has travelled for pleasure only three or four times in her life, and not even once in the last five years. "I have worshipped my work so much that I could not take a break in the last five years," says Basu, reclining in her chair inside the corporate chamber at the Apollo Gleneagles Hospitals, off Kolkata's Eastern Metropolitan Bypass. "I feel bad if I find my work getting deprived because of my relaxation. My family— daughter and husband—have always been very supportive in this regard. I am thankful to them." And, the 'n' number of trophies on display are a testimony to her dedication and efficiency. The awards have come her way from corporate bodies, NGOs and governments for her deft hospital management skill and leadership in the eastern region, as described by Prime Minister Narendra Modi as the weakest part of India.
Basu's achievements, however, have gone beyond the eastern region, and today, she is regarded as one of the pioneers of hospital management scenario in India. By her own account, Basu was not born with a silver spoon, but was born in an academic and professional environment. It is an interesting tale nonetheless—that of a small-town girl making it big in the sunrise hospital management sector. Her father worked at the Durgapur steel plant in Durgapur, from where she moved to Kolkata for higher studies. "I hailed from a small town, with a big dream," she says. "Life in the medical college in Kolkata opened up the entire world for me. In the large co-education college, life came out to be new and exciting ."
After graduating from medical college, Basu specialised in public health and was a topper at the All India Institute of Hygiene and Public Health in 1991. Seeing the clumsy environment while working as a house staff there, she realised that proper hospital management could change the health care system in India. Basu took up hospital management in the 1990s when such a concept barely existed in India. Before she joined Apollo Hospitals in 2008, she worked with three other private hospitals, bringing in significant changes in management. Meanwhile, she also did her advanced hospital management course from Harvard Medical International in Boston in the United States. "Public health and hygiene is as important as treating patients," she says. "And, maintaining hygiene in scientific ways is part of the chain of rules that protect the health of a health care establishment."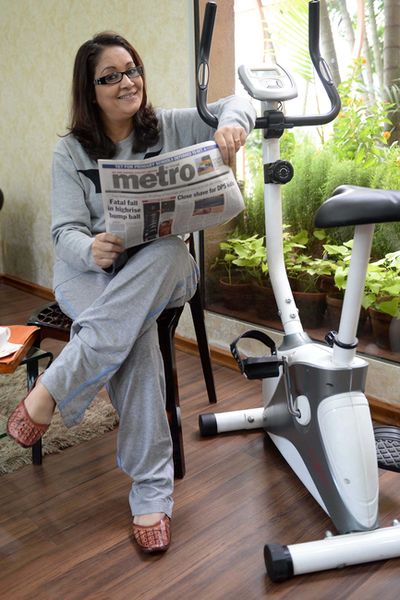 On the debate over growing emphasis on corporate health care instead of improvement of public health care services in India, Basu takes the middle path. "We need both," she says. "Every entity has its importance and they act as helping hands to each other." She, however, says if there is a change in the environment of government-run hospitals today, the credit goes to the vision of many. The corporate hospitals which created a separate zone for themselves, complements and completes the public health care. "I am not saying all is well," she says. "There are issues at the implementation level. But things will improve in government hospitals in the years to come as they are bound to take up quality systems indicators and clinical outcomes as an important measuring tool."
Basu is credited with thinking and establishing an innovative form of hospital management, where great financial results follows a co-ordinated standard clinical outcomes and granular communication work schedule. Today when private hospitals are dominating major investments in the health care sector in India, Basu's view of developing a business mechanism in this service sector finds an ear in every sphere, be it the government or the industry. She holds key positions in almost a dozen bodies in eastern India. To name a few, Basu is the president of Association of Hospitals in Eastern India, national and regional health care committees of ICC and CII, chairperson of the women empowerment task force of CII ER, co-chairperson of sector committee on health, education and skills under the West Bengal government, independent director of Tata Steel Processing and Distribution Ltd and Vista Power Limited. Managing a hospital and juggling all these roles need discipline and take sacrifices. Basu has no late evening parties and social dos with friends and family so that she can wake up at 5am daily and have a longer day. She starts her day with yoga and spiritual words. A foodie yet health conscious, she keeps a count of her calories. "I love food," she says. "But I know how to have limited portions." Basu starts for office at 8.30am sharp every day. She is in the hospital till late afternoon, making speedy rounds, speaking to the management and nursing staff and holding several rounds of meeting with the doctors and senior hospital staff.
Her working mantra: plan, do, check, act. "Even successful planning needs checking. Who knows there may be some small or grave errors? A good execution depends on the ability to find error in your own work," she says. A believer in teamwork, she gives credit to her team for successful execution of any project. "I love talking to my staff or picking up a topic of discussion with the team," she says. "I often feel spent after a long day at work when problems at hand compound, but I never get fazed out. Whenever I am confronted with a challenge, I think of my team that looks up to me for guidance. I instead imbibe their energy." Her team, on the other hand, draws confidence from her. "Her style of functioning is a lesson," says Somnath Bhattacharya, vice president, business development, Apollo Hospitals. "She tells us frankly what she wants from us and there is clarity in communication, which makes the staff do its best." Her afternoons are dedicated to her other 'outstation' responsibilities. But it is not all work and no play for Basu. Once home in the evening, the kathak dancer finds time for her passions, including designing saris. She also loves watching TV serials like Balika Vadhu and Udaan, but not movies. She has seldom been to a movie theatre in her life. The reason: "One can enjoy life in different ways. I have done that."