A halwa ceremony at the finance ministry marks the official beginning of budget preparations every year. The finance minister hands over a paper bowl of sooji halwa to his staff members before they go in for a lockdown to prepare the budget. This year, Finance Minister Arun Jaitley was reluctant to attend the ceremony, but Shaktikanta Das, secretary in the department of economic affairs, persuaded him to attend. On budget day, however, Jaitley made sure there was no distribution of free halwa to markets, industry or even common tax payers.
Soon after presenting his third consecutive budget, Jaitley invited members of Parliament to lunch. Most of them declined, and the lunch ended up a self-congratulatory affair with Prime Minister Narendra Modi and ministers Nitin Gadkari and Piyush Goyal leading the thin crowd.
By afternoon, the markets had turned stormy and the BSE Sensex dropped 150 points. On budget day the previous year, Sensex had swung the other way by nearly the same margin. The biggest drop this year came after an allocation of Rs 25,000 crore for refinancing debt-stressed banks. Jaitley kept the bank recapitalisation figures unchanged from last year's budget, rather than upset the fiscal math. "Banks needed more than Rs 1.82 trillion. Compared with that, Rs 25,000 crore is too little," said Naina Lal Kidwai, chairperson of Max Financial Services.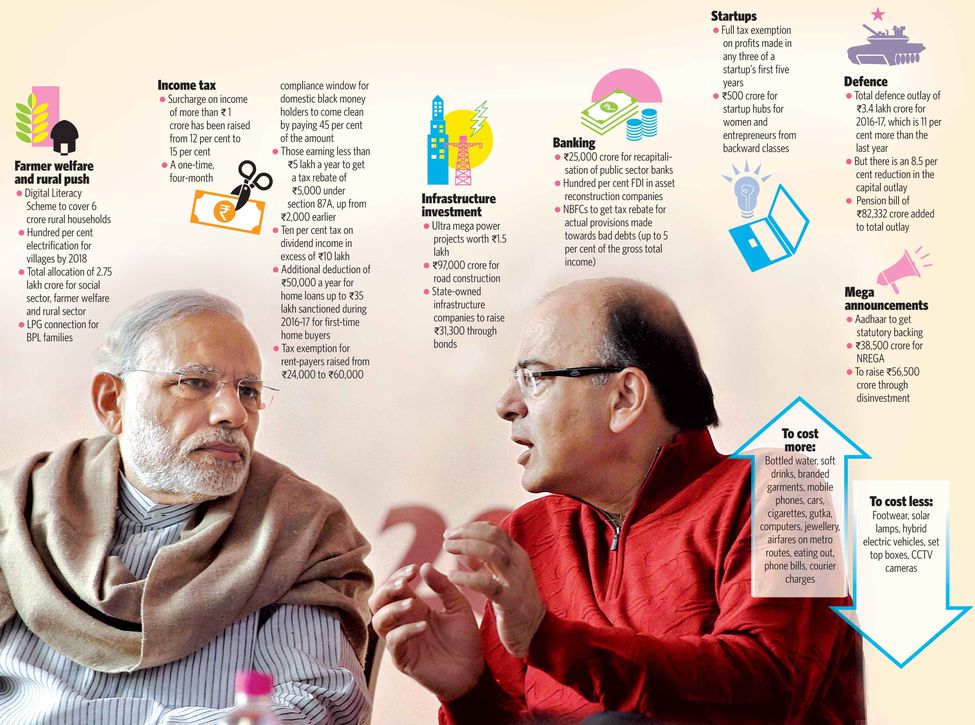 The next day though, markets saw a bull run as foreign institutional investors sold stock in the first half of the trading session and purchased in the second half, along with domestic investors. "The stock valuations at this point are clearly attractive," said Nirmal Jain, chairman of India Infoline, a financial services company.
In Parliament, the biggest heartburn was over a proposal to tax 60 per cent of provident fund withdrawals. A day after the budget, the finance ministry offered a clarification: "The purpose of making this reform... is to encourage more private sector employees to go for pension security after retirement, instead of withdrawing the entire amount from the PF account." The ministry said it intended to tax not 60 per cent of the PF withdrawal amount, but of the interest earnings. The opposition parties have sought to move a motion in Parliament to know the finance minister's justification for taxing PF savings.
For housing loans, Jaitley has announced an additional tax benefit of Rs 50,000, but it is only for houses worth less than Rs 50 lakh and for loans below Rs 35 lakh. "The government seems to be in no mood to let up on taxes. Hence a tepid budget for middle income India. However, further taxing the overtaxed middle income Indian isn't a solution," said Gaurav Roy, head of operations, bigdecisions.com, a personal finance portal. The middle class dream of a car has become a little distant as Jaitley has proposed an additional cess on all car purchases.
Roy said the Krishi Kalyan cess, which would be levied to fund farm programmes, would add to utility bills, phone bills, restaurant meals, data connections, entertainment bills and every taxable service. It is another matter that the governments have not utilised large cess collections for the desired purpose.
Health insurance for the elderly was hailed as a progressive measure in the budget. A reduction in the import duty of certain dialysis equipment and the promise of cheaper dialysis care, too, are seen as promising steps. This will benefit a large population and ultimately bring down costs of health care, said Varun Khanna, managing director of Becton and Dickinson, a medical technology provider. Patients suffering from other debilitating diseases said the benefit could have been extended to them, too.
A SECTOR THAT felt particularly left out is aviation. The government is yet to put forth a new civil aviation policy. "The budget had minimal focus on aviation. The significant hike in the excise duty on aviation fuel will add to the high-cost environment for airlines in India," said Conrad Clifford, regional vice president, Asia Pacific, International Air Transport Association. "We hope that the government will address three priority areas: retract the 2 per cent regional connectivity fund levy, abandon plans to auction traffic rights and allow Airport Economic Regulatory Authority to perform its functions independently," he said.
The export sector, hit by a global shrinkage in demand, took heart from the announcement of multi-skilling training institutes and other skill development initiatives. "The move to allocate Rs 97,000 crore for roads and rail transport would help exporters reduce cost of last-mile connectivity incurred by moving goods," said T.S. Bhasin, chairman, Engineering Export Promotion Council of India. However, S.C. Ralhan, president of the Federation of Indian Export Organisations, said there were no immediate measures in the budget to revive the downfall in exports.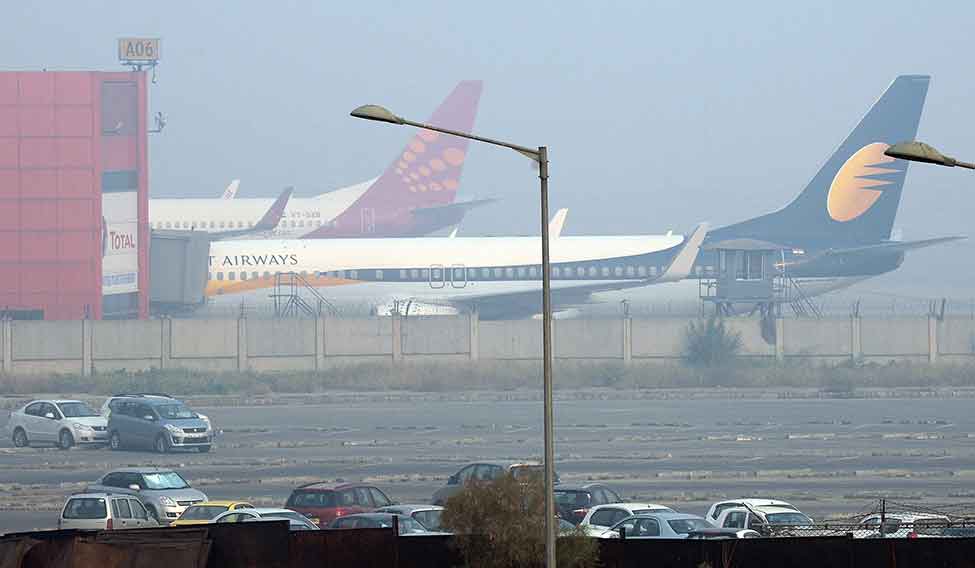 The move to pay provident fund benefits to all employees of new companies for a period of three years was welcomed by the entrepreneur community. However, basic concerns about registration of companies remained. "We look forward to the amendments in the Companies Act to ensure speedy registration and boost startups as the long paperwork has been consuming a lot of time and energy," said Vijay Sekhar Sharma, chief executive officer and founder of Paytm, a mobile wallet service provider.
Economists felt that Jaitley's budget maintained fiscal credibility by sticking to a previously committed deficit target of 3.5 per cent of the GDP. But some are raising questions about how the government would balance stimulating GDP growth with public expenditure and rising salaries of government employees.
"The Modi government was voted in by the aspirational urban middle class. I am not sure whether they are as euphoric about this budget," said Kiran Mazumdar Shaw, chairman and managing director of Biocon. Foreign rating agencies considered it a big disappointment that the budget neither pushed for the goods and services tax nor laid the roadmap for implementing the unified indirect tax regime.
Banking woes and the increased spend proposed in the budget stick out. "Public finances remain a key rating weakness for India with both its general government debt and deficit much higher than the median of its 'BBB' peers," said Thomas Rookmaaker, director (sovereign ratings) at Fitch ratings. "The general government debt at 69 per cent of the GDP is the highest of all 'BBB'-rated sovereigns."