Apple CEO Tim Cook's visit to the Siddhivinayak Temple in Mumbai, in May, paid off on June 20 when the government, in a wide set of reforms, allowed the California-based company to open its own stores in India. Ganesha, 'destroyer of obstacles', seemed to have cleared the hurdles. Apple's application had been lying with the government for quite some time, and was even rejected on the grounds of exemption from local sourcing. Apart from Siddhivinayak, Cook had the blessings of Prime Minister Narendra Modi to count on.
By opening its own stores in India, Apple will have more control over marketing and sales, as well as after-sale services. So far, Apple had only franchisees in India, and was bound to bear their losses, if any. By having its own stores, Apple can control costs.
The main obstacle before Apple's Indian entry was the rule that retailers locally source at least 30 per cent of the goods sold in company-owned stores. "We do not have an electronics ecosystem in India with quality suppliers. So, the government's expectation on local sourcing was wrong since the outset," said Arvind Singhal, CEO of Technopak, a retail consultancy firm.
Apple has been given an exemption from this rule for eight years—a three-year exemption given to foreign entities and five years given to companies that provide 'cutting-edge' technology.
"Cutting-edge and modern technology are very subjective terms and are open to interpretation. There does not seem to be clarity within the government on this move and there is no explanation on what happens after eight years," said Singhal.
Some experts believe that the larger goal is to persuade Apple to manufacture in India. In fact, Apple's contract manufacturer Foxconn has signed an agreement with the government to set up a plant in India.
It was not just Apple's day, but that of a host of companies in other sectors, especially retail. In a first of its kind move, the government opened up food retailing sector to 100 per cent foreign-owned companies, provided that they source, produce and manufacture in India.
"The policy allows for retail trading in food products through brick-and- mortar as well as e-commerce platforms. If this policy takes off on the ground, we could see investments both in the front-end (through the brick-and- mortar players) and the back-end infrastructure by the e-commerce players," said Kalpesh Maroo, partner at BMR & Associates LLP.
There are no global examples of food-only retail. India is the first country to experiment with the model. Maroo has been involved in the government's discussions on the FDI policy and felt that it is unique because, although it is multi-brand food retailing, the multi-brand retail conditions do not apply. " This is a new category that the government has created," he said. However, Singhal has his doubts. "If it is multi-brand retail, then multi-brand conditions will apply. And if that is the case, then there is no reform," he said.
The UPA government had allowed 51 per cent FDI in multi-brand retail in September 2012, but the conditions were so impractical that not even a single foreign retailer was interested. It stipulated a minimum investment of $100 million, half of it in the back end. Above all, the states were free to decide whether they wanted these players in.
" There is no clarity as yet on the norms. What we are given to understand is that global food majors can come to India with their wholly-owned stores, rather than searching for channel partners," said Tinku Singh, group president and chief strategy officer of SRS Group, which is also into the retail sector.
Industry watchers feel that retail biggies like Walmart, Tesco and Carrefour might not be interested. "They are specialised multi-brand players. I do not see them entering in the food retail segment," said a consultant. Niche players dealing in organic or bakery products are likely to show some interest.
The latest rules also allow e-commerce players such as Amazon to enter the food retailing segment. As of now, foreign e-tailers can only function as a marketplace, but according to the new rules, an e-tailer like Amazon can even have an inventory model for food retailing.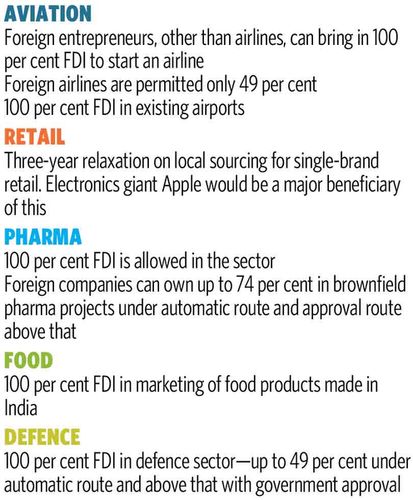 Not everybody is enthused with the opening up of retail. Trade unions are already up in arms, more so because the NDA's manifesto clearly said no to FDI in retail. "This is contradictory in every sense because their manifesto said they won't support it. They protested with us when multi-brand retail was allowed, so I can't understand this change in stance," said Pravin Khandelwal, secretary general, Confederation of All India Traders (CAIT). "The total retail turnover in India is worth 020 lakh crore, out of which food retail is 04 lakh crore. The government has opened a large chunk of the retail trade for foreign players, which will make things difficult for the trading community."
Under the new regime, foreign entities—private equity funds and sovereign wealth funds—can own up to 100 per cent in a domestic airline. It also means that they can completely take over a sick airline. The cap on foreign airlines' holding in domestic carriers stays at 49 per cent. "If you look at the civil aviation policy, a lot of impetus has been laid on regional airlines. Now, regional players might not be darlings for foreign airlines. Allowing 100 per cent has opened up a funding route for these airlines," said Maroo.
Defence has also been opened up for 100 per cent foreign participation. The new rules could mean that Indian companies that were rushing to tie up with OEMs (original equipment manufacturers) in expectation of future business might find that their partners prefer to enter the market on their own. Earlier, foreign OEMs were required to form joint ventures with domestic firms if they wanted to establish a manufacturing base in India. With the amendment, an OEM can independently plan and carry out operations in India. This would save the time spent on lengthy negotiations with Indian companies. The new guidelines could also mean greater competition for domestic firms.
Brigadier Khutub Hai of Mahindra Defence Systems said it was nothing but a mirage. "There are no programmes where private sector can participate," he said. "So, who is going to buy even if they manufacture? FDI should not be seen in isolation. It has to fit in with the defence acquisition procedure. The only people who would benefit from this would be the ones who have to discharge offset obligations."
The other two sectors where 100 per cent FDI has been allowed are pharma and cable/DTH. T.S. Jaishankar of the Confederation of Indian Pharma Companies said that it was both positive as well as negative. "On the one hand, global pharma majors will get the bandwidth to invest in capacity expansion and better quality plants," he said. "On the other, domestic players will be pushed to the brink. They are already battling price control and various regulatory issues. This will put tremendous pressure on them."
Ashih Pherwani, partner, media and entertainment, at Ernst & Young said the reforms would help the digital infrastructure in the country, which needs huge investment. "With phase three of digitisation completed, it would be conducive for foreign players to enter India," he said.