The Indian market, however, is unlikely to be a cakewalk for Alibaba. Competition is cut-throat among the established players.
The city of Hangzhou had long been known for West Lake, a Unesco world heritage site, which inspired countless poets and painters with its stunning pagodas and gardens. But these days, what draws more people to the city in eastern China seems to be a commercial establishment, the headquarters of the internet giant Alibaba Group. Its sprawling campus on the verdant outskirts of the city evokes interest among people from other parts of China as well as foreigners.
Alibaba is equally interested in foreign lands. It is spreading wings all over the world, and India is a coveted territory. In March, two top officials of the company were in Delhi to meet the people in the government and talk to potential business partners. It was supposed to be a "hush-hush affair", said a senior company official in Hangzhou. But when the two men came out after a meeting with Union Minister for IT & Telecom Ravi Shankar Prasad, they were surrounded by journalists, and they had to admit before the cameras that Alibaba intended to make a splash into the Indian market very soon.
"India is a top priority market," said Rico Ngai, director of corporate affairs, Alibaba Group. "We are planning to enter the e-commerce market in India. It is a very important piece of our global plans."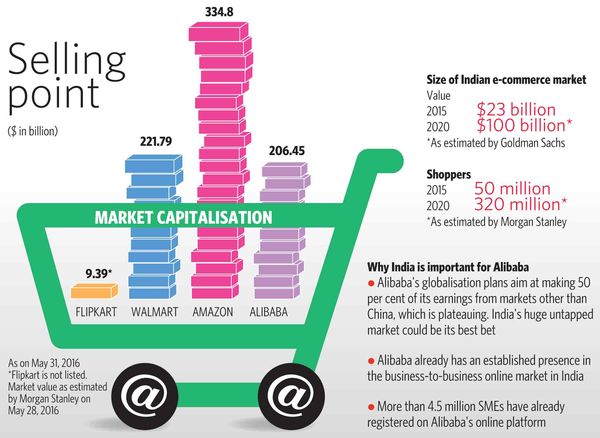 Alibaba is weighing various options for the Indian market—doing it on its own, through acquisition or in partnership with an Indian entity. Alibaba's group president J. Evans and managing director K. Guru Gowrappan recently held meetings with Tata Group on a possible tie-up.
There is also a buzz that the company is setting up a team in India to scout for mergers and acquisitions. Ant Financial, Alibaba's financial arm, has picked up stake in e-tailer Snapdeal and mobile wallet Paytm. These "strategic investments" are expected to have a bearing on the company's plans in India. "We have investments in both payments and e-commerce and we will over the course of next year figure out exactly what our strategy is," Evans said after his meeting with minister Prasad.
Alibaba's globalisation plans aim at making 50 per cent of its earnings from markets other than China, which it believes is plateauing. That is why India, which still has a huge untapped online retail market, is important. An estimate made by Goldman Sachs says the Indian e-commerce market could grow to $100 billion by 2020; it was just $23 billion in 2015. A Morgan Stanley study says India will have 320 million online shoppers by 2020 compared to 50 million in 2015.
That Alibaba already has an established presence in the business-to-business online market in India would be helpful. In fact, India is second only to the US in terms of business transacted on Alibaba.com. The operations cover more than 200 countries. Alibaba.com has more than 4.5 million Indian Small and Medium Enterprises registered on its e-commerce platform. The company has an India-specific web portal, and last July, it launched services aimed at increasing the ease of doing business online for Indian SMEs. Called Small and Medium Industries Leveraging Export or SMILE, it provides SMEs with solutions in financing, logistics, certification and technology.
The Indian market, however, is unlikely to be a cakewalk for Alibaba. Competition is cut-throat among the established players Flipkart, Amazon, Jabong and Snapdeal. Interestingly, the Alibaba vs Amazon battle in India will be keenly watched around the world. Amazon, which entered the Indian market three years ago, is world's largest e-tailer by market value, while Alibaba is the largest by gross merchandise value. Recently, Alibaba's GMV (total sales value for merchandise sold through a market place over a period) beat the offline sales of Walmart, world's largest retailer.