Here's a story I try to tell myself every time I am confronted with a class of young people at the Sophia Polytechnic's Social Communications Media department. Once upon a time there was a not-so-young man called Jerry Pinto. He had just read a book called Cobalt Blue by Sachin Kundalkar. He was wondering if he could translate it. He thought, in his foolishness and pride, to ask one of the best translators he knew, Shanta Gokhale, what she thought of the idea.
"Translate Cobalt Blue? You!" she said.
And he did.
It could so easily have been different. She could so easily have said, "Translate? You?" So I might not have not translated but the crawl there would have been tougher. Shanta Gokhale, by a simple act of faith that was illustrated in that punctuation mark, made my journey easier.
Gokhale is the author of a fallopian—if we can talk about seminal, we should be able to invent other adjectives—Marathi novel, Rita Velinkar, which is still in print; and of Tya Varshi which was translated as Crowfall (Penguin India). She has written about Marathi theatre for Seagull: Playwright at the Centre: Marathi Drama from 1843 to the present and the editor of The Scenes We Made: An Oral History of Experimental Theatre in Mumbai (Speaking Tiger Books). Her plays include Avinash and Dip and Dop and Rosemary for Remembrance, which was recently premiered at the Kala Ghoda Festival, read by Dolly Thakore and Devika Shahani Punjabi, under the aegis of the Jehangir Sabavala Foundation. She has been involved in cinema and has produced, directed and written documentaries and films.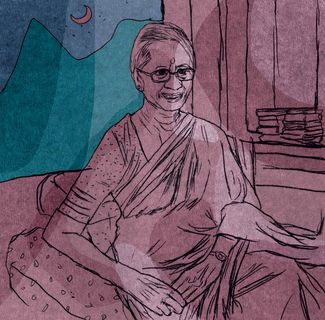 This is the public record.
The private record, Shanta Gokhale as catalyst, would take several volumes to fill up. Hundreds of young people have arrived at the quiet flat at Dadar, to discuss ideas, to float dream projects, to try and get her involved in some way, any way, however it is convenient to you, Ma'am. She's still doing it.
I have been one of them. Each one of my translations has been vetted by her. We sit together, she and I, and I read out my English versions and she reads the Marathi and listens. When she nods, I relax and when she raises her head from the text and asks, 'Do you not want to keep some of the grit of the original?' I bend my head and scratch and change.
I remember the time that I was wondering whether she would agree to translate Em and the Big Hoom, my first novel. I sent her a message asking her whether when one person who had written a novel wanted another person to translate it, whether that one person...oh blast, will you please translate Em and the Big Hoom? And she wrote back saying that at the launch, someone had stood up to say that the book should be translated into as many Indian languages as possible and that was when she had decided to do it. This was glorious news but then the even more glorious thing was to watch my book turn itself into a Marathi novel, co-authored by us. We worked on it together again, reading it together and making sure that she had been faithful. She had. Right from the title, Em ani Hoomrao, the big being subsumed into that wonderful suffix –rao, it was a delight to watch someone who is great at what they do, do it.
When my students at SCM told me that they would like to interview her for a book-length project Lives of the Women which was then in its first edition, I knew they would come up against her almost-unbelievable humility. But she had only to encounter their eager faces and their earnest questions to melt and to provide one of the most interesting accounts of a life that has been spent in so many places: at Glaxo where she was a public relations person; at the Times of India where she was a legendary Arts Editor giving so many of my generation their first break. I can think of Arundhathi Subramaniam and Ranjit Hoskote to name just two young people who wrote for her pages.
So many scenes from a friendship that I have been lucky to have: walking through art galleries together, forming an informal book club in which we share books, reading each other's work—I am at present delightedly snuffling my way through her translation of LaxmibaI Tilak's Smritichitre, having kind suggestions as to my behaviour ("Is there some other way to get them to do what you want?") and of course, the Shanta Gokhale Reader of which I am the proud editor.
In honouring her with this award, the Sangeet Natak Akademi has honoured itself.
Jerry Pinto is delighted.