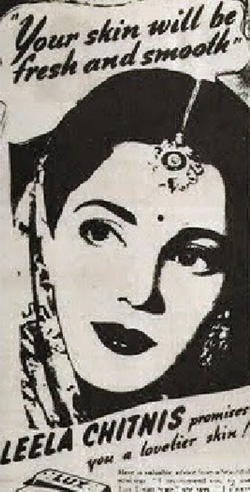 Can you recall one Lux soap ad that did not feature an actor lathering up the imagination of many, subtly persuading them to bring the 'beauty secret of some of the most glamorous stars' home? Since its launch as a perfumed bar toilet soap in 1925, many Hollywood and Bollywood actors—from Elizabeth Taylor, Audrey Hepburn, Marilyn Monroe to Asha Parekh, Rekha, Aishwarya Rai and Katrina Kaif—have sold the soap, vouching for its rich, creamy lather, for their pretty face and smooth skin. The first Indian face to endorse the brand was Leela Chitnis who became Lux's poster girl as early as in 1929. Over the years and through many generations, Lux has established itself as the most sought after soap brand among celebrities. So much so that an actor's endorsement career seems incomplete without an association with Lux, however brief it be. In 2005, Shah Rukh Khan became the first male actor to endorse the brand.
Early on, many brands realised the huge impact of having one or more celebrities to endorse their products on the buying behaviour of Indian consumers. This worked for celebrities, too, as besides good money, these endorsement deals offered them an opportunity to be constantly seen by the potential audience of their films, increasing their recall value. Today, Shah Rukh Khan is remembered as much for his 'Yeh Dil Maange More' and other ads as for his films.
Recently, India's ODI and Twenty20 cricket captain, Mahendra Singh Dhoni, ended his 11-year-long association with PepsiCo India, as the face of Pepsi cola soft drink and Lays chips, passing on the baton to Virat Kohli, the Test skipper and the new icon of Indian cricket.
Today, Bollywood stars and sports icons are selling products ranging from pens and underwear to jewellery, cars and homes. However, no questions are asked to these celebrities on the quality of products they lend their face to or if what they actually said in advertisements is true.
This week, the Union government put on hold the new proposal that calls for tough actions, including a five year jail term and fine up to ₹50 lakh, against celebrities for appearing in misleading ads or promoting adulterated products. While the ministers have time until the winter session of Parliament to ponder over the grounds on which celebrities should be held liable for brands and products they endorse, let us take a quick look at some celebrity endorsements that backfired with fans and other consumers alike:
Dhoni and Amrapali Builders
In April, Dhoni resigned as brand ambassador of residential builders, Amrapali Group, after the unhappy residents of a Amrapali housing project in Noida launched a social media campaign against the builder. Dhoni had been the brand's ambassador for over six years. The residents of Amrapali's Sapphire project in Noida Sector 45 took to Twitter to protest against the builder for not completing the project in promised time. Besides, they tagged the group's then brand ambassador Dhoni with hashtag #amrapalimisusedhoni, requesting him to either ask the company to complete the pending work or disassociate himself from the builder. Amrapali had launched the project comprising 1,000 flats spread over 40,000 square metres in 2009. The campaign was launched after over a delay of two years in handing over the apartments to the buyers. Dhoni agreed to take up the issue with Amrapali Group and said that the builder must deliver on its promises. Later, the company chairman and managing director Anil Sharma had told media, "Dhoni is no longer our brand ambassador… I do not want his image to be affected because of being attached to Amrapali."
Mammootty and Indulekha White Soap
Winner of three national awards and seven state awards, Malayalam actor Mammootty found himself in a legal soup in August 2015, after 67-year-old K. Chaathu from Wayanad district in Kerala lodged a complaint against him and cosmetic manufacturer Indulekha for a misleading advertisement. The actor is the face of Indulekha's skin whitening product, White Soap, which claims to provide fairness with regular use. Chaathu used the product for over a year and filed the complaint after he failed to notice any change in his complexion despite regular use. Chaathu told the court that the soap maker and the brand ambassador's claim that the soap can make you beautiful and fair is misleading. In January, Indulekha paid Chaathu ₹30,000 in an out-of-court settlement.
Shah Rukh Khan and Emami's Fair and Handsome
Endorsement of a men's fairness cream brand landed King Khan in trouble in November 2015, when a consumer court in New Delhi slapped a fine of Rs 15 lakh on Emami after its Fair and Handsome fairness cream failed to make a petitioner fairer in the promised time frame of three weeks. The company was also asked to withdraw the advertisement. The petition was filed by a law student, on behalf of his brother in 2012, alleging unfair trade practices by the company. "Nikhil Jain, complainant, purchased the Fair and Handsome Cream on 08-10-2012 on the basis of the advise of Shah Rukh Khan (Brand Ambassador of Fair and Handsome Cream) in order to get fairness in three weeks. After using the said product for a continuous period of three weeks, complainant did not see any difference on his face in terms of fairness which caused huge mental injury as the company has played with his emotions," a statement read. Shah Rukh Khan was endorsing the product when the complaint was filed. Although, the case did initiate a debate on whether a celebrity should be held responsible for a misleading ad, the actor remained mum on the issue and continued his association with the brand.
Madhuri Dixit Nene and Nestle's Maggi Noodles
In June 2015, actors Madhuri Dixit Nene, Amitabh Bachchan and Preity Zinta faced the wrath of consumers for endorsing Nestle's Maggi noodles, which came under the scanner for allegedly containing high levels of lead. In a notice sent by the Uttarakhand Food and Drug Administration, Nene, the then brand ambassador, was asked to respond on an ad in which she claims Maggi noodles to be a healthy snack with high nutritional value. In May, the Food Safety and Drug Administration in Uttar Pradesh had claimed that the noodles' samples contained monosodium glutamate and high amounts of lead, about 17 times more than the prescribed limits, thus putting public health at risk. While many laboratories across states established MSG and high quantity of lead in noodles' samples, the Union government slammed Nestle for its alleged misconduct and asked the company to withdraw all nine variants of the noodles from the markets. Simultaneously, Nene, along with former brand ambassadors Bachchan and Zinta, were separately dragged to court for endorsing the 'two-minute' noodle brand.