Tiger Zinda Hai is heart and soul a Salman Khan film, and the bhai of Bollywood owns it up to the core. The action-packed spy thriller is 2 hours and 45 minutes of Salman Khan as a human Hulk and RAW's star agent 'Tiger' in hiding, swooning over his lady love, ISI agent Zoya (Katrina Kaif), when not bringing together spies of India and Pakistan together to fight against a common enemy, flexing his muscles to save lives of innocent people living under the shadow of terror and blowing up cars and jeeps to give audience a surround-sound action sequence. As a sequel to 2012 hit, Ek Tha Tiger, Tiger Zinda Hai goes by the same formula—spectacular locations, amazing cinematography, larger-than-life protagonist and a very deep sense of patriotism.
In 2014, 46 Indian nurses were taken hostage by the ISIS in Tikrit, Iraq. Later, they were moved to Mosul before being freed by the Islamic State fighters. The life-threatening situation sets the stage for the large-scale action entertainer and Salman Khan's comeback as Tiger. Earlier this year, a Malayalam film, Take Off, brought back the memories of the ordeal of Indian nurses in Iraq with an impressive script, impeccable narrative, realistic characterisation and nuanced performance by Parvathy (of Qarib Qarib Singlle fame). Last month, Parvathy bagged the best actor (female) award for her performance at the International Film festival (IFFI) 2017, and became the first actor from the Malayalam film industry to win the silver peacock. Director Mahesh Narayan took home the Special Jury Award of IFFI2017 for the film. But that was Take Off. Director Ali Abbas Zafar's Tiger Zinda Hai does not dwell much on the nurses, but rather focuses on celebrating Tiger as he fights a pack of wolves in Austria, meets his expert team in Abu Dhabi, saves a young human bomb on the streets of Iraq and finally settles down somewhere in Greece.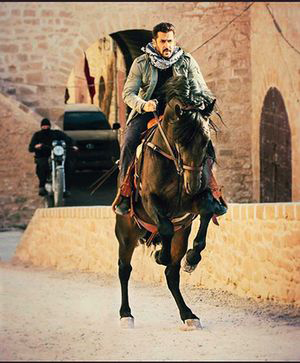 Despite based in a complex conflict area with ISIS, ISI, RAW and CIA playing a crucial role in plot and character development, the story remains simple. So much so that through the 'thriller' you know what's coming next. Two teams—RAW and ISI—are on a mission to rescue 25 Indian and 15 Pakistani nurses from the clutches of ISIS. Just as RAW team is lead by Tiger, ISI team is led by his wife, Zoya. Though the teams land in Iraq on orders of their chiefs in India and Pakistan, Zoya's love and his own desh bhakti makes him overlook official protocol and launch a joint (RAW and ISI) mission against ISIS to save the nurses. Watching the film, you wonder why did the filmmakers bother with a team when Tiger was enough to do everything—strategy building, planning, and execution. 
While Salman Khan lives up to the expectations of his fans, Katrina, besides looking pretty and driving, literally, Tiger out of life-threatening situations has very little to do. Her only memorable moment in the film is one terrific action sequence, all to herself. Most other actors are lost in the narration, and nobody really stands out in terms of performance, except Paresh Rawal, who offers some respite as Firdauz, a RAW agent based in Iraq. Kumud Mishra, does his bit to make his character light and real among tough RAW and ISI agents, but does not leave a mark. Iranian actor Sajjad Delafrooz plays his part well as a well-educated, Hindustani language loving Syrian who took up arms as ISIS chief to revenge his honour.
Just like most Salman Khan films, Tiger Zinda Hai is a mass entertainer, specially meant for his fans.
Tiger Zinda Hai
Director: Ali Abbas Zafar
Cast: Salman Khan, Katrina Kaif, Sajjaad Delafrooz, Anupriya Goenka, Kumud Mishra, Angad Bedi, Paresh Rawal, Girish Karnad 
Rating: 2 stars