Los Angeles-based YouTube star Vidya Iyer, popularly known as Vidya Vox, has had a spectacular journey from singing bhajans at home to creating Indo-Western mashups that have taken YouTube by storm. Her versions of popular songs bring together traditional sounds from Indian classical music, Bollywood, contemporary styles of Western pop and electronic influences, seamlessly linked through multi-language lyrics. To top it, her powerful, crystal clear voice gives the final touch that makes you connect with the songs like never before. You wouldn't even know when you switch from the original to her version. Happened to me!
Vidya launched her YouTube channel—Vidya Vox—in 2015. In less than two years, she established herself as one of the leading musicians on the platform, with nearly 300 million views and over 3.6 million subscribers. Among her fans is Bollywood actor Hrithik Roshan,  who shared her mashup of Major Lazer's Lean On and Punjabi folk song Jind Mahi with a tweet: "Vidya Vox, wherever u are, what an amazing voice u have. Listening mash up non stop." Popular American DJ Diplo praised her mashup saying: "The live bhangra version of Lean On is so epic I love my Punjabis." So far, the video alone has got over 27 million YouTube views.
On being asked about her star-studded fan list, the 27-year-old singer says, "That's so crazy because they are people that I've admired for a long time. Major Lazer/Diplo are truly trailblazers in the field of music, infusing different cultures and bringing them to the forefront of pop."
But then, that's what even she has been doing. Bringing various styles of Indian music and mixing them with Western pop. The result is a unique blend of music that connects with audience from all parts of the world. But this magnitude of success, and the title of a YouTube star, was not something that she foresaw. "It's so crazy because I really don't even think of myself as one. It's definitely a bit weird. I just want to make good music and I'm so glad that people connect with it."
Though mashups have been around for over two decades, Vidya connected with the genre from her childhood years in the US. Born in Chennai and brought up in Virginia, Vidya experienced a culture mashup from a very young age. "It was very interesting. It always felt like two different worlds. At home, I would be singing bhajans and kritis, eating dosa and sambar, but when I went to school, I'd be listening to Backstreet Boys, Destiny's Child, Usher and eating pizza. That tug between both cultures was definitely something I was intimidated by," she tells THE WEEK.
However intimidated, Vidya couldn't hold back her love for both cultures. She started training in Carnatic music at the age of five and pursued it until halfway through school. She went back to music only after graduating from a university. She moved to Mumbai and studied Hindustani classical, which she continues even today. After all, a career in music was never the plan. She was on the path to studying medicine when the unexpected happened. "I just fell in love with it (music), and collaborating with Shankar Tucker really changed my life. He sparked my love for music in college," she says.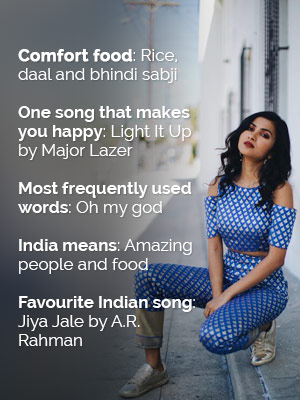 Vidya's collaboration with  co-writer-producer-boyfriend Shankar Tucker began in 2011 when she, along with her sister Vandana Iyer, lent voice to Shankar's original composition Nee Nenaindal, in his YouTube channel The Shruti Box. "It got some attention. We had never experienced anything like that," she says.
She gives credit to Shankar for showing others that you could use social media, without waiting for anyone. Also, the platform gives you 100 per cent creative control of the work you do. That's exactly what she had in her mind when she launched her own channel in 2015. The channel's name, Vidya Vox, only adds to reason. "Vox, in Latin, means voice. Shankar names all of my vocal tracks in logic as Vidya Vox," she says.
Though Vidya found inspiration in Tucker, the decision to float her own channel was a well-thought one. Between 2011 and 2015, Vidya prepared hard to master various nuances of music and planned her way forward. Still, her first video on her official channel was a spontaneous effort. "I had been singing Big Girls Cry by Sia and I decided to record it. Shankar and I listened back to it, and realised that it needed an Indian flavour, considering how I've studied Indian music. So we decided to add a few lines of Kabhi jo badal. We did a video for it the same day, edited and released it. Of course, videos after that definitely took a lot more time," she says. 
Exploring unfamiliar territories in music, Vidya has collaborated with many talented artists to create mashups with a distinct touch. "We usually collaborate with our friends. It happens organically," she says. Every video on Vidya Vox has a touch of professionalism and reflects the hard work that has gone into the production. But how financially viable are YouTube videos? Does recognition on YouTube translate into revenues? "It does. It (YouTube) opens a lot of doors in different avenues. Live shows are the best, because you can perform for the people who support your music," says Vidya.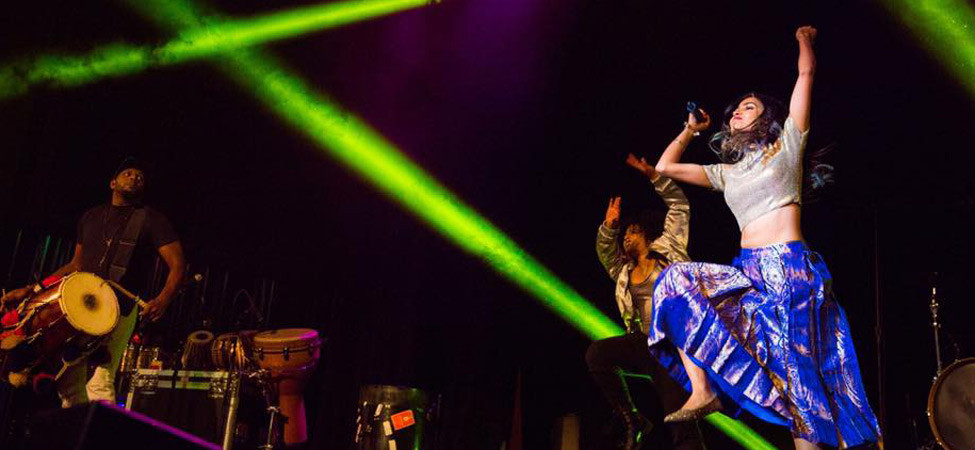 After two years of mashup videos, in August, Vidya entered the world of global music scene with her new EP release, Kuthu Fire. The album includes six songs co-written with Shankar. "I've been sneaking in originals here and there, like Come Alive, Sandcastles, Boat Song Remix and Be Free, to experiment with it. The inspiration behind the Kuthu Fire EP was based on Shankar and my experiences—we wrote all the songs on the album together. It was really fun and I'm proud of it. I wanted it to be very much in English, however, with strong Indian influences in vocal melodies and production," she elaborates.
In what looks like a transition from being a YouTube artist to mainstream musician, Vidya kickstarted her Kuthu Fire Tour India in Pune on Friday. She will be performing live in five more cities—Kolkata, Hyderabad, Jaipur, Delhi and Ahmedabad—between November 18 and 24.
When asked if it would be possible to have a mainstream career without curtailing one's artistic freedom, Vidya says, "It really depends. I think people really respond to authenticity, and it's important to stay true to your music. I think that's why people like Beyonce are so well respected. She sticks to her message and puts out music that reflects who she is. That speaks to people. So definitely, I think yes." If asked to choose between the two, she says she would choose artist freedom, without a question. "Making music on my terms is way more powerful than any monetary success or fame," says the young singer.