On May 16, 1984, a team of Indian mountaineers resting in an upper camp of Everest at an altitude of 24,000 feet heard an explosion in the distance. The time was 12.30am.
The next thing they knew was that an extremely heavy and cold mass was enveloping and gradually crushing them. It was an avalanche. Breathing was becoming difficult. The expedition would have taken a tragic turn had the rescue team not reached on time.
Almost all the members of the team were injured; fortunately, everyone survived. The team was rescued and moved to the lower camp. Owing to injury and fatigue, more than half of them were forced to abandon the climb. However, a 30-year-old member of the team refused to succumb either to the shock of nature's fury or to her minor head injury and went on to become India's first woman to conquer Everest.
"After we reached the lower camp, most members of my team decided to abandon the mission and go back to the base camp. But when our leader asked me I told him, if given a choice I would like to climb the mountain. I thought that since I did not die in this incident, I have no reason to step back. I remained positive. That decision was the turning point of my success story," says Bachendri Pal, 62, head of Tata Steel Adventure Foundation, Jamshedpur.
It feels like yesterday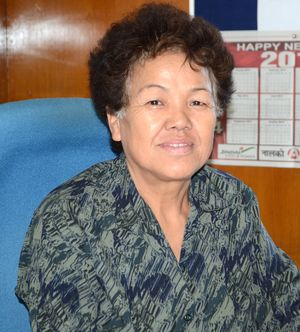 It has been over three decades since Pal achieved the feat, but it feels like yesterday as she describes her moment on top of the world, literally. "Everest means such extreme conditions and back then, mountaineers had no facilities. Climbing Everest was a matter of life and death. Besides everything else, we had seen a dead body on our way up. Even after we reached the peak, I couldn't stop worrying about getting back. Weather conditions that day were so good that we could spend about 45 minutes on the summit. I kept my small idol of Goddess Durga that my mother gave me on the summit and felt my copy of Hanuman Chalisa in my pocket; I just wanted a safe return."
So when was her moment of truth? "For me, it was only after we got back to the base camp and everyone started congratulating me that I realised the magnitude of my achievement. For my village, it was only after I got a job with the Tata Group," she says, laughing. Conquering Everest was never on Pal's 'to-do' list. In fact, she had almost thrown away the opportunity. While training at Nehru Institute of Mountaineering (NIM), Pal received a letter from Indian Mountaineering Foundation informing her about her selection for the Pre-Everest expedition to Mount Everest. Despite being awarded grade A for her training at NIM and being tagged as 'Everest material' by her vice principal, Pal was not confident about taking up the challenge. "I was still training at NIM and Everest was too far a cry for me. I did not even bother to reply to the letter. However, they sent me a reminder after a few days. This time, I took it to my instructor and he told me that I was throwing away a golden opportunity and explained what it meant. Soon, I replied in the affirmative. And once my goal was set, there was no looking back," she says.
Always, it was 'never say never'
Pal was always the child of the mountains. Born in Nakuri, Uttarakhand, she grew up in the lap of the Himalayas. Although treks were an integral part of her growing up, she never thought she would formally train in mountaineering.
"My elder brother is my idol. As a child, I always wanted to be like him. I did whatever he did. He was a good student; so was I. He was very good in sports; so was I. He went on to join Border Security Force and got formal training in mountaineering. When I used to see his photographs, I would want to do it, too. But then, my focus was on higher studies. I am the first person in my village to earn an MA degree. I also have a BEd. Then, I was kind of over-educated for most teaching jobs in my village and neighbouring areas," she recalls.
While Pal was hoping to land an employment opportunity worthy of her qualification, she happened to meet renowned mountaineer Colonel Prem Chand, who was also then vice principal of NIM. When he learnt about her qualification and interests, he encouraged her to join NIM instead of sitting idle at home. Inspired, Pal joined the institute, at the age of 28, and like everything else in her life, gave her hundred per cent to it.
"I knew nothing about professional mountaineering. None of us did and my brother was away. There was no awareness. For the people of my village, mountaineering was neither a sport nor an adventure activity. It meant nothing. It was not something that educated people did; being a woman only made it a bigger no," she says.
I was a joke for others; I didn't care
Mountaineering was a tough man's job. Actually, not even a job. The general thinking was, what could one achieve by climbing a mountain? Not that the attitude towards mountaineering is much different today, but back then there were very few examples of professional mountaineers who weren't soldiers.
"I was a joke for my villagers. While training, I used to carry rocks in my hands as I would climb up and down the mountain and people would call me crazy for doing that. My sisters used to make fun of me. They discouraged me. They never understood why I wanted to do it. My mother was very upset with my decision; used to call it risky and would tell me that it is not meant for girls. She never believed I would come back alive from Everest. But I was too determined to give up; too stubborn to care. I knew that someone had to get out of that mindset and be instrumental to change. What is better than you setting an example and then encouraging others," says Pal, about her initial days of training. "Breaking the stereotype and coming out of that mindset was tougher than climbing Mount Everest."
"Today, when I travel with my sisters and take them for treks they feel embarrassed about making fun of me back then," she says with a chuckle. However, it was not like she had no one to turn to. Her elder brother supported her decision, and her father, who died in 2012, took pride in her hard work. "He used to say, 'Do anything you want to but do it with discipline and hard work.' And that is what I did," she says. "In 1984, my parents accompanied me to the function where I received Padma Shri from president Zail Singh. I also introduced my parents to Rajiv Gandhi. That was my moment of pride. I am glad I could do that for my parents."
Women have to prove themselves at every step
Professionally, although she had all the support of her male counterparts, she was always a woman among them, having to prove herself at every step of her journey. Things changed for the better after she led the Indo-Nepalese Women's Mount Everest Expedition in 1993. "The expedition was almost called off as many people objected to an all-woman expedition, which was also led by a woman," recalls Pal. "People wondered over the need of such an expedition. However, if it was an all-man or a mixed expedition, then no questions would have been asked. As luck would have it, the expedition was not only approved but was also a huge success. The team made seven world records and it was the beginning of acceptance of women as professional mountaineers. After this, mountaineering institutes started getting women instructors, which was unheard of until then."
There is nothing a woman cannot do
Today, many women have climbed Everest and mountaineering is no more seen as an exclusive male domain. But still, women are a long way from realising their true potential and taking themselves to the extremes. As part of Tata Steel Adventure Foundation, Pal is actively involved in training people in mountaineering and outbound leadership activities. "Today, girls are more confident," she says.
"They have role models in almost all fields, but they still feel hesitant to take control and grab opportunities. Even at the camps organised by us, I come across many girls who are strong and capable, but refuse to come forward and take charge. Sometimes some of them feel privileged and expect someone to take care of them; other tines they come with a mindset that some things are too tough for them, which is not true. If girls are willing to give their hundred per cent, there is nothing they cannot do. You have to put yourself in challenging situations to learn to believe in yourself."
How does she feel about her decisions and her life? "I am proud of myself. Whatever I have done, whatever decisions I took, it worked for me. I am where I am because of the decisions I made," says Pal. "When I receive so much love and importance from people I feel the responsibility to give it back to society and here, at Tata Steel Adventure Foundation, I am teaching people what I know best."