For nearly a decade, the Kolkata port area proved to be a safe harbour for three men suspected of being Inter-Services Intelligence agents, Irshad Ansari, his son Asfaque and cousin Mohammad Jahangir. Their arrest last month exposed a part of the secret world of ISI's espionage network.
The police say, like any other spy, they led double lives. Irshad Ansari worked as a contract labourer for Garden Reach Shipbuilders and Engineers (GRSE) Ltd, which builds and repairs warships for the Indian Navy. He was also a member of a labour union of the ruling Trinamool Congress. Asfaque was a member of the students wing of the party. Their political links will naturally be a talking point in the run-up to the assembly elections next year. The BJP and the CPI(M) have already accused the Mamata Banerjee government of being soft on terror.
The Special Task Force of the Kolkata Police nabbed the trio from their homes in Ekbalpore near Khidirpore dock. Photographs and designs of Indian warships, Kolkata docks, the port area and the GRSE compound were allegedly seized from them along with fake Indian currency notes—Irshad had counterfeit Rs.2 lakh notes, and Asfaque and Jahangir had Rs.1.5 lakh each. Akhilesh Chaturvedi, deputy commissioner, Kolkata STF, said while Irshad was the main accused, Jahangir and Asfaque helped him in sending across exclusive information to Karachi, where Irshad's brothers—Irfan and Iqbal—live and allegedly work for the ISI. "They used to send all the materials through WhatsApp, email and other forms of social media. Irshad made repeated visits to Pakistan in the last few years. He and Jahangir have been doing it for the last ten years," said Chaturvedi. Irshad has been working for GRSE for more than two decades.
A senior police officer said Irshad sent across details of the anti-submarine warship INS Kamorta, built by GRSE. The ship was handed over to the Indian Navy last year. INS Kamorta, designed by the Directorate of Naval Design, is the first Indian naval warship built in India with 90 per cent indigenous military equipment, including a helicopter traversing system. Steel Authority of India Ltd made special grade high-tensile steel for the warship, considered one of the most advanced military warships in Asia—only China has such warships. "We fear that such details and designs have fallen into ISI hands," said a police officer.
The espionage network is active elsewhere, too. On December 6, the Delhi Police arrested a serving Army jawan, Havildar Farid Khan, from Sukna forest village in Darjeeling. "He was part of the espionage racket which was recently busted in Jammu and Kashmir," said an officer.
Following the arrests, the Indian Navy is reportedly reviewing two warship orders it has given to GRSE. Said a source in the Navy: "Unless we have a clear picture of what is happening in GRSE, all business should be suspended." GRSE, which considered INS Kamorta its biggest achievement, declined to comment. "We are not saying anything as of now," said a company spokesman. "When required, we will call the media." But sources within GRSE said the company was perturbed. Earlier, no police verification was done while hiring contract labourers. But now the company would come up with a new system for recruitment. Also, it would deploy CISF personnel instead of ex-Armymen to guard its main establishment.
While Irshad and Jahangir have reportedly confessed to their crimes, the Kolkata STF is interrogating Asfaque about his role. An STF officer said they had information that he had been party to the crime. "Irfan [Irshad's brother who has a garment business] had taken Irshad to Karachi ten years ago and given him money," said an Intelligence Bureau officer. "Irshad went as a garment trader to bring good quality garment from there to the Kolkata market." According to the officer, Irshad created a network in Kolkata and later involved his son and Jahangir. The trio visited various places in India including Uttar Pradesh, where one of Irshad's henchmen, Ejaz Ahmed, was also arrested by the Uttar Pradesh Special Task Force. The Intelligence Bureau had, a few months ago, alerted both the West Bengal and Uttar Pradesh governments about the ISI network in defence establishments.
Irshad, over the years, had managed to build his clout in the port area with support from Jahangir. To keep the police at bay, they strengthened their political connections, irrespective of the party in power. Sources said that before joining the Trinamool Congress, Irshad and Jahangir had been close to the CPI(M)'s labour wing, Centre of Indian Trade Unions. CITU's top brass in Kolkata, however, denied the claim.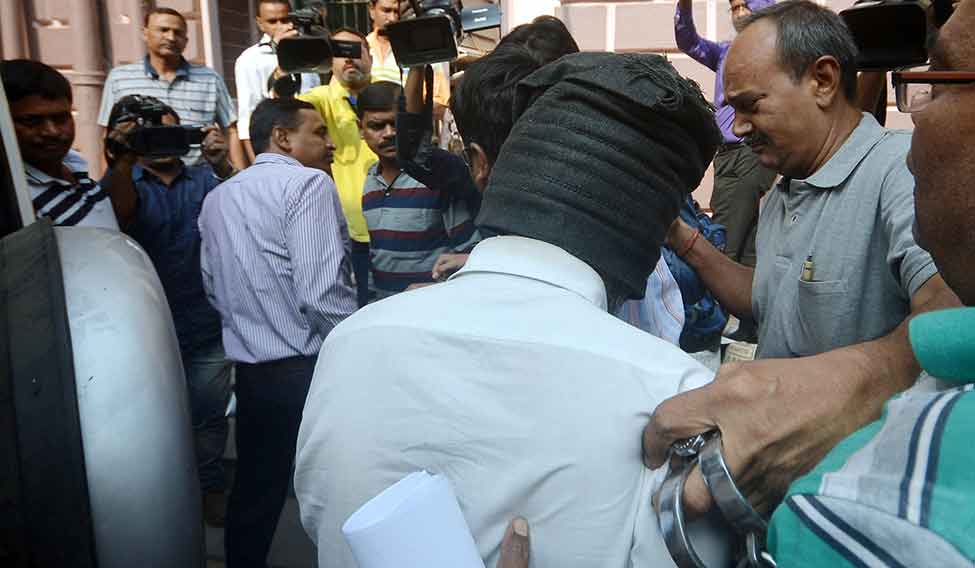 After the Trinamool Congress came to power, Irshad, Asfaque and Jahangir shifted their loyalties. Irshad was found hobnobbing with many Trinamool Congress leaders. His proximity to them helped him increase his sway over the dock area. Irshad became a strong trade union leader at GRSE, with Jahangir as his close associate. Eventually, he became the union secretary, controlling the entire labour force of the company—said to be around 5,000. Being a labour union leader, he had easy access to inside information, which allegedly found its way to the ISI.
Asfaque made his mark as a student leader. He was first a member of the Trinamool Congress Chatra Parishad. The son of a high-profile local politician helped him become general secretary of Harimohan Ghose College students union. "He was a tough guy who used to take money for admissions," said Ershad Ali, a student of the college. Ashok Rudra, who heads the Trinamool Congress student wing, however, said: "He was expelled many months ago because of his anti-party activities."
Despite the denials, the damage has been done. And, Mamata knows it. This is the second time the Trinamool Congress has been linked with terror suspects. Last year, the Intelligence Bureau had pointed out that those involved in the Burdwan blast were connected to a Trinamool Congress MP and several other party members.
Mamata is already in damage control mode. She has instructed two of her senior leaders—Partha Chatterjee and Subrata Bakshi—to convene meetings of party workers and warn them against bringing ill repute to the party. "The labour body is open to everyone," said Bakshi. "It is very difficult to maintain strictness. We don't have any exam for entry to labour bodies. However, we will have to be alert."
Not one to miss a political opportunity, the opposition has already upped its ante against Mamata and her government. BJP leader Sidharth Nath Singh, who was in Kolkata a day after Irshad's arrest, said, "Mamata ayi, atank layi [Mamata came, so did terror]." Singh said the terror-political link would be a major issue in the coming elections along with the Saradha chit fund scam. "Even after the Burdwan blast, they were not alert," he said. "We feel sorry that the Trinamool Congress compromises national security for political gains."