Many call this quaint district of Karnataka the Kashmir of the south. However, its natural beauty aside, Kodagu had no similarities with the valley. That is, not until a few days ago, when a communal clash erupted, took two lives and stole peace. Now, clouded by anger, humiliation, shock and despair, Kodagu seems to be aping Kashmir, a land where peace is alien.
But, what triggered the clash on November 10? Apparently, it was the state government's decision to celebrate Tipu Jayanti, despite the popular Kodava sentiment against glorifying Tipu Sultan. Soon after the government announced the date—November 10—Kodavas launched vocal protests and pro-Hindu outfits led by BJP leaders took to the streets. It was a black day, they echoed.
On November 10, the General Thimayya circle in Madikeri, the district headquarters, witnessed an ugly clash between pro- and anti-Tipu groups. This was, perhaps, the first communal clash in Kodagu.
During the violence, Devapanda Kuttappa, 62, a local Vishva Hindu Parishad leader, fell off a compound wall, hit his head on the ground and lost his life. Meanwhile, in the pro-Tipu camp, Shahul Hameed, 22, was killed when a bullet pierced his head. Hindu groups now claim that Kuttappa had been stoned by the pro-Tipu group. Shahul's family claims that he was not rioting, but was on his way to see his mother and ailing sister in Mangalore. He had, unfortunately, hitched a ride on the ill-fated lorry carrying people to Madikeri for Tipu Jayanti.
According to witnesses, groups waving Tipu flags entered the town, in lorries, tempos and minivans, from all directions. They converged on Thimayya circle, where 200 men were protesting the Tipu Jayanti celebrations being held at the town hall, 500m away. Soon, clashes erupted and both groups merged into a bloody mess.
After the violence subsided, the police began arresting suspected rioters and the state government announced a compensation of 05 lakh to the families of the dead. The state also ordered a magisterial inquiry by Mysuru Deputy Commissioner C. Shikha.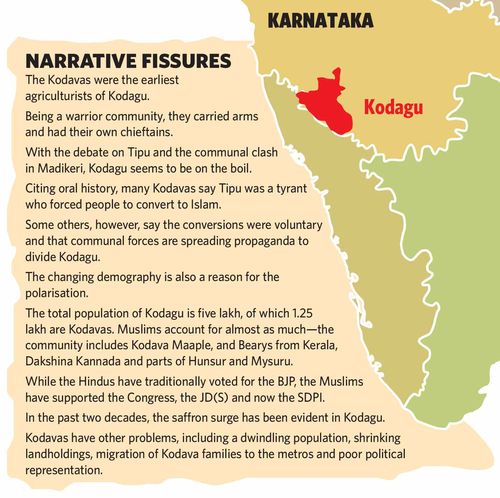 "The government decision smacks of obstinacy. The chief minister [Siddaramaiah] has stirred up a hornet's nest," says historian B.P. Appanna, ex-president of Kodava Sahitya Academy. Sitting in his study in Kushalnagar, he flips through history books to establish Tipu's tyranny. "Most kings have committed atrocities as those were the barbaric days," he says. "Tipu Sultan, however, massacred brave Kodavas through deception by inviting them for a feast at Devatti Parambhu near Bhagamandala. He wanted to convert all Hindus to Islam as his ambition was to become a badshah [emperor]."
Recalling his family's oral history, Appanna says: "Five members of my family were beheaded by Tipu. The French praised him for their own benefits. Tipu destroyed temples but spared only Melkote and Srirangapatna as his servants lived there."
Tipu's critics are many. Says Hindu activist G.L. Nagraj: "Our only contention was that Tipu Jayanti should not be celebrated in Kodagu with public money. We all condemn glorifying Tipu as a freedom fighter as he is considered a tyrant who killed and converted Kodavas. But, the Congress government has made mischief by announcing Tipu Jayanti on Diwali."
For years, the Kodavas had demanded that the government honour their heroes—Field Marshal K.M. Cariappa and General Thimayya. Successive state governments, however, did not do so. Finally, this government is honouring someone, but is he a hero?
As the Tipu debate rages on, the Kodavas recall the atrocities against their forefathers and are angry that the government is imposing Tipu as a secular hero and icon. Says U.M. Poovaiah, editor of Brahmagiri, a Madikeri-based weekly: "Hailing Tipu as a freedom fighter is nothing but an insult to patriotic Kodavas. The district has produced one field marshal, a general, eight lieutenant generals, 30 major generals, 50 brigadiers, more than 100 colonels and six air marshals. But no Kodava opinion or sentiment has ever been honoured by the government."
For the past six years, a section of the Kodavas has celebrated Cariappa Jayanti on January 28 and Thimayya Jayanti on March 31. There is also a growing demand to convert Sunnyside, the dilapidated house of Thimayya in Madikeri, into a war museum.
Says former Kodava Sahitya Academy president Addanda Cariappa: "What annoys us is that the government calls Tipu a freedom fighter for fighting the British. All kings fought invaders, including the British, to safeguard their kingdoms. The sepoy mutiny of 1857 was the first freedom struggle. This is nothing but distortion of history and minority appeasement by Siddaramaiah and those indulging in vote-bank politics."
Since the government mooted a Tipu university a few years ago, Cariappa has been researching on Kodagu during Tipu's rule. "Every Kodava family has heard about the massacre and conversions from their great-grandfathers, grandfathers and fathers. And, many have heard the stories about personal losses, too," he says. "Many Kodava households seem to have kept their anger alive for generations by naming dogs after Tipu."
He rattles off the names of many books which, he says, establish that Tipu wronged the Kodavas. "Glorification of Tipu by Muslim folklorists patronised by Muslim merchants helped popularise only good aspects of Tipu's life, which were dramatic," he says. "This inspired several playwrights and writers [including Jnanpith awardee Girish Karnad] to highlight Tipu as a hero and secular ruler. But not many know that Tipu had two faces."
While some historians say that Tipu had donated gold and silver to many temples, many, including Cariappa, disagree. "Tipu made donations to three temples during the last few years of his life as he was struck by paranoia and consulted astrologers," he says.
In his soon-to-be-released book, Cariappa cites Pattole Palame, a collection of folk songs by N.C. Chinnappa published in 1924, and says "Tipu captured nearly 80,000 Kodava men, women and children and converted them to Islam and formed eight regiments called the Ahmaddiyas. He sent four groups of Muslims—Sheikh, Syed, Mughal and Pathan—to settle down in Kodagu to spread Islam.
But, for all his critics, Tipu has supporters, too. Kuvenda Hamsathulla, a Kodava Maaple, dismisses claims that his ancestors were victims of "forced conversions". "What's wrong in celebrating Tipu Jayanti?" he asks. "Tipu has been misrepresented by vested interest groups. There are great writers in favour of Tipu including secular Kodava writers like K.C. Ponnappa and Dr Durgaprasad. But, communal groups have fabricated stories to polarise Kodagu. Every ruler committed unsavoury acts. The anti-Tipu writers cite state gazetteers written by the British, who were always opposed to Tipu. Many Hindus converted to Islam inspired by Sufi cult. Likewise, Kodava Maaple embraced Islam inspired by Tipu. The massacres at Devatti Parambhu are baseless."
Interestingly, some Kodavas say that the communal conflict of today is a fallout of a great blunder committed by their ancestors. The Kodava Maaple, who were forcibly converted to Islam, were disowned by their families when they returned home. "If only our ancestors had welcomed back the converts instead of disowning them for being outcasts, Kodagu would not have witnessed a communal clash today," says Cariappa. "Those converts have now integrated with migrant Muslims and are following fundamentalists. They are also favouring political parties such as the Social Democratic Party of India, which has made inroads into the city councils and panchayats."
The changing demography is also a reason for the polarisation. Today, the total population of Kodagu is five lakh, of which 1.25 lakh are Kodavas. Muslims account for almost as much, as the community includes Kodava Maaple, and Bearys from Kerala, Dakshina Kannada and parts of Hunsur and Mysuru.
"Kodavas have always been secular and trust Muslims, even though they are shrewd businessmen," says Poovaiah. "Muslims control most trades here and work as contractors on estates owned by single women or aged Kodavas. But today, the influx of Muslims and their increasing influence on Kodava Maaple has given birth to new players such as the SDPI and organisations such as Popular Front of India, which are brainwashing the Maaple at the mosques."
While the Hindus have traditionally voted for the BJP, the Muslims have supported the Congress, the Janata Dal (Secular) and now the SDPI. In the past two decades, the saffron surge is evident as Kodavas and other majority communities have been voting the BJP to power in assembly elections and, this time, even to Parliament. "We are not ready to end up as Kashmiri Pandits of the south," says Cariappa.
A dwindling population, shrinking landholdings, migration of Kodava families to the metros and poor political representation are some of the problems the Kodavas face. To solve these issues, the Codava National Council, a local political party, is evolving a blueprint. The proposed steps include—forming estate companies to buy and maintain Kodava estates, preventing Kodavas from selling land to outsiders, fighting to retain gun licences, coaxing enterprising Kodavas to invest in Kodagu, training young Kodavas to enter fields dominated by outsiders and pushing for the Kodava language to be listed under the Eighth Schedule of the Constitution. And, on December 13, the Kodavas plan to set up a memorial at Devatti Parambhu as a reminder of "Kodagu's Jallianwala Bagh".
GRIEF UNBOUND
"Will I get back my only son if I lodge a police complaint? asks Ummu Kulsu, the mother of Shahul, the Muslim youth killed in the violence in Madikeri. "Who cares about Tipu Jayanti? Poor people like us have to work for a living. My diabetic husband works as a driver in Saudi Arabia and my only son is dead."
Elsewhere, Chinnavva, clad in a white Kodava sari, stands in her courtyard in the sun. The wife of Devapanda Kuttappa, who died in the clash, refuses to put her sorrow into words. Instead, she hands over a photograph of her husband and herself in traditional Kodava attire to her son Devapanda Dali and breaks into sobs.
The clashes have not only stolen peace in Kodagu, they have also devastated a wife and a mother.