"The project will not harm the environment as it plans to have an effective effluent treatment plant to treat waste water" - Wang Lizhi, plant manager (in white T-shirt)

"Industries thrive at the cost of environment, and once self-reliant farmers are now at the mercy of companies holding market monopoly for seeds and fertilisers" - Dr Guruprasad, general secretary, Karnataka Rajya Raitha Sangha
One cannot miss the pungent scent of marigolds here, but the nine hamlets of Kelasuru gram panchayat in Chamarajanagar district smell of something stronger—revolt.
In the last two decades, the flower boom in the rain-fed Gundlupet taluka has scripted many success stories. The Mysore-Kozhikode highway, dotted with flashy orange marigold farms alternating with the bright yellow sunflower farms, has not only attracted nutraceutical companies to set shop but also uplinked the small and marginal farmers to the export market. However, a new project has hit a bump here.
A few weeks ago, nearly 1,000 farmers congregated at Kaggadalahundi village to protest the setting up of a marigold flower extraction plant by a Chinese firm in Triyambakapura village. The Chenguang Natural Extracts (India) Pvt Ltd produces natural colours, natural seasoning and pharmaceutical extract from marigold known as oleoresin.
To quell the agitation, the police resorted to lathicharge and arrested 29 people, who were later released on bail. The district administration has now clamped prohibitory orders. The factory gates are locked and a police van with six men in khaki stand guard outside. An uneasy calm prevails. Men, busy playing cards near the temple, flee every time they spot a police van. Farmers huddle at bus stops and tea stalls discussing the injustice and apathy of the district administration.
"We plan to launch a legal battle," announces Honnur Prakash of Karnataka Rajya Raitha Sangha (KRRS) and Hasiru Sene, which bailed out the apprehended men. The leaders are upset that the police have slapped 12 cases on protesters. "The police are trying to scuttle our peaceful protest," says Nagesh Subbappa, a farmer, who claims his three-acres were usurped by middlemen for the project. He says the police manhandled the women and beat up men without any provocation.
While some villagers are opposed to the factory as they do not want the youth to give up farming and end up as security guards, there are others who are citing environmental reasons for their protest. "We want no polluting factory here as none of us grow marigold," says Mahadevaswamy, a farmer. "The factory is coming up very close to Bandipur National Park and ancient temples of Goddess Parvati and Triyambakeshwara."
The factory in question is being set up at a cost of 036 crore, across 60 acres. The plant, with an installed capacity of 7,000MT, will produce marigold pellets by processing marigold petals. The final product—oleoresin—has high medicinal value and has a huge export market in the US, Europe and China. The marigold extract, or the chemical named xanthophyll, is used for making Lutein, which protects vision.
THE MARIGOLD SEASON lasts just four months—June to September—when it yields eight to ten crops. "We source flowers from a network of farmers to ensure regular supply. This year, marigold is being grown on 8,000 acres, and next year it will be scaled up to 18,000 acres. Factories have been running for more than a decade in Hassan and Tiptur. It does not harm the environment," says Wang Lizhi, the plant manager.
The Chinese firm is one of the many companies getting a red carpet welcome to invest in Karnataka. The Karnataka Udyog Mitra, a single-window agency for project approvals, and the state government's Invest Karnataka initiative and the global investors' meets have rolled in global players into sleepy villages to set up shop. However, the move is perceived more as profiteering than developmental.
While the villagers fear losing their fertile lands and the contamination of groundwater, what has raised hackles is the firm's lack of transparency.
"The previous panchayat development officer misled all 16 members and got us to sign the no-objection certificate," says G. Rathimani, president of Kelasuru gram panchayat. "When we realised our folly, we confronted him and he apologised. We have now passed a resolution cancelling the NOC as we feel the factory will pose health hazards."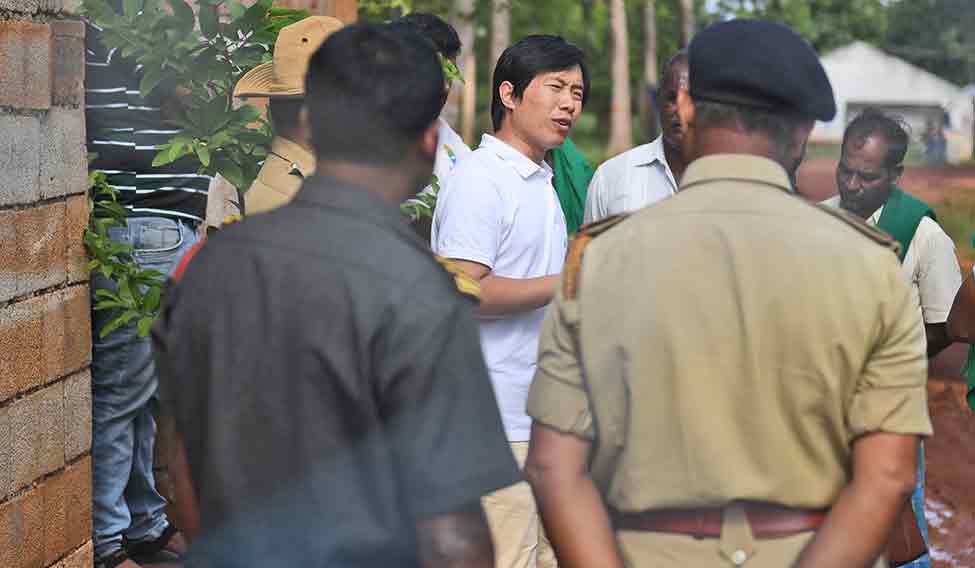 The villagers have started complaining of skin allergy and nausea, owing to some chemical substance present in marigold. Sadashivappa Shivappa, whose 80-year-old father was hospitalised following a skin allergy, says, "Every time it rains, the stench from the factory makes it impossible for us to even live indoors. My wife and I have also developed the allergy, which doctors attribute to a chemical. The district administration should take note of this."
After much persuasion, Wang opens up. Walking through the factory premises, he shares the project plan—there will be six silos and an effluent treatment plant. "We will process only 300 tonnes [of marigold] a day, utilising 15 kilo litres per day of water. The flowers are processed in water treatment chambers [silos] for 20 days to extract the chemical, which is then converted to oleoresins," he says. "The project will not harm the environment as it plans to have an effective effluent treatment plant to treat waste water. The rejects will be sold to outside agencies for making manure. If we are found flouting the environment norms, we are ready to shut down."
There are, however, no takers for this argument. Though it has already purchased flowers from farmers this season, the plant is still in a nascent stage. Except for the concrete silos, the trenches to carry waste water and the huge pit for effluent treatment plant remain under construction. Villagers, therefore, say the company's environmental concerns are only on paper.
"A bilateral agreement, local consensus and environmental and forest clearance are a must. We are tired of cooked up compliance reports," says Dr Guruprasad, general secretary of KRRS. "Industries thrive at the cost of environment, and once self-reliant farmers are now at the mercy of companies holding market monopoly for seeds and fertilisers." Companies, he says, provide hybrid seeds, fertilisers and pesticides that ruin the soil fertility. And, even though the input cost of farming is increasing, farmers sell their produce for a fixed price. The companies, meanwhile, reap profits. "In marigold business, one kilo of oleoresin fetches Rs 10,000 to Rs 20,000 in the global market. But the farmer continues to sell flowers for Rs 5.35 per kilo," he says.
A factory has never ensured prosperity for the farmer as there is no profit-sharing model. Sugar factories in the state are fine examples of this exploitative culture, say farmers. "Our next step is to procure locally grown ginger and turmeric [up to 5,000 tonnes per year], when marigold production subsides," says Lizhi, dangling a carrot.
Not everyone is opposed to the project though, like Nagendra from Baregi village. "Flower cultivation is profitable compared with other crops. For the last 20 years, my family has grown cotton, maize and marigold. But marigold earns good profit as the company provides seeds, fertiliser and pesticide. They also arrange for harvest and transport. One acre can fetch you Rs 50,000. After the flowers are cut, we uproot the plants and it becomes manure. Then, we sow beans."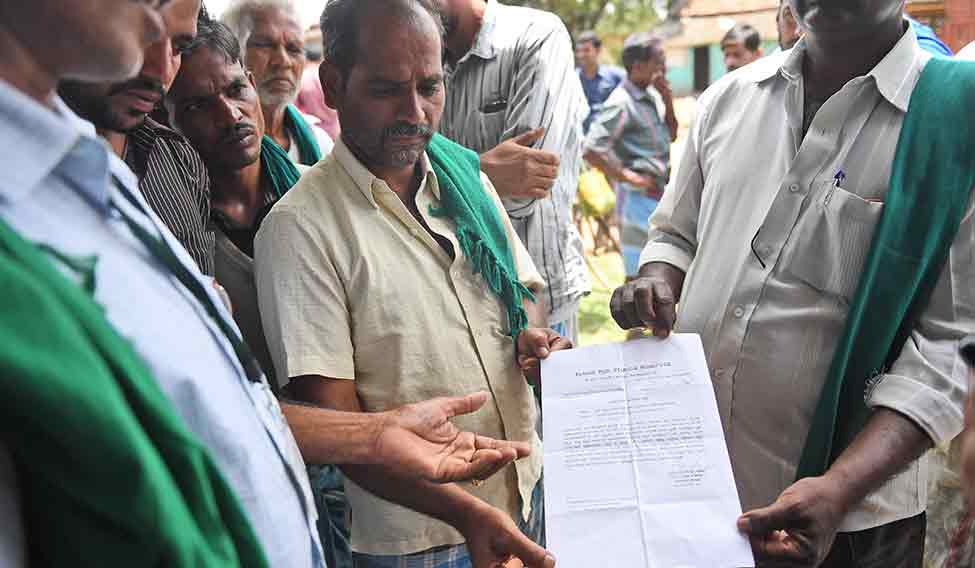 Deepak works as a nodal worker for the Chinese firm and liaises with local farmers to help the company distribute seeds and fertilisers and procure high-quality flower. He says many farmers will switch over to marigold once the factory takes off.
A FEW KILOMETRES from Gundlupet town, Nagamallaiah and his wife, Vijayalakshmi, are busy harvesting their first marigold crop. "I have 36 guntas of land. As the same plants yield eight to ten crops in four months, I earn up to Rs 60,000. One acre of millets fetches me only Rs 10,000," says Nagamallaiah, who is upset with the protests against the new factory.
Also, the factory is closer home, says his wife. Earlier they would sell flowers at Erode market in Tamil Nadu. "Though fresh flowers fetch Rs 10 per kilo in the Mysuru market, we prefer to sell it to the company at a fixed price of Rs 5.35 per kilo as they buy all our low quality flowers, too. What we need is an assured market and regular income," reasons Vijayalakshmi.
A truck carrying marigold is stuck in slush, emanating an unbearable stench of the decaying flowers. Perhaps, a reflection of the perils of a development plan sans local consensus.