"We have good canal water, the soil is fertile. But what is the use? Sugarcane needs to be harvested within a week. But there are no takers.... I see no way out of this crisis" - Madhu, Rajendra's son
This is my last greeting to my Raitha Sangha friends. You have always raised your voice against injustice and given farmers like me a ray of hope. But today, I see this voice is drowning and farmers are disillusioned. I hope you will revive the fighting spirit and instil confidence in every farmer. I am committing suicide as I have accrued huge debts and suffered losses, owing to price crash and crop failure," reads the suicide note by C. Rajendra, 66, from Chinnenahalli village in Mandya district, Karnataka. He hanged himself from a tree on his farm more than a month ago.
As you travel through the lush green farms with abundant water in the canals in Mandya district, you cannot miss the irony. It is not a tale of prosperity but tragedy that is being scripted in these wetlands. Mounting debts have claimed 156 lives of farmers over the last 35 days. But the death of Rajendra, a small and progressive farmer, who was a commerce graduate and an active member of the Karnataka Rajya Raitha Sangha, has jolted the government and the farming community. In his two death notes—one to the KRRS and another to the state government, Rajendra has conceded defeat.
Outside Rajendra's 100-year-old house, the police are removing the barricades as crowds disperse on hearing that actor-turned-politician Ramya has cancelled her visit. Inside, Rajendra's wife, Sunanda, 56, stares at her husband's garlanded photograph placed on a chair in the courtyard. Over the past month, Chinnenahalli has seen politicians of all hues flock to their village, followed by the media. The family has got a compensation of Rs2 lakh. But that would do little to ease the debt burden.
"My brother was an idealist and had chosen farming over a government job," says Somashekhar, Rajendra's younger brother. "He was known for experimenting with new crops. But in the last three years, the crops either failed or fetched a pittance. This year, his tomato crops failed. Sugarcane crops wouldn't bail him out as sugar factories have halted crushing. His debts now stand at Rs12 lakh."
As the eldest of Patel Channegowda's three sons, Rajendra got his share of two acres after his father's death. He grew sugarcane on it, and started growing banana and vegetables on four acres of leased land. Trouble began three years ago when sugar factories failed to pick up cane. With his main crop fetching little money and the high cost of cultivating vegetables, he had to take a loan of Rs1.75 lakh after mortgaging his land. He used the money to grow tomatoes, but lost the crop to bad weather. "He leased out his 40-odd coconut trees to raise Rs2.15 lakh for payment of interest. He borrowed fresh loans from moneylenders to pay the soaring interest and to run his house," says Somashekhar, who wants the government to come up with scientific crop pricing.
Rajendra's daughter was lucky enough to study. She did her master's in commerce and is now married. But his son, Madhu, 28, only studied till class ten. Pointing towards the leased farm where his father's body was found hanging from a tree, Madhu says, "I chopped that tree." He regrets dropping out of school, and hopes to get the government job promised by the deputy commissioner. "We have good canal water, the soil is fertile. But what is the use? Sugarcane needs to be harvested within a week. But there are no takers.... I see no way out of this crisis," he says. "A government job can help me and my mother stay alive, though it will not help us clear the debts. My father never hinted that he would end his life." Sunanda says she had pleaded with Rajendra to sell off their land to repay debts. "But he refused as we have no other source of income," she says. "Who will give a bride to our son if he is landless, he had asked."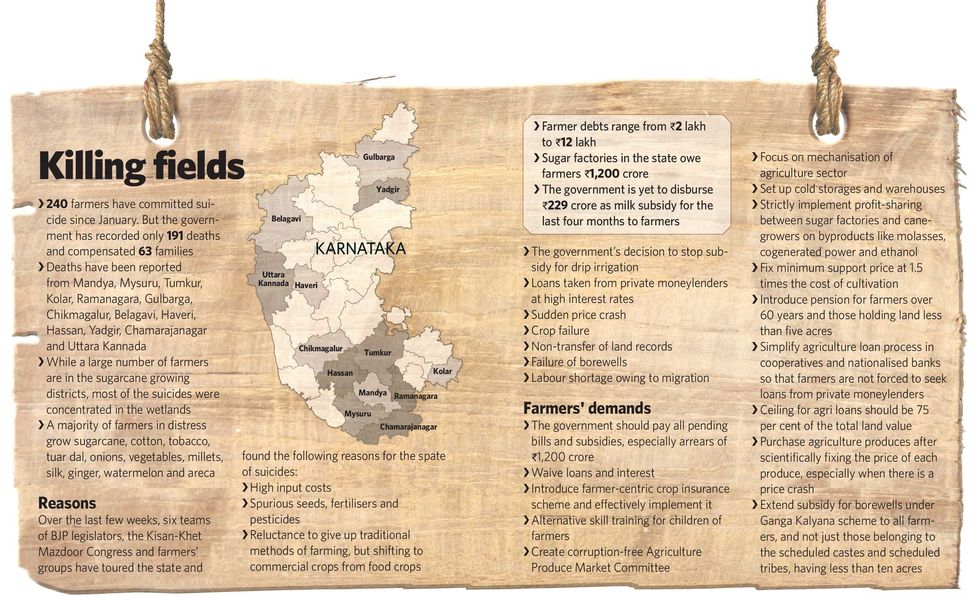 Somashekhar says it is not just farmers growing commercial crops who are hit, but those who grow food crops also suffer—when a sugarcane crop fails, all farmers start growing vegetables and the price crashes. Also, loans are not easily available to small farmers, as loans given by district cooperative central banks are cornered by influential farmers. And if they manage to get one, it is only Rs10,000 per acre, which is inadequate as the cost of cultivation is much higher.
Farming will be history in this country, warns Somashekhar. "My son Karunakara, a diploma holder, is joining an engineering course. A few days before his death, my brother told my son never to take up farming. Madhu, too, is disillusioned. Labour shortage is another bane as boys migrate to cities and girls prefer garment factories to farms," he laments.
An angry Sunanda asks what the country would feed on if all farmers gave up farming or committed suicide. "Wait till the next season, people will have no rice to eat. Farming is an expensive affair," she says. "Rearing cattle is difficult as high-breed cows provide milk only when fed well. But we cannot afford cattle feed."
The government is yet to announce any compensation to farmers. It woke up from its slumber only after Congress vice president Rahul Gandhi sought a report on farmer suicides in the state from veteran leader S.M. Krishna. Chief Minister Siddaramaiah, who rushed to a few villages to dole out Rs1 lakh cheques to the bereaved families, assured "all help", without elaborating on the exact nature of help. He also went on air with 'Dil ki Baat' to appeal to the farmers not to commit suicide. "Do we really need a chief minister who talks on the radio, but refuses to give any commitment to bail out farmers?" asks Somashekhar.
The BJP plans to take out a vishwas yatra to build confidence among the farmers. The Janata Dal (Secular) has launched a farmers' helpline, even as party patriarch H.D. Deve Gowda launched a protest at Jantar Mantar in Delhi demanding that farmer suicides be discussed in Parliament. The National Human Rights Commission has sought a report from the state within four weeks.
However, the anger of the distressed farmers seems to have reached boiling point. A farmers' convention on suicide prevention was recently held in Mysuru, where their message to politicians was to stop the suicide tourism and dividing farmers on caste lines.
"All farmers belong to a single caste that stands for hard work and self-respect. Farmers make 70 per cent of the population and we must show our strength," says B. Nagendra, a farmer and lawyer from Mysuru. "With the government's flawed policies, the farmer is today synonymous with debt. Farming was about self-reliance and self-sustenance, but no longer. Farmers fall prey to politics and get divided on caste lines. Every other party and the government is manipulating us." He will lead a 45-day statewide rally—'Bandi Yatre'—from August 6, with support from religious mutts.
Professor K.C. Basavaraj says the downslide of agriculture started with liberalisation of economy. "Flawed policies are encouraging import of agriculture produces, causing distress to local farmers," he says. "Monopoly of corporates producing expensive seeds, fertilisers and pesticides is worrying and has made farmers overdependent. It is time to embrace sustainable agriculture. Change in crop pattern, integrated farming and pesticides-free fields are our future."
Kendaganna Swamy, a farmer from H.D. Kote, says the government needs to crack down on Agriculture Produce Market Committees, which are dens of corruption. "While sugar factories are yet to pay huge arrears to cane growers, they are slowly refusing to share profits earned from byproducts like molasses, ethanol and cogeneration of power," he says.
At least declare pension before agriculture retires from this country, say farmers.