"Jose [Mourinho] used to ask me, 'With a country of 1.3 billion people, why can't they produce a decent team?" - Vinay Menon
Energy can neither be created, nor destroyed. It can only be transferred. And that's exactly what Antonio Conte did. Throughout the 2016-17 season, Chelsea's Italian manager bounced around on the touchline, hugging players, jumping for joy and, occasionally, leaping into the crowd. A madman, said some; a genius, said others. But, importantly, through his passion, he gave players the energy to power on. Chelsea, 10th last season, won the English Premier League with two games to spare. It was a dominant season, backed by Conte's tactics and an entertaining attacking style that left opponents baffled.
Chelsea's season has been one of team effort. For every Eden Hazard or N'Golo Kante on the field, there has been an equally important cog in the support staff. Vinay Menon, 42, is a prime example. The Keralite was partly responsible for the spring in Conte's step. As Chelsea's wellness consultant and yoga instructor, Menon has been a constant presence at Stamford Bridge, playing "mind games" with the squad. A few years ago, The Sun, in a report on Menon, said he "teaches special breathing exercises to reconnect body and mind, and his calming techniques detox athletes' bodies and help them reach a point of deep relaxation and physical calm".
With that in mind, we met a mundu-clad Menon at his Kochi home on a rain-drenched summer afternoon in May. He spoke of his time at the London club, often straining to talk over the lashing rain. Mind over matter, or, in this case, pitter-patter. "At Chelsea, my role is to help players concentrate and build focus, as emotions are always on edge," he said. "I observe them from a distance during training, and wait for the right moment to lend a hand. I have a one-on-one session with the players at least once a week. These players are young, so appreciation is crucial to them. Conte always tells me, 'Vinay, they need to have the fire in them to perform. You have to motivate them to keep it burning'. I share an informal relationship with the players."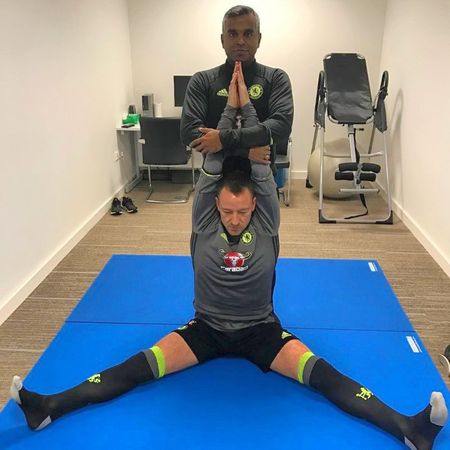 Menon is quite popular in the dressing room. For instance, captain John Terry and defender Cesar Azpilicueta posted pictures with him on social media, while defender David Luiz gifted him an autographed jersey: "To my friend Vinay, thanks for everything! You are fantastic...." The framed jersey hangs in his Kochi home.
In a high-intensity sport like football, where players have to maintain peak physical shape, mental fitness is often overlooked. Enter Menon. "Each player has a different mind and it changes constantly," he said. "His mind in the evening will be different to what it was in the morning. No player would have a receptive mind all the time. There is a window period in which each player can take in what I have to say. My job is to observe and find that window. In that time, even a two-minute talk is enough."
It would be fair to say that Menon helps the players—like Rudyard Kipling famously wrote—"meet with triumph and disaster and treat both impostors the same".
But, how did a yoga guru from Kerala end up with a premier English football club? Years ago, back in Kerala, Menon wanted to be a police officer. He prepared in earnest, even mastering judo. But, when the public service commission exam results were delayed, he took a different route—physical education. After completing his MPhil at Pondicherry University, he did a diploma course in yoga at Pune. He then taught at Pondicherry University for two years before joining a destination spa in the Himalayas.
At the spa, he met his future wife, Flomny—the physiotherapist is now deputy manager of the Chelsea health club. The spa had a clientele with deep pockets and deeper connections. One of them offered him a job as a wellness consultant at Madinat Jumeirah, a five-star resort in Dubai.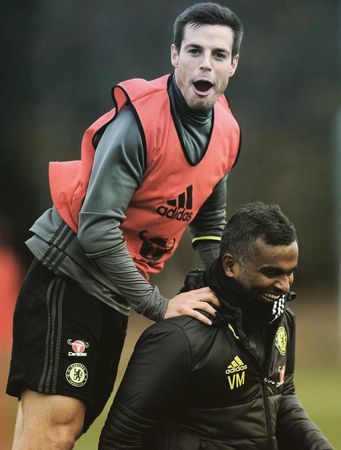 While there, he developed a session called 'full-moon yoga', which gained a lot of media attention. In 2009, four years after joining the resort, Chelsea owner and Russian tycoon Roman Abramovich asked Menon to be his personal consultant. "For two years, I travelled with Abramovich, while my family settled in London," he said. "Over time, I had also started taking sessions for Chelsea players Didier Drogba and Joe Cole. I finally joined the club as wellness consultant after the Champions League victory in 2012."
Since then, Menon has seen both highs and lows; the latest triumph was winning the league. But, just as Chelsea were about to celebrate the victory, Menon had to return to Kerala to attend the funeral of his mother, Ahalya.
To honour his mother's memory, Menon has decided to help Indian football aspirants. "I recently passed by a local football tournament here," he said. "The enthusiastic reception I got made me realise that I have much to do to help these children reach great heights. They were overjoyed when I promised to bring the winning side a ball autographed by Chelsea players."
Drogba once told Menon that he played without boots when he was young, and that if he could make it, so could street footballers in India. "The Chelsea players and staff are eager to visit, play and do charity work in India," said Menon. "Most of them are boys who have fought their way out of hardship, so they are sincere givers. They often inquire about India. Jose [Mourinho] used to ask me, 'With a country of 1.3 billion people, why can't they produce a decent team?'. But, there is nobody to facilitate such a meeting. It would be great if somebody takes the initiative to bring these players to India."
Menon wants to bring an extension of the Chelsea football academy to India and is on the lookout for sporting bodies or corporate sponsors to initiate such a programme.
Soon after THE WEEK met him, Menon flew back to London to rejoin the squad. The summer ahead will be crucial as Chelsea gears up for a stern title defence and a return to Champions League football. The loss to Arsenal in the FA Cup final on May 27 might have been a downer, but Conte will once again look to Menon to put his boys' minds at ease.