Tuhin Satarkar started climbing rocks when he was barely five years old. While children in his neighbourhood chased pups and kittens, he accompanied his mountaineer father, Vikas, to the Sahyadri ranges. In December 2013, this wiry 20-year-old from Pune became the first Indian to climb the Ganesh rock face in Badami in Karnataka, which is considered the hardest rock climbing route in India.
"Fear is there, and it is good," says Tuhin. "It makes you plan meticulously and practise harder. But I do not allow fear to take over me. So, I guess, I am as afraid as anyone who is driving or riding a motorbike."
On February 16, another Puneite, ace skydiver Shital Mahajan, announced her plans to take a group of 100 women to Australia for skydiving and scuba diving. "I am taking the group to Australia because skydiving has been banned in India since January last year after a skydiver's death in Tamil Nadu. Ideally, I would have liked to do it in India," says the Padma Shri recipient.
What propels people like Tuhin or Shital to do extreme adventure activities where the smallest margin of error means certain death? Is there something beyond the thrill which motivates the practitioners of extreme sports? How does science and psychology analyse these people's desire—even addiction in some cases—as they wink at death every time they perform a feat? Is it appropriate to dismiss them all as thrill-seeking nut cases, or are they normal human beings with an appetite for risk? THE WEEK interacted with a dozen experts and extreme sport practitioners, and what emerged is a fascinating insight into the minds of these daredevils.
In the 1970s, a one-liner in the movie Sholay, "Jo dar gaya samjho mar gaya (If you are scared, you are dead)", attained cult status. Though Gabbar Singh, the character who mouthed it, was a villain, the dialogue had no tinge of negativity. It inspired children to jump from trees uttering the line to convey their disdain for fear, just as it made grown-ups jump out of superfast trains.
Around the same time, in the US, psychologist Marvin Zuckerman was studying a personality trait called sensation seeking—a craving for novel and intense experiences and a willingness to take risks in pursuit of such experiences. In the early 1980s, Zuckerman developed a sensation seeking scale. One of the sub-categories in his sensation seeking is seeking thrill and adventure. The ever-growing popularity of extreme sports like BASE jumping, sky diving, rock climbing, surf boarding and scuba diving is a physical manifestation of the adventure-seeking sub-category of sensation seeking personality trait, wrote Zuckerman in one of his papers.
In India, the craving for adventure has travelled a long way since then. The Sholay one-liner is almost forgotten; but the underlying craving has grown much bigger. It now manifests itself in many forms, such as bike stunts, or in a more disciplined avatar like rock climbing. But in that moment when people propel themselves into the sky with a prayer on their lips, what goes in their head?
It is easy to assume that they seek thrill. They want to experience the adrenaline rush. But if you break it down, it can be tedious. Take, for instance, BASE jumping, where people jump off structures with a parachute. It is more dangerous than jumping out of a plane and is banned in many countries. The process involves identifying the location, spending days understanding the place and the wind velocity, and then looking within and asking themselves if they are ready for the jump. Everything needs to be precise.
So, how do they reconcile thrill with meticulous planning? Dr Eric Brymer of Manchester Metropolitan University thinks it is naive to assume most acts of extreme sports are done to seek thrills. Extreme sports, he says, allow practitioners to commune with nature. "They have to understand the natural environment they participate in," he says. "If they make a wrong judgment about a wind or a cliff, they will be dead. This is a dance, a partnership with nature. There has been a gradual separation between human beings and the natural world and extreme sports allow us to reconnect."
Another aspect Brymer talks about may seem incongruent with the daredevil attitude associated with extreme sports. "The focus required to undertake an extreme sport well is so intense that all other experiences or knowledge drop away. The experience people talk about is time changing. Participants have told me that when they had some issues while dropping, while they thought they had 20 minutes to resolve the issue, when they saw the video they realised it was less than a second. Your sensory abilities enhance, you are getting contact with the best part of yourself," says Brymer. In this meditative state, however, you do not lose control; you always know what is happening.
BASE jumper Aishwarya Yadav remembers an occasion when he was jumping off a cliff and one of his shoes got stuck in his line. "My mentors got scared, but I did not panic. I was prepared for the worst, and I managed to fix the problem," he says. Aish belongs to a breed of adventure enthusiasts who have done it all, and he keeps coming back for more. "It is like an addiction," he says. "You keep wanting to push yourself."
The other aspect is the unstructured, non-competitive nature of adventure sports. According to Brymer, the growth rates in adventure sports are increasing worldwide faster than the traditional sports. This might be because traditional sports are so deeply competitive, structured and financially constrained that people are looking for ways of expressing themselves more freely. Because adventure sports do not have structured rules and are not heavily sponsored or professional, they have become more popular with young people looking for less structured, less competitive and less financially controlled activities. "Perhaps, in India, this is also a cultural issue because schooling in India is so structured and competitive, with families interested in ensuring that children become doctors, engineers and so forth that adventure sports may also be a way of obtaining self-awareness and a need to break free from cultural constraints as soon as financially possible," says Brymer.
The need to reconnect with nature and a young population has given rise to a generation of explorers who want new experiences. Says Amit Chowdhury, president and COO of Adventure Nation, a company which specialises in adventure tourism: "There are basically three kinds of people who take on adventure activities. Adrenaline junkies who are hard-wired to doing extreme stuff on one end of the scale, people who want to show off something exciting on their Facebook page, and the ones in between, who truly love nature, are curious about the world, want to challenge themselves to do something beyond their comfort zone and get a sense of achievement having done something difficult."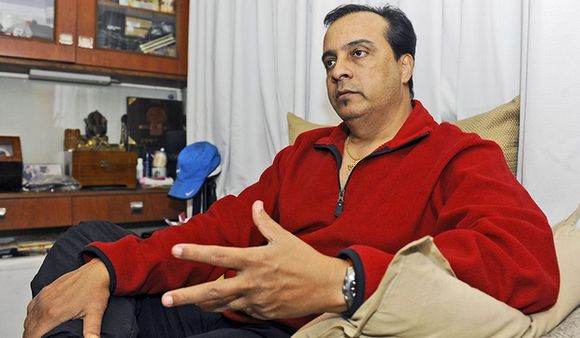 This urge to venture out is evident in competitions like Enduro 3, an endurance race organised in the Sahyadri ranges near Pune. This year's event was held in the first week of February. "In 2002, when we started, 45 teams of three members each participated," says Prasad Purandare, the brain behind Enduro 3. "This year, the number of teams crossed 200."
Enduro 3 involves trekking, rappelling and mountain cycling. "More and more people are passionate about adventure today," says Purandare. "More than 10 per cent of the participating teams are from other states. The topography and weather of Pune are very conducive." He will be organising a similar race in Goa in October.
Apoorva Prasad, mountain climber and editor of the adventure sports magazine Outdoor India, calls this a lifestyle that rejects materialism and the normal path. He echoes Brymer. "It is a rejection of the direction that the Indian way of life takes you in," he says. There are, however, many thorns in the path. "There is no infrastructure supporting adventure sports in India," says Prasad. "There is no regulatory body. All the sports offered are by UK- or US- certified instructors. No insurance company in India covers you if you are doing such activities."
But he does see potential in the Indian market, as his two-year old magazine doubled sales every year. "We realised that people were interested in outdoor activities but there was no media to collate the space; no niche media catering to these interests," he says. Prasad sees Outdoor India as the third leg of the tripod that stabilises the space, which creates information relevant to adventure sports in India.
There is no doubt that India is willing to taste the outdoors. The statistics are encouraging. Thanks to social media, the awareness about adventure and extreme sports is increasing. "Many young people want to do some kind of adventure or the other," says Chowdhury. "There are about 45,000 trekking trips sold to Indians every year. Twice that number goes for low-quality trekking experiences with clubs and organisations. With about 40 crore people between 18 and 35, there is a huge opportunity for outdoors and adventure service providers."
Adventure Nation is all set to make use of this opportunity. It wants to be a one-stop solution for adventure enthusiasts. It facilitates meetings of outdoor enthusiasts on its website, provides learning from experts about extreme sports and organises events. It is creating an ecosystem for adventure enthusiasts. "Adventure tourism sector is largely disorganised," says Chowdhury. "There are numerous small adventure operators who are not well funded and do not have a structured marketing set-up. They are run by highly motivated people, passionate about the sport but they do not have the market reach to enable growth."
Shortage of clients usually means cutting corners when it comes to safety, and Adventure Nation tries to fix that. "The Adventure Nation business model is to create a marketplace for these small operators, help them grow their business and encourage them to follow basic safety norms and best practices," says Chowdhury.
The tribe that wants to push its own boundaries and explore the world, however, is getting help from different avenues. For instance, Austrian energy drink maker Red Bull is dedicated to adventure sports and to creating a thriving community of adventure sportsmen even in small communities. Many of the extreme sportsmen in India are supported and mentored by Red Bull.
Interestingly, urban legends are also being created around adventure sports. Red Bull discovered a village that excelled in parkour (a sports in which one moves from a place to another in the most efficient way), during the Red Bull Indus Trail. Two of three winners in the parkour competition were from a village called Rampur in Madhya Pradesh. Athlete Mohammad Al Attar, who was a judge at the competition, found that the boys, if trained well, could match global standards. "This led to him coming back again and visiting the boys in Rampur, where they underwent a five-day training," says a spokesperson for Red Bull.
Has the time for adventure sports arrived in India? Well, there is demand, and young India is in the mood to experiment. They are happy to let go and jump into that wild expanse, literally.
Tuhin Satarkar
Vertical limit
When Tuhin Satarkar told his father that he was planning to climb Dnyaneshwari rock face in the Sahyadri ranges, Vikas Satarkar felt a huge sense of pride. It was a task that Vikas, an ace climber himself, had left unfinished more than a decade earlier. "When I attempted it, Tuhin was with me. He was about seven years old," he says.
Tuhin had the hunger to go for challenges. "His school had told us that he would not be allowed to practise in the tenth standard," says Vikas. "So we got him admitted to the open school. This freed Tuhin and he did extensive climbing and trained very hard that year. His confidence in himself as a climber grew manifold."
In December 2013, Tuhin became the first Indian to climb Ganesh, a difficult rock climbing route in Badami, Karnataka. He had actually gone there with Paige Claassen, an ace rock climber from the US who wanted to attempt it. He finished the job a day after Claassen. "Paige became the first woman to climb Ganesh, and Tuhin the first Indian," says Vikas.
Tuhin has been climbing ever since he started walking. At the age of three, he trekked to Sinhgadh, a fort on the outskirts of Pune. At seven, he participated in his first competition and won. He was spotted by Red Bull during a climbing competition. Sponsored by Red Bull, he trained in Austria under the guidance of Kilian Fischhuber, a five-time world champion in rock climbing.
In the past two years, Tuhin climbed Dnyaneshwari, Dhakoba and Ganesh. "Dhakoba was first climbed by Surendra Chavan (who went on to climb Mount Everest in the 1990s) in 1985. Since then nobody had been able to climb it. We had a narrow escape when a huge rock fell on us during midnight when we were staying on a ledge," says Vikas.
Next on Tuhin's agenda is a solo cycling and climbing expedition in the Sahyadri ranges and a rock face in Ladakh. "It has been on my mind for quite some time," he says.
Sucheta Kadethankar
Taming the tough
The gymnasium on the ILS Law College campus in Pune is buzzing with activity even though it is early morning. While most members are pumping iron, the lone woman in the gym is pulling truck tyres on a concrete surface. Though a bit odd, it convinces the bystanders that she is into more serious stuff than weight loss. Sucheta Kadethankar, in fact, is into serious stuff. An endurance athlete, ultra-marathon runner and trekker, she is the first Indian to cross Mongolia's Gobi desert from west to east, a distance of more than 1,600km in extreme conditions.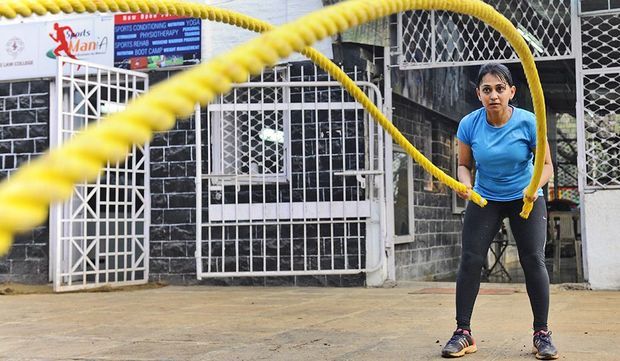 In the third week of the Gobi expedition, an angry camel kicked her and dislocated her shoulder. "Pulling out of the expedition was an option," she says. "But my entire training would have been wasted. I prepared for this expedition for about six months."
In her 30s now, Sucheta is a principal information developer at Symantec. She began trekking during her college days. But only after she had established herself at Symantec that she started pursuing her passion more seriously. She did Mount Everest base camp in 2004 and Annapurna base camp the following year. "I did cycling from Manali to Leh to Khardung La in 2006. Now you see a lot of enthusiasts doing it," she says.
Unlike in the Himalayas, where one can look forward to the mountains and the scenery to refresh you at the end of a day's trek, there is nothing in the desert to motivate you. The day temperature in the Gobi is around 47 degrees Celsius and the nights are windy at around 5 degrees Celsius. "Very trivial things motivate me at various points," she says.
According to Sucheta, mental obstacles are more difficult to cross than physical ones in such extreme expeditions. "We had gained our confidence that we can do it physically. What matters then was how you were able to marshal mental strength to keep going," she says.
After the Gobi, Sucheta ran a few marathons and two ultra-marathons. Next on her agenda is a trans-Himalayan trail via the higher route, which will take her across Bhutan, Nepal, India and Pakistan. "It is a four-month-long expedition," she says. "I have found two persons who are willing to join. But we will need at least 10 people. So it is a long-term plan."
Shital Mahajan
Jump for joy
Don't even think about it." That was what Shital Mahajan's mother said when she took her to the National Defence Academy in Pune to watch skydiving. Shital wanted to do it. She wanted to make a career in a sport which her middle class Maharashtrian household had not even heard of. Her parents asked her to study medicine. But, in 2002, they did not have a clue that she would go on to win the Tenzing Norgay award for adventure and a Padma Shri for her skydiving achievements.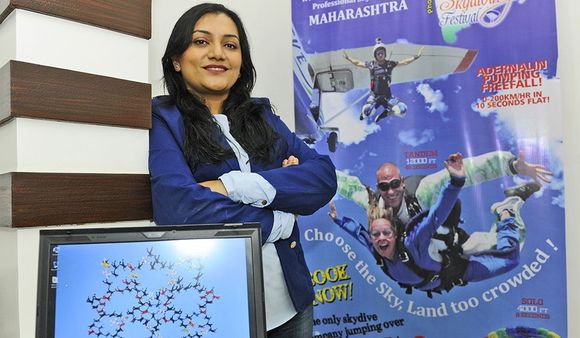 Shital was inspired by her friend's elder brother, Squadron Leader Kamalsingh Oberh, who was the first Indian to skydive on both the poles. She convinced her parents, found a sponsor in Tata Motors, where her father worked, and embarked on her journey to the North Pole. On April 18, 2004, she dived out of a helicopter from 2,500 feet. "It was minus 37 degrees Celsius. I was very scared. I had never sat in a helicopter before, let alone opening a parachute. But I did it without any training. Now, after more than a decade of practice and training, I wonder how I managed it," she says.
The Maharashtra government quickly awarded her the Shiv Chhatrapti Puraskar for outstanding achievements in sports. In 2005, she received the Tenzing Norgay award. "I am the first civilian to be given the award," she says. In 2006, Shital did the South Pole jump. She jumped out of an aircraft from 11,600 feet when the temperature was minus 38 degrees Celsius.
So far Shital has done 650 jumps and participated in skydiving world championship. "When I jump from the sky, my pent-up anger and frustration just evaporate," she says. "I have experienced this time and again. The whole experience is so unique and intense that every time I just lose my time consciousness. The only time I experienced fear was when I did my first jump."
A mother of six-year-old twins, Shital runs the Phoenix Skydiving Academy in Pune. She got married on a hot air balloon. Her husband is based in Finland. She is trying hard to persuade the civil aviation authorities to revoke the ban on skydiving. Next on her personal agenda is a 500-way formation jump in California. "The jump is scheduled to take place in 2017," she says. "The participants will be the best skydivers in the world. I hope to be there; I am just keeping my fingers crossed."
With Sharmista Chaudhury