It was raining in Delhi. "Our government was making plans to deal with the poor rainfall that the meteorological department had predicted. Now, it is pouring; not only [water] from the skies, but also accusations that have taken the sheen off the 13-month-old Modi government," said a BJP member from Patna at the party headquarters. He was surprised that his party had landed in trouble so quickly, but was confident that it would overcome the crisis before the monsoon session of Parliament on July 21.
It seems his confidence was not misplaced. It was no war room, but there were flash phone calls between party president Amit Shah, Prime Minister Narendra Modi, Home Minister Rajnath Singh and Finance Minister Arun Jaitley, who was in the US. Rashtriya Swayamsevak Sangh chief Mohan Bhagwat is believed to have called Rajnath Singh and Transport Minister Nitin Gadkari, once each. The party was troubleshooting and working overtime.
The mess began when the news broke on June 14—External Affairs Minister Sushma Swaraj had helped Lalit Modi, former Indian Premier League commissioner, get travel documents from the British government. It was a legal but improper act and resulted, predictably, in the Congress demanding her resignation. Senior BJP leaders, however, thought the opposition's unrelenting demand would be silenced in 72 hours. No way will she resign, she has done nothing wrong, it was only humanitarian help, they said.
But matters snowballed. In less than 48 hours, it was revealed that Rajasthan Chief Minister Vasundhara Raje had signed an affidavit supporting Lalit Modi's immigration, specifying that it should be kept secret from Indian authorities.
Meanwhile, in Delhi, 28-year-old Ahmer Khan, a freelance writer, had gone to court alleging that Human Resource Development Minister Smriti Irani had provided "false information" in three different affidavits before the Election Commission. He claimed she could be prosecuted under the Representation of the People Act. On June 24, metropolitan magistrate Akash Jain fixed August 28 for recording the pre-summons evidence.
The same day, in Mumbai, Maharashtra Congress spokesperson Sachin Sawant registered a complaint with the Anti-Corruption Bureau against Pankaja Munde, the state's women and child development minister. He said she had awarded contracts worth Rs206 crore for the procurement of a range of goods for state-run schools without inviting tenders.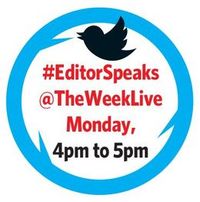 Modi's women woes had begun. Swaraj, though not on great terms with Modi personally, had been an efficient leader, parliamentarian and minister. Raje was so close to Modi before he became prime minister that, if she felt a rally was not well-attended, she only had to sms him and he would be there. Irani had been one of Modi's favourites since his Gujarat days and was handpicked to take on Congress vice president Rahul Gandhi in the 2014 Lok Sabha elections. And Pankaja, the daughter of former Union minister Gopinath Munde, was a newcomer who could not be ditched.
But between the four of them, the women gave the Congress and other opposition parties weapons to war on him.
According to reliable sources, Swaraj had an inkling that a report in a British newspaper could reveal her conversation with British MP Keith Vaz, a week before it did. Apparently, the newspaper had sent her a questionnaire for her version and quotes. "She met a very senior leader, explained her position and offered to resign," the source said, hinting at her meeting with Shah. "She was apparently told it was not necessary, and that they should do nothing in a hurry." Shah would doubtless have discussed it with Modi who, according to the source, had categorically said, "We will not let the Congress tell us what to do, it is our government."
That was when Shah came out in support of Swaraj and made it clear that she would not be axed. Party sources told THE WEEK on condition of anonymity that Swaraj would continue in office, because in facilitating Lalit Modi, she had acted on the prime minister's suggestion. Perhaps that is why Jaitley, who was brought in to support Swaraj, said: "Her actions were bona fide. The entire government and the party are one on this issue. There should be no doubt about this."
In Raje's case, the party initially said it was verifying her unsigned affidavit in support of Lalit Modi. The RSS, concerned about who would succeed her as chief minister, apparently suggested that the party support her in the interest of political stability in the state. But Raje's relief was short-lived as the Congress continued to demand her resignation. It produced a copy of the affidavit with her signature that she has since confessed as being authentic. The money Lalit Modi pumped into Raje's son and MP Dushyant Singh's company is another issue under verification.
Apparently, the BJP's in-house brains suggested that they treat Raje's case "not like a BJP issue, but a Centre-state issue". The government has, for now, taken this to mean that in federal India, the Centre should not be sacking chief ministers. "That is one thing we had against the Congress's high command culture. Would we want that in the party?" asked a member, not wanting to be identified.
Said Rajnath Singh: "This is the NDA government, not the UPA. Our ministers don't resign because they don't do what the ministers in UPA did." Corruption was the ground on which the BJP, while in the opposition, pressed for the removal of UPA ministers, and Swaraj and Raje did not fall into that category.
Though it seems like an interpretation of convenience, there is a view in the BJP that sacking a minister amounts to admitting guilt and results in the weakening of the party.
In Irani's case, the loudest demand for her sacking came from the Aam Aadmi Party, whose law minister Jitendra Tomar had been arrested by the Delhi Police on charges of having a fake degree. "There cannot be two yardsticks. The law is the same for everybody," said AAP leader Ashutosh. The BJP, however, has decided to leave it to the court.
For now, it looks like the party will stubbornly resist all demands for resignation. The opposition, which does not have the numbers, can do little else but shout and create a logjam. But, in all this, Modi has had a huge loss of face.
The man who spoke about black money, good governance and corruption has taken his first hit.
Till a few weeks ago, critics were petrified to open their mouths against Modi. It seems they have found their voice now. Veteran leader Murli Manohar Joshi took a swipe on the way the Namami Gange project was being implemented. Senior leader L.K. Advani suggested that another Emergency was possible, hinting at the autocratic manner of Modi, and former finance minister Yashwant Sinha lamented that those above 75 had been "declared brain-dead" by Modi. He also said that Modi should make India before making in India.
It was Modi who dubbed his predecessor Manmohan Singh as maun (silent) Singh. Now, it seems, he has become the silent one.