"Not many know about his sensitive side. He's extremely vulnerable and diffident. There is a little boy in him searching for love" - Shobhaa De, writer
In one episode of the TV show Koffee With Karan, broadcast in 2007, the guests are Vijay Mallya and the writer Shobhaa De. Mallya strides confidently into the dimly-lit, black-and-green set and settles himself on the sofa. "Every industrialist has an image and yours is not exactly that of a very serious person," says the host of the show, Karan Johar, in a blatant understatement.
"I've always lived life on my own terms," says Mallya. "I don't need to be a hypocrite and don't want a split personality. I'm the brand ambassador of my brand."
A while later, De waltzes in a dazzling black sari and talks about the need to turn your image into your equity "as Vijay has done so successfully" and about how her friendship with Mallya has been "interesting and has had its ups and downs but it's never been a boring or a static friendship".
The interview meanders on. Mallya calls Maneka Gandhi a "rash environmentalist", says he wants Hrithik Roshan to play him onscreen, and between wine and women, it is easier to give up women. Slowly, a clear picture of him emerges. He's the man who says India should be proud of those who create wealth the way America is proud of Bill Gates. The one who wanted to look like a politician representing the people and so got designers like Tarun Tahiliani to design some kurta-pyjamas for him. The one that sent a letter to a right-wing organisation that threatened to prosecute him for displaying half-naked girls on his Kingfisher Calendar. "I told them that the calendar is not to be sold at every street corner. It's for private distribution," he says. "I did not put a gun to the heads of these models to make them pose for me. So, who are they to sit in judgment of me?"
"Complete the sentence," Johar says. "Ten years from now Vijay Mallya will be…"
"Number one in whatever he does," says Mallya with brash confidence.
Nine years later, things have gone downhill for Mallya. In November 2010, Kingfisher Airlines' loss stood at over Rs 6,000 crore. In 2012, it lost its flying licence. In 2014-15, United Bank of India and State Bank of India declared Mallya a wilful defaulter. In February 2016, the board of United Spirits Limited, the company his father set up, asked him to resign as chairman. On March 2, the day a consortium of public sector banks, to whom he owed Rs 9,000 crore, moved the Debt Recovery Tribunal against him, he fled to the UK.
Son of industrialist Vittal Mallya who chaired the United Breweries Group, Mallya was thrust into business at the age of 27 after his father's death. In an episode of the TV show Rendezvous with Simi Garewal, shot many years ago, Mallya says he had a happy childhood even though after his parents' separation, he got to see little of his father. Vittal used to come to Kolkata, where his son stayed with his ex-wife, once in three or four months. "I remember that I longed to meet him," he tells Garewal, a former actor and the host of the show. "I looked forward to his every visit. I really started enjoying him in my final years of school and college when he realised I could be of help to him in the business."
He says he learnt the value of accountability and record keeping from his father who used to make a note of his daily expenditure every single day. "One day, I lost a one-paisa coin which probably went under the carpet or something," recounts Mallya. "My father wrote down in his diary: 0.01 lost by Vijay. I couldn't do anything except look under the carpet once more."
As the heir apparent, he had many critics who thought that with his lavish spending, he would squander away his father's money. In his book The Vijay Mallya Story, K. Giriprakash talks of the expensive makeover he ordered for the Herbertsons office in the Fort area in Mumbai. Most of the structures there were crumbling. He had one of the floors done up in smoked glass and granite. When he invited his father to inaugurate the newly designed office floor, Vittal Mallya apparently said after cutting the ribbon, "How easy it is to spend money."
Talking about the different styles of functioning of father and son, brand consultant Harish Bijoor says: "Vittal Mallya's style was suited to doing business in those days. He ran the business in a conservative manner which was something you needed to do when you were building your business from scratch. The son, however, morphed into the king of good times because he was the brand ambassador of his brand. There are two kinds of products. Those based on need and those based on aspiration or desire. Alcohol fell into the latter category. Mallya's individual persona fitted perfectly with the aspirational lifestyle he was selling. What he did for beer rubbed off on him and he became the appellation of his product. The classic cases of this are Richard Branson of Virgin and Bill Gates of Microsoft. Their personas are closely knitted to their brands."
According to Born Rich, a platform that collects details of billionaires all over the world, at the height of his career, Mallya bought more than 25 properties around the world, including a lavish home in Sausalito, California, with golfer Tiger Woods, tennis players Serena and Venus Williams and actor Robert Redford as his neighbours; the Mabula Game Lodge, one of South Africa's finest private game reserves; and a penthouse in the Trump Plaza in New York, which is one of the most expensive apartments in the US. He had four private jets and more than 250 vintage cars. (He says his first word was 'car' and the first car he got was a Standard Herald that his father bought him after much pleading and many years of "hanging out of Calcutta buses".) Everyone knows about the legendary parties he hosted on his yacht Indian Empress, which was reportedly the 33rd largest private yacht in the world. From the monogrammed linen, the antique baby-grand piano, and the various paintings by Dali, Renoir and Picasso, Mallya spared no expense in decking out the yacht.
"ART IS THE most valuable luxury one can own, especially intellectually," says artist and art collector Bose Krishnamachari about Mallya's enviable collection. Asked whether Mallya has good taste in art, Krishnamachari says cryptically, "Aesthetics cannot be taught but it can be imbibed."
He's not just the king of good times; he's also the king of bling, as he was rarely seen without his gold designer chains, diamond-studded watches, a gold VJM bracelet and huge solitaire earrings on both ears. Garewal remembers how he came for the interview with a huge van following him. Inside it was his wardrobe—"hundreds of suits, shirts and ties neatly arranged. He asked me to choose what I'd like him to wear for our rendezvous," she writes.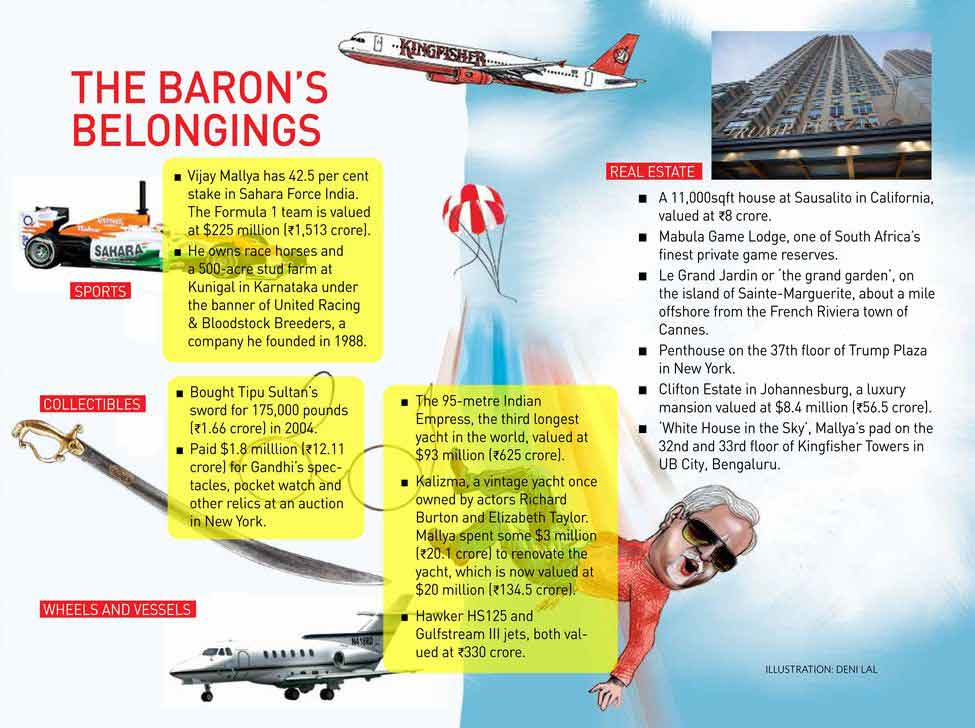 "Personally, I don't like bling on men. I like them to be understated and classy," says former model and fashion choreographer Lubna Adams. "But Vijay was able to carry it off. It suited him and suited his lifestyle. He had impeccable taste in everything, be it jewellery, clothes or women."
Besides the Formula 1 racing cars and the Indian Premier League team that he bought, there was of course the Kingfisher Calendar which propelled many models like Deepika Padukone and Katrina Kaif to fame. "The Kingfisher Calendar started off as a bit of a joke between Mallya and [fashion photographer] Atul [Kasbekar]," says ad man Prahlad Kakkar. "Mallya asked him whether he could do something like the Italian Pirelli Calendar and Atul replied that he could do better."
Even when it came to Kingfisher Airlines, the service was superb, says aviation consultant David Solomon. "Mallya thought like a passenger and provided the kind of experience he wanted as a passenger," he says. "He introduced a personalised software that would address each passenger in the first and business class by name and assure them of his assistance in whatever way he could. He was the first to introduce fresh soup in flights. He had a designer from France design the outfits of the cabin crew so that they would fit them perfectly. If you travelled in Kingfisher Airlines, you would always get something complimentary when you got out. He was not competing with Air India or Indian Airlines. He was competing with international airlines like British Airways and Emirates. I've met him at least 10 times and every time you talked to him, he exuded such a positive energy."
Everyone knows the kind of lifestyle Mallya led. But who really was the person behind the persona? "It is difficult to speculate what kind of man Mallya is because we don't have enough information about him," says Dr Vijay Nagaswami, psychiatrist, relationship consultant and author. "All the reports in the media are too one-dimensional. But generically speaking, most people are more than the image that they portray. Everyone has hidden depths which they might not be conscious of."
De says everyone knows about his charisma and charm but not many know about his sensitive side. "He's extremely vulnerable and diffident. There is a little boy in him searching for love." She says that he's also very well-read and well-informed. He's always aware of what's going on in the world. "We've had a great friendship and I very strongly believe in loyalty to my friends," says De. "We go back a long way. My husband and he studied in the same school and we've both taken enormous pride in his success. What happened is unfortunate but it hasn't impacted the foundation of our friendship."
Despite his flashy way of living, Mallya was intensely spiritual. He made sure that every aircraft he bought first flew to Tirupati and circled over the shrine of Lord Venkateshwara. He used to go on the Sabarimala pilgrimage every year and on the last stretch, walked barefoot. He scheduled appointments only at auspicious times. He also claimed to be patriotic. In 2004, he paid a fortune to acquire a sword and gold-inlaid sporting gun that once belonged to Tipu Sultan. In 2009, he bought Gandhi's specs, slippers, a pocket watch and plate from an auction in New York.
He was nothing if not persistent. His spat with NRI businessman Manu Chhabria over liquor major Shaw Wallace and Co lasted nearly 20 years. It was only in 2005 that it ended with Mallya finally acquiring a controlling interest in the company after Chhabria's death. "Mallya fought many battles but it was the fight with Chhabria that brought out the real fighter in him," says Bijoor. "It was subsequent to that that he became the king of good times."
Mallya might also have been impulsive at times. According to one report, it was from his yacht in Monte Carlo, in the midst of a party that he sealed the deal with Captain G.R. Gopinath to buy Air Deccan.
"Vijay Mallya changed the model completely after taking over the Deccan," Captain Gopinath told THE WEEK in 2012. "What he did was not my model at all. He made a mistake by blurring the brands. He chose a model where cost is more than the revenue and it has only proved him wrong. Almost all airlines across the world making money are low cost. It has worked well in India as well."
IN HIS BOOK, Giriprakash writes about Mallya ordering a bottle of Kingfisher beer at the Taj Mahal hotel in Mumbai and being informed that the only beer available there was London Pilsner. He immediately asked one of his top marketing executives to fly down to Mumbai and negotiate with the food and beverages manager of the hotel. He was able to strike a deal—the hotel agreed to serve Kingfisher and, in return, got United Breweries to bear the cost of printing its menu cards.
In the midst of a flurry of banks chasing after him, Mallya seems to be unruffled. After his exit to London, he has been prolifically retweeting tweets by the International Cricket Council, Sahara Force India and Heineken India about various subjects such as Kingfisher Derby and Winter Bangalore Derby winner Angel Dust retiring from racing and the cricketer AB de Villiers talking about which traits are essential for a T20 cricketer. His tweets give the impression that he is living life as he always has.
And why should he not? asks Kakkar. "He is a great guy and a good friend. I think he intends to pay back his debt. He's not essentially a crook who started a business to con people. Why should he be called a wilful defaulter when there was nothing wilful about what he did? There are over 500 Indian industrialists who owe the bank more than what Mallya owes them but are not penalised because of their close ties with politicians and because they don't live as flamboyantly."
So why did he escape to London? "That's because the climate wasn't right for him here," says Kakkar. "The media had turned away from him. There is a lot yet for the banks to figure out. He wouldn't have gotten a fair trial in India."