Saini encouraged the participation of girls in sports and has been instrumental in nurturing some of the best sporting talents of Bastar.

To avoid bringing the half-naked girls to the school in public buses, the teachers got the children dressed at their homes. The parents were delighted to see their daughters looking like cute dolls in their new dresses and neatly-tied plaits.

In the early years, Saini allowed students to take leave from school and help their parents in the harvest season. This helped in creating an atmosphere of mutual trust which took the ashram to the remote areas.

Once, a deputy director of the tribal department demanded a few bags of rice, sugar and edible oil from the ashram for a union conference. Saini shamed the officer by asking him to make the demand directly to the students.
Hum Bastar ki naari hai, Phool nahi chingari hai (We, the girls of Bastar, are flames, not flowers)
Nearly a decade ago, when a few girls confronted a bus conductor at Jagdalpur bus station in Bastar, Chhattisgarh, shouting these lines, they were immediately detained on suspicion of being Naxalites. Nothing out of the ordinary in a region that was reeling under red terror. But, when it was known that they were students of the Mata Rukmini Ashram, protesting against the unwelcome advances of the bus staff, they were released immediately.
The Mata Rukmini Ashram of Dimrapal village and its associate schools enjoy a special status in Bastar. In 1976, when the literacy rate of the region was just 1 per cent, the ashram took the lead in educating the girls, challenging all traditions. After a modest start, it gradually became a wave. Through its 37 residential schools spread across Bastar's 39,000sq.km territory, the ashram has educated nearly 20,000 girls. Bastar's tryst with destiny began with Dharampal Saini, a disciple of the venerable Gandhian Vinoba Bhave. Saini was born in 1930 in the princely state of Dhar, which is now part of Madhya Pradesh. His father was the head of the horticultural department in Dhar. Saini was the second among four children. He was just an ordinary student until he came into contact with his commerce teacher, Vidyasagar Pandey, who introduced him to the teachings of Mahatma Gandhi.
Saini was associated with a number of Gandhian institutions, including the Bhil Seva Sangh, an organisation that worked for the Bhil tribe of western Madhya Pradesh and Gujarat. After spending several years with the tribals, Saini wanted to do something pathbreaking, to make a difference to their lives. A report he read in a Hindi newspaper in the 60s about the girls of Bastar stayed on in his mind. A few of them, it was reported, were harassed by a bunch of hooligans, while on their way back from Dusshera festivities. The girls chopped them to death. Saini wanted to groom these girls of Bastar, and channellise their energies for the development of the country.
In 1976, Bastar was part of Madhya Pradesh. Bigger than Kerala and Belgium, it was essentially a jungle, although rich in mineral resources. Civilisation, as we knew it, was yet to make its way into the deep forests. The native people hardly wore clothes, and education, like roads, was just a distant idea. For the government, it was a 'dumping ground' for rogue employees. Saini realised that Bastar could be saved only by educating its girls. So he approached his guru for his permission to start an ashram dedicated to girls' education. Bhave refused.
The disciple did not lose heart. He persisted with repeated requests and a detailed plan. Finally, Bhave agreed, but on one condition. He made Saini promise to stay at the ashram for at least 10 years. The promise was not taken seriously by most people because Saini had never stayed at a place for more than a few months. Bhave, however, had full faith in his disciple and gave him a handwritten letter of introduction to Chief Minister Shyama Charan Shukla. Bhave, who never kept money for personal use, also gave Saini a crumpled fi ve-rupee note, which was scooped out of a pile of worn out papers. That was the fi rst donation for the ashram.
"It was the dream of Vinobaji to educate the adivasis of Bastar. That is why I asked him to start an ashram here, in the name of his mother, Mata Rukmini Bhave. His initial reluctance was to test my patience," said Saini, who is now affectionately called tauji (uncle).
When he set out to Bastar, Saini, a confirmed bachelor, was 46. His first task was to find a place for his ashram. He zeroed in on Dimrapal village, which was 11 kilometres away from Jagdalpur, the district headquarters. The education department, which was struggling to enrol girls in its schools, happily extended basic resources to Saini to run a primary boarding school for girls. The first school was opened on December 13, 1976, with two lady teachers and two support staff. Such were the humble origins of a grand project.
A multitude of problems was in store for Saini. For the villagers, the cultural shock itself was massive. The tribal woman who joined as a peon refused to wear a blouse. "That made her feel ashamed. In the tribal culture of Bastar, it was considered improper to wear clothes on the upper part of the body,'' said Saini.
Even after waiting for three months, only four families agreed to send their daughters to the school. Undeterred, Saini went from village to village, accompanied by the two lady teachers, to speak to the parents. "We were ridiculed and even threatened, but there were some good village headmen who understood our concern," Saini recollected.
To avoid bringing the half-naked girls to the school in public buses, the teachers got the children dressed at their homes. The parents were delighted to see their daughters looking like cute dolls in their new dresses and neatly-tied plaits. Lachhandei Nag, a government school teacher, remembers how Saini and his team approached her father to send her to the ashram, three decades back. Her daughter Deepika is now at the ashram. "I know this ashram and tauji so well and I want my daughter to imbibe the values and education that I got and became successful," said Nag.
Once the parents realised that their daughters were in safe hands, acquiring knowledge and new skills, the number of students increased. Soon, another school was opened in Barsur in south Bastar. Barsur is on the foothills of Abujmarh, an inhospitable and inaccessible territory dominated by the Naxalites. But that did not deter Saini.
Impressed by his success, Chief Minister Arjun Singh asked Saini to open more such schools. The government provided resources and land for four more schools, taking the tally to six. This period also witnessed the Naxals spreading their influence in and around Bastar. By 1988, no government teacher was willing to go there. Several schools were shut down. The government once again turned to Saini for help and requested him to take control of 30 such schools. With the establishment of the state of Chhattisgarh in 2000, Bastar and its schools have been receiving more attention from the government. Though his mission is to educate and empower girls, Saini has not ignored the boys of Bastar. Out of 37 schools run by the ashram, 16 are for boys.
READ: Naxalism is a political movement, not a police problem: Dharampal Saini
The track record of the schools is proof that nothing is impossible. Most of them regularly secure 100 per cent results. The Dhurli and Chiurgaon schools have maintained 100 per cent record for the past 12 years, with all students passing with first division.
All of five feet and four inches, Saini does not cut an imposing figure. Always seen in khadi clothes, mostly kurta-pyjama, he stays in a two-room kuccha house, filled with books and bags of seeds for the next sowing season. He wakes up at 5 a.m., cleans the house and then joins the students for prayer. The students, too, follow this routine.
The prayer resembles Gandhiji's morning meetings where meditation, slokas and Gandhi bhajans are sung, followed by a five-minute discourse by Saini. Though the thoughts of Gandhiji and Bhave dominate the discourse, Saini also discusses current events and personalities. "I know times are changing, so I have introduced a new element in assembly where modern heroes like Kalpana Chawla and A.P.J. Abdul Kalam are discussed," said Saini.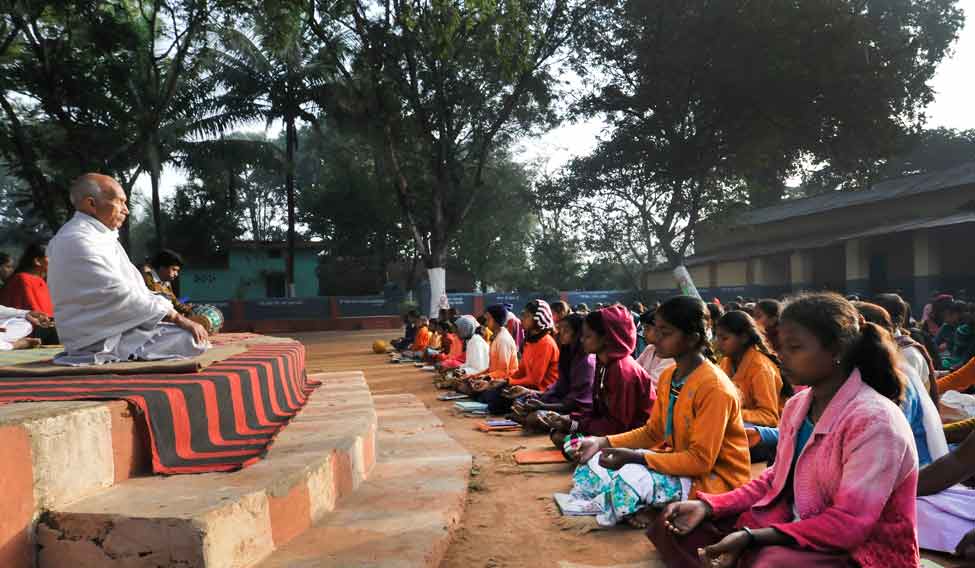 Saini believes in a 'play and learn' style of education, in which sport is given an exalted status. This helped him attract many students, especially in the initial years. Saini himself was an athletic champion in his student days. The ashram and its students have benefi ted immensely from his special emphasis on sports and games. He encouraged the participation of girls in sports and has been instrumental in nurturing some of the best sporting talents of Bastar. Aware of the potential of the Maria and Gond tribals, Saini groomed the girls in traditional disciplines like marathon, archery and kabaddi. In no time, the girls became proficient, especially in marathon races, winning prize after prize. Parents, too, became enthusiastic, and allowed their girls to participate in marathon races, even giving them permission to skip harvesting. The ashram proudly claims that the girls have won ₹30 lakh as prize money in marathon races alone.
At the ashram, tribal beliefs are always respected and the students are encouraged to try and adopt new ideas along with the old. Saini recalls an incident: "Once, the father of one of my students fell ill. The traditional quack and sorcerer almost caused his death by keeping him hungry on the 'orders of deity'. I somehow persuaded them to let him drink paracetamol-dissolved water as 'prasad' and it worked." In the early years, Saini allowed students to take leave from school and help their parents in the harvest season since their support was required on the farms. "This helped in creating an atmosphere of mutual trust which took my ashram to the remote areas," said Saini.
The appointment of teachers to the ashram schools is done in a practical manner. After the applicants are shortlisted by a screening committee, they are asked to engage classes and spend time with the students for a couple of days. "We ask the students whether they are satisfi ed with the teacher," said Saini. The verdict of the students is a major factor infl uencing the fi nal selection.
With Saini's insistence on discipline and austerity, it was not easy for many teachers when they started working. For instance, there was a rule that the staff living in the ashram cannot use any brand of a product that was used in the student's hostels. So, if a particular brand of detergent was used in the hostels, the staff were required to use a different one. This was done to prevent the staff from misusing things meant for students.
Even though Saini's endeavours had the support of the government, the lower and the middle-level bureaucracy was opposed to him and his schools, as they felt the ashram was eating into their 'share'. Saini's strident stand against corruption made them angry. Once, a deputy director of the tribal department demanded a few bags of rice, sugar and edible oil from the ashram for a union conference. Saini shamed the officer by asking him to make the demand directly to the students.
Sometimes, the ashram ran into trouble because of the inexperience of the staff in maintaining accounts, leading to official reprimands. On such occasions, Saini observed several days of fast against the inadvertent lapses. "He never publicised such fasts which were often 'maun vrats' (silent fasts)," said Mamta Bisht, one of Saini's first students and now superintendent of the Chiurgaon school.
Since the ashrams used funds from the tribal education department, there were regular audits, which often ended up in harassment for the ashram staff. "In the initial days, they used to put so many hurdles but our transparent system came out clean," said Puneet Sharma, a member of the ashram governing body.
There was an instance when Saini returned ₹13 lakh after the offi cials insisted on constructing concrete buildings for schools and hostels. Saini said he could not give up his values and style of functioning and he believed that mud houses and kuccha roof were good insulators and kept the ashram close to nature. But now, Saini has agreed to convert hostels and classrooms into cemented structures after suggestions from his new team, which has fresh blood and modern outlook.
In 1990, some disgruntled offi cials, unhappy over the 'strict and clean dealings' of the ashram, stopped funds for few months on fl imsy grounds. "There was a time when our staff managed without salaries for six months, but no one complained, as shopkeepers sold them goods on credit," recollected Sharma. "The shopkeepers of Jagdalpur continued to give us provisions despite knowing our financial condition. One businessman told me that he could even mortgage his wife's jewellery for the noble cause," said Saini, with tears in his eyes.
The ashram's financial crisis was resolved after the matter was brought to the attention of the young district commissioner, Sudip Banerji. He made a quiet trip to the ashram to verify things for himself and became an admirer of Saini and the ashram. Banerji took the lead in recommending Saini's name for Padma Shri in 1991. Saini won the award in 1992.
Thousands of educated tribal girls from the ashram now form the majority of government and non-government workforce in Bastar. A welcome change from the past, when there was hardly anyone qualified from among the tribals, and outsiders rarely wanted to work here. Saini's girls are the foot soldiers of change in Bastar, which makes the octogenarian proud.
Saini is not resting on his laurels. He now wants his wards to excel in professional exams to become engineers, doctors and administrators: "We are trying to improve on the quality of education in terms of modern job requirements," he said. "Most of our students are now preparing for MBBS and engineering, and we rarely get students for humanities." Saini promised Bhave to spend at least 10 years in Bastar. But now, after spending 36 years here, Bastar's tauji feels that his work is not over yet. And Bastar, too, is in no mood to let him go.
Shining stars
Sports are a way of life in Saini's schools. His students have picked up many state and national level awards, especially in marathons.
The girls prepare for the races months in advance, under the watchful eyes of Saini, who personally monitors each one of them. They run 10km every day on different surfaces, barefooted. "We provided the girls with canvas shoes, but they threw those away, complaining of heat," said Saini. The girls were initially unwilling to wear shorts, too. But after the ashram got a television set in 1994, they saw other girls wearing shorts, and agreed to wear the new outfits.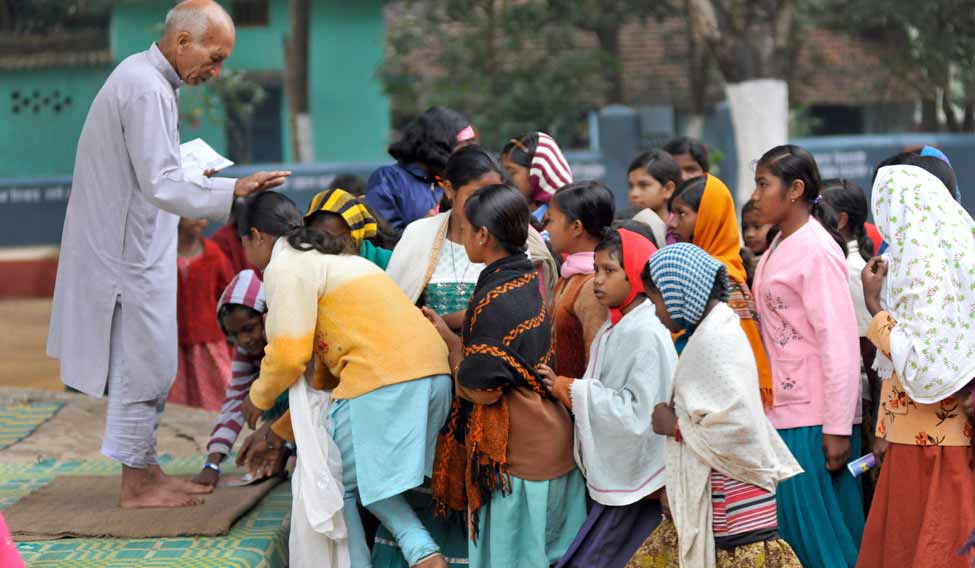 The participants in marathons are given a special diet of milk and ghee. They stay back in the ashram during vacations, when others go home and support their parents in harvesting paddy. "Parents allow these kids to remain in the ashram and practise, even though that means losing free labour for paddy harvesting. They know that if their daughters win, there will be a windfall for them," said Saini.
The girls are also famous for their exploits in volleyball, archery and kabaddi. The volleyball team of Chiurgaon school has been the under-14 state champion for the past 11 years. During the past two decades, over 500 girls from the ashram schools have participated in national competitions, while over 3,000 have taken part in state events. These girls have ensured the superiority of Bastar in track and field. "In Bastar division, there is an unwritten law that our girls will not compete in block-level competitions," said Vimala Yadav, superintendent of Dhurli school. "Otherwise, participants from other schools do not get to win."
Awesome alumni
As he looks back after 36 years, tauji can be proud of his set of illustrious daughters. Many of them show their gratitude by serving the ashram, which gave them a life. Sewati Rathore, 41, belonged to the first batch of students at the Mata Kasturba Ashram school in Barsur. She now works as a superintendent and also teaches students in the same school.
Similarly, Shakuntala Nag, Kamali Karma, Somari Kashyap and Mangal Maurya, who were all part of the first batch, are now superintendents in various schools. Mangal, one of the first players from Bastar to participate in national athletics, became a superintendent at the age of 22. She heads the school in Kutru in Bijapur. "Mangal did not like milk, but I made her drink two litres every day, and projected her as an example for the other girls who refused milk, as the tribals did not know humans could consume milk," recalled Saini.
Naveena Kashyap was the first girl from the ashram to travel abroad. She went to Sweden as part of a Scouts and Guides delegation. She is now preparing for her MBBS exams in Raipur. Vimla Sori, another former student, is a member of the Dantewada district panchayat. A member of the CPI, this law graduate aspires to become an MLA.
Tremors of terror
Children studying in the ashram schools are familiar with guns, Naxalites and policemen. Guns and gun-battles are part of their everyday life. Many of them have lost their parents in the maze of violence.
Sixteen-year-old Chamila Lekam's father, Zilaram, was killed five years ago, while she lost her mother last year to the Naxals. Chamila wants to go to her native village, Jangala, during vacations but she is scared of the Naxals. "They follow my movements and want to kill me, as I am the eldest in the family," she said. "My brothers want to join the security forces to counter the violence inflicted on our family for being part of Salwa Judum."
In 2005, students of the Kutru ashram found a live bomb in the courtyard. The ashram, to this day, has kept quiet about its source. "We cannot say whether the bomb belonged to the police or the Naxals'', said Mangal Maurya, ashram superintendent.
To educate the children of Bastar, the state government encourages them to join the residential schools. "These children are now in the safe and healthy environment of the ashram schools," said Puneet Sharma, a Gandhian.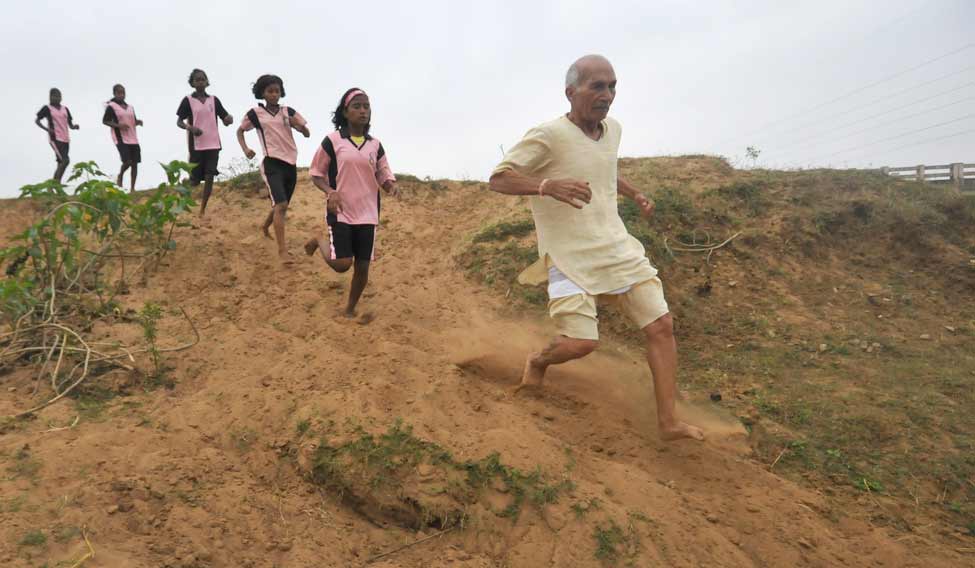 The ashram is neutral on socio-political issues. "If we start taking sides, we will not be able to do our primary job of teaching," said Saini. "As a matter of principle, we do not discuss Naxal activities with children. This is to give them enough time to forget the violent images etched in their minds."