"Having 10,000 contacts may be common, but most of them have a personal rapport with me. Nobody calls me Jogi saab; I am either uncle or bhaiya to them" - -Ajit Jogi, former Chhattisgarh chief minister

"I will continue to work for the party till my appeal is not resolved. They have unilaterally expelled me without conducting a proper inquiry into the tapes" - Amit Jogi, Marwahi MLA
Sagon bungalow in the Civil Lines area of Raipur could be mistaken for a minister's residence. As the birds twitter and flutter over the dozen-odd teak trees that give the bungalow its name, hundreds of supporters wait patiently on the porch, in the lawns and the drawing room. The bungalow, in fact, is home to a leader who has been out of power for the last 13 years—Ajit Jogi. The latest scandal involving the Antagarh bypoll audio tapes, released last December, has done little to dent Jogi's popularity.
The tapes contain conversations between Jogi, his son, Amit, and Dr Puneet Gupta, son-in-law of Chief Minister Raman Singh, and between Amit and Jogi loyalist Firoz Siddiqui and Congress candidate Manturam Pawar. As per the tapes, Amit, along with Gupta, tried to persuade Pawar to withdraw from a byelection in 2014 by offering a sum of Rs.7 crore. Following this, Amit, who represents Marwahi in the assembly, was expelled from the Congress. Jogi's fate hangs in the balance as a disciplinary committee of the party is yet to take a decision.
One of the reasons why the Congress is delaying its decision on Jogi, 70, could be the family's clout in the state, especially among the dalit Satnami community and tribals. And, the supporters who have thronged his residence to express solidarity are proof of his mass appeal. Jogi was the first and last chief minister the Congress had in Chhattisgarh. Ever since 2003, the Congress has been losing to the BJP, which had just 0.75 per cent lead in vote share over the Congress in the last assembly elections. The infighting within the Congress and the lack of leadership have been attributed for its dismal electoral record in the state. And, this is why, Jogi cannot be ignored.
Currently, Jogi lives in a three-room annexe of Sagon bungalow, specially built with ramps for the free mobility of his motorised wheelchair; his wife, Renu, and Amit live in the main bungalow. Jogi had met with an accident, which left him partially paralysed, while campaigning for the 2004 Lok Sabha elections. The wheelchair, however, hasn't hindered the bureaucrat-turned-politician. He often says, "Politics is done from the mind, not knees." A few years ago, Amit had imported e-legs for his father, but they didn't work well. He has adapted well to his wheelchair, which he controls with a joystick. In the morning, he exercises his limbs, assisted by his full-time attendant, for one and a half hours, and for half an hour in the evening.
OUTSIDE JOGI'S HOME office, two personal assistants are busy maintaining the daily expense chart. Next to them, on the bare floor, an adivasi couple is relishing rice and curry. The couple, with their little daughter, had come from Konta, Renu's constituency, to complain about the illegal police detention of the tribal man's father over a fight in their neighbourhood. Another tribal, Jawahar Paikra, and his young son are waiting in the meeting room. Paikra, a native of Marwahi, had called up the Jogi residence, asking help in getting treatment for his ailing mother-in-law. Amit assured him of help and asked him to come to Sagon.
In another room, Jogi lies on a huge bed, surrounded by two wheelchairs, an oxygen cylinder and some plastic chairs. On the 52-inch television screen, a T20 match between India and Australia is on. A sports lover, Jogi used to play badminton before the accident, and usually watches cricket, tennis and football on TV. Eating and reading are his other two pastimes. He munches on cashew nuts while watching cricket, and whenever he is out meeting people, snacks are a constant companion. Jogi has written six books, including The Role of District Collector. His autobiography is a work in progress. "The first part of my memoir is almost ready," he says. "Its completion depends on future engagements." A voracious reader, he has a library next to his huge bedroom. A book on Jawaharlal Nehru sits next to his bed. But he is currently reading The Chinar Leaves by Gandhi family loyalist M.L. Fotedar, perhaps to get a cue or two to impress Congress president Sonia Gandhi.
Jogi, however, is no less a Gandhi loyalist. He attributes his political success to former prime minister Rajiv Gandhi, who paved his way into politics by making him a Rajya Sabha member in 1986. In December 2003, when he quit the official chief minister's residence and left for the Sagon bungalow, he carried a life-size statue of Rajiv Gandhi, installed in the lawns, with him. He never fails to garland the statue, which he got made from Gwalior. Set to be installed at Marwahi, the black stone statue stayed with him in Raipur.
Jogi is also a wildlife enthusiast and would often accompany forest officials on wildlife tours when he was collector. He also loves cows and dogs. Prior to his accident, he had a few dogs at his house. A friend remembers how Jogi converted a room at the collector's bungalow in Raipur into a shed for a cow—Sadhana—named after the yesteryear Bollywood star. After Jogi was transferred to Indore, his successor, Najib Jung, the present lieutenant governor of Delhi, found it very difficult to restore the room to its original form.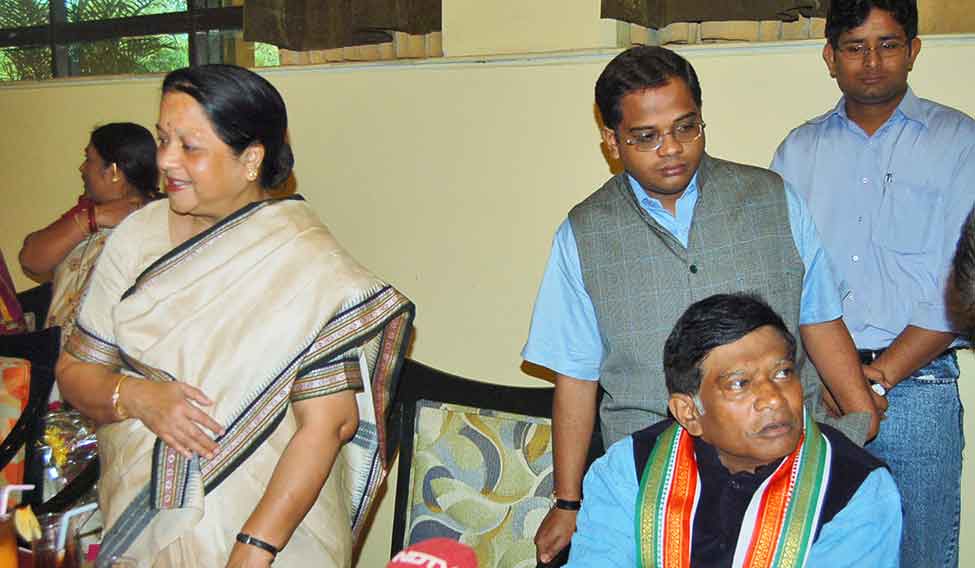 WHEN THE WEEK met him, Jogi was recuperating from an abdominal surgery. Though a minor surgery to remove excess fat, it led to post surgery complications after he ruptured his stitches while speaking at a rally organised to felicitate him. Despite this, he personally answers calls on his mobile. He receives a call from a college student in Delhi, who says he is being harassed by some students and professors, said to be working for the RSS. Jogi asks him to meet him with the list of professors when he is in Delhi. Next, he gets a call from a young supporter whose techie brother died in Pune. Jogi tells the supporter that he remembers visiting his house a few years ago in Bhilai.
Jogi claims he and Amit have numbers of more than 25,000 people saved in their smartphones. "Having 10,000 contacts may be common, but most of them have a personal rapport with me," he told THE WEEK. "Nobody calls me Jogi saab; I am either uncle or bhaiya to them."
Jogi's popular connect goes back to his IAS days in the 1960s. He did not take advantage of his dalit status to join the public services after his graduation in mechanical engineering. During his 18-year-stint as an IAS officer, he was collector for more than 13 years—a record.
Jogi's popularity notwithstanding, he and his family have courted several controversies over the years. He has been accused of not being a tribal (the case is still on). In May 2013, when leaders of the anti-Jogi camp were killed in a Naxal attack, he was accused of having prior information as he survived the attack. He was also suspended from the Congress on allegations of horse-trading newly elected MLAs. Amit, on the other hand, was accused of conspiring to kill NCP leader Ram Avtar Jaggi, but was acquitted after spending ten months in jail. He was again charged by the CBI for a sting operation on then minister Dilip Singh Judeo accepting a bribe.
Every time Jogi landed in a soup, the Congress reluctantly stood by him. But, this time, the party itself is on the offensive over the audio tapes controversy. "We have got rid of the disease which was making the Congress sick every day," said Bhupesh Baghel, state Congress chief. When the decision to expel Amit was announced on January 6, crackers were burst at the party headquarters at Gandhi Chowk in Raipur. However, Jogi says, "There was a conspiracy against us by certain sections. I will explain this to Soniaji when I go to Delhi." Amit says that though the expulsion is not a setback for him, he was certainly hurt. "As a Congress worker, I will continue to work for the party till my appeal is not resolved. They have unilaterally expelled me without conducting a proper inquiry into the tapes," says Amit, who is taking this time off to get medical checkups done and to recuperate.
Renu, the deputy leader of opposition in state assembly, had been camping in Delhi even before her son was expelled. An ophthalmologist and sister of former Madhya Pradesh minister Ratnesh Solomon, Renu has been quietly meeting senior leaders and explaining how her husband and son were being targeted by a section of the state Congress.
Jogi's love for his family is only rivalled by his love for power, for which, say his detractors, he would go to any lengths. This is why, he and his family have been systematically sidelined by the Congress high command during the last decade. The Congress changed its state chiefs more than eight times in this period. "Whenever I intensify my tours among public, there is always a conspiracy to disturb me," says Jogi. "A party office bearer has already said that dalits and adivasis are not fit to become chief minister of this state. Leaders with this mindset never want adivasi or dalit leaders to come up. It had happened with Giridhar Gamang, Devanand Biswal, P.A. Sangma, Arvind Netam, Dilip Singh Bhuria and others. Now it's me."
MANY, HOWEVER, BLAME Jogi's bureaucratic approach for his problems. "His bureaucratic mind often overrides his political life," says Kaushal Sharma, a veteran political analyst. "His 'my way or highway' attitude has landed him in controversies."
With Jogi's popularity on the one hand and the party's poor poll record on the other, the Congress is in a dilemma. Also, the Rajya Sabha polls are due in June and that has given a leverage to the Jogis who have two MLAs in Amit and Renu; four others have also pledged their support to them. "It is a difficult choice for the Congress as Jogi's nuisance value is equally feared like his strength among certain section of masses," says Abhay Kishore, editor of a regional news channel.
Jogi, however, is keeping his cards close to his chest. "I don't want to react in haste," he says. "I will take my own time to set my future course of action."