The hall is full of workstations, with mountains of paper, posters and books scattered around. And, buzzing with energy. Sipping coffee and snacking on roasted pounded rice and peanuts, men and women in their early 20s are busy writing and drawing a chart or map on one of the many whiteboards on the walls or working on their desktops. This could well be an informal setting of a creative space. But in this hall deep inside the huge sarkari bungalow at 7 Strand Road in Patna, Brand Nitish Kumar is being created, with the team working 24x7 to market him for, probably, the toughest political battle of his life. Every publicity material has been conceived and cleared here. And, this time, it is just the chief minister and his message: Phir ek baar, Nitish Kumar (Once again, Nitish Kumar). There is no mention of party, symbol, alliance or promise.
Since mid-March, the hall, an adjoining room and the rear courtyard—partly covered with a shamiana and converted into a bustling kitchen—have been given to the Indian Political Action Committee (IPAC). Its main strategist and mentor to all these young people, Prashant Kishore, is not here. He has his own space in the chief minister's office; no designation needed. In its 2013 avatar, IPAC, a private limited company, was part of the Citizens for Accountable Governance (CAG). They handled Modi's prime ministerial campaign in 2014.
"Many [youngsters] had come together, but went back to their studies and jobs. Most were from within the country, but some were studying or interning abroad. But a significant chunk wanted to do something different, and support leaders who are progressive, visionary and the best choice for the country or state," says Rishiraj Singh, founder member of CAG and IPAC and also the latter's director. An alumnus of IIT Kanpur, he was an investment banker in Mumbai when he jumped into this. A core group of about 15 members democratically elect the person whose leadership they want to promote, albeit for a price. "You have very little choice in Bihar. Nitish Kumar has made a very significant contribution towards making a change in Bihar," says Singh.
Having zeroed in on Nitish, they met him, presented 100 slides with about 20 points and many subpoints. Apart from ideas on the minutest details of the assembly elections, they had a wide strategy that included the theme of messages, their release and timeline details. About five people had worked on it, and presented it before another ten, who were largely from consulting, engineering, financial, humanities and law background. "It was a wide range, capable of 360° solution, public outreach, media and communication, data and research, social media, outdoor branding, on ground intelligence and digital outreach," elaborates Singh. His colleague Paroma Bhatt, a Kashmiri who has worked with the World Trade Organization, looks after media and communication.
Only 5 per cent of the 800 people in this setup are from Bihar, and IPAC has four offices in Patna and dozens on field. They divided themselves into teams to understand Bihar, and did focused group discussions in all 38 districts with common people as well as JD(U) workers. This was followed by in depth interviews, lasting at least an hour each, with more than 100 opinion leaders. They have also done a couple of mood-of-the-state kind of surveys, an exercise that will continue. The team has published 'knowledge booklets' on all 243 constituencies, with relevant info for the leaders at that level. The team's job starts with structuring and branding the ideas of politicians in a neat way, such that monitoring—crucial to a campaign—becomes easy, and everyone knows their specific role and responsibility.
Take, for instance, the door-to-door campaign that all political parties do. IPAC presented this as Har Ghar Dastak—a knock on every door. Nitish Kumar knocked on a door in Patna city on July 2, and indulged in a "meaningful conversation" with the residents. He asked them if they had seen development in the last ten years, whether they or anyone they knew had benefited from it, and whether they agreed it was because of him. With a smile, he told them, "If you do, please vote for my party." As he left, Nitish stuck a 5x8-inch sticker on the door with the message—Phir Ek Baar, Nitish Kumar. Since then, the party workers have repeated this drill across one crore households.
"Social media is spreading like wildfire in the state. The language is Hindi, English and the language of the net—emoticons and pictures," says Singh. They began with 'Nitish ka Net', a platform where people can air their complaints. And immediately, they hear their chief minister at the other end, assuring them that the problem will be addressed, and a number is issued by way of acknowledgement. It is, in fact, an interactive voice response. Every tweet, Facebook post and YouTube upload goes through IPAC.
Nitish's Facebook page ran a comic strip—Munna se Nitish—tracing the chief minister's life. It had huge traction, with print media and TV channels picking it up. Then there was the Twitter hashtag #jumlababu, which compared Prime Minister Narendra Modi's promises with his performance.
When Modi made the contentious DNA remark at a rally in Muzaffarpur, #shabdwapasi and #takebackyourwords were Nitish's immediate response. Along with it came the neatly designed 50 lakh postcards addressed to 7 Race Course Road, New Delhi, with tiny ziplock envelopes stapled to them. They contained a teeny bit of a Bihari's hair or a clip of his nail, and said, 'check out our DNA!'
Remember, behind IPAC are the same people who converted Congress leader Mani Shankar Aiyar's chaiwala comment into one of Modi's successful campaigns—Chai pe Charcha. But it is quite different from the NaMo campaign, they say.
The demographics and details involved are very different. This is much tougher because the people are closer to their state government than to the Central government, and know the difference between the Delhi election and the Patna election, they say.
As the poll dates get closer, the party symbols and local candidates will make an appearance. But the spotlight will continue on Nitish, for the IPAC team believes he has value, and comes with guarantee.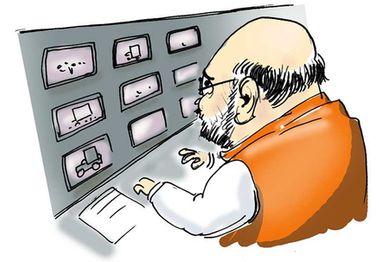 Look who's watching
That the BJP's poll campaigns are hi-tech is old news. In each of the 243 constituencies, a video van—Parivartan Rath—plays a 15-minute video, asking people to bring in parivartan—its tagline this election. But what is novel is the monitoring cell, a swanky setup under business whiz Rituraj Sinha, chief operating officer of security service provider SIS and son of BJP Rajya Sabha member R.K. Sinha. The monitoring cell has dozens of LED screens, with data right up to the minute on the location and activity of every rath and the number of people who viewed the video. Guess who is monitoring the cell? BJP president Amit Shah.