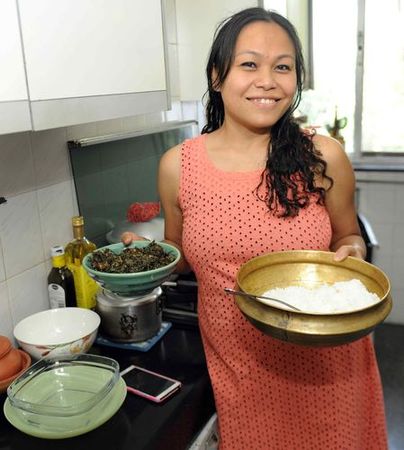 Gitika Saikia is on a mission: to introduce Mumbaikars to northeastern cuisine. An English Literature student with a postgraduation in advertising and public relations, Saikia quit her job at Tech Mahindra to start Gitika's Pakghor at her Juhu home. "It was passion coupled with the low awareness of northeastern food that made me take the leap," says Saikia, for whom it was "all about giving a personality to the cuisine".
Saikia, 38, received a lot of support from her husband, Dhruba Jyoti Basumatari, and 50 per cent of the ingredients came from the backyard of her in-laws in Assam. "Every month, two couriers arrive from my mother-in-law and if I am doing more pop-ups, I request for more," she says. "So, it is farm to fork, literally."
There are, however, challenges. "My main challenge is getting the ingredients from home because there are many bandhs [strikes] in Assam, and I actually have to work my calendar around them," she says. "Sometimes the bandhs extend and my ingredients such as fiddlehead ferns, pork, fish [from their own pond], baby potatoes and jute leaves rot during transit." That is also a reason why Saikia's meals are not repeated unless people ask for something specific, but even that depends on the availability of seasonal greens.
Saikia has realised that what may seem exotic back home may not necessarily be liked in Mumbai and so, "I have kept a check on the exotic meter so that it doesn't shock or scare people away," she says. "For example, bamboo shoot wasn't introduced in the first few meals because it stinks. Gradually, people understood. Bamboo is an acquired taste." Everything is about explaining, informing and educating guests. "Now, I have two groups of people—one is the introductory level and one is the evolved group," she says. "In fact, the second group says, 'Please don't give us your regular food that others find exotic, such as banana stem. Instead, give us your specialised food like your red ant eggs, silkworm pupa and certain pond bugs'." Saikia says people who love her food are the ones who return for the simple fare, served in courses with mild flavours. "If they mix everything on a plate, they will not be able to appreciate the milder things," she says.
Saikia says she learnt a lot, especially about tribal cooking, from her mother-in-law, who belongs to the Bodo Kachari tribe. "I belong to the Sonowal Kachari tribe, but I was never exposed to jute leaves, for instance, or even papaya flowers. Never in my life did I think that these could be eaten," she says.
Initially, a lot of people were surprised to learn that her kind of cooking did not have, say, jeera powder, dhaniya powder, hing, kishmish or dahi but, "What garam masala is to the rest of the world, herbs are to us," she says.
When Saikia did the Eight Sisters pop-up, there was a dish that represented every state. And now, while the summer menu was planned keeping in mind the lightness, the meal in December—the new harvest meal—will be a rustic one. "In every farmer's house, when the new crop is harvested, you aren't supposed to have the first harvest alone; you have to invite the community. That's when the goose is served. And because it is winter, pigeon meat is also served, besides mustard greens served with pork. I call it a marriage made in heaven. During Bihu [festival], we have red ant eggs, silkworm pupa, fiddlehead fern, black dal and duck meat."
Sometimes, there is also rice beer. When red ant eggs and rice beer are served, Saikia hikes the price from Rs 1,500 to Rs 2,000 because rice beer is made with a herbal yeast, using 30 plus herbs. "My mom worries that people will discover that I am making this drink which is prepared by the very poor back home. She says people will think I am so poor that I have taken to preparing rice beer," says Saikia.