"That day was insane. We couldn't even dream of getting Salman out of the tilting tempo and into a car, so in that same tempo we travelled almost 30 kilometres to the airport" - SHERA

"While corporates always ask for discreet, non-intrusive and suave security, celebs go for hard rings of bouncers" - GARRY SINGH

"The demand for female executive protection agents is not more than 4 per cent but often, women executives and partners of CEOs prefer to be protected by the same gender" -SAGARIKA CHAKRABORTY

"I look down on this culture of having bodyguards especially as, for many, it is a status symbol where their 18-year-olds are often seen vrooming around in Lamborghinis followed by their foreign security guards" -FARHAN AZMI
STARDOM comes with a price and, if you are Salman Khan, that means you never get to see the inside of a hotel lobby because you are always shepherded out through the basement, the service elevator, the parking lot and, sometimes, even the hotel's kitchen. It means your brand-new car gets dents in no time when you are mobbed by the crowds and that you leave a trail of shattered glass windows and broken doors wherever you go. The person who gets a ringside view of all the madness is Khan's bodyguard, Gurmeet Singh Jolly, or Shera, standing six feet tall and weighing 80 kilograms. He wears his loyalty on his sleeve, quite literally, as he is clad in a Being Human T-shirt produced by Khan's NGO when we meet him, preparing his favourite Colombian Arabica coffee.
"Salman was my boss, he is my boss and, so long as I live, he will be my boss," he says.
Shera used to be a lanky Sardar with soft eyes who wore colourful turbans before he decided to bulk up and chop off his hair. After three years of bodybuilding, he won the Mr Bombay and Mr Maharashtra bodybuilding titles in 1987. Later, he worked for the event management company Wizcraft, where he handled the security of several international artistes visiting India like Bryan Adams, Keanu Reeves, Will Smith and Jackie Chan. Nineteen years ago, Salman's brother Sohail offered Shera the job of protecting Salman.
After almost two decades of shadowing Khan, Shera has many stories to tell; like the time he took Khan in a tilting tempo to the airport. It happened last year when Khan had gone to Aurangabad on the invitation of politician and journalist Rajendra Darda. The situation spiralled out of control when the news of Khan's arrival spread and fans started banging on the tempo's doors to get a glimpse of the star. Shera had to pull Khan from the front seat to the back so that he wouldn't be mobbed. Upon Darda's insistence, Khan decided to return to the airport without attending the function. That was when the stampede-like situation caused the tempo to tilt to one side.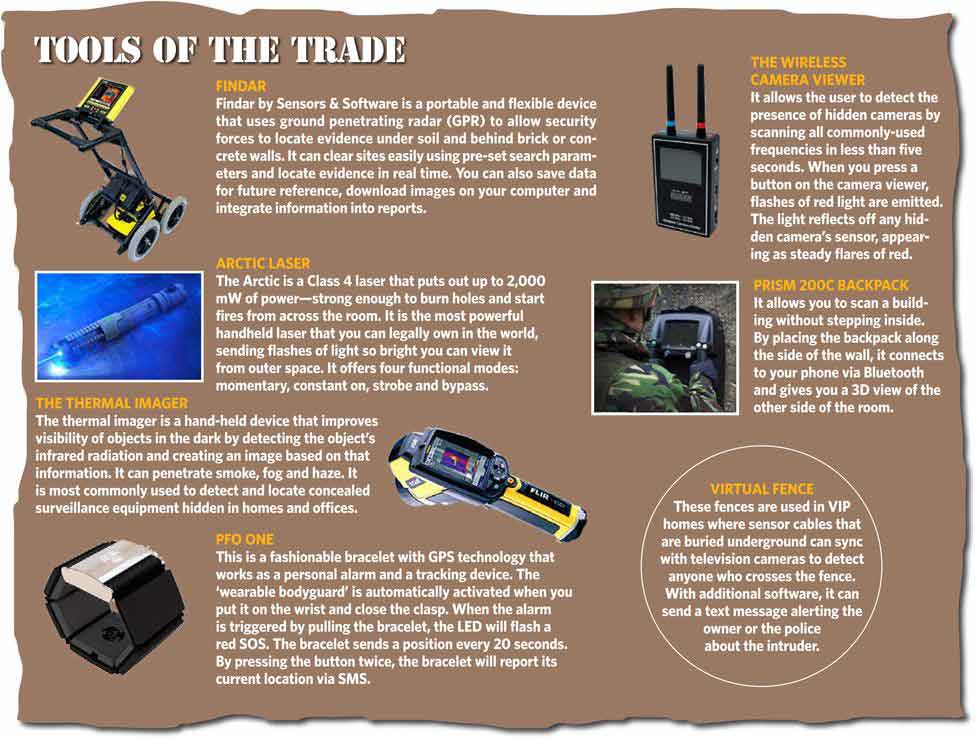 "That day was insane," says Shera. "We couldn't even dream of getting Salman out of the tempo and into a car, so in that same tilted tempo we travelled almost 30 kilometres to the airport. Even then, several of his fans followed us on their bikes."
Most of the high-end security agencies, like Ace Security and Protection started by TV star Ronit Roy in 1997, believe in a very discreet method of providing security. Like the Brits, Roy tries to blend into the background. "Americans, on the other hand, prefer an in-your-face kind of security, with lots of people around," he says. He formed his team after getting his training from Israelis and, later, South Africans, and has personally guarded celebrities like Nicole Kidman, Naomi Campbell, Kylie Minogue, Hrithik Roshan and Aamir Khan. Now, he feels he is too old to be on the field as it can be a tough and tiring job and prefers to be at the desk. "I'm good at analysis," he says. "Once the recce of the locations is done, I foresee and foretell the dangers."
Similarly, Garry Singh and Sagarika Chakraborty of Iiris Consulting specialise in providing suave, high-end, discreet and non-obtrusive security to visiting global CEOs. Chakraborty laments that whatever little people know about security comes from TV shows such as CID or Savdhaan India. "Do you know karate or taekwondo?" are queries she often gets. In her line of work, she says, it is all about prevention which involves "strategy, analytics, intelligence and responding fast in terms of getting your client out of a danger zone". The demand for female executive protection or EP agents is not more than 4 per cent but many times, women executives travelling to India or partners of CEOs prefer to be protected by the same gender.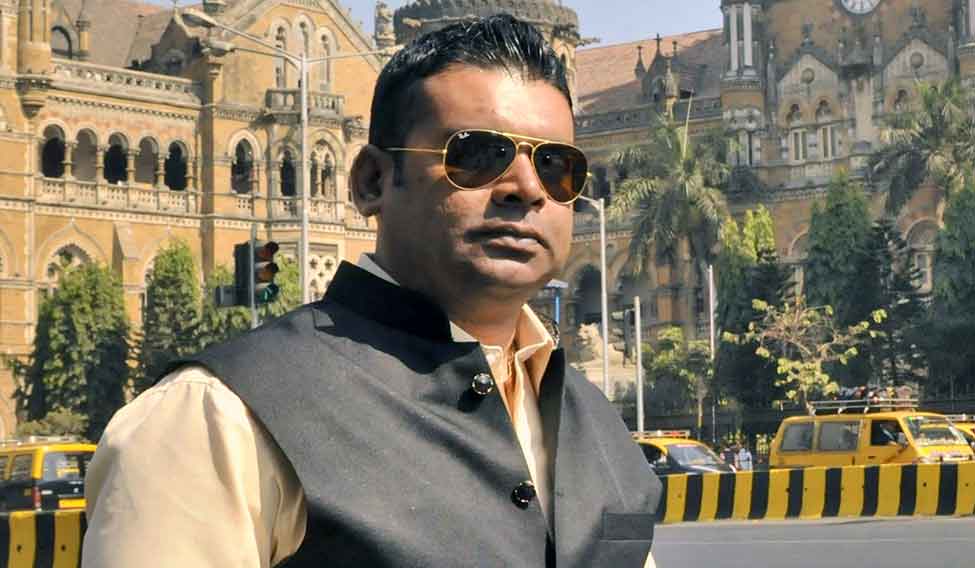 PARESH J. ANJARA, the bodyguard of actor, dancer and former VJ Malaika Arora Khan, says that his job involves protecting her from unruly fans, scanning the greenroom for hidden cameras, inspecting the location a day before she makes a visit there and even holding her cellphone and bag if her assistant is not with her. "Besides getting a monthly salary, I also get extra money from the production houses for all the pushing, shoving, elbowing and tossing that I do," he says. "The most dangerous are the paparazzi. I often have to step in and ruin the pictures that they are busy clicking away."
High-end security agencies are extremely thorough and take all manner of preventive measures to protect their clients. Advanced techniques are used to sanitise rooms before the client comes. Sometimes UV locks, where the lock code is in the form of a signature using an ultraviolet pen, are used to ensure extra protection. Boardrooms and meeting areas are pre-swept and made free of transmission bugs. Laser guns can regenerate sound signals and send messages so the insulation in between windows and the thickness of the curtain cloth shading them are inspected before the meeting takes place.
Sometimes, the clients brief them about the threats and potential dangers that they are worried about, says Singh. "At such times, we try to simulate an attack by trying to find out all the information we can about the client through the internet and also by doing surveillance on him."
Today, what is most important in the security business is coordination between control rooms and the field operations. What takes place locally is monitored through GPS and now there are even apps that can stream live audio and video content to the control rooms, which are usually located in a central area. Often, there is social media monitoring to ensure the client's safety. Sometimes the EP agent wears body cameras to transmit live feedback to the control room.
"The itineraries of CEOs usually reach us up to six months in advance so that the security teams can start planning almost immediately," says Singh. "Even in cases when security is requested at short notice, we never provide it unless we are informed at least five or six days in advance."
A database of EP agents is also maintained so that returning CEOs can be provided with the same security cover as before. Everything from whether the CEO is talkative or reserved, what his vehicle preference is and which driver was provided earlier will be recorded for future use.
Global CEOs are usually given brand-new vehicles which are often bulletproof and bomb-proof. But not more than 2 per cent of global CEOs visiting India use such vehicles, says Singh. However, mandatory safety and mechanical checks are done for the vehicles, and drivers are subjected to background and criminal checks. Some agencies also hold a safety driving course for their drivers to teach them defensive and evasive driving skills. All vehicles are GPS tracked.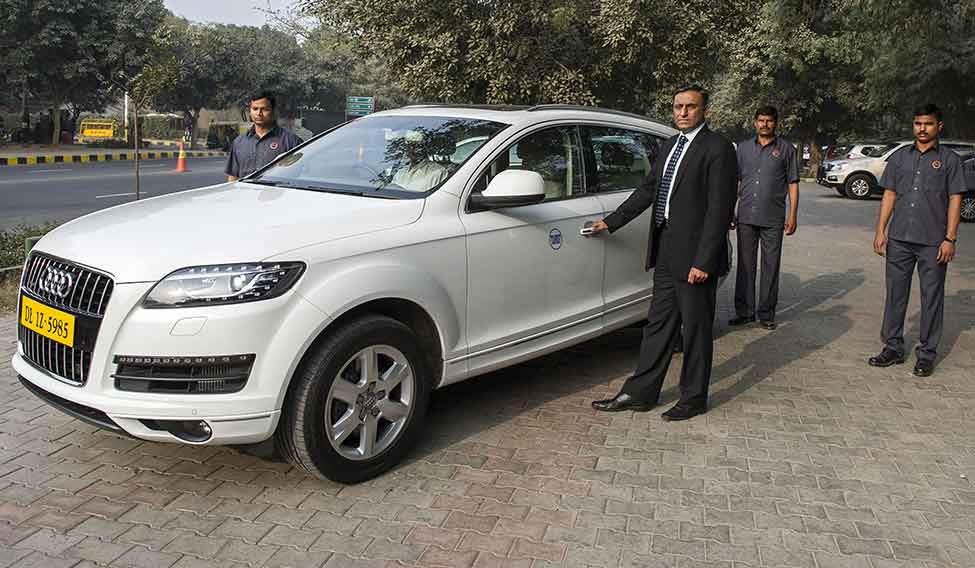 Despite this, there have been instances when security agents have failed to protect their clients. For example, around five years ago, there was a theft at one of the stores of the international jewellery brand Amrapali despite all its seven stores and three manufacturing centres in India being guarded by more than 100 security guards, infrared sensors and CCTV cameras. The theft was recorded on camera and the footage handed over to the police but the criminals couldn't be caught and the case was closed.
"We have been unsuccessfully approaching the insurance agency for claim settlement," says Rajiv Arora, co-owner of Amrapali, who has hired an ex-army man as a personal security officer and shares a close rapport with him. "He is part of my family and I often attend his family functions like his children's birthday parties," he says.
Another time, Sujay Gawade, deputy general manager of Krystal Integrated Services, remembers when a bigwig from Oracle came to attend an event at the Grand Hyatt in Mumbai. "I was waiting for him at the airport but he saw a Hyatt taxi and left in it. Luckily, I realised what had happened and rushed to the Grand Hyatt. I was there to receive him when he arrived."
The clients' requirements can vary greatly. "While corporates always ask for discreet, non-intrusive and suave security, celebs go for hard rings of bouncers," says Singh. For example, Flipkart had recently roped in actor Akshay Kumar to perform at its 10th anniversary celebrations. The agile Kumar loves to jump into the crowds so the security agents had to take extra precautions to protect him every time he interacted with the people, while ensuring that the crowd remained segregated from the star at all times. Corporate CEOs, these days, want to project an image of themselves as being approachable, says Singh. That's why the risk covers done today are so discreet that it will be difficult to distinguish between the security agent and members of the CEO's team.
Then there are those like businessman Ratan Tata who refuse state security. "Security is provided only on the basis of threat perception," says Deven Bharti, joint commissioner of police (law and order), Mumbai Police. "Sometimes people request it and at other times, if the person is a national asset, we provide it ourselves. This is done on the recommendation of a three-tier committee which evaluates the situation and then decides what category of security to provide." It was on the recommendation of the committee that Tata's team was approached but he refused categorised security.
Sudheendra Kulkarni, the former BJP leader whose face was smeared with ink by Shiv Sena workers for bringing a former Pakistan foreign minister to India for a book launch, accepted state security only reluctantly after the incident. "I didn't even bother about what level of security they had provided me with but there would be a security vehicle with six to seven security personnel tailing me wherever I went," he says. "A little over a month back, I wrote to the chief minister asking that the security be withdrawn and it was withdrawn almost a week later. However, two policemen continue to visit my residence from time to time."
A FEW LIKE Farhan Azmi, the son of Samajwadi Party leader Abu Azmi and husband of Bollywood actor Ayesha Takia, call for a blanket ban on bodyguards. "I look down on this culture of having bodyguards especially as, for many, it is a status symbol where their 18-year-olds are often seen vrooming around in Lamborghinis across the city with foreign security guards, often former members of special forces in the UK, Israel or South Africa tailing them in their Land Rovers." He says their presence is bothersome especially when you are with family or friends or at a board meeting. Until recently, he was provided with state security but it was later withdrawn on his request. In fact, he had to fight a case in the High Court so he wouldn't have to pay the bill that was sent to him for the security, which came to almost 15 lakh. However, he does have three armed private security guards as his father and he have received threats from underworld dons such as Chhota Rajan and Ravi Pujari and members of the Vishva Hindu Parishad and other right-wing organisations for the ideology that they espouse, although he emphasises that they don't advocate radical Islam.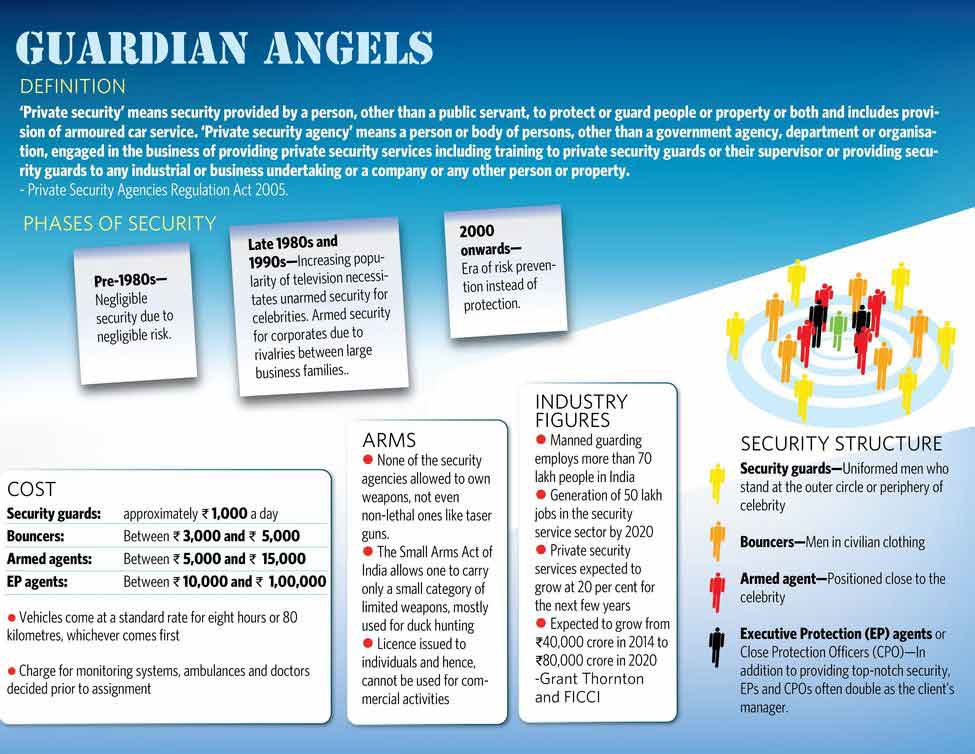 Many security agents have interesting tales to tell about their clients. Gawade talks about the time he was assigned the task of protecting Dick Costolo, former CEO of Twitter, who was in Mumbai a few months back. He had a tough time when Costolo decided he wanted to walk from his hotel, the Taj Mahal Palace in Apollo Bunder, to Radio Club. "All the time I had to make sure that I blended in so that I did not look like his bodyguard but instead appeared to be an Indian colleague discussing business with him," says Gawade. "Having Bluetooth handsets and earpieces was simply out of the question." Beggars on the footpath often obstructed their way and made it difficult for Gawade to manage the distance between him and his client without actually dictating to Costolo which side to walk on. "Whenever a beggar would approach him, he would look at me and I would give him a reassuring look indicating that I was right there beside him," says Gawade.
In another instance, Gawade was assigned the task of guarding a female CEO of an Italian company who had come to Mumbai to sort out certain labour issues with the company it had partnered in India. She was 50 and a fitness freak who never took the elevator and instead used the stairs, which meant that Gawade, too, had to follow suit. At work, she would sit glued to her seat for 12 hours and Gawade, to his. She only got up to take tea or cigarette breaks. Even if she had to use the restroom, she had to inform Gawade. "I had not only counted the steps to the restroom but also calculated the average time that she would take to emerge, taking into consideration a buffer period," he says. "From checking the fire-fighting system in the building to memorising the nearest emergency exits, I had studied everything in such detail that I could do the evacuation with my eyes closed." For 20 days he guarded her without a single holiday. The only challenge came when she insisted on going shopping in Colaba causeway. Gawade was not able to convince her that the area was a danger zone as it was often frequented by drug addicts. "It was really tough as she walked really fast and got scared very easily," he says.
THE SECURITY THAT Gawade provides is often customised to accommodate the wishes of his clients. He remembers providing protection to a senior member of the American company Qualcomm who had flown down in a private jet from San Diego with his global team to meet with Reliance leader Anil Ambani. He was very particular about the kind of vehicle he desired as he wanted his team to be with him at all times. "I had initially planned on using the Toyota Fortuner but it was not possible to fit all the team members in one Fortuner so I arranged for a Toyota Commuter instead which was plush and allowed him to conduct meetings with his team on the go," he says.
Then there are the corporates who are unwilling to accept security despite facing a threat to their lives. Once, Singh remembers changing the seating arrangement of a company that was facing union problems so that members of the management would have time to flee to a safe room in case of a security breach. This would give a Quick Reaction Team (QRT) time to reach the spot and the police could also be alerted. Although a QRT had been assigned to shepherd the CEO and his team to and from office, the HR director of the company insisted he didn't need one as it would give the impression that he was scared; Singh was unable to change his mind. However, Singh made sure that a QRT vehicle was following him at a suitable distance. Sure enough, within two days, a mob attacked the HR director's vehicle, smashing the windows with iron rods. Fortunately, the QRT swung into action and he escaped with only a broken arm.
CEOs can be quite temperamental too. Singh knows one who never travels to India without a satellite phone and his personal ropes in case he has to rappel down during an emergency. Then there are others who insist on booking their room in a particular wing of the hotel which they feel is safer. Things can get even more bizarre. Chakraborty was once asked by a female guest at a party to spy on a particular man and furnish her with details of everyone he spoke to that evening. The EP agents say that they get all sorts of requests, which they have to handle with tact and diplomacy, ranging from cigars and wines to even condoms and women.
WITH SHWETA THAKUR NANDA