The year was 1987. Indian cricketer Mohammad Azharuddin's nikaah had just taken place with Naureen and a grand reception had been organised at The Taj Mahal Palace, Bombay, for which the culinary expert of Hyderabadi cuisine Nawab Mehboob Alam Khan was invited. The chef de partie then was a 23-year-old young man, Sajesh Nair, who was simply captivated by what he saw. "The way he marinated the meats, ensuring that the freshly cut meats never touched the freezers [so that they didn't lose their freshness], or the way he, in his inimitable style, would take a whiff of the cloth to know how much longer the biryani would take to be completely done," was enough to sow the seeds of love for Hyderabadi cuisine in Nair. So, several years later, when Nair got the opportunity to become the executive chef and head Adaa—the only restaurant to be named in the world's top 100 by Elite Traveler for the second time in a row—at the Taj Falaknuma Palace, Hyderabad, he jumped at the offer.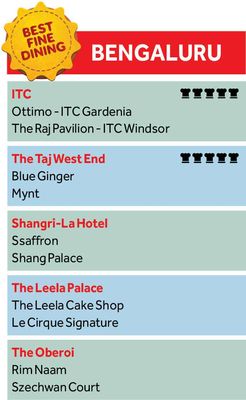 What makes Adaa, the 36-seater palace restaurant, exceptional is the history of Hyderabad. Here it is de rigueur for every newly appointed chef to be sent into the nooks and bylanes of the city, where the old Nizamis still reside, carrying on the culture and culinary traditions of a bygone era. Going into their homes and interacting with them and later incorporating those ideas in the menu is common practice here. Take the case of the Munshi Naan, a square naan, available only at an outlet near the Charminar. The story goes that the city's munshis (accountants) ate there, hence the name. "We created our own version of the Munshi Naan by adding saffron strands and milk on the top and glazing it lightly with butter," says Nair, adding that care is taken to ensure that they don't move away from the tradition. Exemplary food cooked adhering to the traditional recipes and served in a contemporary fine-dine manner, using Versace and Thomas Keller crockery, to give guests a taste of the Nizam's era is what Adaa is all about.
Hyderabadi cuisine is all about itminaan se. So while dining at Adaa, nothing can ever be hurried. Take, for instance, the Hyderabadi delight Pathar ka Gosht. The mutton, which needs to be marinated 48 hours before the preparation and then smoked, comes from Jaipur from some of the best exercised mountain goats—so that their muscles and fibres have softened—resulting in tender and juicier meat that cooks faster, a prerequisite for the dish. In the good old days when there were no griddle plates and barbecues, this meat was cooked on a stone extracted from anywhere in the plateau region. The heat of the stone would cook the meat. Even the TFP has a stone from the palace, which has been placed on the kitchen's griddle. After the gas is turned on and the stone gets hot, thin lamb slivers are put atop it and cooked so that the flavour of the stone gets into the already smoked meat. This kind of mammoth effort goes into almost every single recipe at Adaa, where alterations and shortcuts are practically unheard of.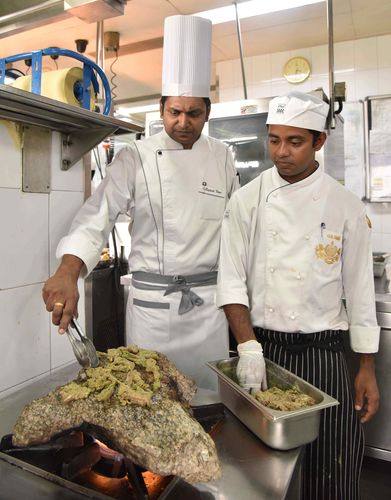 So, the next time you find yourself at the TFP, start off with one of the juices from their extensive list. We found the spinach, cucumber and lime juice to be refreshing. Next, was the turn of their famous signature dishes—Dahi Ke Kebab and Bharwan Paneer Tikka. While the Dahi Ke Kebab is a rare kebab of hung yogurt, nuts and fine herbs that is pan fried, the Bharwan Paneer Tikka is a stuffed paneer, which is basically homemade cottage cheese that is marinated in saffron and garlic and stuffed with a cheesy dry fruit filling. Next came the unforgettable tamarind sorbet, which was served on a bed of dry ice, so that when hot water is put on the dry ice, it gives you that smoky effect. We then moved to the Vegetable Haleem—cooked slowly with assorted vegetables, lentils and broken wheat. Their Zauq-e-Shahi—the chef's tasting platter, with an array of Hyderabadi desserts such as Khubani Ka Meetha and Beetroot Halwa—was simply out of this world.
The Taj group sure seems to be taking fine dining to a whole new level, as it tops the list in five—Mumbai, Delhi, Kolkata, Hyderabad and Chennai—of the seven cities surveyed by THE WEEK and IMRB. The Best Restaurants survey, a first-of-its-kind by the magazine, rates restaurants on a set of parameters, ranging from taste and décor to service and value for money, and across cuisines.
One man, however, believes that fine dining is dying out in India. People don't want the stiff, formal experience, says A.D. Singh, the man behind some of the finest ideas and experiences in the restaurant business. "What people want is a 'casual fine dine' experience," says the electrical engineer who decided not to return to the US to pursue his master's in Agriculture Economics at Rutgers University. "I never trained in food and beverages," says Singh, who has just completed 25 years in the business with runaway successes such as Just Desserts, Olive Bar and Kitchen and the recently opened SodaBottleOpenerWala. "I am a dreamer and a creator. I am very passionate about that."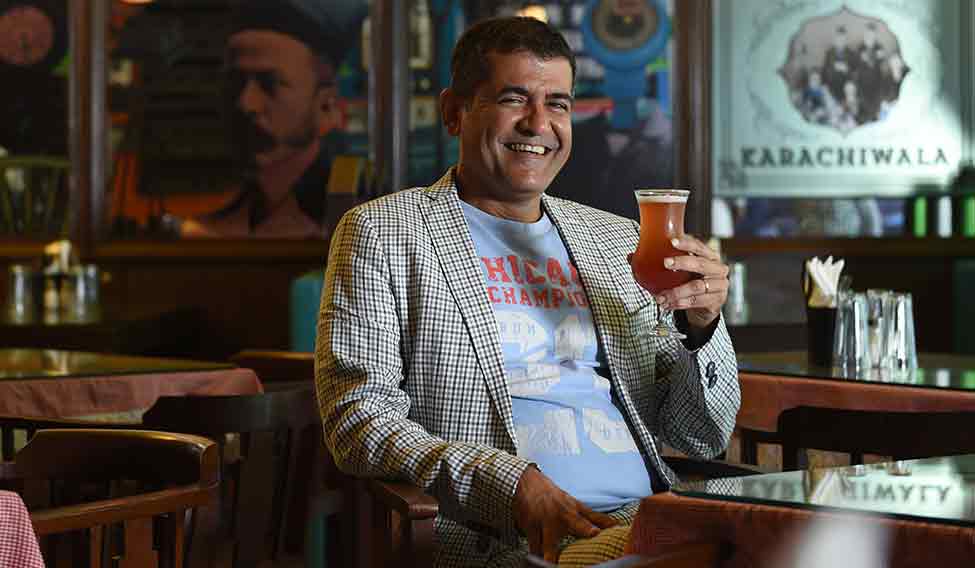 For most of his career, says Singh, he created things he wanted to see for himself. "I had a huge sweet tooth," he says. "I couldn't access desserts that people sold from their homes because you would have to buy the whole dessert and that was Rs 300 to Rs 400, and that was tough. So, I dreamt of a place where you could access stuff by the slice. Those days there weren't any dessert cafés around, unlike today." Though many of his ideas were not original, he managed to adapt them successfully for the Indian marketplace.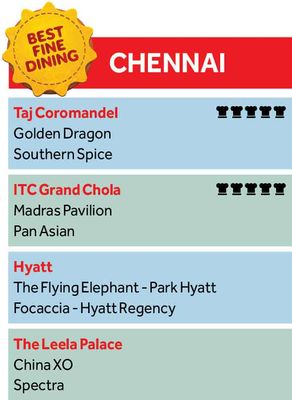 Ask him about how the idea for SodaBottleOpenerWala came about, and he says, "From the angst that Bombay was feeling... because of the Irani cafes dying out." But defining an Irani cafe wasn't easy as it isn't a cuisine. "I defined it as I saw it—Irani food meets Bombay," says Singh. "Chef Sabyasachi Gorai, a creative chef, worked with me to flesh out the menu. A rasta sandwich of Bombay comes in, Bhendi Bazaar ka Paratha comes in—things that people are eating on the streets. But what is not part of that is cut out, so we don't have Conti or Oriental food."
In terms of décor, Singh was very tempted to "keep it very organic, homegrown, almost tacky and old, like the way Irani cafes are today," but his wife and the design team said no, "because they felt that I wasn't opening an Irani café, only doing a tribute and creating my own product."
While SodaBottleOpenerWala was dishing out Parsi plus Bombay street food, a young Parsi lady, Kainaz Contractor, along with her partner, Rahul Dua, was hard at work to create an authentic Parsi cuisine experience in Delhi. "When people think of Parsi, they think 'mad bawa', which I didn't like. There is another side to Parsis, the more cultured, the more hospitable side," says Contractor. And, that is what she aimed to create at Rustom's, named after her father who influenced her the most when it came to food.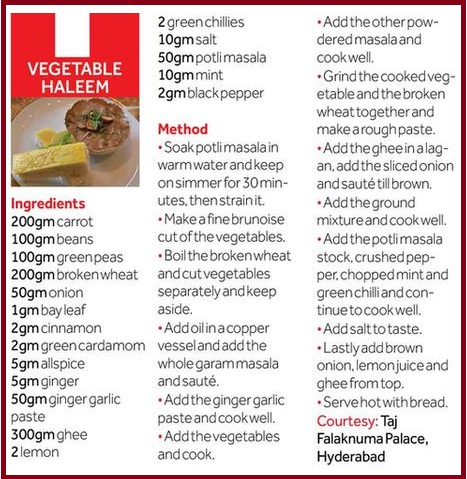 Contractor, who had worked with The Taj in Delhi and used to be the assistant food editor at BBC Good Food, says the whole idea stemmed from the fact that nobody had any access to home-cooked Parsi food in Delhi. "Whenever you ask people, 'where did you get Parsi food?' you get three answers—either a wedding, a Parsi house or a café. And, we wanted to bring the home experience to the forefront rather than the café experience simply because no one had done that before," says Dua.
Step inside Rustom's and you will feel you have been invited to a Sunday lunch at a Parsi home, with its quaint dining room with Bharat tiles, lace curtains, grandfather clock and vintage furniture. Some family photographs adorn the walls; the rest have been given by the renowned photographer Sooni Taraporewala. "We did the décor entirely on our own, no designer or anything. Everything stemmed from the fact that we are very low-budget," says Contractor.
So, when it comes to tucking in, what can you look forward to at Rustom's? Start with Patrani Macchi, which uses tilapia instead of pomfret because tilapia has a slightly milder taste and goes well with the chutney. Follow that up with either Chicken Murghi na Farcha, which is fried masala chicken with an egg batter. In the main course, go for the Jardaloo Margi Massali, which is chicken cooked in a sweet and sour tomato gravy but with apricots. Now, with 24 hours advance notice, you can also try their newly introduced Lagan Nu Patro—a Parsi wedding feast.
Back in Mumbai, Riyaaz Amlani, 41, says he likes to create experiences where people like to come and eat and drink. "You could say I am in the food services business, I am in the leisure business or in the entertainment business. The jury is still out," he says.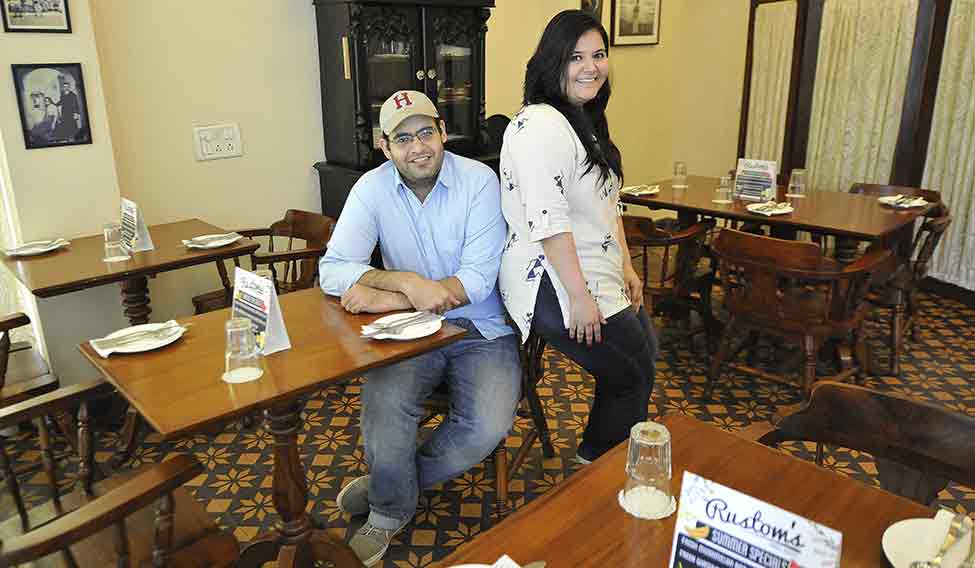 Amlani started out young as a shoe salesman and later sold his store and went abroad to study entertainment management at UCLA. On his return, after an internship stint with Universal Studios, a theme park in Los Angeles, he worked as an entertainment consultant, setting up go-karting circuits and bowling alleys. That was when he hit upon the idea of starting a coffee shop. "For me, a coffee shop was partly entertainment. It was something to do, a leisure activity. We take it for granted today, but 20 years ago your only option was an Udupi restaurant, where you finish your hangout within 15 minutes, or you go to a five-star coffee shop."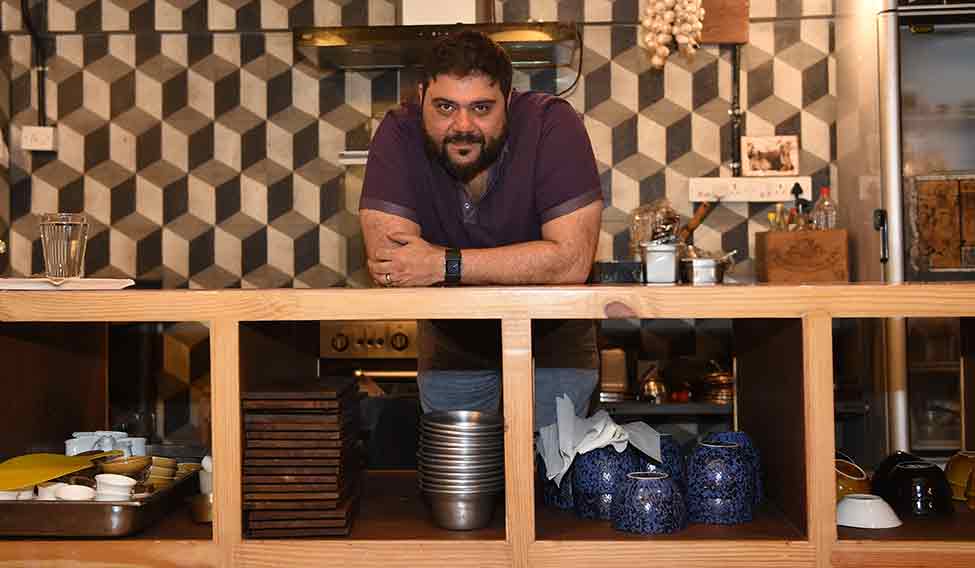 Thus was born Mocha, which offered "18 different types of beans—not variations of the same beans" and which the youth adopted "by default". It was the springboard that would start Amlani's career in an unexpected way. Today, Amlani runs a bunch of successful restaurants. "Social is a place for people to hang out and work," he explains. "Salt Water Café is a café but a contemporary European café, offering good quality food. Smoke House Deli is a little sweeter, more friendly, but again it is an all-day space. The Tasting Room is a little romantic, while Prithvi Café is intellectual and in a sense simpler."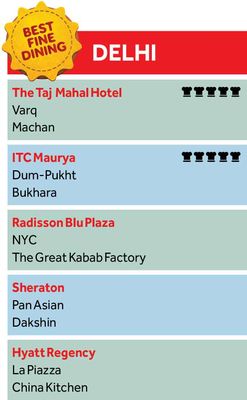 Amlani thinks that people are becoming more experimental and going out more and more and because of that they want to spend less and less, "otherwise how else will they go out more," he asks. "Go for their watch, not their wallet," says Amlani. "If they like spending time in your restaurant, then you will get their wallet. If they don't, how will they give you their money?
Also, you need to take chances and experiment, which is what New York-based chef Floyd Cardoz of The Bombay Canteen, which he started along with Yash Bhanage and Sameer Seth, did. At a time when most restaurants would have 20 variations of paneer dishes on their menus and recommend the same to most vegetarian guests, chef Cardoz created a path-breaking menu that demonstrated infinite possibilities with fruits, vegetables, fish, meat and dairy. And, he did so by refusing to put a single paneer dish on the menu for the first six months, much to the chagrin of paneer lovers.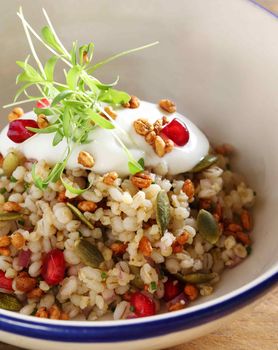 "People didn't believe that Indian food could be elevated, but I believe that Indian food is so vast and bursting with so much flavour and texture that it needs to be celebrated," says Cardoz. Also, it bothers him that we don't embrace Indian vegetables and instead opt for zucchini and asparagus. The same goes for fish. "I believe food is not only about nutrition; it is about culture," he says. "It is about connecting with your past; it is about stories being passed down." So, his menu at The Bombay Canteen is all out to celebrate local produce minus any imported ingredients.
Cardoz was very clear that he didn't want The Bombay Canteen to be "smoke and mirrors" because "you only use smoke and mirrors when you can't give food that's not from the soul". "The décor is basically the ruins of an old bungalow, which we have recreated… till up to three and a half feet you'll see cement tiles, Malad stone, the colonial moulding and all of that," says Seth. "Each floor tile represents the foundation of an old room that existed, and on top is the steel, glass and art deco style of post-independence Bombay.... The whole idea was to juxtapose different styles in the new and the old to come together."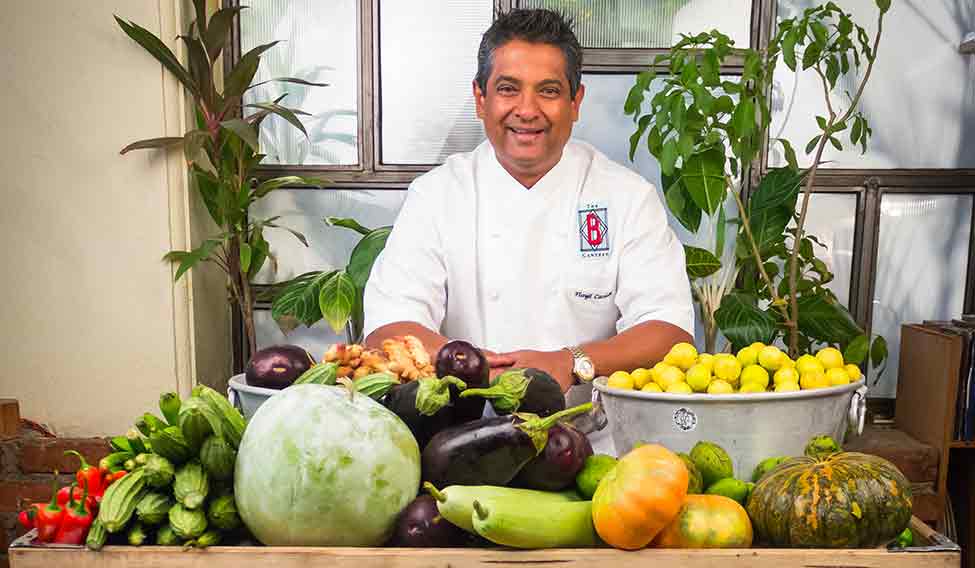 The bar at The Bombay Canteen is an extension of the kitchen where the bitters and tinctures are all made in-house and is based on the same guiding philosophy—celebrating all that is local and seasonal. "[In the summer] it was all about musk melons and mangoes, in the winter we did a lot of stuff with Old Monk and pink guavas.... We were making our own Aam Panna and doing it with a Margarita. We're doing alcoholic popsicles also; the whole idea is about taking Indian flavours and having fun with them."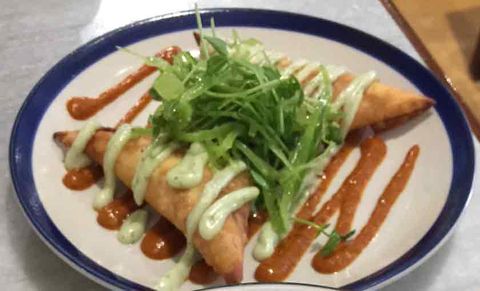 To really know what The Bombay Canteen is all about, you have to sample their delicacies. The restaurant has some of the most incredible flavours, and every bite is bound to trigger off an emotion in you. No sooner had I taken a bite of the crunchy Love Apple and Watermelon salad than it revitalised me on that terribly hot sunny afternoon. Then, there is the Refried Rajma and Charred Shimla Mirch Salsa Desi Tacos. For the main course, there was Bhavnagri Mirch and Veg Mutton Salan, a Hyderabadi style peanut and coconut curry with grilled chillies and kathal (jackfruit), which was eaten with a delicious Khasta Roti with ajwain in it.
Right across the road from The Bombay Canteen is Chemistry 101, the newly opened restaurant of Anupam Mayekar and his son, Aniket. Here, award-winning chef Stephen Gomes, who runs Moksh in Cardiff, UK, and has a massive fan following thanks to his hit TV show, The Great British Menu, shows what flamboyance in the food is all about. He invites us to try on a pair of headphones before presenting us with a mind-blowing dish, The Enchanted Forest. As the headphone plays the sounds of crickets and other forest insects in my ears, the smell of burning wood greets me and the dish arrives on my table. One bite and it is indescribably delicious. "Theatre is important; drama is really important. The visual impact is also important but above everything else, it is the flavours that get people back to the restaurant," says Gomes, who does "a modern take on Indian food without using much oil, ghee and butter".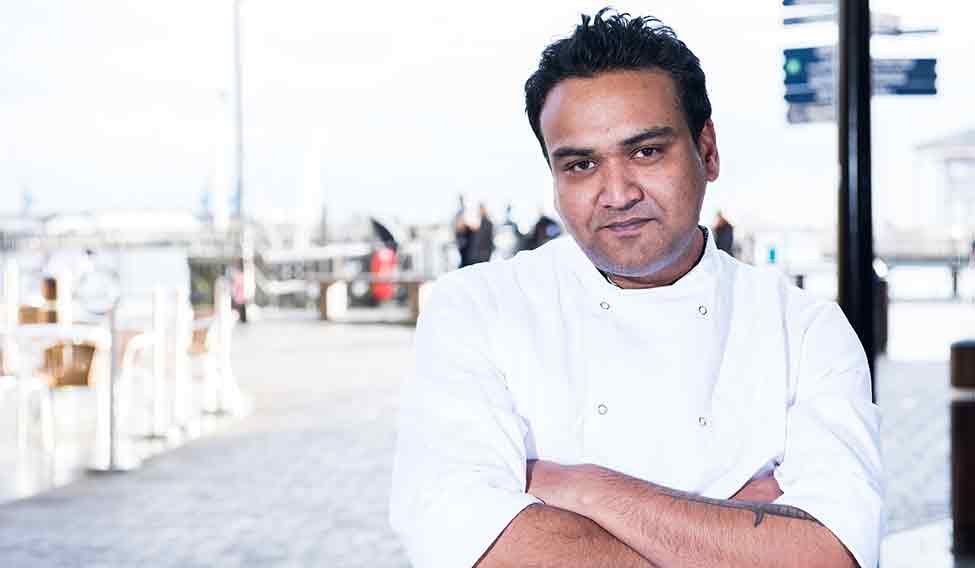 Gomes's love for working with appliances is well known and it shows in his kitchen. "I love working with rotary evaporators, sous vide machines and dehydrators, among other things.... I am like a kid in the candy store when it comes to appliances," he says. He also likes using pH indicators in food, which change colours. "However, I try to stay away from the chemicals because it is about getting the flavours right," he says.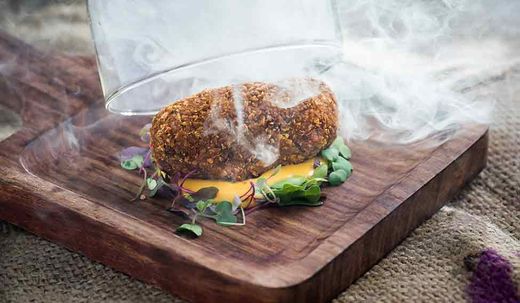 And we couldn't agree more. All of the magic that Gomes, also fondly called the Willy Wonka of the kitchen, creates using bubbles and vapours only transforms into the most finger-licking delicious food whether it is in the form of Welsh Belvedere breads, served in a kulhad, or the dal in a mug with a freshly made Kung-Fu Paratha.
But competition, says Gomes, is stiff in India as "it is a country where mother's food is still regarded the highest".
For those missing their mother's cooking, there is always The Good Wife though. Owners of the hugely popular Henry Tham, a modern Asian restaurant, in South Bombay, entered the resto-bar segment with this latest product. "If we had to joke, we would say it is a mythical creature. But we are not saying that. Basically, the idea was for people working 24/7 in the corporate jungle—before they go home, they come to us. We are the good wife or good husband—we take care of them well. We give them a good experience of food and drink... a maternal kind of thing," says Keenan Tham.
At The Good Wife, the segments are clearly demarcated: lunch, early evening dinner and then the social crowd. An international mixologist Dimitri Lezinska, who was part of the Cocktail Kings on Discovery Channel, has curated the entire cocktail menu for The Good Wife. Though the bar is one of their main focus fronts with a great selection of malts and other special liquors, it is their unparalleled taste in music that the Tham brothers have been noticed for.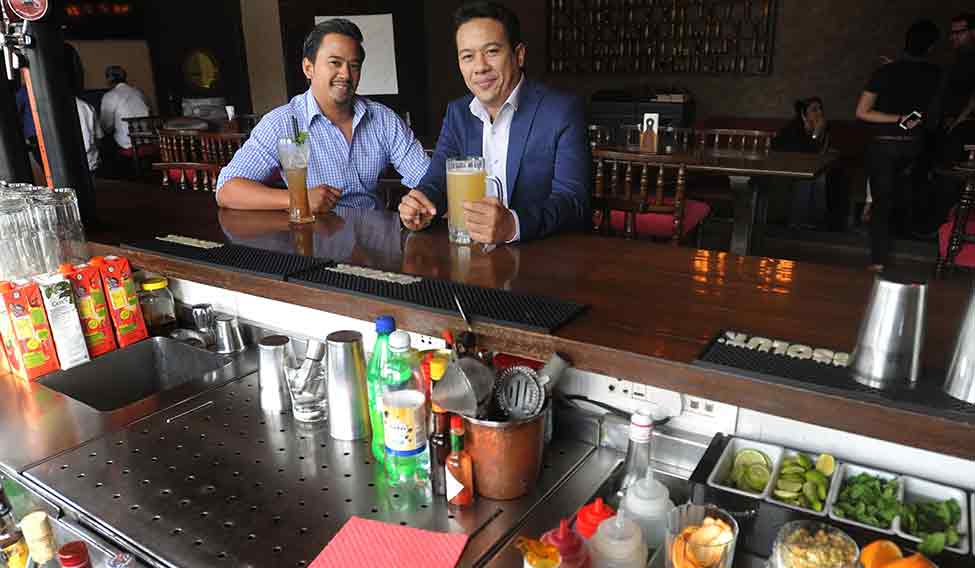 But not every venture is a runaway success and sometimes the best-laid plans can go awry. Turning these failures into successes is also an art, and The Fatty Bao is a fine example of that. "We opened a brand called Like That Only, a beautiful restaurant in Whitefield, Bengaluru. It failed. But from that [chef] Manu Chandra and [his business partner] Chetan Rampal realised that people really liked the pan-Asian part of it and so they took an okay from the board and from its ashes was born The Fatty Bao," says A.D. Singh.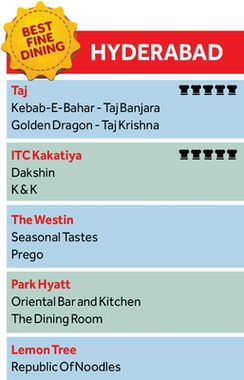 The Fatty Bao (Mumbai, Delhi and Bengaluru) is all about upping the ante on Asian food, with newer flavours from Japan, Malaysia and Indonesia. Even the cocktails are done with an Asian flavour in them. Besides, TFB was the first to not just do their own in-house Ramen noodles but also their Baos—a dough made almost like a pita with a filling inside, which is folded over, making it cool by putting in atypical flavours such as minced lamb with pickled gherkin and black bean sauce.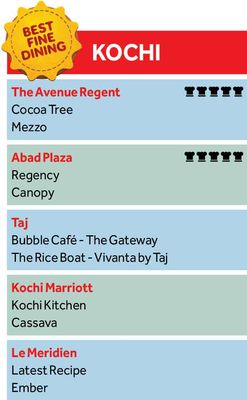 But, The Fatty Bao is what it is today because of sheer hard work. And, Manu Chandra, a young Stephanian and now chef partner at Monkey Bar (Mumbai, Delhi, Bengaluru), The Fatty Bao and Toast & Tonic, Bengaluru, would vouch for it. He recalls an incident from his childhood that hardwired hard work in him. "It was my birthday and I told my grandpa, 'Since it is my birthday, I will skip school and take the day off.' My grandpa whacked me and said, 'Since it is your birthday, you should be working extra hard and reading more.'" And, from that day on, there was no looking back for Chandra. Even today, on every single birthday of his, you will find him at his workplace.
Toast & Tonic, which is an expression of New American dining, is a stylish and classy restaurant that draws people from all walks of life to savour "the spirit of world cuisine with a balance of local Indian ingredients." One look at the menu will make you wonder whether the chefs have taken all the raw vegetables you hated as a child and transformed them into not just creative but lip-smacking dishes. "T&T is a mid-level eatery which has original dishes that resonate with a lot of people. Everything is singing with flavours," says Chandra. "Everything is local, and freshness is at the forefront."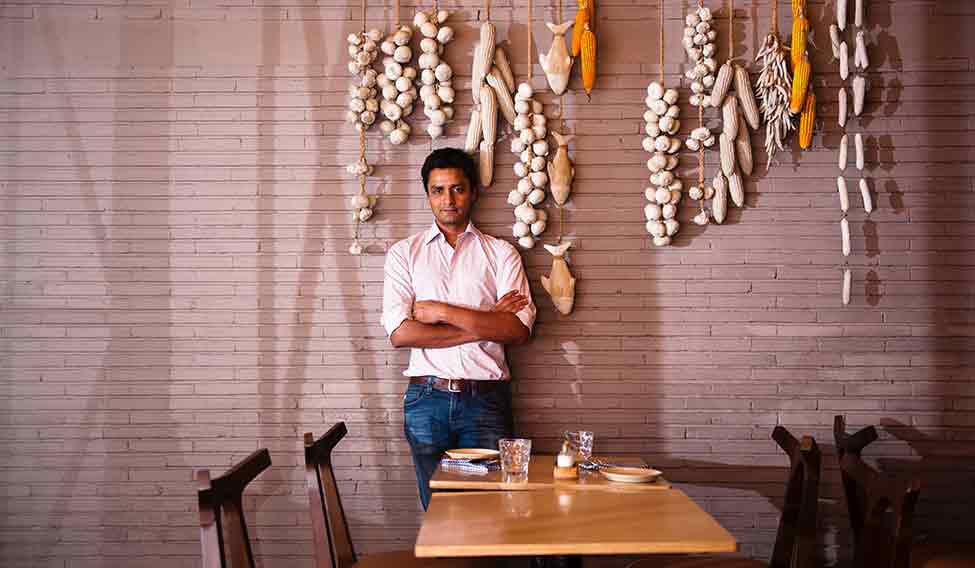 "Great ideas and great recipes do not a restaurant make," says Chandra. "You have to take ownership of the place; that way you know the anomalies. You need to forge new relationships, engage with your customers, make sure it's a profitable business and think beyond breaking even."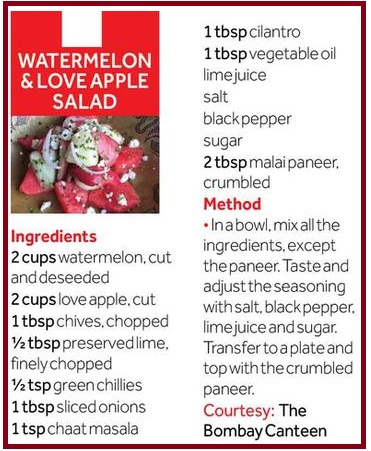 That's exactly what a young entrepreneur in Kolkata did. Megha Agarwal of The Corner Courtyard in Kolkata was having a tough time convincing a few neighbours who were making it impossible for her to get a liquor licence because the law forbids opening a bar within 1,000 feet of a temple. Her restaurant and boutique hotel fell short by a mere 20 feet. So, she decided to raise the bar, literally. She took her bar straight on to the rooftop of her boutique hotel and got a vertical distance of 1,020 feet. "The last staircase leading to the terrace is purposely a bit high," says a triumphant Agarwal.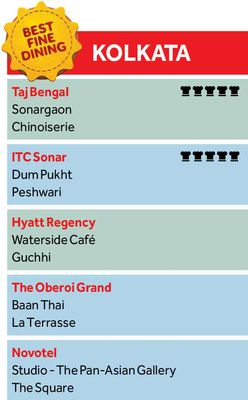 Inside the restaurant, Shakespeare and Murakami adorn the walls—in the form of gold cut words that leap out from books, thanks to jewellery designer Eina Ahluwalia. Agarwal calls the food with primal flavours that she serves at the restaurant "comfort food inspired from travels around the world", which is prepared by her chefs, who are from Mumbai. "We do two menus a year because all my ingredients are seasonal. Our summer menu just got launched in April and we carry this on until winter when the new produce comes in," says Agarwal. And for all the fish lovers, freshwater fish such as Bengal Bhetki, Pomfret and Hilsa are on the menu.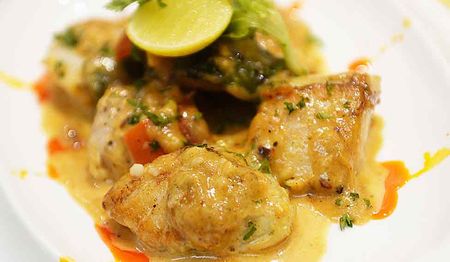 Zorawar Kalra, an MBA from Boston, would doff his hat to Agarwal's sagacity, for he says "an entrepreneur is somebody who jumps off a cliff and builds an aircraft on the way down—that's who I am." While Zorawar's renowned father, Jiggs Kalra, built amazing intellectual properties for others as a consultant, Zorawar knew that he wanted to build a few of his own. In less than three years, he has developed five brands—Masala Library, Pa Pa Ya, Made in Punjab, MasalaBar and Farzi Cafe—catering to different kinds of people.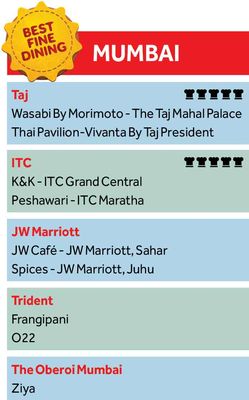 MasalaBar is Zorawar's newest baby—"a beautiful science lab of a bar"— with its sous vide machines, centrifuges, rotary evaporation, magnetic distillers, instant chillers and Pollini shakers—carbonation machines that allow you to infuse carbon dioxide into anything. So, the next time you see somebody sipping Coke, think twice, it may not be Coke, but carbonated tea instead.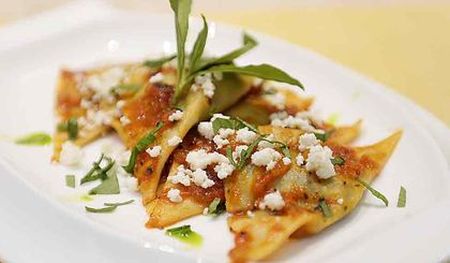 Then there is the much-loved Farzi Café, which, says Zorawar, changed the way the youth looked at Indian food. "Indian food was loved by all of us, but it was packaged wrongly. It wasn't cool, it wasn't hip. It was marketed inadequately and we were failing even to sell it to our own youth."
So, Farzi Cafe has an elaborate menu. The Lychee Panna Desire has both the fruits blended to perfection and is served in a tall glass. The Bombay Bhel, which chef Mayank Bajaj tells us the 2.0 version, is a very unusual take on the regular bhel puri served in bite-sized portions with liquid nitrogen put on the bhel powder before serving it. There is also The Gupta Burger—a street burger with onion rings and cottage cheese and tomato slices with an aloo tikka that has a cumin tadka served with homemade potato chips. Our favourite though is the Palak Paneer Quesadillas—spinach cooked with spices and paneer with tortilla bread served with a hung curd and water chestnut topping. For lovers of South Indian food, there is an Asparagus Appam, its moilee gravy is made in coconut milk and has some cherry tomatoes on it.
Restaurants, however, are not all about food; they is also about service. And, Mirchi and Mime, a contemporary, award-winning restaurant in Mumbai, is redefining service with a human touch. The owners, Prashant Issar and Anuj Shah, alumni of Henley Business School, UK, employ speech- and hearing-impaired people from different institutes in the city. "We hired these people because we realised that they have the key attributes for 'service'. They smile more, they are more focused and they are more intuitive. That's what you want from anyone in hospitality because the most difficult aspect is getting servers to smile," says the duo. They hired 27 of them and did dry runs with friends and family for three weeks before the restaurant started. "At the end of the day, this is not an NGO; it is a business and it has to be profitable for the cause to sustain," says Issar, "and that's why we wanted to ensure that the customers came back and didn't want it to be a 'check in the box' experience. We made sure that not just the service but also the food was the hero of the story."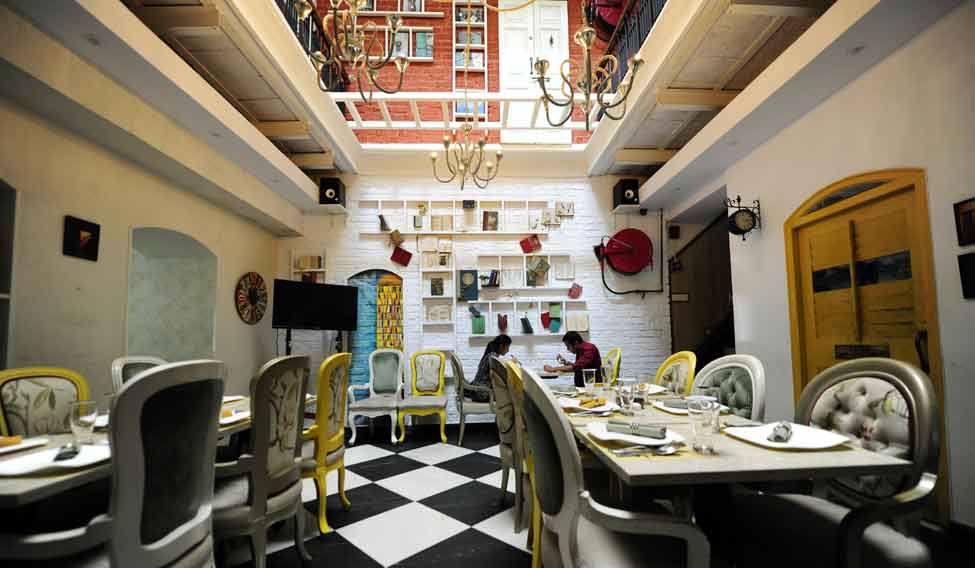 So, the next time, you are at M&M, don't forget to try their Kadhai Masala dish with a guinea fowl, which has a "robust taste" or their Cookerwala Kukad with a country chicken. They have also incorporated a dish called White Pepper Chicken Tikka, a recipe from Shah Jehan's kitchen—he loved hosting moonlight banquets and was excessively fond of the colour white, using chicken breasts and white spices with a silver leaf on the top. "Also, our Sitaphal Panna Cotta is sugar-free and hugely popular."
But, at the end of the day, remember what Cardoz says, "Eat a balanced diet. Don't keep eating the same things again and again because not only will it lead to malnutrition but it is also not sustainable. There is a reason why there is a variety of fish, meat, fruits and vegetables out there and so embrace it all."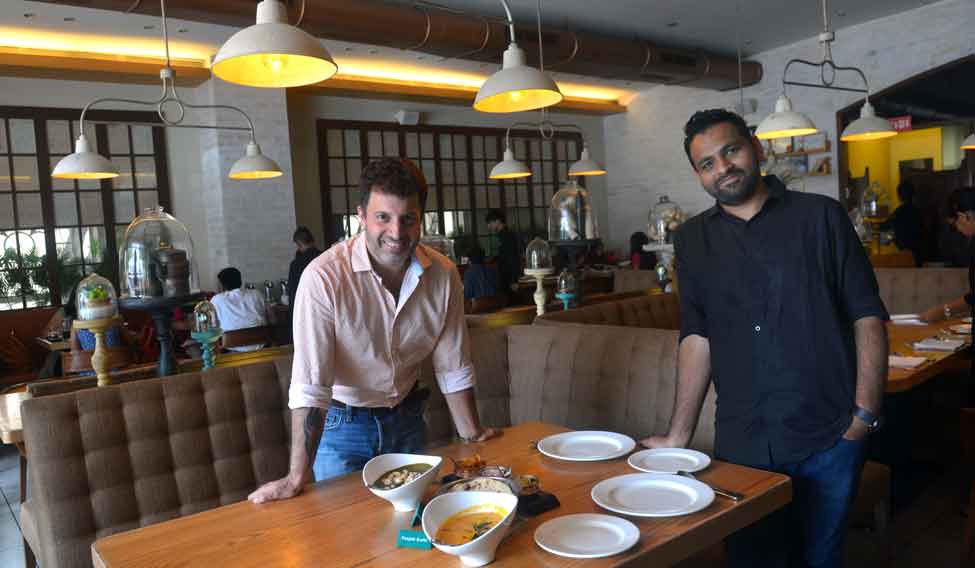 Survey methodology
THE WEEK, in partnership with IMRB, carried out a survey in May and June to rate restaurants across seven cities—Mumbai, Delhi, Bengaluru, Chennai, Hyderabad, Kolkata and Kochi—under several categories like North Indian, South Indian, Pan Asian, Chinese and Continental. A list of all popular restaurants in the cities was prepared, following research and interviews with industry managers and food reviewers. Around 1,000 respondents, including food enthusiasts and specialists, were asked to evaluate the restaurants on six parameters—taste, quality of food, decor and ambience, service, presentation and value for money. Based on these parameters, THE WEEK devised a Culine Scale to rate the restaurants. For instance, the top restaurants were assigned a Culine Scale of 5, represented in the graphics on following pages with five tiny toques.