"There is an intensification of the general conviction among parents that private tuition is 'unavoidable'"- D.S. Rawat, secretary general of ASSOCHAM

"Students used to listen to and follow their teachers. This has deteriorated now. Teaching has become difficult because the zeal to work hard has diminished" - Manish Agarwal, who runs a coaching centre in Lucknow | Pawan Kumar
A year ago, homemaker V. Chitra, 35, and her family returned to Bengaluru after eight years in the United States. Though her sons—Subramanian, 14, and Sriram, 10—adapted well to life in India, the education system here presented new challenges for them. They had difficulty understanding basic concepts. Chitra, therefore, decided her sons needed extra tutoring, especially in science, maths, Hindi and French. She turned to home tuitions, which, she says, are a must as school teachers cannot pay attention to each and every student.
"They will either concentrate on the average ones or the very bright ones. If I try to discuss it with them at a parent-teachers' meet, they say that when some students can do well why not my sons. After all, the bright ones are also part of the same class," says Chitra.
Today, private tuitions have become an integral part of a school-going child's life in India. Earlier it was mostly uneducated or less educated parents who sent their children for tuitions. Now more than 90 per cent of children are taking tuitions. And, this trend is here to stay, according to a 2013 study by ASSOCHAM. The report says the market size of the private coaching industry, which was about Rs.1.54 lakh crore in 2013, is likely to touch Rs.2.6 lakh crore by the end of 2015. About 87 per cent of primary school children and up to 95 per cent of high school students received private tutoring in metro cities. As per the report, private coaching had poached mainstream education, thanks to poor standards of teaching in schools and a parental desire to stay ahead in the global economy.
The survey pointed out that the proportion of primary school children relying on private tuitions had increased by 100 per cent from 2006 to 2013; the increase was by 92 per cent among secondary school students. The private tuition industry recorded a growth of 35 per cent from 2008-2013.
The survey was based on responses from 5,000 students and parents across 12 cities. It says a majority of middle-class parents have been spending one-third of their monthly income on private tuitions for their wards. As D.S. Rawat, secretary general of ASSOCHAM, says: "There is an intensification of the general conviction among parents that private tuition is 'unavoidable', with peer pressure building up on the students and parents alike."
Our education system has become very complex, says Malini Singh, 60, who has been conducting home tuitions for more than two decades in Bengaluru. "Around 20 years ago, students used to learn subtraction and addition in class four or five, but today they learn it in class one or two," she says.
Also, schools are now putting a lot of emphasis on extracurricular activities. "The teachers get involved in different activities full time. As and when they get time, they try to speed up the syllabus and it becomes difficult for a student to cope with the speed," says Suman Ramdas, centre head of Vidyanext, which runs a chain of tuition classes in Bengaluru and Gurgaon. "We, as tuition teachers, are able to attend to individual problems and patiently listen to a student despite the student repeating the same doubt again and again."
Vishnu K.P., a class ten student who takes maths tuition at Vidyanext's centre in Bengaluru, says, "The teachers at this centre help me clear my doubts and there is a lot of interaction with them. I joined here from April and have seen a change in the way I approach a problem and attempt maths questions."
With their hectic schedules, parents, too, aren't complaining. Delhi-based Smita Rajan, 44, a corporate professional, says as a single working parent, she found that tuitions were necessary to discipline her 17-year-old son, Kartik. "When he was younger, I would be glad if the tutors helped him at least finish his homework. When he grew older, I realised he needed extra help as his grades were falling. With tuitions, his grades have picked up," she says.
A private tuitions teacher today earns around Rs.70,000 a month on an average. Some teachers like Priya Subramaniam from Hyderabad have become immensely popular. Students book two years in advance to attend her classes, and she takes not more than three batches in a year. "Gone are the days when only weak students went for tuitions," says Subramaniam, who teaches accounts to students of class eleven and twelve. "Now tuitions are for result-oriented students who want to do well."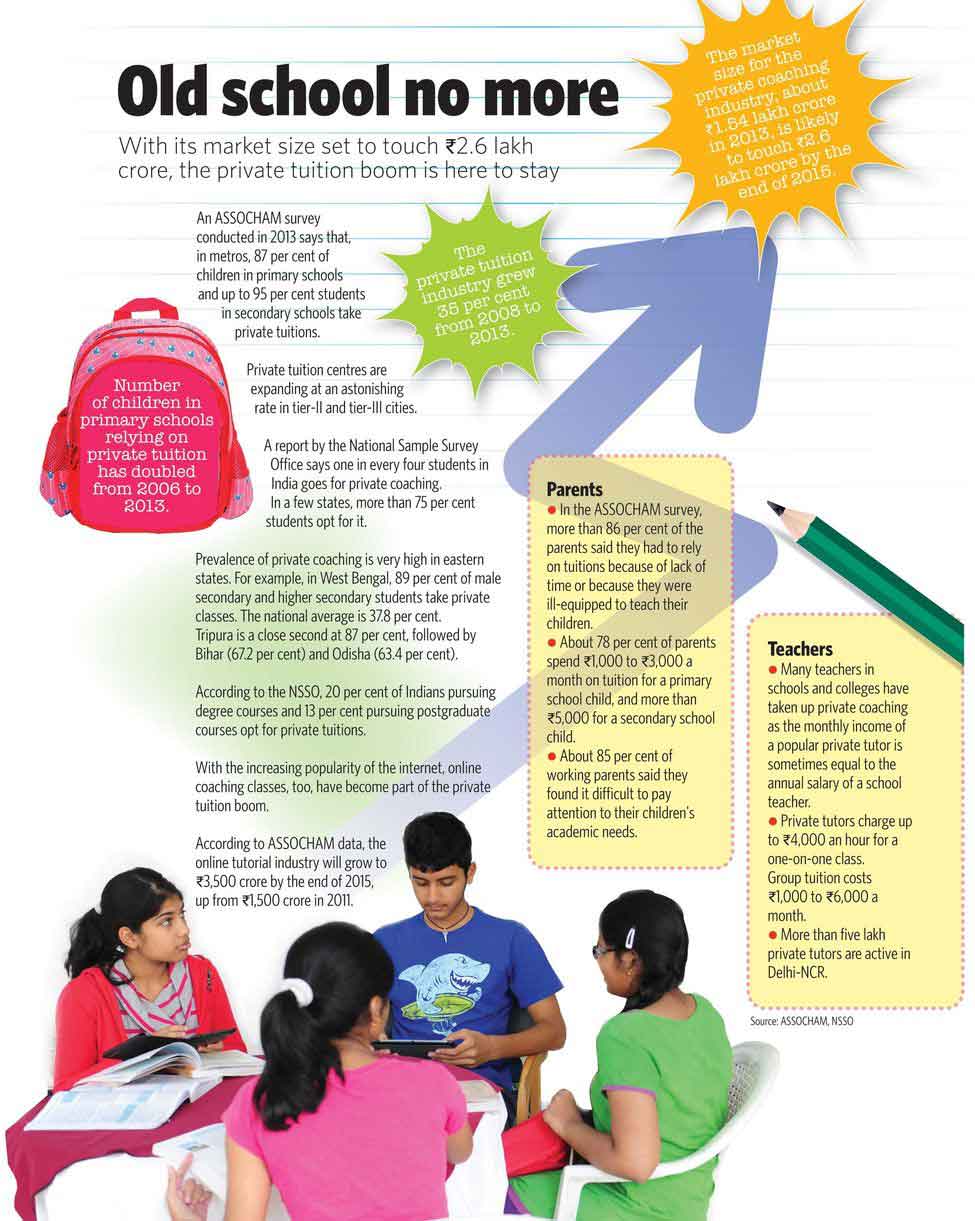 Teaching is a passion for Subramanian that began 23 years ago. She started with home tuitions and later taught in a school. But with a family of her own to look after, she is now back to home tuitions. The USP, she says, is the personalised attention she gives to her students.
There are many who have made their mark in the tuitions industry. Brothers Mukesh and Vipin Setia started A View To Education (AVTE) in a cramped two-room space in Delhi's Amar Colony in 1988, pouring out their passion for maths with chalk on blackboards to a trickle of students. Today, they have a five-floor office in south Delhi, with stylish classrooms, projectors and electronic boards that also record lectures. Besides maths, the centre now teaches accounts, physics, chemistry and economics and has taken on a battery of teachers.
The brothers attribute their success to goodwill; former students peg it on their passion for the subject and personal interactions with students. "We started off by teaching kids who were slow learners. We sensed there was a need among kids to get help in subjects like maths, especially in class eleven and twelve," says Vipin. "Between the 1990s and now, we would have taught more than 40,000 children." So, what are the fees for this extra help? "Currently, according to market figures, studying in a group costs Rs.1,000 to Rs.40,000 per subject per student per month," says Vipin, who has written a dozen books on maths.
Private tuitions are employing innovative techniques to attract more students. For instance, at the Achiever Learning Company in Adyar, Chennai, teachers are graded—O, A and B—based on their expertise and the students' requirements. The O grade teachers, apart from teaching, can also "inspire and motivate the students to be independent and make them much more knowledgeable", says Professor Shubham Vats. The centre has students from class one to class twelve and those preparing for competitive exams. The minimum fee for a class two student here is Rs.5,000 per year.
Technology as a teaching tool is also finding many takers in the tuitions industry. AVTE has all its students under CCTV surveillance, with electronic cards to mark attendance and automatic smses sent to parents as attendance alerts. Gone are the days when teenagers could bunk tuitions. AVTE is working on a mobile app as well.
At Vidyanext, students are provided with a tablet, wherein videos on different subjects are uploaded. They contact the tuition centre for problem sharing sessions. "Each kid is different and the typical classroom of 20-30 students just cannot handle individual learning needs," says Ashish Basu, CEO, Pengala Learning Private Ltd, which runs Vidyanext. "Hence, we have created a new type of classroom that personalises tuition to each individual student. The learning programme of each student varies, and is tailored to their own pace of study, path and intervention needs. We work through a blend of technology and coaches."
At Shikshalaya in Byculla, Mumbai, the emphasis is on application-based learning. "For instance, while teaching mathematics, we focus on English language skills," says Gunvant Jain, its founder. "Most children naturally understand maths, but the word problems are where they falter." The tuition centre also encourages group discussions, unlike conventional classrooms where talking is not allowed. Most students are from high-end schools of south Mumbai that follow the ICSE or Cambridge curricula. The annual fee is Rs.25,000 to Rs.35,000.
Private tuition centres are quite the rage in tier II cities as well. A small wooden table, a chair and ten students were all that Manish Agarwal and Saurav Gaur had when they started their tuition centre in their Lucknow house in 1995. Agarwal, who hails from Etawah, had come down to Lucknow for higher studies and decided to give tuitions to fund his studies. Today, Agarwal's classes is one of the renowned coaching centres in Lucknow, teaching accounts, maths and economics to 2,500 students. It charges Rs.12,000 to Rs.15,000 per subject for the entire session, which begins in July and ends when the examinations are over.
Vipin of AVTE puts the number of home tutors in India at five lakh.
Anita Krishnakumar (name changed), who runs a play school by day, gives evening tuitions in her house at West Mambalam in Chennai and earns close to Rs.70,000 a month. She has four teachers to assist her. "I charge a minimum of Rs.2,500 for a primary school student for one hour of personalised tuition for five days in a week," says Krishnakumar. "The parents who come to me say they want their children to have an edge ever others."
It is this need to excel in a highly competitive market that drive many parents to enrol their children in tuitions. With so many options available, getting a seat in the best coaching centre is today as important as getting into, say, an IIM or IIT. Sripriya Ramagopal of Chennai enrolled her daughter Harini, who is preparing for IIT, at a tuition centre when she was in class eight. Now the class twelve student has joined her third tuition centre. After registration, Harini had to wait for three months before being finally allotted a seat at the centre; her class ten score (490/500) helped. Her annual tuition fees for physics, maths and chemistry come to Rs.72,000, and to raise the money, her mother, who works in the Tamil Nadu labour department, has taken up tailoring and craft making. Though it pinches their pockets, most parents are ready to shell out money on tuition as long as it helps their children.
But Agarwal says the attitude of students, too, has changed. "There was a guru-shishya [teacher-student] tradition; students used to listen to and follow their teachers. This has deteriorated now," he says. "Teaching has become difficult because the zeal to work hard has diminished."
WITH SHALINI SINGH, AJAY UPRETY, LALITA IYER, LAKSHMI SUBRAMANIAN AND SHRITAMA BOSE
It's a rat race
By Abhinav Singh
With most students opting for private tuitions, schools are no doubt feeling the heat. But school authorities say the faulty education system is not solely to blame. "The approach is very psychological in nature," says G.J. Manohar, headmaster of the Madras Christian College Higher Secondary School in Chennai. "Most of the students feel that if their classmates are going in for tuitions why should they be left behind. They, too, want to join the rat race." Another reason, he cites, is that parents do not have the time to pay attention to their children's studies. But schools are doing their part, he says, and are able to give personalised attention to their students.
Many experts say that despite quality education on offer, students and parents prefer private tuitions because of the excessive competition. "There is this prevalent air of competitiveness in the society," says Vinay Goyal, director, SRS international School, Faridabad, Haryana. "Modern society is on a race to excel. This, however, is not a negative aspect as this makes students more focused on studies and their minds remain occupied."
Also, parents want their children to excel and think private tuitions can give them that extra edge. "Parents believe that scoring high marks in the exam is the only way to secure a better future for their kids. Every parent wants their child to follow the others to the IIT or other elite institutions," says Amith Bajla, founder of Taurian World School, Ranchi.
An increase in students opting for tuitions stems from the single-focused "marks culture" in our academic system, says Bajla. "It would be better if education is looked at holistically," he says, "and if we identify and respect the intrinsic talent of kids and encourage them to look at the variety of career options that are available today."