Five years ago, Gitanjali, a housemaid in Gurgaon, was finding it difficult to make ends meet. She would borrow from her neighbours every now and then, plunging into a debt overload. Today, she has paid off a large part of the debt and is now saving money to build a pucca house in her village in Odisha. Gitanjali's fortunes have changed thanks to The Maids' Company, a startup that is changing the way domestic helps are perceived in society.
"Earlier, I was barely earning around Rs 2,000 a month. And, I would leave jobs if I fell sick. But now, I get leave on Sundays and get paid extra if I work overtime," says Gitanjali, who now earns Rs 12,000 a month, working at three houses.
Then there's Khageshwar Rana, a driver with Ola in Delhi, who says there has been a sea change in the way people treat him now. "Driving was not a very respectable job five to six years ago. People thought drivers were drunkards, didn't know how to behave and were corrupt. But that view is changing," he says.
The driver, too, has changed. Thanks to the initial training sessions at Ola, Rana now talks politely, and makes sure he is nattily dressed and his car is clean. These soft skills, he says, have helped him attract more customers. A driver since 1992, Rana says it is only now that he is satisfied with his profession. With his income doubling from Rs 30,000 to around Rs 65,000 a month, he is able to send his children to a better school and has moved from a slum to a two-room rented accommodation.
Both Gitanajali and Rana belong to the blue-collar worker category. Traditionally treated as unimportant, servile and worthless, blue-collar jobs are witnessing a silent revolution today. For the first time, "dignity of labour" seems to be creeping into the Indian psyche. And, the credit for this goes to startups.
Ritika Mankar Mukherjee of Ambit Capital, says, "The optimism and buoyancy in the blue-collar segment have also to do with the fact that agriculture is not doing great and so there is surplus labour in the market—something startups should feel happy about. They now have a bigger pool to choose from."
Blue-collar workers, on the other hand, are happy about the huge hike in wages. "We have seen salaries of plumbers, carpenters and electricians shoot up by 25 to 30 per cent after joining our platform," says Debadutta Upadhyay, cofounder and CEO of Timesaverz, an online marketplace for finding home services. "The priority agents [those who are highly recommended by customers] have witnessed double increase in their salary."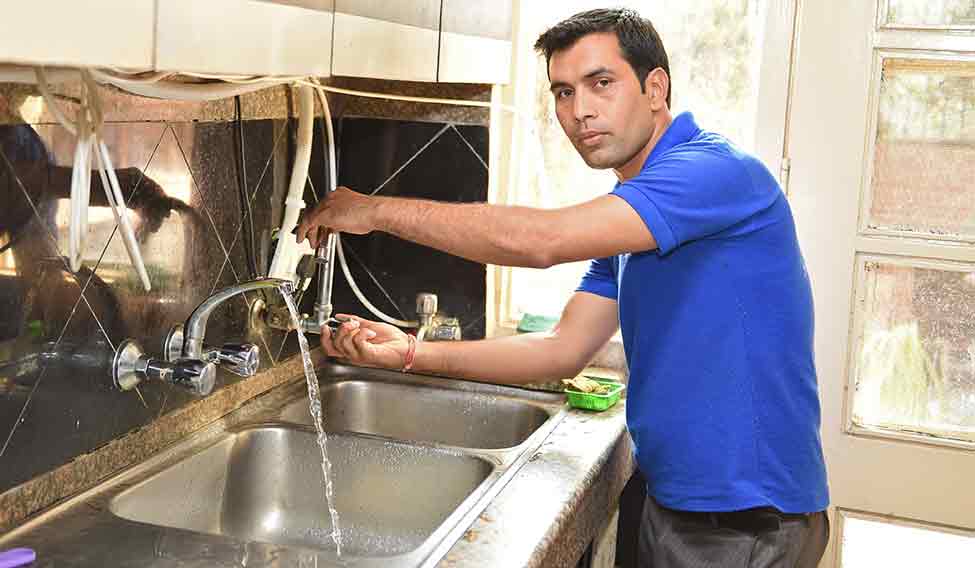 Unlike conventional firms, startups owe their existence to these people. They understand that these foot soldiers are as important as the engineers in their company. Startups have done two things that helped the blue-collar workforce find their due place under the sun. First, they have organised a largely fragmented market—be it of drivers, delivery boys, plumbers or maids. There was no single platform for any of these categories to come together. Second, startups have channellised demand in the market and created more opportunities.
But, transforming the space for these workers was not easy as most of them were independent workers, unaware of a professional approach to services. "There was no reliability and trust factor," says Shaifali Holani, CEO and founder of EasyFix, a home repair and maintenance services portal. "The customer experience with these people was very bad earlier—they would not turn up on time, run away with payments and were lacking behavioural skills."
The unprofessional behaviour was prevalent because of the insecurities of these workers. Most of them worked either under contractors or through a reference and were not sure about getting work every day. Pay was never on time, and respect hardly given. "There were days when I had 3 or 4 jobs, but on some days I had none," says Sanjay Chaurasia, a plumber working with EasyFix. "The contractor would keep a major share of the fee and pay me a measly amount. I barely made Rs 15,000 earlier." With no dearth of work now, he earns around Rs 45,000 a month. Also, his social skills have improved, he says.
HOLANI'S FIRM trains these workers with a short module on execution, competence for a particular kind of work and behavioural skills. It also gives performance incentives, overtime, gifts and merchandise, and helps them open a bank account and get insurance.
Gauri Singh, too, faced many challenges when she thought of starting The Maids' Company. Primary among them was finding good maids. The space had a bad reputation because of maid agencies that exploited workers. And, attrition was high, and trust was lacking. So, she focused on restoring the rights of these workers. The maids now have fixed working hours, a weekly off and basic amenities like toilet and drinking water at the workplace. Since a lot of them battle with long pending debts, The Maids' Company gives them interest-free loans. The maids are trained as soon as they join a home, depending on the preferences of that particular customer. The company is now digitising these trainings through an app. "There will be videos on how to make a bed or how to make pasta or a soufflé," says Singh.
OLA HAS PROVIDED a platform for drivers to find customers. Earlier, a typical taxi driver would do five trips a day and pay a substantial part of his daily earnings to the taxi owner. Today, drivers get more trips because of technology. With more income, they are confident of buying a vehicle and paying the loan on EMI. There is also the freedom to log in during peak hours and log out during non-peak hours.
Ola's Anand Subramanian has immense respect for drivers. He calls them "driver partners". "The fact that they are on a technology platform and can work their way through technology has given them a lot of confidence," he says. "We have seen a phenomenal socioeconomic change taking place because of empowerment of drivers." Ola trains these drivers on using smartphone, navigation and etiquette. Subramanian says the line between blue-collar and white-collar workers is blurring as a lot of white-collar professionals, too, have started driving for Ola.
E-commerce might have changed the face of retail but it has brought about the biggest social change by empowering delivery boys, creating more demand for them. For logistics companies, delivery boys are one of the key resources, for their business is built around them. Abhishek Bansal, cofounder and CEO of Shadowfax, realised this when he decided to start a delivery business. "A delivery boy's job was considered a makeshift job," he says. "People would come for 5 or 6 months and then leave. We wanted to make this an aspirational job. And we realised that until the way we looked at delivery boys changed, we would not be able to do much in this space."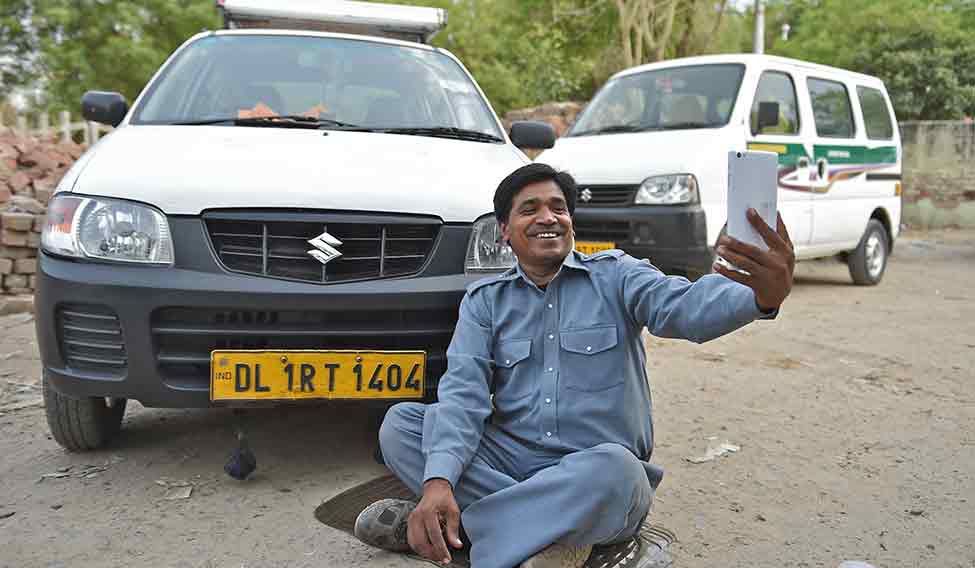 Shadowfax tried to create a new pool of delivery boys by hiring from rural areas, where there was no dearth of jobseekers. The company took them to cities and provided them with affordable housing. It offered them a host of other benefits and thus controlled attrition.
Praveen T.K. works as a pickup boy at Shadowfax, where he takes orders for Jabong, Snapdeal, Koovs, Voonik and Hopscotch. Before joining Shadowfax, Praveen was making Rs 15,000 a month as a contract worker at the Karnataka education board. Today, he earns Rs 20,000 and the job offers him flexibility to finish work early. He now wants to become team leader and manager.
WHAT HAS FURTHER aided this socioeconomic transformation is the number of job portals focusing on blue-collar workers. While Naukri.com and Monster India may have been the poster boys for IT jobs revolution, the blue-collar workforce today relies on the likes of AasaanJobs, Babajob and Nanojobs. "'Make in India' is expected to create lakhs of jobs. More than 25,000 job interviews have happened through us in the past 18 months. The government's focus on skilling is expected to tackle the employment issue for these people," says Siddharth Gupta, head of staffing and new products at AasaanJobs.
Blue-collar jobs are expected to be a $10 billion market for focused portals such Aasaanjobs and Babajob. Babajob's founder Sean Blagsvedt links this socioeconomic impact to what Nobel laureate Amartya Sen called the "development as freedom" concept. Sen said economic development entailed a set of linked freedoms. Freedom to choose what you want to do was one of that. "We are enhancing that freedom by giving people more options to choose from," says Blagsvedt, a US national who worked with Microsoft before starting Babajob. "In the US, technology has enabled enormous productivity enhancement. In India, too, we are using technology to create more demand and more jobs."