Silence is definitely not a film for everyone. If you're looking for light-hearted entertainment, heroism, fast-paced action or witty dialogues, give this one a pass. Martin Scorsese's latest masterpiece, which comes four years after Wolf of Wall Street, is an intense, thought-provoking film that is deliberately slow and yet so beautiful. It is an adaption of Japanese author Shusaku Endo's novel of the same name.

From the first frame, the tone of the film is set—silently contemplative, highly introspective, and gruesome, not just physically but mentally, too.

This film completes Andrew Garfield's spiritual journey that began as Desmond Doss in Mel Gibson's Hacksaw Ridge and ends in Silence as the Jesuit priest Sebastiao Rodrigues, whose faith in God is stretched thin.

Portuguese priests Rodrigues and his loyal companion, Francisco Garuppe (Adam Driver), are tasked with finding out about Father Ferreira (Liam Neeson), who has gone off the radar while on a missionary journey in Japan. To prove wrong the rumours that Father Ferreira has denounced Christianity and settled there, Garuppe and Rodrigues set off on a journey from Portugal to Japan.

But Japan, in the 1600s, was a dangerous place for a Christian to be alive, let alone practise his faith. The Japanese Inquisition, as they are called, hunt out and torture the 'Kirishitans'. They force them to apostatise by stepping on a tablet of Jesus. The ones who obey their commands are let off, the ones who don't are tortured to death.

Rodrigues and Garuppe, their faith in their lord strong and unwavering, pray with other Japanese Christians in secret and offer their support. But then someone betrays them, and the Inquisitors capture them. The psychological torture that the priests undergo, when they are forced to apostatise, tests their faith in Christianity.

Rodrigues begins questioning his unshakeable faith in God (and his existence) and the people around him. He wonders what faith means to the Kirishitans—is it really belief, or an obsession with symbols and tangible icons like the cross? When the peasants, who suffer the most by hiding their faith, turn to God, believing that there is a reward at the end of life, is it truly faith?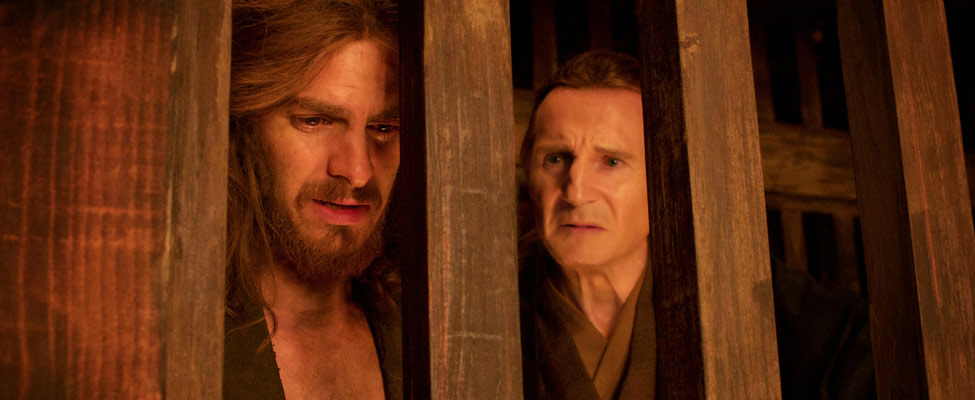 The best part of the film is also its most intense and persuasive: when Rodrigues finally meets Father Ferreira. That's when we are told the other side of the story—why the Japanese think Christianity cannot take root in Japan.

Throughout the film, arguments of faith, of Christianity, Buddhism and Japanese culture, are put forth sensibly, such that no religion or culture can be considered superior to the other. It demarcates the boundaries of each religion and culture, but it doesn't let us take sides. The brilliance in the story and the filmmaking lies in maintaining this balance.

Garfield gets into the skin of the character and delivers a powerful performance that is heartbreakingly convincing (frankly, he should've received the Oscar nomination for this role and not for Hacksaw Ridge). Driver, who was last seen in Paterson and as Kylo Ren in the 2015 Star Wars film, is commendable, and so is Neeson. Japanese actors Yosuke Kuboza, Issey Ogata and Shinya Tsukamoto are great in their own stead.

Scorsese uses silence not just as a metaphor but also as a tool to heighten drama. He has always dwelt upon religion, the conflict of faith and the loneliness of man in most of his films. Silence focuses on all these too, at a much deeper level. If Taxi Driver (1976) was an insight into what loneliness can do to a man, Silence takes it to another level, where Rodrigues is not only alone but also hears the deafening silence from his God.

The film is a must watch for everyone regardless of what religion they believe or don't believe in. With brilliant performances, captivating cinematography (nominated for Oscars this year) and Scorsese's masterful direction, Silence cannot be missed.

Film: Silence
Director: Martin Scorsese
Cast: Andrew Garfield, Adam Drive, Liam Neeson, Yosuke Kobuza, Issey Ogata, Shinya Tsukamoto
Rating: 4.5/5