Reading the news recently of the passing away of Justice Leila Seth—India's first woman Chief Justice of a High Court, a writer and a fine human being—I was reminded of the first time I saw her. It was at a meeting at New Delhi's India International Centre in the early 2000s. Shimon Peres, former president of Israel and a Nobel Laureate, was waxing eloquent on India-Israel relations, when he mentioned his appreciation of Vikram Seth's A Suitable Boy and the delineation of the character of the Jewish mother in it.
"Vikram's mother is here", the chairperson informed him. Peres invited the lady in the audience to identify herself. Mrs Seth stood up and did a namaste. Peres responded with a namaste and told her how happy he was to meet the mother of such a fine writer. At the end of the meeting, he walked up to her and held her hands. It was a sight to see—the tall and well-built Israeli and the diminutive Seth.
A quarter century after Prime Minister P.V. Narasimha Rao operationalised India's diplomatic relations with Israel, formally established by Jawaharlal Nehru in 1950, the people-to-people (P2P) relationship between the two countries is now well rounded. From the icy heights of Ladakh to the warm shores of Goa, Israeli tourists have become a regular fixture encouraging the spread of Israeli cuisine restaurants in Leh and Panjim. The roots of India's relations with the Jewish community go back a long way—with the earliest of Jewish migrants landing on the Malabar coast during the century before Christ.
When Prime Minister Narendra Modi visits Tel Aviv later this year, the first Indian PM to do so, he would finally bring out of the closet a deep and wide-ranging relationship. After Nehru's initial gesture of recognising the state of Israel, it was Prime Minister Rajiv Gandhi who first established deeper government-to-government (G2G) relations by encouraging Indian intelligence agencies to work with Israel's famed Mossad. Narasimha Rao's 1992 decision has contributed, both, to a wider G2G engagement and to wide-ranging business-to-business (B2B) relationship.
It was in recognition of the growing B2B relationship that Prime Minister Manmohan Singh authorised negotiations for an India-Israel free trade agreement almost a decade back. Interestingly, and surprisingly, Prime Minister Singh chose to keep that decision away from media glare.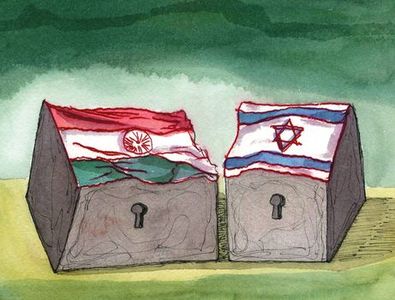 In the 2006-07 period, the newly created Trade and Economic Relations Committee (TERC) authorised several FTA negotiations. Each time TERC authorised the launch of new FTA negotiations, it was my duty to issue a statement to the media on behalf of the PM.
However, when TERC authorised talks on an India-Israel FTA, the government decided not to make a public announcement. The talks would be in secret. The Congress party had reverted to the pre-Narasimha Rao hypocrisy of keeping ties with Israel out of public view, for fear of offending Muslim sentiment. While an FTA has not yet been inked, the fact is that the bilateral trade and economic relationship and the B2B connect is now well developed.
India is no longer fighting shy its strategic partnership with Israel. Prime Minister Narendra Modi has, however, taken calibrated steps in planning his journey to Tel Aviv, 25 years after Narasimha Rao's historic decision. In the past three years, Modi has met with leaders of almost all the Gulf states and Egypt. After reiterating India's desire for good relations with Israel's neighbours, he now heads for Tel Aviv.
What is striking about the India-Israel bilateral relationship now is that it is so all-rounded. There are few countries in the world with whom India has such a well-balanced bilateral relationship encompassing all three dimensions—P2P, B2B and G2G.
editor@theweek.in