When the news about a ban of cattle sale across the country broke, I declared out loud: "I am leaving the country." In fact, I had said the same when Maharashtra banned beef earlier.
When people around me were making a hullabaloo about the order being a blatant violation of rights, and freedom of practising our food choices, I wasn't paying heed to any of those. The selfish, beef-lover in me had struck—all I worried about was how was I going to have beef; could I even survive without it? Well, it is probably not just me. This might be the feeling resonated by the gut of almost every other Malayali. 
As if reading my fears, and of many other beef-lovers in the state, Kerala Chief Minister Pinarayi Vijayan was quick to come out in protest and declare that the state would not accept this decision. I heaved a huge sigh of relief, and felt proud. Except that, Pinarayi was, probably, not just concerned about the heart-broken beef-lovers like me, but of the larger picture of culture, rights, and freedom of choices.
Since yesterday, my timeline is filled with images of friends caving in to their beef fetishes, fingers dunk into delectable beef roast, paired with the quintessential Kerala porotta, rice, and even breakfast staples like appam, puttu and, even, idiyappam. Yes, we Malayalis pair beef with pretty much anything, such is our love for the dish. Popular culture, especially cinema, has also helped in the growth of our fascination with beef.
All said, I have begun to crave beef, and that is what is surely going to be on the menu for Sunday lunch. Here is a tried-and-tested quick recipe of yummy Kerala beef curry.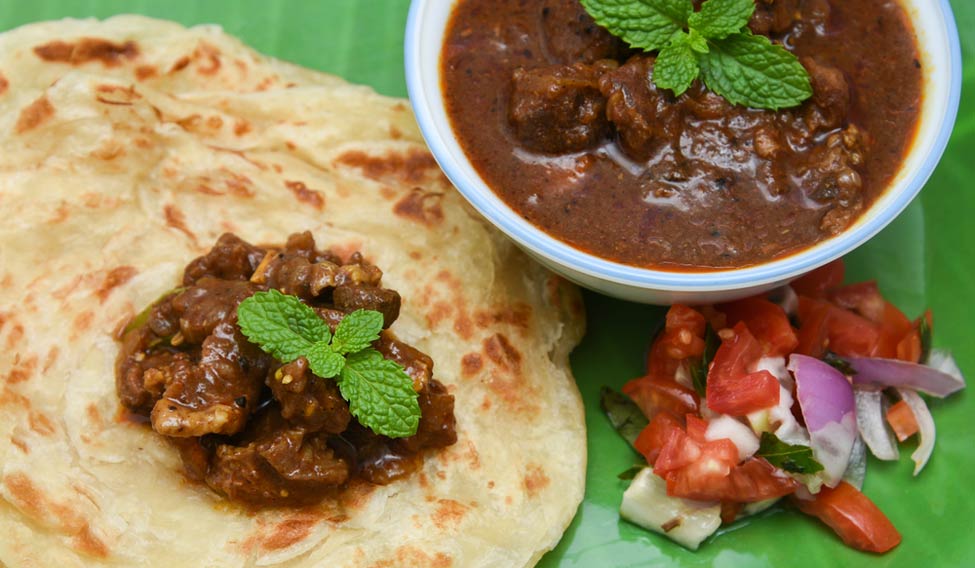 For this, you need, of course, beef (cleaned and chopped/1kg),  two chopped onions,  chopped ginger and garlic, chilli powder (1 ½tbsp), coriander powder (2tbsp), garam masasla (2tsp), turmeric powder (a large pinch), whole spices (cloves, cinnamon, fennel seeds, cardamom), coconut pieces (the star ingredient), coconut oil, and curry leaves. The recipe, coming from a hard-core Malayali, will not compromise on coconut oil and coconut slices. You can, however, use other oils like sunflower oil or rice-bran oil. 
Another ingredient, which I rarely see mentioned in beef recipes, is asafoetida (or hing). This, however, is an inseparable ingredient for the beef dish, asserts my father, who cooks the best beef dishes I have ever had. He picked it up from his mother.
Now, let's get going. In a large wok, heat coconut oil and add whole spices. Add in chopped coconut slices, and saute. When they turn brown, add chopped ginger, garlic and curry leaves, and add the entire chopped onions. Once the onions turn golden brown, add turmeric powder. Now add the powder spices and mix well. Do not let the dry spices burn. Check spice levels, and add crushed pepper for extra flavour. Add asafoetida and salt to taste. To this mixture, add the beef pieces and mix well till the masala is coated. 
Transfer the mixture to a pressure cooker. Add little water. In any case, the water should not rise high above the meat. Another secret passed on from my father is that we should not add water to beef while cooking, because meat will release its water content. This trick yields, thick, heavenly gravy, just of the right consistency that coats to the meat and lends it a delectable flavour. 
Let the meat cook well, till it is soft, and the beef melts in your mouth. You know all's well from the aroma that wafts when the pressure cooker whistle blows—a beautiful combination of the spices in coconut oil, with a slight punch of asafoetida. Now, take a tadka pan, add coconut oil, splutter mustard seeds. Add chopped shallots, dried chillies, and curry leaves (yes again). Add this to the beef gravy. Your finger-licking Kerala beef curry is ready.
Now as actor Thilakan advised Dulquer Salman in the Malayalam movie Ustad Hotel, throw in some mohabbat (love), and yummy beef is ready to be served, with pretty much anything. If you can't resist till the main course is ready, go ahead, sit down with a plate of the beef curry. In Kerala, beef can be the main course in itself.  Or sit down with some nadan kallu (toddy).
Nobody messes with a Malayali's love for beef.