"I found huge disgruntlement among the youth. They get education, but that education is useless as there are no jobs." - Sunil V. Deodhar
Tripura, though a small state, is big on history. It was in its capital, Agartala, that Sheikh Mujibur Rahman planned the formation of Mukti Bahini, an armed resistance movement for Bangladesh's independence from Pakistan. When Rahman came to India, he was helped by Congress's Sachindra Lal Singh, the first chief minister of Tripura.
The 1971 war saw a crore Bangladeshis cross over to Tripura, and Singh, originally from Bihar, provided them with refuge. After the Bangladesh war, most refugees returned, but a majority of Hindus stayed back. Today, Hindus account for around 65 per cent of the state's population.
The Congress's role in the Bangladesh war ensured that Tripura remained its turf, but not for long. In 1978, the CPI(M) took over, thanks to the resentment among the tribals and also as an aftereffect of the Marxists coming to power in West Bengal in 1977. History, it seems, is all set to repeat itself, although with a saffron tinge. The BJP is making inroads into the state, riding on the wave of resentment among the tribals and the youth owing to lack of jobs and growth and low per capita income.
The BJP has been focusing on the northeast ever since it came to power in 2014. And, as Tripura goes to the polls on February 18, the BJP is leaving no stone unturned to ensure its victory—party president Amit Shah has already addressed a rally, and Prime Minister Narendra Modi will not be far behind.
Three years ago, the CPI(M), the ruling party since 1993, had won all the seats in the Autonomous District Council elections, which comprises 28 of the 60 assembly seats in Tripura. But today, it finds itself out of favour. The Indigenous People's Front of Tripura (IPFT), a BJP ally, launched a massive protest for a separate state, saying the left did nothing for them. "Undoubtedly, the BJP is behind the agitation. They have an agenda for the state," said Congress leader Gopal Roy.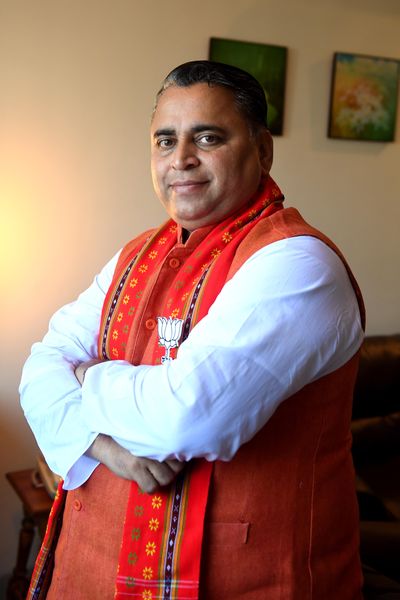 Leading the BJP's campaign is Sunil V. Deodhar, who managed Modi's winning Lok Sabha campaign in Varanasi. When Deodhar came to Agartala in 2015, he hardly knew anyone. "I began reaching out to people and found that learning Bengali was the need of the hour," said Deodhar, 52. He then reached out to the youth. "I found huge disgruntlement among the youth. They get education, but that education is useless as there are no jobs," he said.
Originally from Mumbai, Deodhar joined the RSS during his college days, following in the footsteps of his father, a senior journalist. "I am more conversant in Khasi and Garo as I worked for many years in Mizoram," he said. A leader from his team said Deodhar wanted to serve Meghalaya, which is also going to the polls. But Tripura is more important to Shah and Modi as it is a communist citadel, and a win here would send a clear signal to their next targets—West Bengal and Kerala.
During his state tour, Deodhar realised the CPI(M) had won so far because of the TINA (There Is No Alternative) factor. "In Sholay, Gabbar Singh used to tell the villagers that only Gabbar could save them from Gabbar. Here, [Chief Minister] Manik Sarkar would say the same thing," said Deodhar.
Deodhar runs My Home India, an NGO that works for the downtrodden and honours eminent personalities for their contribution to society every year. Deodhar said he had once thought of conferring the award on Sarkar, but was glad he did not do so as he has realised Sarkar wears a mask of honesty.
Deodhar brought his My Home India team to Tripura along with RSS pracharaks Biplab Deb and Tinku Roy from Delhi. Deb and Roy have been made state BJP president and state youth president, respectively. Deodhar also met government workers, labourers, tribals and Muslims. Advocate Siraj Ali, who heads the BJP's minority cell, said he toured Muslim-dominated areas in the state on Deodhar's advice. "I cannot imagine that my Muslim brothers are drinking water from the drain," said Ali. "They don't have proper education and they are engaged in illegal trade across the border. I feel ashamed that a man from outside came here and showed me the truth. I was blind."
Jayanta Dutta, a youth leader from Gomati district, said Deodhar has visited every village in the state, and used social media to connect with party workers. "He made the youth a part of the party's decision making body," he said.
Deodhar has been able to tap into the discontent among members of other parties, too. Take, for instance, Bhajan Sil, a former CPI(M) worker who joined the BJP. "I am a small trader. Many years ago, I was trying to talk about the General Agreement on Tariffs and Trade in a meeting. But other comrades shut me down, saying I was a small trader who should not talk about such a big issue," said Bhajan, who has been facing death threats from the CPI(M) cadre. "But Deodharji asked me not to worry. We will make sure that the BJP comes to power."
The BJP is promising investments in the manufacturing sector, a skilled workforce and better railway connectivity. Deodhar believes all these promises would translate into votes, which is why he is not shying away from attacking Sarkar.
"Even after 25 years in power, he goes to people and says he is an oppressed man," said Deodhar. "His ideology is, 'I am poor and you remain poor as well'." He said Sarkar had created a false impression of austerity. "Has anybody gone to his bungalow? He has an expensive gym that has come from Kolkata," he said. "His shoes and garments, too, come from there. Also, popular communist leaders who could be a threat to him were killed. Why was no investigation carried out? Why has Tripura become a hideout for terrorists?" Sarkar has filed a defamation suit against Deodhar, but that hasn't deterred him. Pabitra Roy, a retired professor, however, said that attacking Sarkar might boomerang for the BJP.
The CPI(M), which is on the back foot, plans to make the National Register of Citizens a poll issue—using the NRC, Assam (ruled by the BJP) wants to send back illegal migrants to Bangladesh. "What they are doing in Assam is totally inhuman," said Gautam Das, CPI(M) central committee member from Tripura. "We will make it a big issue because Bengalis here also came from Bangladesh."
Deodhar, however, is confident of a win. "Sarkar would be responsible for our win. He is digging his own grave. Modiji's master plan for the northeast would be the second reason for our win," he said.
But why is the BJP interested in the northeast, with only 25 Lok Sabha seats? "We don't see things through Parliament seats always," said Deodhar. "Pakistan has an eye on it, so has China. The United States is closely monitoring the developments in the region. There is an urgent need to bring nationalism to the northeast, which could save the region. For years, we avoided doing that. The northeast is the prime area for our government at the Centre."