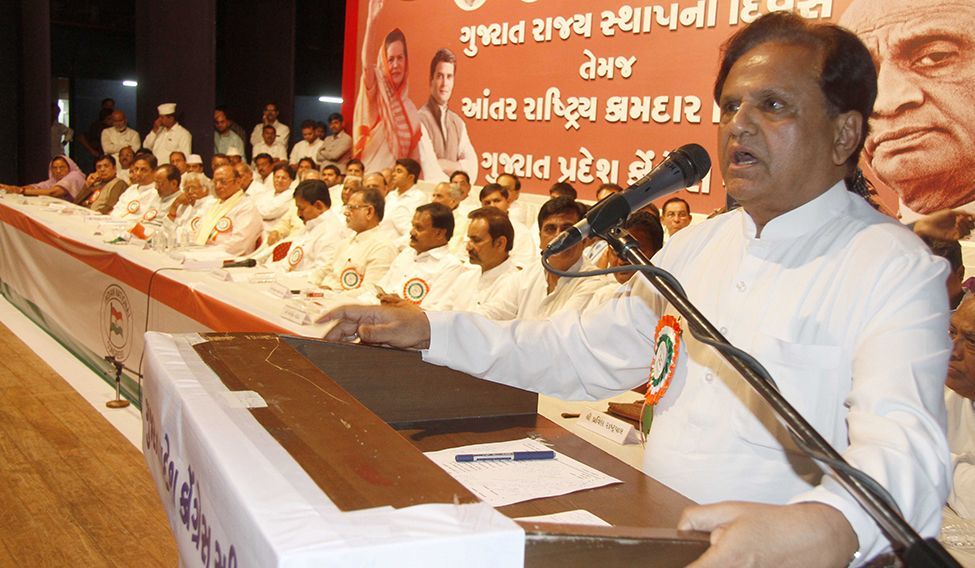 Ahmed Patel preferred the shadows to the limelight, working quietly behind the scenes as Congress president Sonia Gandhi's political secretary. But nowadays, the Rajya Sabha member from Gujarat is quite visible and vocal in the state.
He has been tweeting and issuing press notes pertaining to Gujarat and India. Recently, he wrote a letter to Gujarat Chief Minister Anandiben Patel over the alleged improper utilisation of the Central subsidy by the Gujarat State Fertilisers and Chemicals Limited. He also raised the issue of environment and safety of workers at the Alang ship breaking yard. He has been seen at many events, including the inauguration of agriculture produce market committee in Borsad.
Patel's political journey began in the 1970s when he contested the civic elections in Bharuch. Spotted by Sanjay Gandhi, he remained a trusted aide of Rajiv Gandhi and later Sonia. In fact, Rajiv had three parliamentary secretaries—Arun Singh, Ahmed Patel and Oscar Fernandes. The trio was famously called Amar, Akbar and Anthony. With an acute sense of caste equations in every state, Patel continues to be the point person to meet Sonia Gandhi. But the sudden change in his behaviour has raised several eyebrows in the Congress, more so in Gujarat.
Sources said that with the impending change of leadership in the Congress, Patel has been feeling insecure owing to the generation gap between him and Congress vice president Rahul Gandhi. A young Congress leader said the differences between the two surfaced during the 2012 assembly election in Gujarat. The ticket distribution was overseen by C.P. Joshi, considered close to Rahul, whereas Patel hardly had any say in it. A Congress leader from Ahmedabad said that Patel is known for his work in Bharuch. But in case there is a change of guard, he would need a foothold in Gujarat.
Patel's proximity to Sonia has earned him friends as well as foes in Gujarat. Patel shares a good rapport with Shankersinh Vaghela, opposition leader in the Gujarat assembly. Their friendship dates back to a time when Vaghela was with the BJP. At a party programme in Ahmedabad on May 1, Vaghela, inspired by a Gujarat tourism ad featuring Amitabh Bachchan, said, "Kuch din toh gujaro Gujarat mein (Spend a few days in Gujarat)." To this, Patel replied, "I will come with my bags, but the invitation has to be from the heart." More than the function, the exchange of words made news.
"He has never craved for any designation," Vaghela told THE WEEK. "He could have got any ministerial berth if he wanted, but to say no is not very common in politics. He is soft-spoken and listens to all."
A Congress leader from Vadodara, however, said: "If he [Patel] says that he does not want any posts, then why does he not resign as political secretary? Then we will see how many people queue up to meet him," he said. "If he is so powerful, why has he not been able to ensure victory of a single candidate from Bharuch?"
Patel, however, denied having differences with Rahul or that he had become active to stay relevant. "I have been making representations whenever we have been in the opposition," he told THE WEEK. "I have led agitations in the 1970s. People write that I am doing this for my survival. But that is not the case. I do not want any designation."