I noticed something curious while in custody. The staff put on duty with me were either dalit or Muslim.
Anti-national, then hero, then to symbol of hope, Kanhaiya Kumar has worn many labels. Some deserved, some he still has to live up to. Yet, there is no doubt that his story—from the president of the JNU Students Union to becoming headline news—is an incredible one. The day he stood in a black leather jacket and a blindly white T-shirt, under the arc lights of cameras demanding azadi just back from Tihar Jail, he had become a politician. His rise is the kind that is scripted to be told. And he does know how to spin a story. From Bihar to Tihar is his account of a story that on JNU campus has become part of folklore. But what isn't, perhaps, is his struggle. This is his first book; for sure, it will not be his last. Exclusive excerpts:
I was put in a lockup. A CCTV camera was installed. An armed guard was stationed outside.There was nothing to sleep on. There was a blanket of some kind which acted as both the bedding and a cover. My chappals, jacket, etc, had been confiscated outside. I asked for my jacket as I was cold. They said they couldn't give it to me as it had a drawstring with which I might attempt suicide.
My cell had a bottle of water, a tap and a toilet seat. I had to make do with this for drinking, bathing, washing, etc. I tried talking to the police outside my cell. On my first night I was rebuffed. When I asked the guard on duty for some soap I was told this was not my hostel. Later his attitude changed completely. He started to get me drinking water and taking me to the bathroom for bathing.
On that first night I was visited by two men. They asked me to write down everything that had happened. I wrote down the entire sequence of events of 9 February. We talked for a while. As they left, one of them said that had he not been on duty he would have liked to talk to me for longer. I enjoyed talking to you, he said.
The police on the whole dealt with me well. They were beginning to understand that I was innocent and was being framed. Even those who were rude to begin with became much gentler in their dealings later on.
I could see one difference. Other than the IO all the cops of the Vasant Kunj thana treated me very well, because they knew the truth. (I was lodged at the Lodhi Road thana for security reasons; the case against me was registered at the Vasant Kunj thana.) At the other thanas, opinions were formed about me on the basis of the TV coverage. And so their behaviour was different. Any of them who had a conversation with me even briefly revised their opinion.
I noticed something curious while in custody. The staff put on duty with me were either dalit or Muslim. I am not sure, but I have a suspicion this was deliberate. A senior police officer I met at a Nagpur function shortly after being released confirmed that a secular force had been arranged for my security in that city. I didn't ask him what a secular force meant but when I read the names of the police personnel around me I knew he wasn't exaggerating. I saw this pattern repeated whenever I travelled after being freed.
***
I'll never forget that day. I was completely unprepared for the press mob outside. I had never experienced anything like this. The attack shook me even more. For the first time I became aware that my life could be in danger. Cut off from news for these five days, it now hit me with violent force how much of an issue my arrest had become. How hated a figure I was to some sections of society.
One of the men dressed as a lawyer was bold enough to enter the courtroom. He tried to hit me from behind. Another of my assailants entered and sat down on the court benches.
Many JNU teachers were present at the court. Worried at the sight of my dishevelled state and the anxiety on my face, one of them asked me what had happened. It was a relief to see familiar faces after the last few days. He calmed me down, making me drink some water. As soon as I relaxed a little, I told him that the man sitting behind me had beaten me up just outside the courtroom.
The police went up to the assailant and asked him, 'Who are you, bhai?' Instead of answering the question, he said boldly, 'Who are you?' The cop gave his name and asked for his identity proof. In return the man asked for the cop's ID. Then he got up and ran away. No one really pursued him despite my pleas. A woman lawyer I didn't know was present in the courtroom and she too was agitated that a lawbreaker could escape so easily from inside a courtroom.
I was taken to another room. The police were everywhere; no one was allowed to come in. Some lawyers were present in the room. I answered their questions and told them how I had been manhandled. Later I discovered that they were assigned by the Supreme Court. A doctor was called into the courtroom to treat my injuries. I told him how I had been beaten but the doctor didn't note down anything. He just stood there quietly, hearing me.
Seeing his attitude, the judge became angry and said that his licence could be cancelled if he didn't cooperate. The doctor started to make excuses but, now afraid, began to write.
The police had no reason to extend their remand, but since there was no application for bail, I was taken into judicial custody. This meant I would move from the lockup to jail. I was filled with real fear for the first time. What was happening outside? I had done nothing and if the police hadn't managed to find any evidence to implicate me, why was the media after me? Who were these people who had physically assaulted me and were trying to prove I was anti-national? I couldn't make any sense of any of it. It didn't help that there was such a large number of cops swarming all around me—it felt as if they were preparing for a war.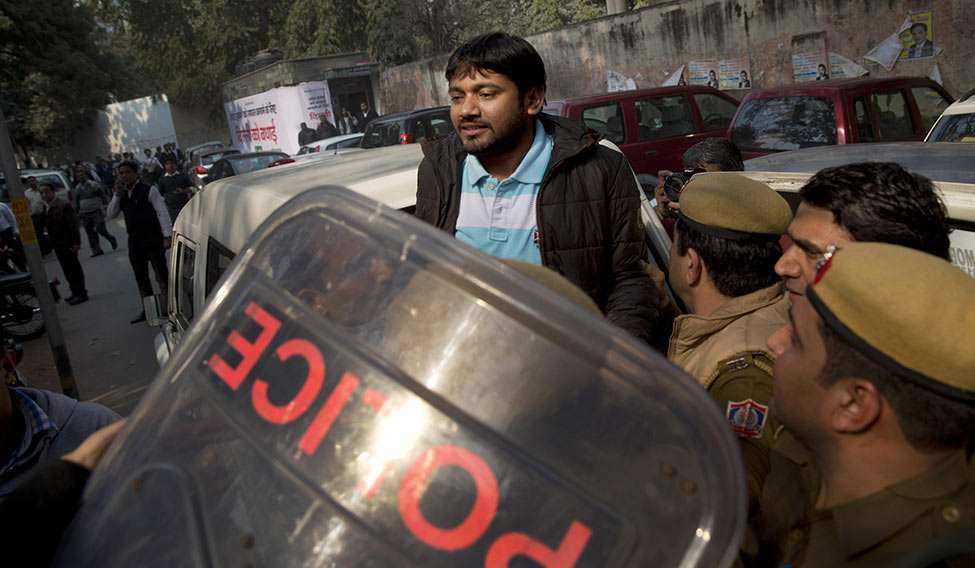 First one officer made me wear a helmet and guard. After a while he returned and took me to another room. Waiting for me there was another young cop who was about my build. We had to exchange our clothes. Now I was disguised in full police uniform.
From the courtroom, the court jail was not more than fifty metres away. All these elaborate arrangements were being made to cover this distance. The police were suspicious of its own people, worried that someone from the force itself might attack me. People stood around, talking heatedly to each other. Four hours went by in this fashion. I thought to myself, this is happening in the capital city, not in some remote area of the country. It felt like a bad dream. Then I was taken to the court jail.
The court jail was emptied for me. Now a strategy was being planned—how to take me to Tihar Jail. All the senior officers were arguing with each other. There were officers from different battalions. It was decided that any attacker would be shot at sight. A vehicle would be posted at every traffic signal and a green corridor would be created. First a dummy would be sent and when the media ran after it, my vehicle would speed past to Tihar.
TV crew from all the channels had gathered outside. Inside the court jail, I saw the news after many days. On the TV screen, the Delhi police commissioner was saying that they would not oppose my bail. He was showing the press the letter I had been made to write, in which I had vouched for my faith in the Constitution. Later I came to know that the police had given that letter out to the media under the title 'Kanhaiya ki Chithhi'. The letter and the question of bail would become matters for heated press debate.
Once again I was made to wear a helmet and guard, and to sit in the prisoner's van. There are separate sections in this van and police with different weapons—guns, tear gas, pepper spray—sit in the different sections. I was made to sit right behind the driver. The three cops sitting with me had no weapons. One of them said to me, don't worry, only if we die will anything happen to you. Driving non-stop, I was taken to Tihar. The media was present here too, furiously clicking pictures of the van. The police had surrounded the Tihar Jail gate. The heavy gates opened, let the car in and I was soon inside. In jail!
***
Even as I began to adapt to prison life, I couldn't help worrying about my jail sentence. How long would I be locked up for? No one seemed to have any answers. To keep the uncertainty away I kept myself busy. It was difficult in an isolated ward with so much security. I was kept away from other prisoners and I was cut off from the activities of the jail. I was taken out for a stroll only when the other cells were shut. Usually I ended up at the multi-religious prayer room, with its pictures of Shirdi Sai Baba and Subhas Chandra Bose, just walking around the empty hall.
I started exercising to keep myself busy. I would jump and try to touch the high ceiling in my room although I never succeeded. I tried to build a relationship with my space. I started to sweep the floor diligently. Even if I saw a speck of dust I would clean it up. I washed my plate with care. I counted the iron bars; I tried to measure the length and breadth of my cell.
I now ate my food slowly, tasting every bite. As a poor student and student activist I never really gave food too much thought. I simply thought of filling my stomach. Now I began to pay attention to what I was eating—even though the food was not very good.
A whitish pigeon would come into my cell through the exhaust fan vent. I spent a lot of time looking at it. The singing continued. I would also talk to myself. The college debater got a second life in that quiet cell. I would speak for and against the motion—a good way to test my argument.
I tried to keep my mind away from what was happening in the outside world and not think of things which made me feel isolated, disheartened and lonely. I read the newspapers and watched the news only briefly. The moment I read or saw anything on JNU my mind would be assailed with memories and I would feel unsettled. I started watching other entertainment programme—films and sports—as a way to distract myself.
My efforts paid off. I began to feel calmer. Things improved further when I began to keep a diary. I knew that I would find it difficult to capture my feelings in words. It's like trying to define the sweetness of two different fruits. But I forced myself to begin, thinking it was important to record these experiences.
I mostly stayed in my cell. If there were any visitors I went to meet them and then returned to the cell. Once in a while I spoke with some inmates. My fellow inmates were a varied lot. There were people who had been there for years with no one to bail them out. There were some who came from good backgrounds. Many suffered from psychological ailments.
A community radio played during the day. The radio jockey was a Bihari. He was convicted in a murder case. He was educated and sensible. He'd come and ask me which song to play and played songs of my choice—'Zindagi tu hi bata irada kya hai'. Apart from the sevadar who I became very close to, I spoke mostly to him.
***
One realizes the importance of the biggest and smallest things in jail. Family, companionship, conversation. But also of small things like a nail cutter. I had to wait for two days to get one and take special permission since it can be used as a weapon. For the same reason, the looking glass is made of fibre and there are no metallic nails in the cell.
One day I asked for a shave. The barber was called. Five people surrounded me as I was shaved—three staff members, one ward-in-charge and the person who had brought the barber. They were there for my protection and also to make sure that I didn't snatch the barber's instruments and hurt anyone. I was both dangerous and in danger myself.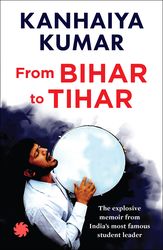 Life in jail is based on suspicion and lack of faith in each other. Though this is usually not so obvious, it becomes apparent in some situations. For instance, when the doctor comes to inspect your food, you can feel the paranoia in the air. He has to taste the food. If the food is poisoned the doctor will die first. Such lack of faith! The doctor looks at the sevadar. The sevadar looks at the doctor. Then the doctor takes a bite, gives me my food and walks away.
Excerpted with permission of Juggernaut Books
From Bihar to Tihar
By Kanhaiya Kumar
Published Juggernaut
Price Rs 250
Pages 264