"There is unemployment and then our educated youth feel there is no place for them in the country where extremism is growing." - Farooq Abdullah, former chief minister, Jammu and Kashmir
Age has not dulled Farooq Abdullah's sense of humour. Ask him about his little jig with Ranveer Singh at an award ceremony recently, and the veteran politician says he was trying to impress the actor's girlfriend, Deepika Padukone. "Doesn't it prove I am still young?" asks the 78-year-old.
The former chief minister of Jammu and Kashmir looks dapper in a floppy hat, a blue T-shirt, trousers and sports shoes, as we meet at the Royal Springs Golf Course on the banks of Dal Lake in Srinagar after what he calls a "good golfing session". The golf course is a personal accomplishment for Abdullah—he was accused of "ruining a city forest for his passion for golf". Despite a court case, he ensured the project was completed. Today, even his detractors acknowledge that the RSGC is an aesthetic marvel. "Thank God, it is a reality now, despite stiff opposition from many, including Jagmohan, the former governor," he says.
Abdullah has left several such imprints across the state during his three stints as chief minister. He had a ringside view of the state politics long before he plunged neck-deep into it following the death of his father, Sheikh Abdullah—the founder of the National Conference—in 1982.
But long before politics came calling, love did. During his medical practice in London, he met his wife, Mollie, a trained nurse. "I was deeply impressed by her demeanour," says the former surgeon. "She didn't drink or smoke. I thought to myself if I was to marry a woman, she is the one." But back home, his parents had already chosen a bride for him—his cousin. Abdullah called up his father, who was in jail then, to inform him about his decision to marry Mollie. "I told him, 'Could you please inform your brother about my decision?' He was taken aback," recalls Abdullah. "He told me, 'It is your decision, so you have to inform him.' I hope that girl [the cousin] has forgiven me for not marrying her."
Abdullah says marrying Mollie was the right decision. "She gave me a son who will carry our legacy forward," he says. "I am grateful to her for raising our kids with the best of morals." In the run-up to the 2014 assembly elections, which the National Conference lost under the leadership of his son, Omar, Abdullah was hospitalised in London for a kidney transplant. Mollie donated one of her kidneys to him. "I am highly indebted to her," he says. "She has been a source of great comfort in my life ever since we married in 1968." Besides the son, the couple has three daughters—Safiya, who is married to a Kashmiri, Hinna, who lives in London with her doctor-husband and two sons; and Sara, who is married to Congress leader Sachin Pilot.
Our conversation is peppered with chaste Kashmiri, like when Abdullah says, "'Baye wun te keh chu wanaun [tell me what else you want to know]... Me ha gow ghare cheer [I am getting late for home]. My wife has gone back to London, I need to run a few errands and then get a few things fixed by an electrician. I need to be around." If Omar can speak Kashmiri with the same ease, it will do his confidence a world of good and help him connect better with voters. "Yes, he will [learn to speak better Kashmiri]," says Abdullah. "He has been raised outside. But he will. He has to."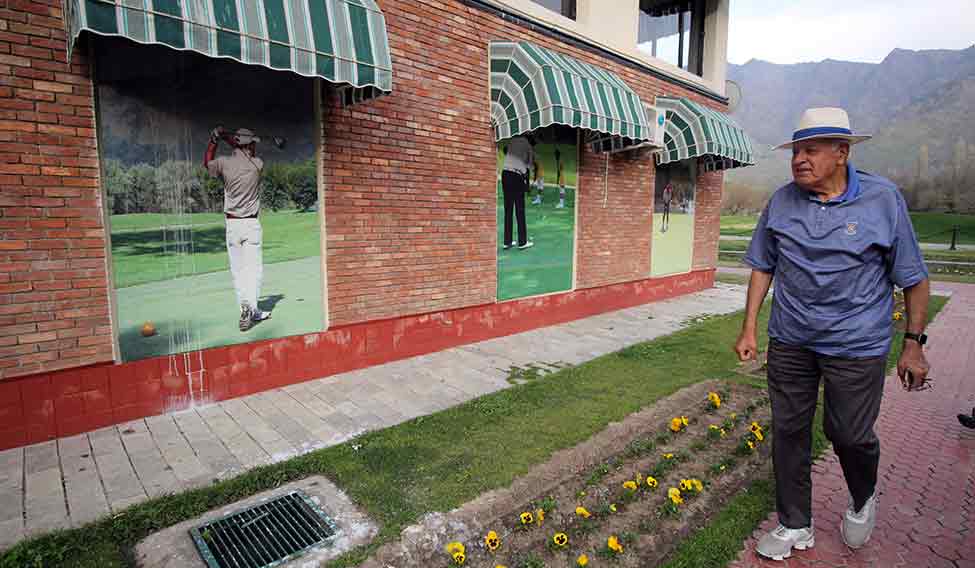 Abdullah is a true Kashmiri at heart. His mornings in Kashmir begin with a cup of nun chai (salt tea) and a stack of newspapers for company at his posh Gupkar Road residence. After breakfast, he meets party workers either at home or at the party office, Nawa-e-Subha, at Zero Bridge. He loves roti-sabzi, preferably made by Safiya, as much as he loves tabakh maaz [fried lamb ribs] and kebab that form part of wazwan, a multi-course traditional Kashmir cuisine.
Apart from golf, which is his favourite pastime, Abdullah loves watching movies. During his college days in Jaipur, he was a frequent visitor at the cinema theatres there. He also loves to spend time with his grandchildren whenever they visit him.
But politics continues to occupy his time, and mind. With his party no longer in power, Abdullah is worried about its future. He is mindful of the fact that Omar is probably the last Abdullah in the political history of Kashmir, but he believes the party will survive even after him. He is critical of the PDP-BJP alliance, blaming it for the growing radicalisation of Kashmiri youth.
"There is unemployment and then our educated youth feel there is no place for them in the country where extremism is growing," he says. "Incidents like the JNU agitation do not inspire confidence." He also says the BJP is promoting Hindus in Jammu, and the PDP is trying to counter that by promoting Muslims in Kashmir. "There is division even in bureaucracy," he says. Though Mehbooba Mufti is a good grassroots mobiliser, she has to prove herself as a chief minister, he says. "I hope she proves herself and stands her ground when the BJP will force her to pass certain bills," he says.
Of late though, Abdullah has toned down his rhetoric against Pakistan. "I was always reconciliatory towards Pakistan," he says. "I took a tough stand because they sent people who killed our people. Now the same people are killing them."
Like his political peers, will he come out with an "explosive" autobiography? "I know too many things," says Abdullah. "If A.S. Dulat's book [Kashmir: The Vajpayee Years] was an atom bomb, mine will be a hydrogen bomb." But he isn't ready to commit to a date yet. "It will come one day, just like peace will come to Kashmir," he says. "And if I am dead, then come to my grave and say, 'Farooq, peace has returned.'"