"If you are sitting with a guy, the guards would flash their torchlights to see who he is. Changing hostels has been done away with. With all these moves, the VC is trying to restrict us." - Shehla Rashid, former JNUSU vice president

"The left has been replaced by ultra left and these people have joined hands with radical islamists. JNUTA has become a propaganda machine." - Aswini Mohapatra, JNU professor
It is a typical winter afternoon at Delhi's Jawaharlal Nehru University. To an outsider, the sylvan settings may look serene, even laid back. But, a storm is brewing in the campus, with a considerable section of the students and teachers up in arms against vice chancellor M. Jagadesh Kumar.
His detractors say the vice chancellor, who took charge in January 2016, is implementing the agenda of the RSS and has been brought in by the Union government specifically for this purpose. Last November, he invited spiritual guru Sri Sri Ravi Shankar to deliver the prestigious Nehru Memorial Lecture. In July, during a ceremony to commemorate the Kargil victory, the vice chancellor spoke about installing a battle tank on campus to instil patriotic values in students.
For the past two years, especially after the arrest of JNU Students Union (JNUSU) president Kanhaiya Kumar in February 2016 on charges of sedition, JNU has been a divided house. The debate on nationalism has reached a tipping point, with the administration working actively to reshape the traditional pro-left character of JNU. The teachers, too, have joined the fight. The JNU Teacher's Association (JNUTA) has filed several cases challenging new faculty appointments. Historically, a vast majority of JNU teachers have been left sympathisers. But Jagadesh Kumar seems determined to change the status quo.
Five senior professors filed a writ petition last April challenging "perversion of the JNU Act" in "the composition of Selection Committees for faculty appointments" by the vice chancellor. According to JNUTA, appointments were rigged, and were not being done as per norms. It said the vice chancellor was using his discretionary power arbitrarily to include experts close to the BJP in selection committees. "This is an attempt at destroying the institution academically and to insert a particular ideology. The kind of experts who are being called and the people who are being hired clearly indicate this," said Ayesha Kidwai, president of JNUTA.
Selection of teachers at universities across India takes place under UGC guidelines. These guidelines mandate the constitution of a selection committee, formed with outside and in-house experts. In the case of JNU, the panel consists of the vice chancellor, dean of the concerned faculty, chairperson of the concerned centre (department), an academician nominated by the visitor—the president of India—,an academician representing SC/ST/OBC/minority/women/differently-abled categories and three outside experts nominated from a panel approved by the academic council.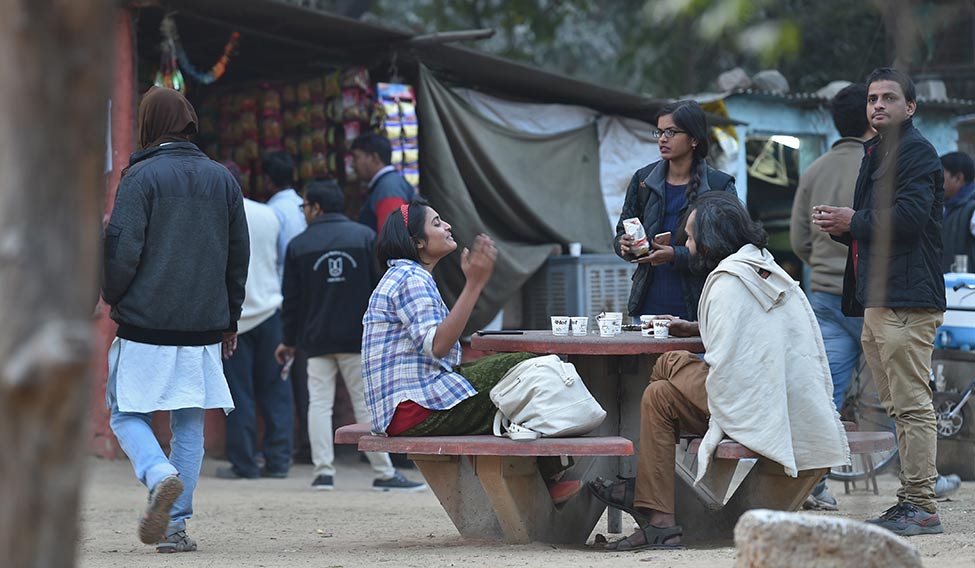 The panel of outside experts is suggested by the concerned centre from which the vice chancellor shall choose three members. In many cases, however, Jagadesh Kumar refused to select names from the panel, making his own selections instead, without consulting the concerned centre. His detractors said the vice chancellor nominated right-leaning experts, making the entire exercise agenda driven. For example, in the selection committee for the English centre, none of the outside experts were from the approved panel. One of them was from Banaras Hindu University, another one from Gurukul Kangri Vishwavidyalaya, Haridwar, and the third from Saurashtra University, Rajkot. Similarly, in the selection committee for the Centre for Economic Studies and Planning, two of the outside experts were not part of the approved panel. They came from Chaudhary Charan Singh University, Meerut, and Atal Bihari Vajpayee Hindi Vishwavidyalaya, Bhopal.
In July, JNU held interviews to recruit two assistant professors to the Korean language centre. Although there were a number of candidates with PhDs in Korean language and literature, one of the chosen candidates had done his PhD in international studies, and the other had just an MPhil degree.
There have also been instances in which external experts without relevant expertise were made members of selection panels. The Centre for Historical Studies recently conducted an interview to fill a vacancy in the ancient history division, but the panel of external experts did not have any member with that specialisation. Such an appointment was also reported from the School of Arts and Aesthetics. A candidate who appeared before the selection committee for the Centre for Economic Studies and Planning was asked whether he had visited a gaushala. Another candidate working on Nepal was asked whether Nepal could be included in the Vishal Bharat project.
Baidik Bhattacharya, a candidate who appeared for an interview to the English centre, said it was the most farcical interview he had ever attended. "The experts did not have any clue about the subject and what I was talking about. Moreover, the vice chancellor, who is an engineer, was jumping up and down every now and then," he said. "They asked me whether I had published anything on Indian thinkers, and I said I have worked on Bankim Chandra Chatterjee. But, that was not enough for them. They asked me whether I had published works on Panini and Bhartrhari, two ancient Sanskrit scholars. It was completely unconnected to the work I had done." The candidate who was finally selected for the post was Dhananjay Singh, who was the ABVP's presidential candidate for the JNUSU in 2004. An assistant professor at JNU, he was directly promoted to professor, bypassing the post of associate professor. Bhattacharya now teaches at Delhi University.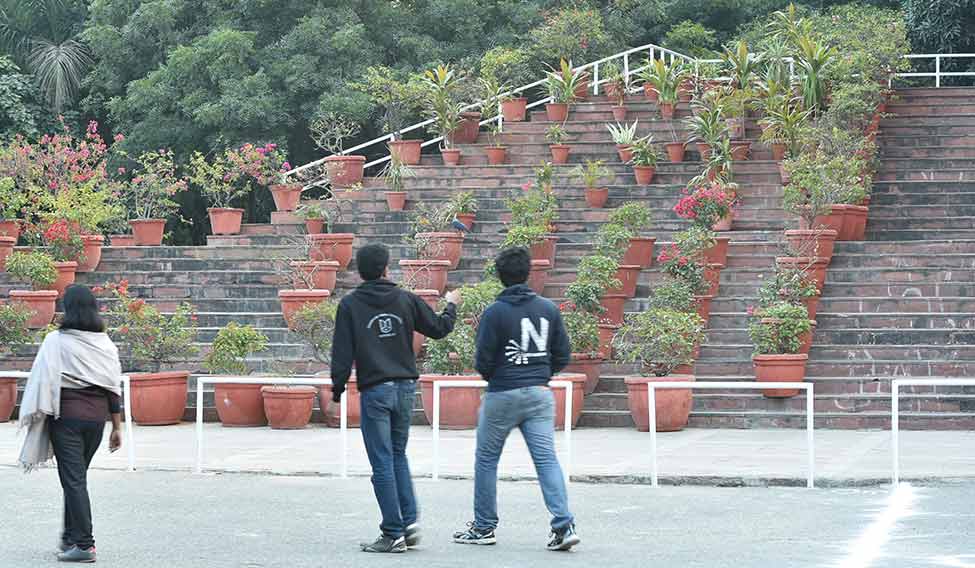 There are dissent notes from faculty members regarding some of these hirings. However, even before the dissent notes could be placed before the Executive Council, JNU's highest decision-making body, the vice chancellor had sent out appointment letters.
"Universities cannot be run as a one-man show. No one can question the vice chancellor. Dissent is one of the important pillars of any democracy and he is trying to crush it by taking decisions unilaterally. Some of us had to pay the price for this dissent, like my colleague Nivedita Menon, who was removed from chairpersonship," said Surajit Mazumdar, professor at the Centre for Economic Studies and Planning. Menon was the chairperson of the Centre for Comparative Politics and Political Theory, and was removed for her "insulting behaviour" in one of the selection committee meetings.
"I objected to some glaring improprieties in the conduct of the selection committee, and so did another external member. I did this formally and placed it on record. This is what is being termed as 'insulting behaviour'," said Menon. Kamal Mitra Chenoy, who teaches political science at the School of International Studies, said through a selection committee controlled by him, the vice chancellor was bringing in people who would further his agenda.
In October, the vice chancellor added a line to the minutes of the executive council meeting saying he could add names to the panel of experts, deeming it to have been approved by the EC. He did it by referring to an executive council resolution of 1997, which gave the vice chancellor the power to add fresh names to the panel. But teachers said the vice chancellor had no power to do so. "The 1997 resolution was case specific, it cannot be applied every time. Moreover, names can be added only in consultation with experts. Here, none of us have been consulted," said Mazumdar.
A member of the University Grants Commission, who was nominated to a JNU selection panel by Jagadesh Kumar, said what the vice chancellor had done was well within his rights and fully compliant with law. "The selection process is being done with utmost care. The teachers association is unnecessarily dragging every issue on to public platform," said G. Gopal Reddy, retired professor of political science at Osmania University Hyderabad, and now a member of the UGC.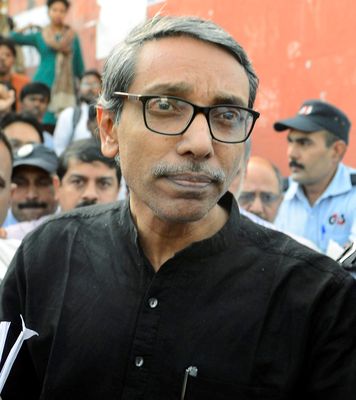 Shiv Shakti Nath Bakshi, former JNUite and now executive editor of Kamal Sandesh, the BJP's mouthpiece, said the teachers were creating an issue because their coterie of leftists and communists were not getting appointed. "If you look at the appointments in the past, people belonging to only one cadre have been favoured. Now this is changing and that is why they are crying foul," said Bakshi.
Those who are opposed to the administration are also miffed about the massive seat cuts in JNU. Last April, the university announced an 82 per cent drop in the number of seats for the integrated MPhil-PhD programme. From 1,408, the number of seats were brought down to 242. "When research seats in sciences, social sciences and humanities are vigorously cut, it will impact industrialisation, expertise in policymaking and the quality of higher education. JNU is meant to be a research-oriented institution, and cutting seats for research is least expected," said Chenoy.
The administration is of the view that it is only following UGC directives. The UGC has specific guidelines on the number of students that a teacher can supervise. The reason given for the drastic reduction of seats is that professors in JNU are burdened with far more number of scholars than mandated by the UGC. "It is an anomaly that has been corrected," said Sushma Chawla, professor of public policy and governance at the Indian Institute of Public Administration (IIPA) and a member of the UGC. "Some of the professors were supervising as many as 40 candidates. Now you can understand the quality of mentorship that these students would get. And, just because JNU is ranked among the best universities, nobody questions them. But if you go deep, you will find that the quality of research in JNU has been affected. So, it is in the right direction."
Teachers, however, contested this view. "I don't think any professor is supervising 40 scholars. However, there is another motive behind this. Research scholars are more into activism and protests. By cutting the number of seats, they want to curtail student activism on campus," said a professor at the university, not wanting to be named.
Student activism has indeed gone down after Jagadesh Kumar took over. The administration building which used to see a lot of student protests has been cordoned off. "Now, there are flower pots on the stairs, so we can't even sit there. Protesting students are fined these days. After the dhabas were shut [dhabas, which used to be open late into the night, are now being asked to close by 11pm] some of the students tried making biryani outside the administration building as a mark of protest. They have been asked to pay a fine," said JNUSU president Geeta Kumari.
According to the teachers association, the seat cuts violated the reservation policy. Data compiled by JNUTA showed that of the 74 admissions made to research programmes last year, only one tribal student (0.71 per cent), three scheduled caste students (2.2 per cent) and 13 OBC students (9.4 per cent) were selected. This is much lower than the legally binding quota of 15 per cent for scheduled castes, 7.5 per cent for scheduled tribes and 27 per cent for OBCs.
The proposal to make written test only a qualifying process and select the candidates on the basis of interview was another controversial proposal. It had to be cancelled after protests from teachers and students. The ratio for weightage for written test and interview now remains 80:20. However, in a circular issued in December, the university has decided not to offer admissions to students who score less than 40 per cent (general category), 36 per cent (OBCs) and 30 per cent ("SC/ST and physically handicapped") in the interview. Many teachers fear that it will seriously hamper the prospects of underprivileged students. The JNU administration has also done away with the deprivation point system for underprivileged students which was much appreciated and brought social equity in admissions.
Shehla Rashid, a former JNUSU vice president, said the vice chancellor's actions over the last two years had curtailed freedom on the campus. "Dhabas have to be closed by 11pm, so we cannot sit and chat over there. In a way, this also creates a security scare for women, because earlier the campus was buzzing with activity. With dhabas getting closed, the streets are abandoned, creating a huge security issue," she said. "If you are sitting with a guy, the guards would flash their torches to see who it is. Changing hostels has been done away with. With all these moves, he is trying to restrict us."
Another controversial move by the vice chancellor has been to make attendance compulsory. In JNU, attendance has always been voluntary and it has never affected the quality of education. It has been one of the factors that set JNU apart from other universities. However, in a circular issued on January 10, JNU has mandated a minimum of 75 per cent attendance for all academic programmes, including PhD. "It is a very stupid decision. Attendance has never been important. In JNU, the whole idea is that learning should not be confined to classrooms, so there are people busy with projects, they are working out of their hostels, library and labs. In science subjects, especially in research, making attendance mandatory is impossible. I spend most of my time in my lab, so how does this get implemented?" said Baldeep Singh, a PhD student in molecular medicine. On January 12, the students union organised a protest against the new attendance rule. The teachers association has announced that faculty members will not mark attendance or report it.
There also seems to be a conscious effort to bring down the number of JNU students in faculty positions. The idea probably is that students who are on the campus for long and then become faculty members get deeply entrenched in activism and campus politics. "The universities are getting spoilt because of this in-breeding. There is research to support that. And, if the VC is against it, he is in the right direction," said Gopal Reddy.
The vice chancellor has some support from within JNU. Aswini Mohapatra, who teaches at the Centre for West Asian Studies, said JNUTA was to blame for the vice chancellor's behaviour. "JNUTA members consider JNU as their fiefdom, and no outsider should be appointed. They literally chased the vice chancellor in the first Academic Council meeting. He is an outsider. They spoilt their image in front of him. I would blame them for breaking the dialogue process," said Mohapatra. "There was total anarchy in the name of freedom of expression. The left has been replaced by the ultra left and these people have joined hands with radical Islamists. JNUTA has become a propaganda machine."
Things are not the way they used to be in JNU. Institutions and organisations like JNUTA, JNUSU, the academic council and the executive council used to be important bodies, ensuring that everyone's concerns were addressed. Under Jagadesh Kumar, teachers said the academic council and the executive council had become powerless.
"Even though it was known as a left bastion, all kinds of ideologies had a place in JNU and all had lived together," said Bikramaditya Choudhary, who teaches at the Centre for the Study of Regional Development. "We have always been anti-establishment, but this is being taken in a negative manner altogether. People are being targeted for speaking against government policies."